New Wave Sci-Fi 75 (20)
By: Joshua Glenn
February 11, 2018
One in a series of posts about the 75 best science fiction novels published during the genre's New Wave era (from 1964–83, according to HILOBROW's periodization schema). For our complete New Wave Sci-Fi 75 list, click here.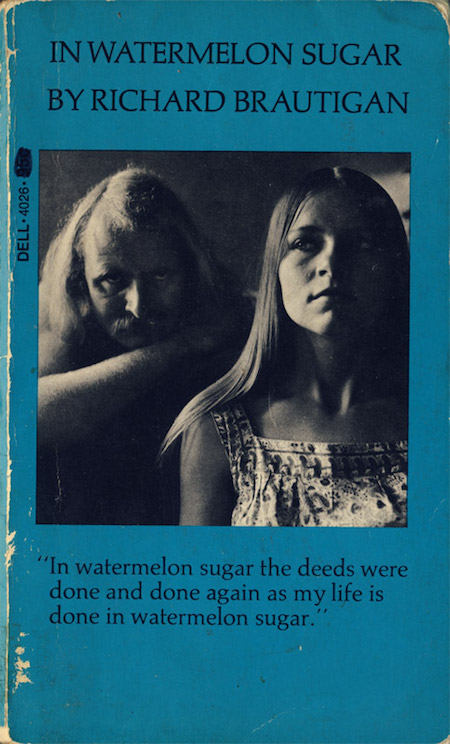 Richard Brautigan's In Watermelon Sugar (1968).
Our unnamed narrator, a writer, lives outside an unnamed town, on the fringes of a commune called iDEATH. The commune features a trout hatchery (which produces oil used to light their lamps) and a watermelon works (which produces multicolored sugars used to fashion every sort of commodity), not to mention huge statues of vegetables, and shacks to which those who want to spend time alone can retreat. The setting is idyllic, but also somehow post-apocalyptic. The sun shines a different color each day; reference is made to talking, singing, yet violent "tigers" who used to inhabit the area; and there is a vast junkyard — the Forgotten Works — of objects manufactured before… whatever happened. There isn't much of a plot: a drunkard named inBOIL leads a short-lived rebellion against iDEATH (Is he right about everything?, this reader wonders); the narrator falls in love with Pauline, the commune's cook, which may or may not cause his former lover, Margaret, to go off the rails. The mood is elegiac, light-hearted, sad, and critical all at the same time.
Fun facts: In Watermelon Sugar is an important reference in Ray Mungo's 1970 back-to-the-land chronicle Total Loss Farm; it's also the inspiration for Neko Case's 2006 song "Margaret versus Pauline."
***
NEW WAVE SCI-FI at HILOBROW: 75 Best New Wave (1964–83) Sci-Fi Novels | Back to Utopia: Fredric Jameson's theorizing about New Wave sci-fi | Douglas Adams | Poul Anderson | J.G. Ballard | John Brunner | William Burroughs | Octavia E. Butler | Samuel R. Delany | Philip K. Dick | Frank Herbert | Ursula K. Le Guin | Barry N. Malzberg | Moebius (Jean Giraud) | Michael Moorcock | Alan Moore | Gary Panter | Walker Percy | Thomas Pynchon | Joanna Russ | James Tiptree Jr. (Alice Sheldon) | Kurt Vonnegut | PLUS: Jack Kirby's Golden Age and New Wave science fiction comics.
ALSO SEE: 50 Best Scientific Romances (1864–1903) | Radium Age Sci-Fi: 100 Best Novels of 1904–33 | Golden Age Sci-Fi: 75 Best Novels of 1934–1963 | 75 Best New Wave Sci-Fi (1964–83) Novels | The 200 Greatest Adventure Novels of All Time | 101 Science Fiction Adventures