THE KALEVALA (21)
By: James Parker
January 19, 2018
The Kalevala is a sequence of folkloric songs, runes and charms from the Karelia region of Finland, collected in the field and concatenated into epic form by Dr. Elias Lonnrot (1803-1884). The versions presented here are not translations or transliterations — they are respectful bastardizations, working from the 1963 English version of the Kalevala produced by the versatile and witty Francis Peabody Magoun Jr.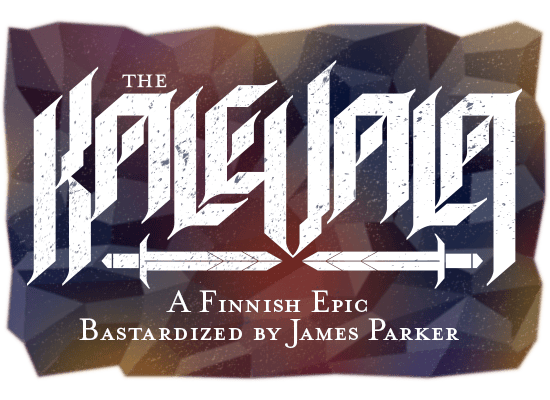 *
THE WIZARD'S SECRET
[being a departure from The Kalevala, Rune 45, lines 259–312]
In the glare and the growl of the winter,
when the dog squats sadly with frozen
sphincter,
in dim light like referred pain,
I am come to myself again.
Scrawny squirrel, you fattened on the
nut-fall,
and now you're barely there at all.
Birds you creak, don't speak, you grow old
in this home-destroying cold.
Under the mountain my grief was stashed
but the black-lunged dwarf he bashed and
bashed,
delving out tunnels, breathing through
funnels —
axe-strike, backlash.
No relief, no inoculation.
Grant this sorrow its proper station.
The mountain is opened. My secret is out,
on four legs, on eight legs, running about.
***
Series banner contributed by Rick Pinchera.
ALL INSTALLMENTS: INTRODUCTION: Laughter in the Womb of Time, or Why I Love the Kalevala | RUNE 3 (1–278): "Wizard Battle" | RUNE 4 (1–56): "A Failed Seduction" | RUNE 4 (300–416): "Aino Ends It All" | RUNE 5 (45–139): "An Afternoon Upon the Water" | RUNE 5 (150–241): "The Blue Elk" | RUNE 6 (1–114): "Therapy Session" | RUNE 6 (115–130): "Joukahainen's Mother Counsels Him Against Shooting the Wizard Vainamoinen" | RUNE 11 (1–138): "Introducing Kyllikki" | RUNE 23 (485–580): "The Bride's Lament" | RUNE 30 (1–276): "Icebound" | RUNE 30 (120–188): "The Voyage of the Sea-Hare" (Part One) | RUNE 30 (185–188): "Losing It" | RUNE 30 (departure): "Across the Ice" | RUNE 30 (departure): "Song of the Guilty Viking" | RUNE 30 (departure): "The Witch's Dance" | RUNE 31 (215–225): "The Babysitter" | RUNE 31 (223–300): "The Screaming Axe" | RUNE 33 (1–136): "The Cowherd" | RUNE 33 (73): "Song of the Blade: Kullervo" | RUNE 33 (118–284): "The Cows Come Home" | RUNE 34 (1–82): "The Pipes of Kullervo" | RUNE 45 (259–312, departure): "The Wizard's Secret".
MORE PARKER at HILOBROW: COCKY THE FOX: a brilliant swearing-animal epic, serialized here at HiLobrow from 2010–2011, inc. a newsletter by Patrick Cates | THE KALEVALA — a Finnish epic, bastardized | THE BOURNE VARIATIONS: A series of poems about the Jason Bourne movies | ANGUSONICS: James and Tommy Valicenti parse Angus Young's solos | MOULDIANA: James and Tommy Valicenti parse Bob Mould's solos | BOLANOMICS: James traces Marc Bolan's musical and philosophical development | WINDS OF MAGIC: A curated series reprinting James's early- and mid-2000s writing for the Boston Globe and Boston Phoenix | CROM YOUR ENTHUSIASM: J.R.R. Tolkien's THE HOBBIT | EVEN MORE PARKER, including doggerel; HiLo Hero items on Sid Vicious, Dez Cadena, Mervyn Peake, others; and more.