WOWEE ZOWEE (2)
By: Anindita Basu Sempere
January 10, 2018
One in a series of enthusiastic posts, contributed by HILOBROW friends and regulars, on the subject of our favorite albums of the Nineties (1994–2003). A new installment in this series will appear each Wednesday during 2018.
*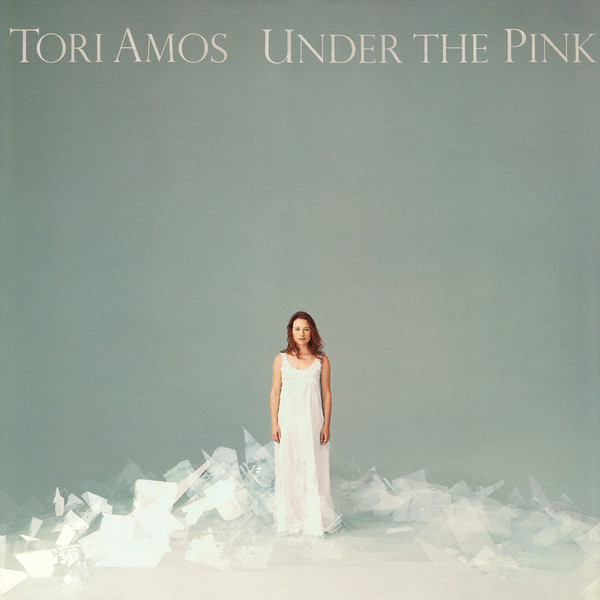 UNDER THE PINK | TORI AMOS | 1994

I chose pink for my bedroom color when I was three years old. By fourteen I wanted black. For some reason this was unacceptable, so I dressed in black instead — a tiny Indian girl with too big eyes and too much hair.
The first time I heard Under the Pink was in this room with its outdated pink carpet and pink walls in Monroeville, PA, where Dawn of the Dead was set. I'd been a Tori fan since I'd first heard "Crucify" and "Silent All These Years" on a mixtape at nerd camp in a dark dorm room when my roommate and I were supposed to be asleep.
Little Earthquakes turned Tori into my big sister in spirit. She was a girl with a piano, a wry smile, and a promise to tell the truth no matter how uncomfortable — a tiny but fierce redhead who reveled in her oddness.
I bought Under the Pink as soon as it came out and listened to it alone, Tori singing to me directly. Piano trickled through my room, ethereal as her voice with no beats to ground it.
Tears on the sleeve of a man. Don't wanna be a boy today.
Then the drums and guitars —
God sometimes you just don't come through. Do you need a woman to look after you?
Trent Reznor softly singing backup —
Past the mission, I once knew a hot girl.
And the quiet crooning —
Girls, girls, what have we done? What have we done to ourselves?
If her first album had been a cry against silence, the second picked apart femininity and friendship while shoving hard against the patriarchy. It was messy with no easy answers to the questions it raised.
Under the pink lies darkness. Girls aren't honey or sugar sweet but viciousness and power. We exist in a sisterhood of shared traumas, and betrayals cut deep.
Tori questioned everything from religion to relationships. Teen me would have liked answers, but I loved finding a sister who said:
You don't need my voice, girl you have your own.
She delivered truth over constantly changing time signatures and keys. Girls transgress. Waifs have strength. And while considering violence —
I believe in peace, bitch. I believe in peace.
***
WOWEE ZOWEE: Stephanie Burt on UNISEX | Anindita Basu Sempere on UNDER THE PINK | Mark Kingwell on DUMMY | Bill Nericcio on AMOR PROHIBIDO | Sherri Wasserman on HIPS AND MAKERS | Mimi Lipson on THANK YOU | John Overholt on BEN FOLDS FIVE | Jordan Ellenberg on GET LOST | Chelsey Johnson on PERSONAL BEST | Marilyn Snell on MAXINQUAYE | Dan Fox on DIFFERENT CLASS | Devin McKinney on IF YOU'RE FEELING SINISTER | Alice Boone on MTV UNPLUGGED (ALICE IN CHAINS) | Rob Wringham on SPICE | Joe Alterio on BEATS, RHYMES AND LIFE | Jason Loeffler on SECOND TOUGHEST IN THE INFANTS | Rick Pinchera on EITHER/OR | Greg Rowland on OK COMPUTER | Jennifer Krasinski on SUPA DUPA FLY | Sara Ryan on DIG ME OUT | Molly Wright Steenson on I CAN HEAR THE HEART BEATING AS ONE | Luc Sante on MEZZANINE | Libi Rose on AQUEMINI | Franklin Bruno on ENGLAND MADE ME | JC Gabel on DESERTER'S SONGS | Michael Campochiaro on IS THIS DESIRE? | Adrienne Crew on CALIFORNICATION | Drew Daniel on I SEE A DARKNESS | Veda Hille on THE SOFT BULLETIN | Vanessa Berry on TEENAGE SNUFF FILM | Tom Kipp on GET SKINTIGHT | John Hilgart on YORK BLVD. | Deborah Wassertzug on JOURNEY TO THE END OF THE NIGHT | Adam McGovern on INVINCIBLE SUMMER | David Hirmes on DOPETHRONE | Jen Collins on HURRAH | Flourish Klink on THE TEACHES OF PEACHES | Brian Berger on TIRED SOUNDS OF… | Jenny Davidson on TIME (THE REVELATOR) | Jason Cohen on IS THIS IT | Matthew De Abaitua on THE RAINBOW CHILDREN | Lauren Oliver on SOUND-DUST | Josh Glenn on YOU FORGOT IT IN PEOPLE | Judith Zissman on TALLAHASSEE | Dallas Penn on GOD'S SON | Carl Wilson on TEMPTING | Jessamyn West on ALL HAIL WEST TEXAS | Kaleb Horton on STREETCORE | Tom Nealon on BAZOOKA TOOTH | Erik Davis on DOPESMOKER | David Levine on FEVER TO TELL | Deb Chachra on MASS ROMANTIC.
MORE ENTHUSIASM at HILOBROW
WOWEE ZOWEE (2018 weekly): UNISEX | UNDER THE PINK | DUMMY | AMOR PROHIBIDO | HIPS AND MAKERS | & dozens of other Nineties (1994–2003) albums. KLUTE YOUR ENTHUSIASM (2017): THE KILLERS | BANDE À PART (BAND OF OUTSIDERS) | ALPHAVILLE | HARPER | BLOW-UP | & 20 other Sixties (1964–1973) neo-noir movies. #SQUADGOALS (2017 weekly): THE WILD BUNCH | BOWIE'S BAND | THE BLOOMSBURY GROUP | THE HONG KONG CAVALIERS | VI ÄR BÄST! & dozens of other squads. GROK MY ENTHUSIASM (2016 weekly): THE THEORY AND PRACTICE OF LUNCH | WEEKEND | MILLION YEAR PICNIC | LA BARONNE EMILE D'ERLANGER | THE SURVIVAL SAMPLER | & dozens more one-off enthusiasms. QUIRK YOUR ENTHUSIASM (2016): "Tainted Love" | "Metal" | "Frankie Teardrop" | "Savoir Faire" | "Broken English" | & 20 other new wave songs. CROM YOUR ENTHUSIASM (2015): DARKER THAN YOU THINK | THE SWORD IN THE STONE | OUT OF THE SILENT PLANET | THIEVES' HOUSE | QUEEN OF THE BLACK COAST | & 20 other fantasy novels from 1934–43. KERN YOUR ENTHUSIASM (2014): ALDINE ITALIC | DATA 70 | TORONTO SUBWAY | JOHNSTON'S "HAMLET" | TODD KLONE | & 20 other typefaces. HERC YOUR ENTHUSIASM (2013): "Spoonin' Rap" | "Rapper's Delight" | "Rappin' Blow" | "The Incredible Fulk" | "The Adventures of Super Rhyme" | & 20 other old-school hip-hop songs. KIRK YOUR ENTHUSIASM (2012): Justice or vengeance? | Kirk teaches his drill thrall to kiss | "KHAAAAAN!" | "No kill I" | Kirk browbeats NOMAD | & 20 other Captain Kirk scenes. KIRB YOUR ENTHUSIASM (2011): THE ETERNALS | BLACK MAGIC | DEMON | OMAC | CAPTAIN AMERICA | & 20 other Jack Kirby panels.