New Wave Sci-Fi 75 (15)
By: Joshua Glenn
January 7, 2018
One in a series of posts about the 75 best science fiction novels published during the genre's New Wave era (from 1964–83, according to HILOBROW's periodization schema). For our complete New Wave Sci-Fi 75 list, click here.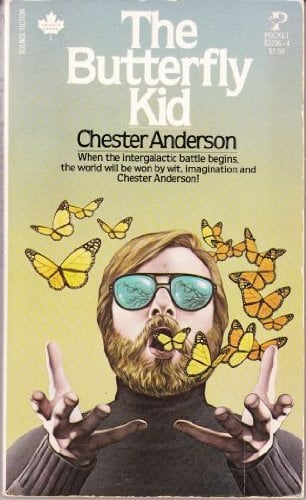 Chester Anderson's The Butterfly Kid (1967).
In this metafictional cult classic, set in the near future, not long after the Bicentennial, when video phones and personal hovercraft are common, a ragtag group of Greenwich Village hippies discover that their acid trips are beginning to come true. In fact, everyone in New York is hallucinating, and all of their hallucinations are made manifest — it's chaos! Chester Anderson, who shares the author's name, and Michael Kurland, who shares the name of another hippie sci-fi author, discover that New York's water supply has been laced with a drug — brought to Earth by giant blue lobster-esque aliens — designed to make Earthlings easy to conquer. Can these drug-addled pacifists thwart the alien invasion?
Fun fact: The sci-fi blog io9.com listed The Butterfly Kid as No. 1 on the list of "weirdest science fiction novels that you've never read." Its sequels are The Unicorn Girl, by Michael Kurland, and The Probability Pad, by T.A. Waters. Anderson later moved to San Francisco, invested his royalties from this novel in a mimeograph machine, and founded The Diggers' publishing outfit, Communications Company.
***
NEW WAVE SCI-FI at HILOBROW: 75 Best New Wave (1964–83) Sci-Fi Novels | Back to Utopia: Fredric Jameson's theorizing about New Wave sci-fi | Douglas Adams | Poul Anderson | J.G. Ballard | John Brunner | William Burroughs | Octavia E. Butler | Samuel R. Delany | Philip K. Dick | Frank Herbert | Ursula K. Le Guin | Barry N. Malzberg | Moebius (Jean Giraud) | Michael Moorcock | Alan Moore | Gary Panter | Walker Percy | Thomas Pynchon | Joanna Russ | James Tiptree Jr. (Alice Sheldon) | Kurt Vonnegut | PLUS: Jack Kirby's Golden Age and New Wave science fiction comics.
ALSO SEE: 50 Best Scientific Romances (1864–1903) | Radium Age Sci-Fi: 100 Best Novels of 1904–33 | Golden Age Sci-Fi: 75 Best Novels of 1934–1963 | 75 Best New Wave Sci-Fi (1964–83) Novels | The 200 Greatest Adventure Novels of All Time | 101 Science Fiction Adventures