New Wave Sci-Fi 75 (14)
By: Joshua Glenn
December 31, 2017
One in a series of posts about the 75 best science fiction novels published during the genre's New Wave era (from 1964–83, according to HILOBROW's periodization schema). For our complete New Wave Sci-Fi 75 list, click here.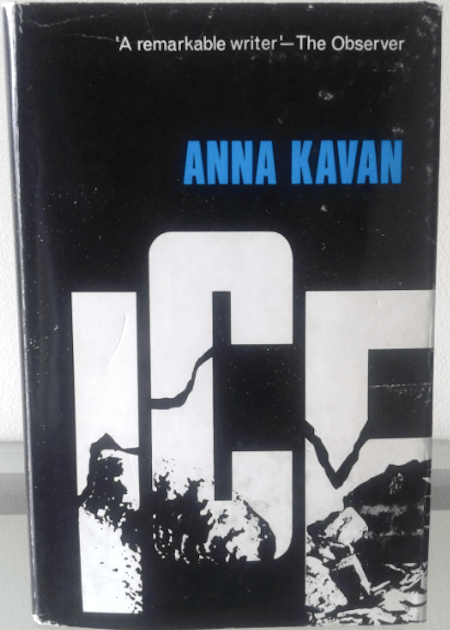 Anna Kavan's Ice (1967).
Brian Aldiss writes, of Kafka's oeuvre: "the baffling atmosphere, the paranoid complexities, the alien motives of others, make the novels a sort of haute sf." Anna Kavan's cult classic, Ice, closes the gap in that equation. As a new Ice Age dawns (sparked by a nuclear holocaust?), western civilization finds itself hemmed in by advancing ice-scapes. War and revolution break out everywhere. Against this apocalyptic backdrop, an unnamed narrator — a globe-trotting, Indiana Jones-esque anthropologist-explorer-soldier, as far as we can make out — pursues an unnamed woman with whom he has long been obsessed. He intends to rescue her, first from her brutal husband, then from a Ruritanian-ish despot who is on his way to becoming one of the world's new tyrants; however, the "girl" doesn't want to be rescued — and seems terrified of the narrator. Plot possibilities unfurl, only to furl back up again; is the narrator insane? A hallucinatory, image-rich adventure that doesn't omit guns and car chases.
Fun fact: "The book's nearest cousins," writes Jonathan Lethem in his introduction to the Penguin Classics reissue of Ice, "are Crash, Ballard's most narratively discontinuous and imagistic book, or cinematic contemporaries like Alain Resnais's Last Year at Marienbad."
***
NEW WAVE SCI-FI at HILOBROW: 75 Best New Wave (1964–83) Sci-Fi Novels | Back to Utopia: Fredric Jameson's theorizing about New Wave sci-fi | Douglas Adams | Poul Anderson | J.G. Ballard | John Brunner | William Burroughs | Octavia E. Butler | Samuel R. Delany | Philip K. Dick | Frank Herbert | Ursula K. Le Guin | Barry N. Malzberg | Moebius (Jean Giraud) | Michael Moorcock | Alan Moore | Gary Panter | Walker Percy | Thomas Pynchon | Joanna Russ | James Tiptree Jr. (Alice Sheldon) | Kurt Vonnegut | PLUS: Jack Kirby's Golden Age and New Wave science fiction comics.
ALSO SEE: 50 Best Scientific Romances (1864–1903) | Radium Age Sci-Fi: 100 Best Novels of 1904–33 | Golden Age Sci-Fi: 75 Best Novels of 1934–1963 | 75 Best New Wave Sci-Fi (1964–83) Novels | The 200 Greatest Adventure Novels of All Time | 101 Science Fiction Adventures