New Wave Sci-Fi 75 (9)
By: Joshua Glenn
November 26, 2017
One in a series of posts about the 75 best science fiction novels published during the genre's New Wave era (from 1964–83, according to HILOBROW's periodization schema). For our complete New Wave Sci-Fi 75 list, click here.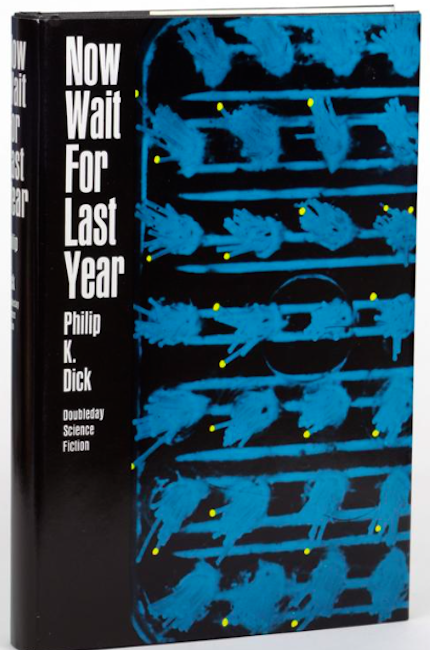 Philip K. Dick's Now Wait for Last Year (1966).
In the near future, Terra — a unified Earth, the elected dictator of which is UN Secretary General Gino "the Mole" Molinari — has become entangled in a war between an insect race (the reegs) and a humanoid race (the 'Starmen, from the planet Lilistar). Terra is on the wrong side of the war; their allies, the fascistic 'Starmen, may be out to exploit Terra's natural resources. Dr. Eric Sweetscent, an organ-transplant surgeon asked to secretly tend to Molanari, who has developed a psychosomatic ailment in which he suffers along with anyone near who him who is in any kind of pain, gets involved in Terra-Lilistar politics. His wife Kathy, meanwhile, becomes addicted to JJ-180, a new hallucinogen (which may have been invented by the reegs as a chemical weapon) that causes her to move forwards, backwards, and sideways through time… and she is forced to spy on Sweetscent — by the 'Starmen. Sweetscent and Molinari time-travel, as well… leading them to wonder how valuable the intel they're picking up from alternative past and present histories is for their current situation.
Fun fact: Dick was very fond of his Molinari character, whom he described as a blend of Christ, Lincoln, and… Mussolini, for whom he harbored a certain (non-fascist) sympathy.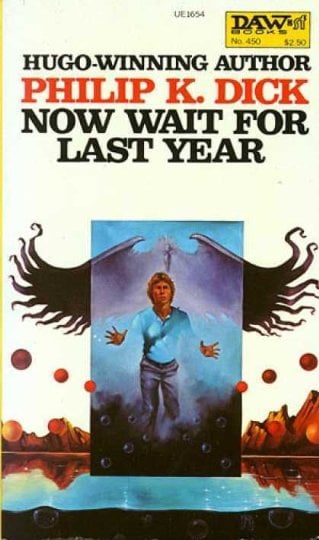 ***
NEW WAVE SCI-FI at HILOBROW: 75 Best New Wave (1964–83) Sci-Fi Novels | Back to Utopia: Fredric Jameson's theorizing about New Wave sci-fi | Douglas Adams | Poul Anderson | J.G. Ballard | John Brunner | William Burroughs | Octavia E. Butler | Samuel R. Delany | Philip K. Dick | Frank Herbert | Ursula K. Le Guin | Barry N. Malzberg | Moebius (Jean Giraud) | Michael Moorcock | Alan Moore | Gary Panter | Walker Percy | Thomas Pynchon | Joanna Russ | James Tiptree Jr. (Alice Sheldon) | Kurt Vonnegut | PLUS: Jack Kirby's Golden Age and New Wave science fiction comics.
ALSO SEE: 50 Best Scientific Romances (1864–1903) | Radium Age Sci-Fi: 100 Best Novels of 1904–33 | Golden Age Sci-Fi: 75 Best Novels of 1934–1963 | 75 Best New Wave Sci-Fi (1964–83) Novels | The 200 Greatest Adventure Novels of All Time | 101 Science Fiction Adventures