New Wave Sci-Fi 75 (8)
By: Joshua Glenn
November 19, 2017
One in a series of posts about the 75 best science fiction novels published during the genre's New Wave era (from 1964–83, according to HILOBROW's periodization schema). For our complete New Wave Sci-Fi 75 list, click here.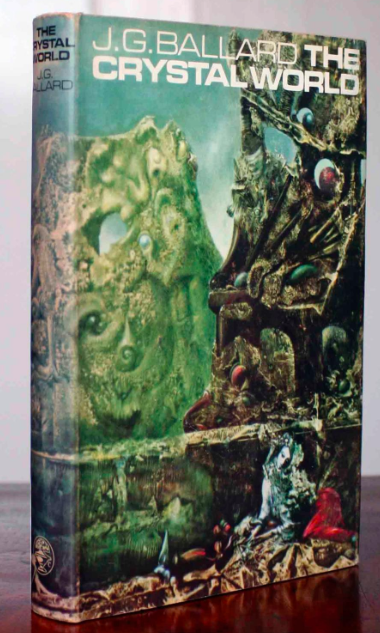 J.G. Ballard's The Crystal World (1966).
Some readers find this novel too "action-adventurey" for their liking, others find it too surgical and psychological; I think it strikes a provocative balance between these tendencies. In an African colony, Sanders, a British doctor, discovers that entrance to the forest is being discouraged. Seeking his friends, who run a leper colony (to which he is strangely attracted), he travels upriver — echoes of Heart of Darkness are intentional — and discovers that trees, grass, water, animals and men are slowly being encased in glittering crystals. The universe, its myriad of possibilities, is crystallizing into sameness! Which, in a way, is just a literalization of a process already underway — the separation of alienated individuals from one another, industrial capitalism forcing everything and everyone to become the same. If leprosy is about entropy and decay, this crystallization is a kind of antidote… right? Ballard's descriptions are eerily beautiful.
Fun fact: Serialized in the first Moorcock-edited issue of New Worlds. This is Ballard's third psychedelic-apocalyptic work, the first two being The Drowned World (1962) and The Burning World (1964).
***
NEW WAVE SCI-FI at HILOBROW: 75 Best New Wave (1964–83) Sci-Fi Novels | Back to Utopia: Fredric Jameson's theorizing about New Wave sci-fi | Douglas Adams | Poul Anderson | J.G. Ballard | John Brunner | William Burroughs | Octavia E. Butler | Samuel R. Delany | Philip K. Dick | Frank Herbert | Ursula K. Le Guin | Barry N. Malzberg | Moebius (Jean Giraud) | Michael Moorcock | Alan Moore | Gary Panter | Walker Percy | Thomas Pynchon | Joanna Russ | James Tiptree Jr. (Alice Sheldon) | Kurt Vonnegut | PLUS: Jack Kirby's Golden Age and New Wave science fiction comics.
ALSO SEE: 50 Best Scientific Romances (1864–1903) | Radium Age Sci-Fi: 100 Best Novels of 1904–33 | Golden Age Sci-Fi: 75 Best Novels of 1934–1963 | 75 Best New Wave Sci-Fi (1964–83) Novels | The 200 Greatest Adventure Novels of All Time | 101 Science Fiction Adventures
PLUS: Jack Kirby's New Wave science fiction comics.
Categories
Uncategorized