New Wave Sci-Fi 75 (7)
By: Joshua Glenn
November 12, 2017
One in a series of posts about the 75 best science fiction novels published during the genre's New Wave era (from 1964–83, according to HILOBROW's periodization schema). For our complete New Wave Sci-Fi 75 list, click here.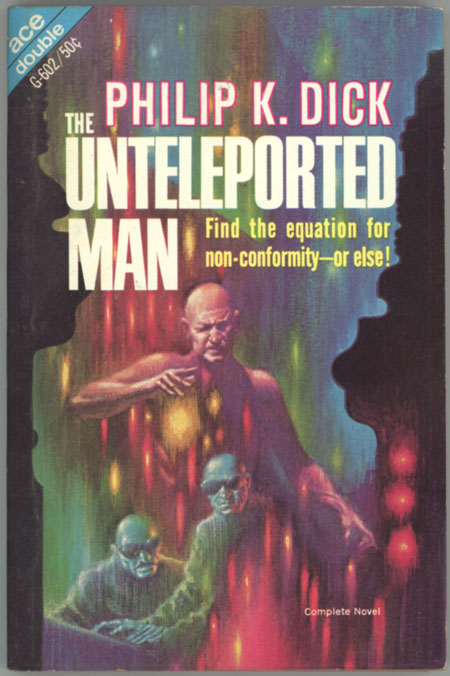 Philip K. Dick's The Unteleported Man (1966).
War between the US and the Soviet Union has led to UN rule of the planet, renamed Terra. Theodoric Ferry, a capitalist mogul, is teleporting millions to Whale's Mouth, the universe's only other inhabitable planet, a Garden of Eden where Terrans can start over. Freya Holm, an agent with the private police agency Listening Instructional Educational Services (LIES), Inc., speculates that Ferry may be an alien… and that Whale's Mouth may not be all that it seems. (See: Edgar Rice Burroughs's The Gods of Mars.) Rachmael Ben Applebaum, owner of an outer-space freighter company that has been disintermediated by teleportation technology, decides to travel to Whale's Mouth the old-fashioned way… i.e., he will be the only unteleported man. The UN, meanwhile, attempts to defeat Ferry via a mind-control device of their own: a pulp sci-fi novel!
Fun fact: Originally published as a novella, in 1964, by Fantastic. I've written more about this novel in my essay "The Black Iron Prison" (n+1, July 2004).
***
NEW WAVE SCI-FI at HILOBROW: 75 Best New Wave (1964–83) Sci-Fi Novels | Back to Utopia: Fredric Jameson's theorizing about New Wave sci-fi | Douglas Adams | Poul Anderson | J.G. Ballard | John Brunner | William Burroughs | Octavia E. Butler | Samuel R. Delany | Philip K. Dick | Frank Herbert | Ursula K. Le Guin | Barry N. Malzberg | Moebius (Jean Giraud) | Michael Moorcock | Alan Moore | Gary Panter | Walker Percy | Thomas Pynchon | Joanna Russ | James Tiptree Jr. (Alice Sheldon) | Kurt Vonnegut | PLUS: Jack Kirby's Golden Age and New Wave science fiction comics.
ALSO SEE: 50 Best Scientific Romances (1864–1903) | Radium Age Sci-Fi: 100 Best Novels of 1904–33 | Golden Age Sci-Fi: 75 Best Novels of 1934–1963 | 75 Best New Wave Sci-Fi (1964–83) Novels | The 200 Greatest Adventure Novels of All Time | 101 Science Fiction Adventures