New Wave Sci-Fi 75 (4)
By: Joshua Glenn
October 22, 2017
One in a series of posts about the 75 best science fiction novels published during the genre's New Wave era (from 1964–83, according to HILOBROW's periodization schema). For our complete New Wave Sci-Fi 75 list, click here.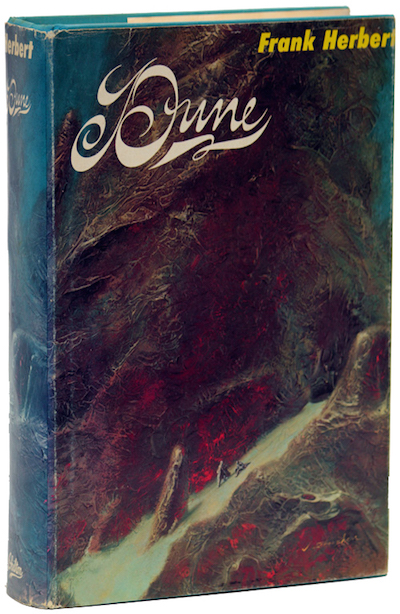 Frank Herbert's Dune (1965).
In the far future, interstellar travel is made possible thanks to the spice melange — the psychoactive properties of which allow pilots to safely route faster-than-light travel. Melange is also responsible for the witchy powers of the Bene Gesserit, an ancient sisterhood that has carried out a breeding program designed to produce the Kwisatz Haderach (a messiah-like figure). Dune, the first in a series of six best-selling novels, recounts how young Paul Atreides arrives on Arrakis, the only planet where spice is mined, only to see his father — the new governor of the planet — killed and his family's (awesome) retainers scattered. With the help of his Bene Gesserit mother, not to mention the Fremen, the planet's giant-worm-riding natives, Paul seeks revenge against the evil Baron Harkonnen… while discovering the truth about the Kwisatz Haderach. Dune is… potboiler about a family's declining empire, a fantasy about the founding of a new social order, a band-of-brothers yarn, and a criticism of humankind's despoliation of nature. Phew!
Fun fact: Science fiction's first hardcover bestseller; parts of it were first serialized in Analog. Dune was adapted into David Lynch's cult 1984 movie of the same title. It won the inaugural Nebula Award for Best Novel.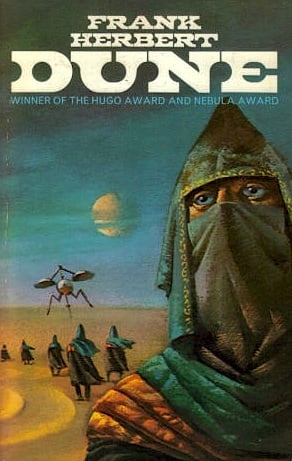 ***
NEW WAVE SCI-FI at HILOBROW: 75 Best New Wave (1964–83) Sci-Fi Novels | Back to Utopia: Fredric Jameson's theorizing about New Wave sci-fi | Douglas Adams | Poul Anderson | J.G. Ballard | John Brunner | William Burroughs | Octavia E. Butler | Samuel R. Delany | Philip K. Dick | Frank Herbert | Ursula K. Le Guin | Barry N. Malzberg | Moebius (Jean Giraud) | Michael Moorcock | Alan Moore | Gary Panter | Walker Percy | Thomas Pynchon | Joanna Russ | James Tiptree Jr. (Alice Sheldon) | Kurt Vonnegut | PLUS: Jack Kirby's Golden Age and New Wave science fiction comics.
ALSO SEE: 50 Best Scientific Romances (1864–1903) | Radium Age Sci-Fi: 100 Best Novels of 1904–33 | Golden Age Sci-Fi: 75 Best Novels of 1934–1963 | 75 Best New Wave Sci-Fi (1964–83) Novels | The 200 Greatest Adventure Novels of All Time | 101 Science Fiction Adventures