New Wave Sci-Fi 75 (2)
By: Joshua Glenn
October 8, 2017
One in a series of posts about the 75 best science fiction novels published during the genre's New Wave era (from 1964–83, according to HILOBROW's periodization schema). For our complete New Wave Sci-Fi 75 list, click here.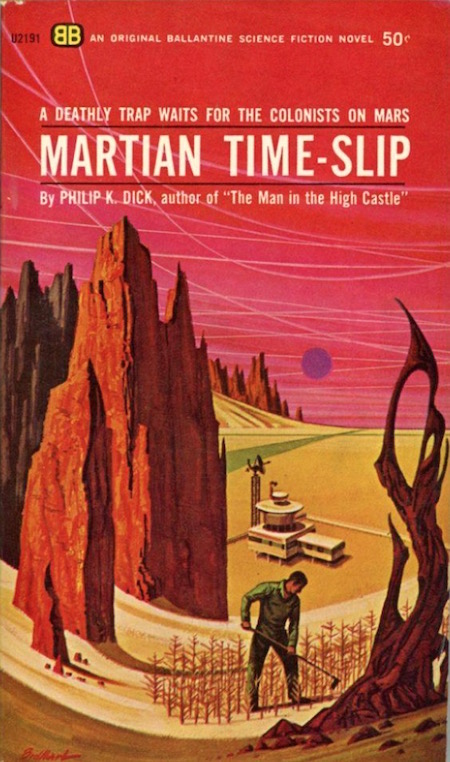 Philip K. Dick's Martian Time-Slip (1964).
One of my top favorite PKD novels, Martian Time-Slip is set in an arid Martian colony where Establishment-approved information is crammed into youthful heads by teaching machines. Forget the plot, which involves time travel… or a vision/hallucination of time travel, anyway. Dick presents the book's action through flash-forwards and from the perspectives of the three main characters. At the level of form, we're confronted with the question: What is reality? Ten-year-old Manfred Steiner, is labeled autistic because he doesn't properly respond to the machines; in fact, he has precognition abilities. Jack Bohlen, a repairman, is hired to develop a device for communicating with Manfred; Bohlen, too, is disturbed by the teaching machines — because his schizophrenia reveals to him the machine-like quality of normal, well-adjusted people; and because he, like Manfred, perceives the passage of time in an unconventional way. A third character, union leader Arnie Kott, wants to use Manfred's abilities to get the edge on a business deal. Meanwhile, the oppressed native Martians recognize the malleability of time — and therefore understand the value of Manfred's gifts.
Fun fact: The novel was first published under the title All We Marsmen, serialized in the August, October and December 1963 issues of Worlds of Tomorrow magazine.
***
NEW WAVE SCI-FI at HILOBROW: 75 Best New Wave (1964–83) Sci-Fi Novels | Back to Utopia: Fredric Jameson's theorizing about New Wave sci-fi | Douglas Adams | Poul Anderson | J.G. Ballard | John Brunner | William Burroughs | Octavia E. Butler | Samuel R. Delany | Philip K. Dick | Frank Herbert | Ursula K. Le Guin | Barry N. Malzberg | Moebius (Jean Giraud) | Michael Moorcock | Alan Moore | Gary Panter | Walker Percy | Thomas Pynchon | Joanna Russ | James Tiptree Jr. (Alice Sheldon) | Kurt Vonnegut | PLUS: Jack Kirby's Golden Age and New Wave science fiction comics.
ALSO SEE: 50 Best Scientific Romances (1864–1903) | Radium Age Sci-Fi: 100 Best Novels of 1904–33 | Golden Age Sci-Fi: 75 Best Novels of 1934–1963 | 75 Best New Wave Sci-Fi (1964–83) Novels | The 200 Greatest Adventure Novels of All Time | 101 Science Fiction Adventures