New Wave Sci-Fi 75 (1)
By: Joshua Glenn
October 1, 2017
One in a series of posts about the 75 best science fiction novels published during the genre's New Wave era (from 1964–83, according to HILOBROW's periodization schema). For our complete New Wave Sci-Fi 75 list, click here.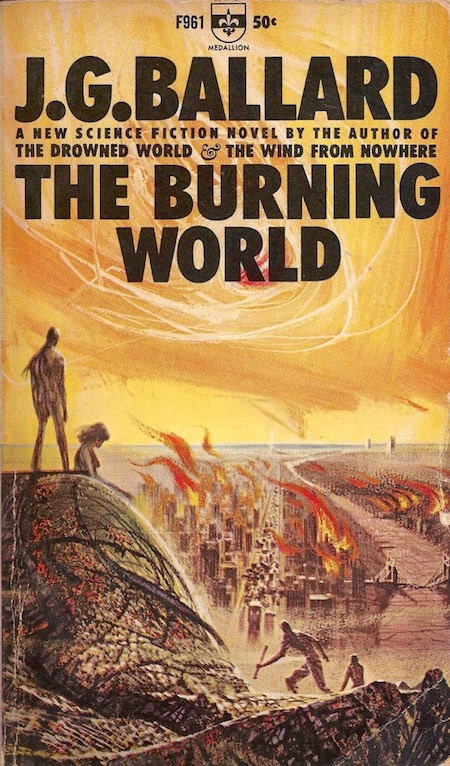 J.G. Ballard's The Burning World (1964).
A difficult book to read, in many respects — with the saving grace that it is not a Golden Age sci-fi "cozy catastrophe," i.e., in which the apocalypse proves to be a kind of wish fulfillment for an alienated male protagonist. As the story begins, a British suburb begins to grapple with the fact that an unending drought — brought on by human pollution — will result in rivers running dry, crops failing, and humankind succumbing to famine and disease. Some years later, a small band of survivors from that suburb traverses vast salt plains in search of potable water. As in Beckett's Endgame, our post-apocalyptic protagonist, the resigned and taciturn Dr. Ransom, and his companions — including a deranged architect who takes to wearing jeweled robes; and a crippled man who walks on stilts — discover that everything they've ever believed is meaningless.
Fun fact: An expanded version, retitled The Drought, was published in 1965. Ballard's other early catastrophe novels include The Wind from Nowhere (1961), The Drowned World (1962), and The Crystal World (1966).
***
NEW WAVE SCI-FI at HILOBROW: 75 Best New Wave (1964–83) Sci-Fi Novels | Back to Utopia: Fredric Jameson's theorizing about New Wave sci-fi | Douglas Adams | Poul Anderson | J.G. Ballard | John Brunner | William Burroughs | Octavia E. Butler | Samuel R. Delany | Philip K. Dick | Frank Herbert | Ursula K. Le Guin | Barry N. Malzberg | Moebius (Jean Giraud) | Michael Moorcock | Alan Moore | Gary Panter | Walker Percy | Thomas Pynchon | Joanna Russ | James Tiptree Jr. (Alice Sheldon) | Kurt Vonnegut | PLUS: Jack Kirby's Golden Age and New Wave science fiction comics.
ALSO SEE: 50 Best Scientific Romances (1864–1903) | Radium Age Sci-Fi: 100 Best Novels of 1904–33 | Golden Age Sci-Fi: 75 Best Novels of 1934–1963 | 75 Best New Wave Sci-Fi (1964–83) Novels | The 200 Greatest Adventure Novels of All Time | 101 Science Fiction Adventures