#SQUADGOALS (22)
By: Matthew Battles
May 31, 2017
One in a series of enthusiastic posts, contributed by HILOBROW friends and regulars during 2017, on the subject of our favorite squads.
*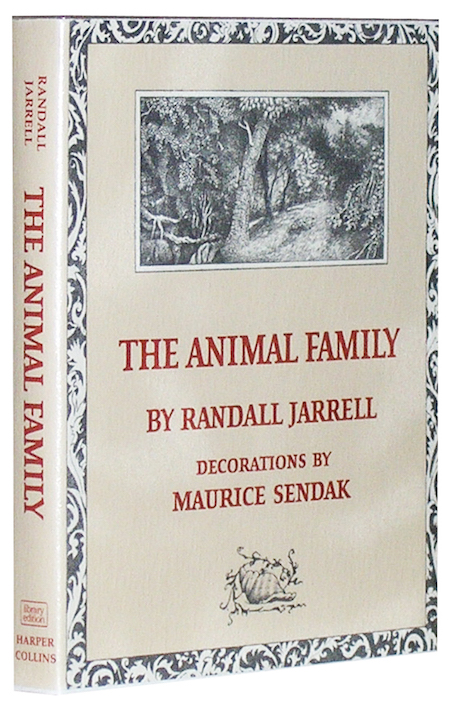 I love my dog as much as anyone does, but I'm uncomfortable with the cozy language of parenting many use to give voice to the pet relation. Whatever I am to her, I'm not her papa, and she's not my baby. When I'm challenged to come up with an alternative vision for cross-species companionship, it's The Animal Family, a quiet astonishment of a children's novel by the poet and critic Randall Jarrell, which comes to mind.
A human male who hunts, a mermaid, a lynx, a bear, and a boy: such is the menagerie at the heart of The Animal Family. And I describe them as such appreciatively. For despite the heteronormativity of the hunter who is the first character to appear in the novel, these characters come together as a marvelously, movingly queer multispecies family. They're each of them displaced, orphaned, on the run, in one mysterious way or another — the hunter lives alone in the forest, with the dim memories of his parents the only trace of society; the mermaid, drawn by fascination with the smells and textures of the forest, takes up a terrestrial companionship with him that is not so much a consummation as a confederation. When the bear and lynx take their places as members of the family, they do so not as pets, nor foster children, but as oddkin fully and ferally of their own kind, possessed of animality and autonomy. Last to join the band, the boy is a foundling and orphan of mysterious provenance — and although he takes up a role as foster child, the mystery of his origin is never diminished or passed over by the hunter or the mermaid — indeed it's celebrated, a marvel of occasions, a miracle of human and other-than-human entanglement.
The science-studies scholar and cultural critic Donna Haraway recently has suggested that we "make kin, not babies" — acknowledging a symbiotic background to life on an increasingly precarious planet. "All earthlings are kin in the deepest sense," she writes, "and it is past time to practice better care of kinds-as-assemblages (not species one at a time)." When I'm running with my dog through the burned-over, graffiti-bright urban woods of metro Boston, Haraway's kinship is my guide — and Jarrell's oddkin family is my inspiration.
***
#SQUADGOALS: Annie Nocenti on THE WILD BUNCH | Alice Boone on PRETTY LITTLE LIARS | Gordon Dahlquist on BOWIE'S BAND | Rob Wringham on THE HOME GUARD | Jennifer Krasinski on WATERSHIP DOWN RABBITS | Annalee Newitz on ROBIN HOOD'S MERRY PALS | Adrienne Crew on THE BLOOMSBURY GROUP | Mark Kingwell on THE HONG KONG CAVALIERS | Adam McGovern on KAMANDI'S FAMILY | John Overholt on THE CLUB | Greg Rowland on THE VULTURE SQUADRON | Sara Ryan on BETSY, TACY & TIB | Chelsey Johnson on VI ÄR BÄST! | Brian Berger on THE JOHN FORD STOCK COMPANY | Sherri Wasserman on THE WARRIORS | Jessamyn West on FAREYNIKTE PARTIZANER ORGANIZATSYE | Josh Glenn on DADA | Matthew De Abaitua on THE TIME | Mandy Keifetz on THE FOUNDING FATHERS | William Nericcio on ZOOT SUIT PACHUCOS | Deb Chachra on FIREFLY CREW | Matthew Battles on THE ANIMAL FAMILY | Ingrid Schorr on THE HARLEM GLOBETROTTERS | Joe Alterio on THE USUAL GANG OF IDIOTS | Dan Reines on THE BREAKFAST CLUB | Rob Walker on LES TROIS INSÉPARABLES | Devin McKinney on 1975 RED SOX | Steph Burt on DAMAGE CONTROL | Elina Shatkin on THE HOLOGRAMS | Chris Spurgeon on THE ALKALI METALS | Carl Wilson on NEW YORK SCHOOL POETS | Barbara Bogaev on THE MOD SQUAD | Franklin Bruno on THE AACM | Judith Zissman on THE FUTURIANS | Karinne Keithley Syers on BLACK LIPS PERFORMANCE CULT | Jacob Mikanowski on THE RATBASTARDS | Lynn Peril on THE DALY SISTERS | Katie Hennessey on BEAT POETS | Peter Doyle on CORNEL WILDE BOYS | Gary Panter on TBD | Mimi Lipson on TBD | TBD on TBD | Molly Wright Steenson on TBD | Anthony Miller on TBD | TBD on TBD | Jenny Offill on TBD | Kio Stark on TBD | TBD on TBD | Colin Dickey on ACÉPHALE | Anindita Basu Sempere on MEG MURRY'S FAMILY | David Smay on THE MYSTIC KNIGHTS OF THE OINGO BOINGO | TBD on TBD.
MORE ENTHUSIASM at HILOBROW
KLUTE YOUR ENTHUSIASM (2017): TBD | #SQUADGOALS (2017 weekly): THE WILD BUNCH | BOWIE'S BAND | THE BLOOMSBURY GROUP | THE HONG KONG CAVALIERS | VI ÄR BÄST! & dozens of other squads | GROK MY ENTHUSIASM (2016 weekly): THE THEORY AND PRACTICE OF LUNCH | WEEKEND | MILLION YEAR PICNIC | LA BARONNE EMILE D'ERLANGER | THE SURVIVAL SAMPLER | & dozens more one-off enthusiasms. QUIRK YOUR ENTHUSIASM (2016): "Tainted Love" | "Metal" | "Frankie Teardrop" | "Savoir Faire" | "Broken English" | & 20 other new wave songs. CROM YOUR ENTHUSIASM (2015): DARKER THAN YOU THINK | THE SWORD IN THE STONE | OUT OF THE SILENT PLANET | THIEVES' HOUSE | QUEEN OF THE BLACK COAST | & 20 other fantasy novels from 1934–43. KERN YOUR ENTHUSIASM (2014): ALDINE ITALIC | DATA 70 | TORONTO SUBWAY | JOHNSTON'S "HAMLET" | TODD KLONE | & 20 other typefaces. HERC YOUR ENTHUSIASM (2013): "Spoonin' Rap" | "Rapper's Delight" | "Rappin' Blow" | "The Incredible Fulk" | "The Adventures of Super Rhyme" | & 20 other old-school hip-hop songs. KIRK YOUR ENTHUSIASM (2012): Justice or vengeance? | Kirk teaches his drill thrall to kiss | "KHAAAAAN!" | "No kill I" | Kirk browbeats NOMAD | & 20 other Captain Kirk scenes. KIRB YOUR ENTHUSIASM (2011): THE ETERNALS | BLACK MAGIC | DEMON | OMAC | CAPTAIN AMERICA | & 20 other Jack Kirby panels.