STUFFED (23)
By: Tom Nealon
May 17, 2017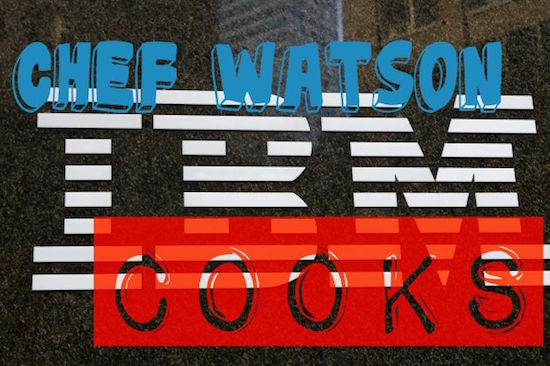 One in a popular series of posts by Tom Nealon, author of Food Fights and Culture Wars: A Secret History of Taste (British Library Publishing, October 2016; Overlook Press, March 2017). STUFFED is inspired by Nealon's collection of rare cookbooks, which he sells — among other things — via Pazzo Books.
STUFFED SERIES: THE MAGAZINE OF TASTE | AUGURIES AND PIGNOSTICATIONS | THE CATSUP WAR | CAVEAT CONDIMENTOR | CURRIE CONDIMENTO | POTATO CHIPS AND DEMOCRACY | PIE SHAPES | WHEY AND WHEY NOT | PINK LEMONADE | EUREKA! MICROWAVES | CULINARY ILLUSIONS | AD SALSA PER ASPERA | THE WAR ON MOLE | ALMONDS: NO JOY | GARNISHED | REVUE DES MENUS | REVUE DES MENUS (DEUX) | WORCESTERSHIRE SAUCE | THE THICKENING | TRUMPED | CHILES EN MOVIMIENTO | THE GREAT EATER OF KENT | GETTING MEDIEVAL WITH CHEF WATSON | KETCHUP & DIJON | …and more to come.
*
GETTING MEDIEVAL WITH CHEF WATSON
A couple of years ago, Bon Appetit magazine teamed up with IBM's Watson computer to use Watson's natural language abilities to come up with new recipes. A few weeks ago, the ad agency Ogilvy Paris added further constraint to the idea by requiring Watson to only use ingredients that spell EATS. As I understand it, Bon Appetit fed Watson their recipe database and then messed around with it for a year, tweaking its understanding of cooking science and ingredient use — anyone can mess about with the results here.
The idea (if we agree to separate the advertising from the useful bits) is to make use of Watson's fresh look at food, unburdened from all of the calcified ideas that we all have about how to cook certain dishes, what ingredients go together, how sweet and savory interact, etc., etc. It's a fun and potentially useful thing — we cook with all sorts of restraints (budget, what's in the fridge, diets, taboos) but formalizing them can make some of the ruts that we are in more obvious. However, it is easy to make too much of the ingredient combinations that Watson manifests.
Like a graduate student extracted too quickly from a sea of postmodernism criticism who sees boundary-smashing ironies and ambivalence in works that were created before the boundaries existed (be it Don Quixote, Tristram Shandy, The Tale of Genji or The Dream of the Rood), it's tempting to think that Watson's food pairings are the result of inhuman cleverness… when they are really a result of programming and a still molten idea of what cuisine is. But that's where the interest lies, anyway: making us question some of the things we take for granted about food by confronting us with an intelligence that doesn't quite know or care what those are.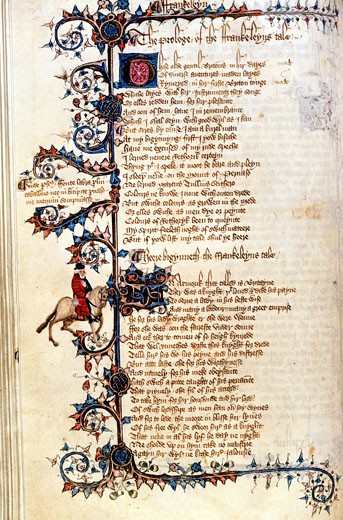 Anyway, I decided it would be most entertaining, for my constraint, to try to tempt Watson into recreating some medieval recipes — leveraging its half-understanding of cuisine to mess around with food that was eaten during a much more fluid ' and restrained (by knowledge, technique, ingredients, prescription) — period in Western cuisine. For this purpose, I'm using the always handy Pleyn Delit: Medieval Cookery for Modern Cooks which does an admirable job of transferring sometimes difficult-to-parse medieval recipes into a usable form.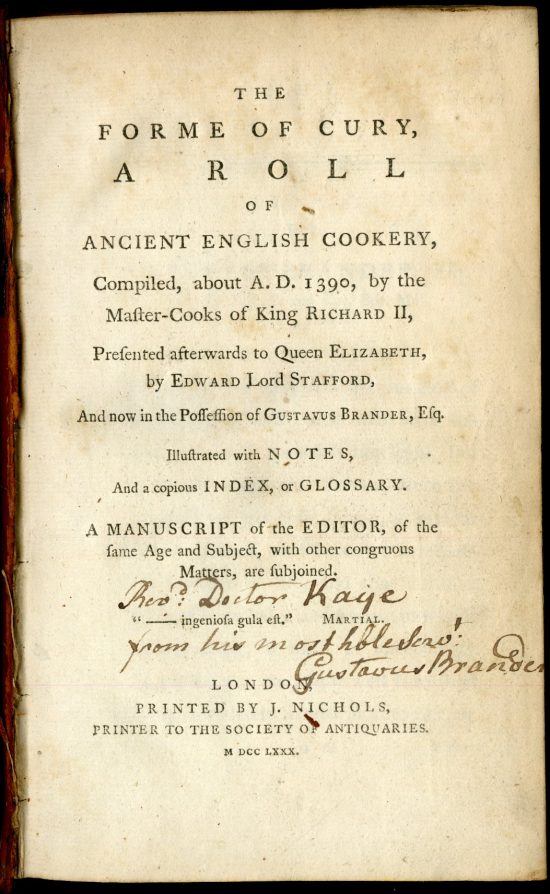 What we fed Watson:
Gele of Fyshh (from the 1390 AD manuscript The Forme of Cury by the cooks of Richard II) — a sort of gefilte fish made by cooking a whole fish down to a jelly. Ingredients: trout, flounder, vinegar, saffron (you can only pick 4 ingredients — I backed out salt, pepper, and white wine).
What we got back: Grilled trout, and a bunch of dishes based on scallop recipes from their archive. And a "Trout Rice Dish": chicken liver, egg, vinegar, trout, flounder, beetroot, yellow potato, wild mushroom, hot chili oil, vegetable oil, ginger, poblano pepper, serrano chile, wasabi, quinoa, kosher salt, caper, red miso, cumin, saffron.
I nixed the saffron and substituted white wine — in medieval recipes, saffron is everywhere, but in contemporary cuisine it's used in very specific types of dishes that is likely to confuse Watson, and I got these weird dumplings, "Trout Dumpling": porterhouse steak, tofu, water, white wine, sesame oil, red miso, smoked bacon, brown mustard seeds, simple syrup, vinegar, trout, flounder, green onion, asparagus, green cabbage, garlic, serrano chile, salt, gelatin, wonton wrapper. What is most interesting about these is that the original Bon Appetit recipe had chicken wings and ham and here they've substituted porterhouse steak, trout and flounder — I'm charmed by chicken+ham=trout+flounder+porterhouse and there is even something a little medieval in that arithmetic, something that might have been dragged kicking and screaming out of The Domesday Book. Otherwise it was all grilled trout, a couple of trout seafood salads, stuffed trout, poached trout…
Oh well, this one was a long shot anyway. Though it's an enduring classic, a staple of Jewish cookery for centuries — there are Eastern European versions made with carp for feasts, and it is also still popular in Alsace (where it is often served with raisins) — it's still a weird idea. The dish evolved when cooks realized that if you cooked the fish long enough, the bones dissolved and the free gelatin made it an aspic.
What we fed Watson:
Jowtes of Almaund Mylke (from the Forme of Cury – there is also a similar recipe in the Ménagier de Paris, the 1393 French manuscript of bourgeois recipes; the former just suggests herbs, the latter watercress and chard), This is an almond milk soup with greens. The ingredients (as suggested by Pleyn Delite) are ground almonds, watercress, scallions, parsley, sugar, water. I started with Almond meal, watercress, scallions, water.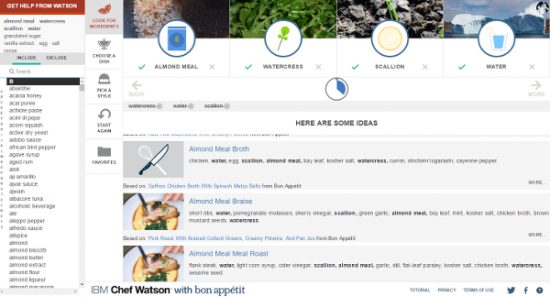 What we got back: The very promising sounding "Almond Meal Broth" — but it's a take on spinach matzo ball soup and the almond meal is made into balls (they must really sink). However, it does have italian sausage (substituted for the chicken in the original recipe), cumin, cinnamon and nutmeg in it (all Watson additions), so we have definitely teased some medieval thinking out with the savory/sweet combinations. Note: I ran this a few more times and the meat seems to change frequently — I got chicken and top round roast later — and the servings are, themselves, a gluttonous mystery. Six pounds of beef along with all the other ingredients will yield 8 servings — save some room for dessert (which is gingerbread, of course — from a 14th c. recipe; but, alas, the ingredients honey, breadcrumbs, ginger and sugar only got me meat dishes in response).
I tried using almond milk instead of almond meal and water and adding in the sugar (almond milk is made by boiling ground almonds in water until it turns milky white and then straining) but because almond milk has become all the rage as a substitute for things, Watson just ends up confused. "Watercress Meat Dish" (sort of an amazing recipe, actually — it's based on a beef tenderloin cooked in red wine but is a turkey neck cooked in apple brandy) and "Watercress Potato Salad." There is an exclusion function so you can simulate fast days or dietary restrictions, or try to trick Watson into making crazy pairings, but no matter what I excluded, it seemed to get me further away. No meat was met with tofu, no tofu with just a series of increasingly unlikely "polenta" dishes.
What we fed Watson: a twist on a classic medieval recipe — blancmanger, but with fish instead of chicken (from a 15th-century English manuscript known as Harlein 279): rice, ground almonds, lobster (the recipe calls for lobster or perch), suger, ginger.
What we got back: Not much — a few recipes for paella (one medieval tendency that Watson definitely has is to throw pork at everything; many of these recipes had sausage, pancetta or chorizo in them), some soups, but no matter what I did — mix up the rice, suggest rice flour (it's supposed to be a molded dish like a proto-aspic), or sugar instead of ginger (a combination that got a variety of "no ideas for this combination" answers), there wasn't much luck. Even using the almond meal+water trick (along with rice and lobster) was a big zero, though the "Rice Grits" recipe with aquavit, lobster, and almond milk intrigues me.
My feeling is that starting with the Bon Appetit recipe database made Watson more likely to pursue "novel" combinations with trendy ingredients (ginger, almond milk) but not really anymore likely to think expansively about food like I hoped. However, it is fun to mess around with and has some good medieval inclinations — mixing sweet and savory spices, putting sausage in everything, funny substitutions — that make it potentially useful while you are entertaining yourself with recipes like "Blueberry Yogurt Chili Con Carne" or "Cured Meat Subsitute Bisque." The problem as I see it (while not really knowing how Watson makes their sausage, so to speak) is that Watson can't discern the difference between a clever gesture or an attempt at novelty with a suddenly popular ingredient by a Bon Appetit recipe writer and combinations that are actually the building blocks of cuisine — i.e. the program has an expansive vocabulary but a highly suspect grammar. We would have been better off feeding it The Joy of Cooking or the complete works of Elizabeth David where the limitations wouldn't have been so random, the misunderstandings more uniform.
Still, I can't lie, it's pretty diverting and the ridiculous is as much a part of that as the odd usable idea.
***
STUFFED SERIES: THE MAGAZINE OF TASTE | AUGURIES AND PIGNOSTICATIONS | THE CATSUP WAR | CAVEAT CONDIMENTOR | CURRIE CONDIMENTO | POTATO CHIPS AND DEMOCRACY | PIE SHAPES | WHEY AND WHEY NOT | PINK LEMONADE | EUREKA! MICROWAVES | CULINARY ILLUSIONS | AD SALSA PER ASPERA | THE WAR ON MOLE | ALMONDS: NO JOY | GARNISHED | REVUE DES MENUS | REVUE DES MENUS (DEUX) | WORCESTERSHIRE SAUCE | THE THICKENING | TRUMPED | CHILES EN MOVIMIENTO | THE GREAT EATER OF KENT | GETTING MEDIEVAL WITH CHEF WATSON | KETCHUP & DIJON | …and more to come.
MORE POSTS BY TOM NEALON: Salsa Mahonesa and the Seven Years War, Golden Apples, Crimson Stew, Diagram of Condiments vs. Sauces, etc., and his De Condimentis series (Fish Sauce | Hot Sauce | Vinegar | Drunken Vinegar | Balsamic Vinegar | Food History | Barbecue Sauce | Butter | Mustard | Sour Cream | Maple Syrup | Salad Dressing | Gravy) — are among the most popular we've ever published here at HiLobrow.