#SQUADGOALS (16)
By: Jessamyn West
April 19, 2017
One in a series of enthusiastic posts, contributed by HILOBROW friends and regulars during 2017, on the subject of our favorite squads.
*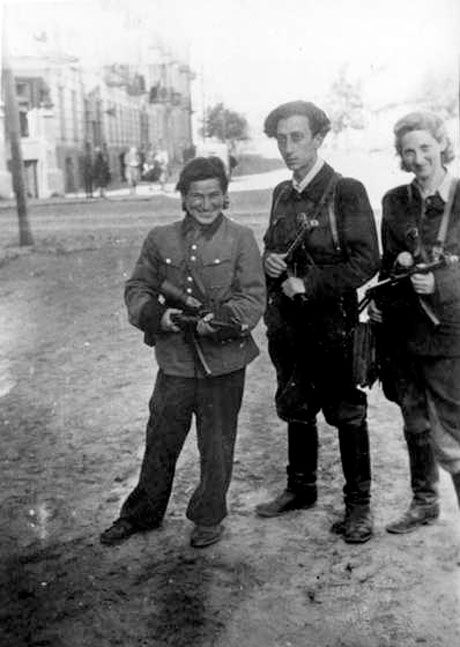 All I've got on my mind lately is fighting fascism. Despite being a somewhat conflict-averse rural librarian, I aspire to being an avenger; to wake up knowing what needs to be done and having the fortitude to go do it. I listened to Bikini Kill's "Rebel Girl" when I was in library school and it gave me ideas.
I remember reading about the Jewish Resistance organizations like the United Partisan Organization (Fareynikte Partizaner Organizatsye (FPO) פֿאַראײניקטע פּאַרטיזאַנער אָרגאַניזאַציע) formed in the ghettos of Nazi-occupied Europe. They set up illegal printing presses and made resistance posters. They taught each other to use weapons. They sabotaged the munitions factories where they were forced to work. When their ghettos were raided, they escaped via the sewers carrying their movement's archives on their backs and took to the forests. They were friends and rebels. Their path wasn't easy; they had to fight their own people for the sake of the larger movement.
In addition to the righteousness of their cause — fighting Nazis was unproblematic in a way that later Jewish activism wasn't — they had gender equity and decently cool uniforms. They knew how to strike a pose. The FPO's leader Abba Kovner had great hair and wrote poetry. Kovner, his wife Vitka Kempner and their colleague Rozka Korczak formed a secret post-war organization called Nokmim (Hebrew for avengers), hunting down Nazis that the justice system ignored throughout the late '40s and '50s. All three of them lived into the 1980s; longer than Eichmann, longer than Mengele.
I don't aspire, in my peaceful rural life, to be some sort of hero or vanguardist. I'd like to be someone who worked with her friends, got shit done, looked OK while doing it, stayed alive, and left a good-looking Wikipedia page.
"to outlive the tormentors, these too were acts of resistance."
***
#SQUADGOALS: Annie Nocenti on THE WILD BUNCH | Alice Boone on PRETTY LITTLE LIARS | Gordon Dahlquist on BOWIE'S BAND | Rob Wringham on THE HOME GUARD | Jennifer Krasinski on WATERSHIP DOWN RABBITS | Annalee Newitz on ROBIN HOOD'S MERRY PALS | Adrienne Crew on THE BLOOMSBURY GROUP | Mark Kingwell on THE HONG KONG CAVALIERS | Adam McGovern on KAMANDI'S FAMILY | John Overholt on THE CLUB | Greg Rowland on THE VULTURE SQUADRON | Sara Ryan on BETSY, TACY & TIB | Chelsey Johnson on VI ÄR BÄST! | Brian Berger on THE JOHN FORD STOCK COMPANY | Sherri Wasserman on THE WARRIORS | Jessamyn West on FAREYNIKTE PARTIZANER ORGANIZATSYE | Josh Glenn on DADA | Matthew De Abaitua on THE TIME | Mandy Keifetz on THE FOUNDING FATHERS | William Nericcio on ZOOT SUIT PACHUCOS | Deb Chachra on FIREFLY CREW | Matthew Battles on THE ANIMAL FAMILY | Anthony Miller on TBD | Joe Alterio on THE USUAL GANG OF IDIOTS | Jacob Mikanowski on THE RATBASTARDS | Rob Walker on LES TROIS INSÉPARABLES | Katie Hennessey on BEAT POETS | TBD on TBD | Ingrid Schorr on THE HARLEM GLOBETROTTERS | Luc Sante on THE BOUZINGOS | Carl Wilson on NEW YORK SCHOOL POETS | Mimi Lipson on TBD | Franklin Bruno on THE AACM | Cintra Wilson on TBD | Karinne Keithley Syers on BLACK LIPS PERFORMANCE CULT | Dan Reines on THE BREAKFAST CLUB | Lynn Peril on THE DALY SISTERS | Devin McKinney on 1975 RED SOX | Steph Burt on DAMAGE CONTROL | Gary Panter on TBD | Barbara Bogaev on THE MOD SQUAD | Chris Spurgeon on THE ALKALI METALS | Molly Wright Steenson on TBD | Elina Shatkin on THE HOLOGRAMS | Anshuman Idamsetty on TBD | Jenny Offill on TBD | Kio Stark on TBD | Douglas Rushkoff on TBD | Colin Dickey on ACÉPHALE | Anindita Basu Sempere on TBD | David Smay on THE MYSTIC KNIGHTS OF THE OINGO BOINGO | TBD on TBD.
MORE ENTHUSIASM at HILOBROW
#SQUADGOALS (2017 weekly): THE WILD BUNCH | BOWIE'S BAND | THE BLOOMSBURY GROUP | THE HONG KONG CAVALIERS | VI ÄR BÄST! & dozens of other squads | GROK MY ENTHUSIASM (2016 weekly): THE THEORY AND PRACTICE OF LUNCH | WEEKEND | MILLION YEAR PICNIC | LA BARONNE EMILE D'ERLANGER | THE SURVIVAL SAMPLER | & dozens more one-off enthusiasms. QUIRK YOUR ENTHUSIASM (2016): "Tainted Love" | "Metal" | "Frankie Teardrop" | "Savoir Faire" | "Broken English" | & 20 other new wave songs. CROM YOUR ENTHUSIASM (2015): DARKER THAN YOU THINK | THE SWORD IN THE STONE | OUT OF THE SILENT PLANET | THIEVES' HOUSE | QUEEN OF THE BLACK COAST | & 20 other fantasy novels from 1934–43. KERN YOUR ENTHUSIASM (2014): ALDINE ITALIC | DATA 70 | TORONTO SUBWAY | JOHNSTON'S "HAMLET" | TODD KLONE | & 20 other typefaces. HERC YOUR ENTHUSIASM (2013): "Spoonin' Rap" | "Rapper's Delight" | "Rappin' Blow" | "The Incredible Fulk" | "The Adventures of Super Rhyme" | & 20 other old-school hip-hop songs. KIRK YOUR ENTHUSIASM (2012): Justice or vengeance? | Kirk teaches his drill thrall to kiss | "KHAAAAAN!" | "No kill I" | Kirk browbeats NOMAD | & 20 other Captain Kirk scenes. KIRB YOUR ENTHUSIASM (2011): THE ETERNALS | BLACK MAGIC | DEMON | OMAC | CAPTAIN AMERICA | & 20 other Jack Kirby panels.