#SQUADGOALS (15)
By: Sherri Wasserman
April 12, 2017
One in a series of enthusiastic posts, contributed by HILOBROW friends and regulars during 2017, on the subject of our favorite squads.
*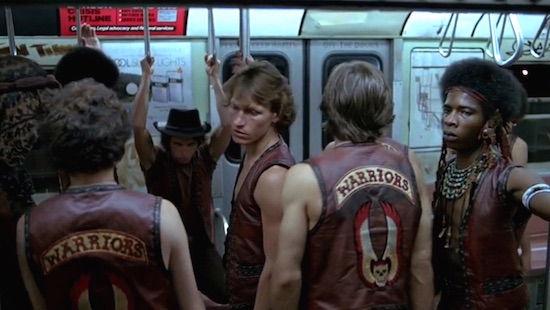 On the first day of the Muslim travel ban in the US, this #SQUADGOALS response changed. I've always loved The Warriors, but, since January 20, 2017, the film took on additional weight. When citizens of multiple countries were banned and visa and green card holders were unable to return home, this squad's story's relevancy again increased.
The Warriors are a gang from Coney Island, Brooklyn. During a city-wide truce, orchestrated by Cyrus, a powerful gang leader, members of the Warriors venture to the other end of NYC, the Bronx's Pelham Park, to attend a massive gathering. Gangs are told to bring a limited number of members and no weapons.
"I say the future is ours, if you can count," Cyrus declares in a preacher's tenor, arguing that there are more NYC gang members than police. If they transcend their geographic and cultural diversity, they can together run the city.
As he speaks, an impish asshole shoots Cyrus; when the murderer notices that one of the Warriors witnessed the act, he accuses the Warriors of the deed. The gang truce is off. The Warriors must get home, across the entirety of the transit system, approximately 25 miles away but feeling like an entire country, wrongly accused so under more dangerous threat, encountering challenges that reference Homer's Odyssey along the way.
The film is about transit, an incredible homage to the ways in which we move across space. It's about infrastructure — physical, institutional, and societal. It's about personal and cultural identity. It's about the co-existence of distinct characters throughout the most diverse American city. But most of all, the film is about home, NYC as the refuge for those of us who are aliens elsewhere, and how those of us who land here find and would fight to return to and retain those spaces where we belong.
Coney Island is a neighborhood of the imagination. It's housed everyone from old carnival sideshows to the hideout of the Mr. Robot crew. It embodies the mythology of the American dream, as a place where even those who occupy fringes or border conditions may survive. The Warriors themselves reflect this complicated mythology in their inappropriate, Native American-inspired costumes and their membership's racial diversity. In any time, but particularly today, I see nothing more important than fighting to get to a home where we may all have a chance to belong.
***
#SQUADGOALS: Annie Nocenti on THE WILD BUNCH | Alice Boone on PRETTY LITTLE LIARS | Gordon Dahlquist on BOWIE'S BAND | Rob Wringham on THE HOME GUARD | Jennifer Krasinski on WATERSHIP DOWN RABBITS | Annalee Newitz on ROBIN HOOD'S MERRY PALS | Adrienne Crew on THE BLOOMSBURY GROUP | Mark Kingwell on THE HONG KONG CAVALIERS | Adam McGovern on KAMANDI'S FAMILY | John Overholt on THE CLUB | Greg Rowland on THE VULTURE SQUADRON | Sara Ryan on BETSY, TACY & TIB | Chelsey Johnson on VI ÄR BÄST! | Brian Berger on THE JOHN FORD STOCK COMPANY | Sherri Wasserman on THE WARRIORS | Jessamyn West on FAREYNIKTE PARTIZANER ORGANIZATSYE | Josh Glenn on DADA | Matthew De Abaitua on THE TIME | Mandy Keifetz on THE FOUNDING FATHERS | William Nericcio on ZOOT SUIT PACHUCOS | Deb Chachra on FIREFLY CREW | Matthew Battles on THE ANIMAL FAMILY | Ingrid Schorr on THE HARLEM GLOBETROTTERS | Joe Alterio on THE USUAL GANG OF IDIOTS | Dan Reines on THE BREAKFAST CLUB | Rob Walker on LES TROIS INSÉPARABLES | Devin McKinney on 1975 RED SOX | Steph Burt on DAMAGE CONTROL | Elina Shatkin on THE HOLOGRAMS | Chris Spurgeon on THE ALKALI METALS | Carl Wilson on NEW YORK SCHOOL POETS | Barbara Bogaev on THE MOD SQUAD | Franklin Bruno on THE AACM | Judith Zissman on THE FUTURIANS | Karinne Keithley Syers on BLACK LIPS PERFORMANCE CULT | Jacob Mikanowski on THE RATBASTARDS | Lynn Peril on THE DALY SISTERS | Katie Hennessey on BEAT POETS | Peter Doyle on CORNEL WILDE BOYS | Gary Panter on TBD | Mimi Lipson on TBD | TBD on TBD | Molly Wright Steenson on TBD | Anthony Miller on TBD | TBD on TBD | Jenny Offill on TBD | Kio Stark on TBD | TBD on TBD | Colin Dickey on ACÉPHALE | Anindita Basu Sempere on MEG MURRY'S FAMILY | David Smay on THE MYSTIC KNIGHTS OF THE OINGO BOINGO | TBD on TBD.
MORE ENTHUSIASM at HILOBROW
KLUTE YOUR ENTHUSIASM (2017): TBD | #SQUADGOALS (2017 weekly): THE WILD BUNCH | BOWIE'S BAND | THE BLOOMSBURY GROUP | THE HONG KONG CAVALIERS | VI ÄR BÄST! & dozens of other squads | GROK MY ENTHUSIASM (2016 weekly): THE THEORY AND PRACTICE OF LUNCH | WEEKEND | MILLION YEAR PICNIC | LA BARONNE EMILE D'ERLANGER | THE SURVIVAL SAMPLER | & dozens more one-off enthusiasms. QUIRK YOUR ENTHUSIASM (2016): "Tainted Love" | "Metal" | "Frankie Teardrop" | "Savoir Faire" | "Broken English" | & 20 other new wave songs. CROM YOUR ENTHUSIASM (2015): DARKER THAN YOU THINK | THE SWORD IN THE STONE | OUT OF THE SILENT PLANET | THIEVES' HOUSE | QUEEN OF THE BLACK COAST | & 20 other fantasy novels from 1934–43. KERN YOUR ENTHUSIASM (2014): ALDINE ITALIC | DATA 70 | TORONTO SUBWAY | JOHNSTON'S "HAMLET" | TODD KLONE | & 20 other typefaces. HERC YOUR ENTHUSIASM (2013): "Spoonin' Rap" | "Rapper's Delight" | "Rappin' Blow" | "The Incredible Fulk" | "The Adventures of Super Rhyme" | & 20 other old-school hip-hop songs. KIRK YOUR ENTHUSIASM (2012): Justice or vengeance? | Kirk teaches his drill thrall to kiss | "KHAAAAAN!" | "No kill I" | Kirk browbeats NOMAD | & 20 other Captain Kirk scenes. KIRB YOUR ENTHUSIASM (2011): THE ETERNALS | BLACK MAGIC | DEMON | OMAC | CAPTAIN AMERICA | & 20 other Jack Kirby panels.