#SQUADGOALS (5)
By: Jennifer Krasinski
February 1, 2017
One in a series of enthusiastic posts, contributed by HILOBROW friends and regulars during 2017, on the subject of our favorite squads.
*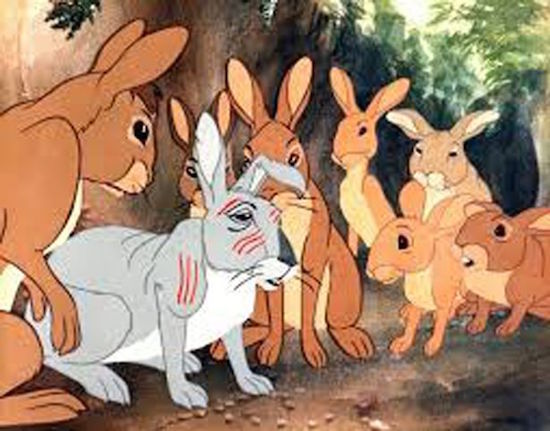 "All the world will be your enemy. And whenever they catch you they will kill you. But first, they must catch you."
My parents took me to see the 1978 movie Watership Down when I was seven, much to my lasting horror. Too much Disney at that tender age meant that I wasn't prepared to digest a story about the violence of nature, or understand that survival is not an inherently virtuous achievement. I watched that colony of rabbits, propelled by prophesies of doom, battle their way across the English countryside — dodging dog jaws, cat claws, car tires, hunters' bullets, and the hawks and owls that fly overhead — all just to find a safe place to live freely. Although I already understood the world could be a frightening place, the image of a cartoon rabbit dripping blood from its mouth managed to burrow into my brain and keep me up at night for weeks. It remained there for decades, vivid and terrible, while other memories of the film dissolved completely.
This past October, I watched it again to revisit that bloody-faced rabbit, to see how all would look to me now. Although I had no premonitions that Trump would be elected, I saw in the story lessons in how to survive a fate you didn't write for yourself. The dissident band of bunnies lives by the fact that appearances are always deceiving, and that predators inevitably underestimate their prey. Without muscle or fang or numbers equal to their enemies, they rely on their wits. If you can't outrun them, trick them into thinking they've got the upper hand, and while they're licking their chops, deliver the lethal blow. Because in the end, we live the happily-ever-after we've fought for.
***
#SQUADGOALS: Annie Nocenti on THE WILD BUNCH | Alice Boone on PRETTY LITTLE LIARS | Gordon Dahlquist on BOWIE'S BAND | Rob Wringham on THE HOME GUARD | Jennifer Krasinski on WATERSHIP DOWN RABBITS | Annalee Newitz on ROBIN HOOD'S MERRY PALS | Adrienne Crew on THE BLOOMSBURY GROUP | Mark Kingwell on THE HONG KONG CAVALIERS | Adam McGovern on KAMANDI'S FAMILY | John Overholt on THE CLUB | Greg Rowland on THE VULTURE SQUADRON | Sara Ryan on BETSY, TACY & TIB | Chelsey Johnson on VI ÄR BÄST! | Brian Berger on THE JOHN FORD STOCK COMPANY | Jacob Mikanowski on THE RATBASTARDS | Jessamyn West on FAREYNIKTE PARTIZANER ORGANIZATSYE | Josh Glenn on DADA | Matthew De Abaitua on THE TIME | Mimi Lipson on TBD | Franklin Bruno on THE AACM | Deb Chachra on FIREFLY CREW | Matthew Battles on THE ANIMAL FAMILY | Anthony Miller on TBD | Joe Alterio on THE USUAL GANG OF IDIOTS | Sherri Wasserman on THE WARRIORS | Rob Walker on LES TROIS INSÉPARABLES | Katie Hennessey on BEAT POETS | TBD on TBD | Ingrid Schorr on THE HARLEM GLOBETROTTERS | Luc Sante on THE BOUZINGOS | Carl Wilson on NEW YORK SCHOOL POETS | Mandy Keifetz on THE FOUNDING FATHERS | William Nericcio on ZOOT SUIT PACHUCOS | Cintra Wilson on TBD | Karinne Keithley Syers on BLACK LIPS PERFORMANCE CULT | Dan Reines on THE BREAKFAST CLUB | Lynn Peril on THE DALY SISTERS | Devin McKinney on 1975 RED SOX | Steph Burt on DAMAGE CONTROL | Gary Panter on TBD | Barbara Bogaev on THE MOD SQUAD | Chris Spurgeon on THE ALKALI METALS | Molly Wright Steenson on TBD | Elina Shatkin on THE HOLOGRAMS | Anshuman Idamsetty on TBD | Jenny Offill on TBD | Kio Stark on TBD | Douglas Rushkoff on TBD | Colin Dickey on ACÉPHALE | Anindita Basu Sempere on TBD | David Smay on THE MYSTIC KNIGHTS OF THE OINGO BOINGO | TBD on TBD.
MORE ENTHUSIASM at HILOBROW
#SQUADGOALS (2017 weekly): THE WILD BUNCH | BOWIE'S BAND | THE BLOOMSBURY GROUP | THE HONG KONG CAVALIERS | VI ÄR BÄST! & dozens of other squads | GROK MY ENTHUSIASM (2016 weekly): THE THEORY AND PRACTICE OF LUNCH | WEEKEND | MILLION YEAR PICNIC | LA BARONNE EMILE D'ERLANGER | THE SURVIVAL SAMPLER | & dozens more one-off enthusiasms. QUIRK YOUR ENTHUSIASM (2016): "Tainted Love" | "Metal" | "Frankie Teardrop" | "Savoir Faire" | "Broken English" | & 20 other new wave songs. CROM YOUR ENTHUSIASM (2015): DARKER THAN YOU THINK | THE SWORD IN THE STONE | OUT OF THE SILENT PLANET | THIEVES' HOUSE | QUEEN OF THE BLACK COAST | & 20 other fantasy novels from 1934–43. KERN YOUR ENTHUSIASM (2014): ALDINE ITALIC | DATA 70 | TORONTO SUBWAY | JOHNSTON'S "HAMLET" | TODD KLONE | & 20 other typefaces. HERC YOUR ENTHUSIASM (2013): "Spoonin' Rap" | "Rapper's Delight" | "Rappin' Blow" | "The Incredible Fulk" | "The Adventures of Super Rhyme" | & 20 other old-school hip-hop songs. KIRK YOUR ENTHUSIASM (2012): Justice or vengeance? | Kirk teaches his drill thrall to kiss | "KHAAAAAN!" | "No kill I" | Kirk browbeats NOMAD | & 20 other Captain Kirk scenes. KIRB YOUR ENTHUSIASM (2011): THE ETERNALS | BLACK MAGIC | DEMON | OMAC | CAPTAIN AMERICA | & 20 other Jack Kirby panels.