STUFFED (20): Trumped
By: Tom Nealon
January 12, 2017
One in a popular series of posts by Tom Nealon, author of Food Fights and Culture Wars: A Secret History of Taste (British Library Publishing, October 2016, and forthcoming in March from Overlook). STUFFED is inspired by Nealon's collection of rare cookbooks, which he sells — among other things — via Pazzo Books.
STUFFED SERIES: THE MAGAZINE OF TASTE | AUGURIES AND PIGNOSTICATIONS | THE CATSUP WAR | CAVEAT CONDIMENTOR | CURRIE CONDIMENTO | POTATO CHIPS AND DEMOCRACY | PIE SHAPES | WHEY AND WHEY NOT | PINK LEMONADE | EUREKA! MICROWAVES | CULINARY ILLUSIONS | AD SALSA PER ASPERA | THE WAR ON MOLE | ALMONDS: NO JOY | GARNISHED | REVUE DES MENUS | REVUE DES MENUS (DEUX) | WORCESTERSHIRE SAUCE | THE THICKENING | TRUMPED | Etc.
*
TRUMPED
We have scrutinized Trump's words, his actions, his appointments and, minutely, his tweets, for some clue to what terrors await. We have even scrutinized his grill (a little), but have we looked carefully at the menus at his restaurants? Weirdly, we have not — until now.
In general, the menus at Trump Grill, DJT (Las Vegas), and BLT (various locations) are what you might expect from the Donald: middle-of-the-road country-club food, gilded with some vague trappings of haute cuisine and with occasional depredations to common sense (an open-faced steak sandwich, steak frites with potato WEDGES) and common decency ($1.15 toppings on a $20 hamburger, the $14 "You're Fired" Blood Mary) along with things that used to be funny (the taco bowl). Pretty regular stuff, sort of a Goldschläger approach to making food that is sufficiently bland that it can't possibly offend anyone but also seems appropriately sparkly.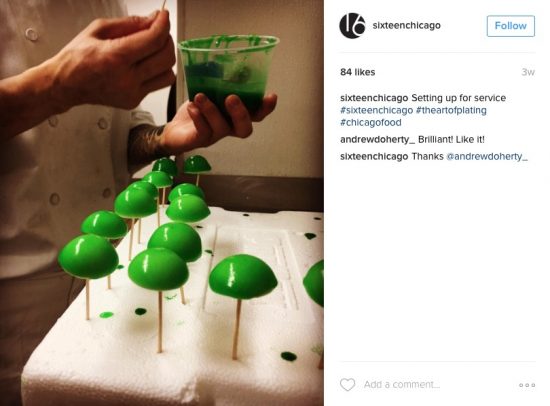 However, at Chicago's Sixteen in Trump Hotel & Tower, things get more interesting. Here we see Trump's populism which at the grill had been hastily dressed up in a blue blazer with gold buttons (as if on the way to an imagined yacht club brunch), begin to wear some of the garb of the truly elite, if a little awkwardly. While the center of the menu remains a middle of the road idea of luxury — lobster, rib-eye, black cod — the trappings have moved to the boundary between bourgeois cuisine and haute cuisine, luxury and satire: Cod is paired with a fermented tea leaf salad, langoustine with a deconstructed sauce veronique (turning a bourgeois dish into something else), squab with sassafras and hoja santa (root beer plant), for brunch your fingerling potatoes are mashed rustically. At first glance it all seems too random to mean anything — food clearly meant for regular folk but at irregular prices, conspicuous novelty mixed front to back with the banal. What could it possibly indicate?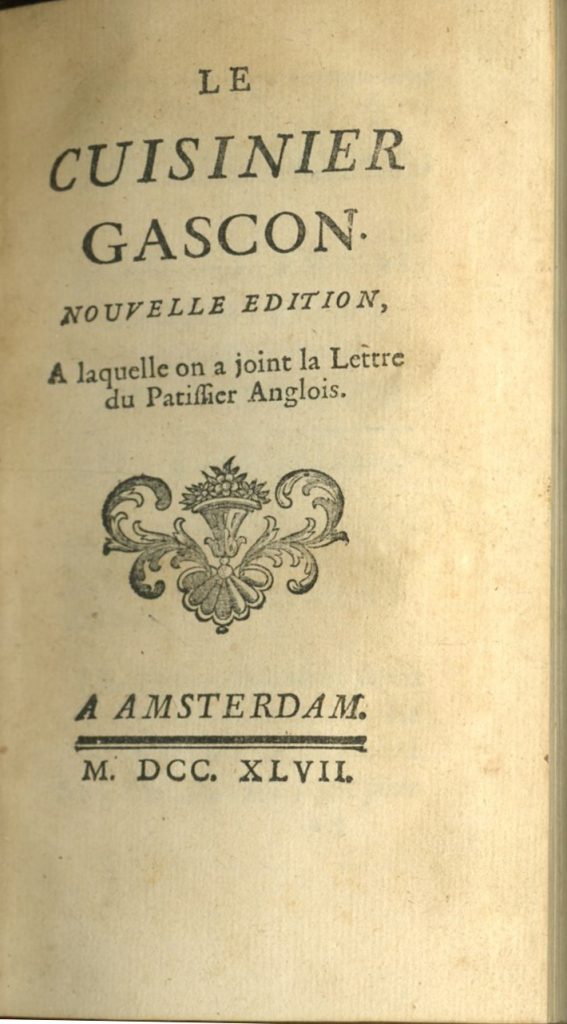 There is a historical context for this sort of mishmash of elements, the marrying of the populist, the bourgeois and the elitist. 18th-century France was struggling to marry the rapidly spreading ideals of the enlightenment with their rich and corrupt monarchy. It was into this simmering stew that a curious cookbook called Le Cuisinier Gascon was published in 1740 Paris (and again in 1747 with the satirical "Lettre d'un patissier anglois au Nouveau Cuisinier Francois" which took the nation to task for its lifelessly elegant cookery while longing for the food of the 17th century, appended). Written from a somewhat squishily populist viewpoint by a nobleman pretending to be a Gascon chef, it took aim at both royal and bourgeois (everyday) cuisine and often at the very idea of food itself. It featured recipes with silly names like Impromptu Pigeon, Green Monkey Sauce, and Eggs Without Malice and mocked in turn the excess of royal cookery with instructions calling for a duck to be squeezed over a chicken and then discarded (which was not far from the practice), bourgeois cookery with exaggerated recipes for stuffed cow eyes and chicken bats, and made fun of cookery and eating in general with force meats shaped to resemble donkey droppings.
Unlike many people in mid 18th century France, the author of Le Cuisinier Gascon probably wasn't really mad about anything, he was just casting about for things to mock, gripes and ridiculousness to make sport with, but if you were a half-starved peasant watching the nobility throw away barely used ducks, this sort of thing was very personal and very, very political. Even if the author's take was a mess, bourgeois cuisine imagined by a rich person, haute cuisine as seen by a non-cook, he was tapping into something in the French psyche, something unsteady and ready to explode.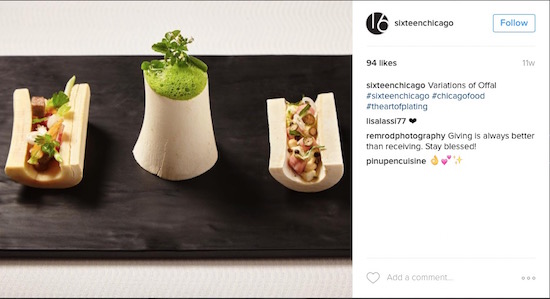 Now, I'm certainly not suggesting that these Trump menus are intended as satire (though if the "nightshades" served with the wagyu ribeye at Sixteen consists of tomatoes, chile peppers, and eggplant rolled up in a tobacco leaf like a burrito, I might have to change my mind). But it is interesting to read them as satire. After all, Le Cuisinier Gascon might not have been intended satirically either — he could have just been a goofball rich guy flailing about with silly ideas, complaints, and a powerfully nebulous animus.
Not too long after Le Cuisinier Gascon, of course, the French had a violent Revolution which they cleverly followed with a Reign of Terror. At the center of both, but especially the latter, were figures who struggled mightily with many of the issues that the cookbook and these menus muddle together. Georges Danton and Maximilien Robespierre tipped the revolution, which had briefly created a constitutional monarchy, into guillotining Louis XVI and launching the sprawling mess that was the Terror. Robespierre was an ideologue, a true believer in enlightenment ideals and, though a member of the bourgeoisie, a champion of the poor and oppressed, the sans-culottes. Danton was a more middle of the road man of appetites who shouted at Robespierre during a renowned dinner party altercation "For fuck's sake, just eat the $20 hamburger, Maximilien, why do you have to be such a killjoy?" For the record, the difference between the $19 gold label burger and the $20 platinum label at trump Grill? On the platinum the sauce isn't "secret", it's horseradish aioli (i.e. mayo).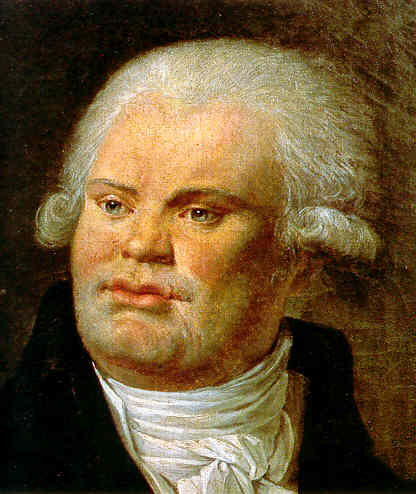 The great poet Lamartine called Danton a man "devoid of honor, principles, and morality" and claimed that all of his revolutionary acts were staged to benefit himself, and it is true that mid-Terror Danton ended up caught in a scheme to strip wealth from the French East India company for his personal coffers. Robespierre was a man of ideas which he dispensed with as necessary, an opponent of the death penalty who sent thousands to the guillotine. Of course the Terror got them too — Robespierre turned on Danton after the scandals and the dinner party fight, and the Terror turned on Robespierre just a few months later, both went the way of the guillotine.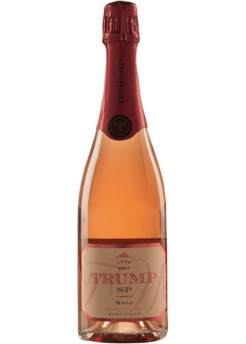 The peasants who, before the revolution, were famously advised by Marie Antoinette to eat brioche (though she didn't really) only starved faster as the Terror expanded — all that guillotining was a pretty good show, but didn't do much for the people they were supposed to be revolting for. Back in our present the people are still starving, and the Trump Mimosa ($18) is still made with Trump-brand sparkling wine. "Let them eat calamari with lemon aioli", you might say (just $13, but don't kid a kidder, it's still mayo); and maybe they will, but even Danton wouldn't have been caught dead drinking Trump SP Rose ($18, strawberry and cherry notes).
***
STUFFED SERIES: THE MAGAZINE OF TASTE | AUGURIES AND PIGNOSTICATIONS | THE CATSUP WAR | CAVEAT CONDIMENTOR | CURRIE CONDIMENTO | POTATO CHIPS AND DEMOCRACY | PIE SHAPES | WHEY AND WHEY NOT | PINK LEMONADE | EUREKA! MICROWAVES | CULINARY ILLUSIONS | AD SALSA PER ASPERA | THE WAR ON MOLE | ALMONDS: NO JOY | GARNISHED | REVUE DES MENUS | REVUE DES MENUS (DEUX) | WORCESTERSHIRE SAUCE | THE THICKENING | TRUMPED | Etc.
MORE POSTS BY TOM NEALON: Salsa Mahonesa and the Seven Years War, Golden Apples, Crimson Stew, Diagram of Condiments vs. Sauces, etc., and his De Condimentis series (Fish Sauce | Hot Sauce | Vinegar | Drunken Vinegar | Balsamic Vinegar | Food History | Barbecue Sauce | Butter | Mustard | Sour Cream | Maple Syrup | Salad Dressing | Gravy) — are among the most popular we've ever published here at HiLobrow.