1Q2017 SNEAK PEEK
By: HILOBROW
December 24, 2016
Here's a preview of HILOBROW's publishing plans for January, February, and March 2017!
ALSO READ: BEST OF HILOBROW: 2010 | BEST OF HILOBROW: 2011 | BEST OF HILOBROW: 2012 | BEST OF HILOBROW: 2013 | BEST OF HILOBROW: 2014 | BEST OF HILOBROW: 2015 | BEST OF HILOBROW: 2016 | BEST OF HILOBROW: 1Q2017 | BEST OF HILOBROW: 2Q2017 | HILOBROW 3Q2017 SNEAK PEEK
*
POLITICAL OBJECTS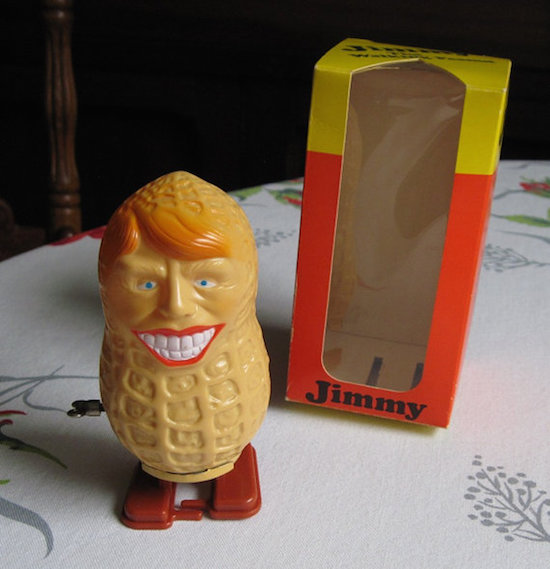 During 2017, Rob Walker and HILOBROW's Josh Glenn will publish 100 brand-new, nonfiction significant-object stories… right here at HILOBROW! The overall endeavor is code-named PROJECT:OBJECT. It will consist of four 25-story "volumes."
PROJECT:OBJECT is a sequel to SIGNIFICANT OBJECTS, the much-discussed quasi-anthropological experiment conducted in 2009–2010 by Rob and Josh. For that project, 200+ talented writers — including Sheila Heti, Nicholson Baker, Jenny Offill, Colson Whitehead, James Hannaham, Shelley Jackson, and Jonathan Lethem — invented stories about thrift-store items, then auctioned them off via eBay. (See links below.)
PROJECT:OBJECT's first 2017 volume, POLITICAL OBJECTS, will kick off the day before Inauguration Day. Contributors to this volume — including Tom Frank, Astra Taylor, Cathy Park Hong, Luc Sante, Lydia Millet, Ben Greenman, Rob Baedeker, Kathryn Davis, L.A. Kauffman, Alexis Madrigal, James Hannaham, Marisa Silver, Stephen Duncombe, Chenjerai Kumanyika, Rob Baedeker, and Carolina A. Miranda — are a truly extraordinary crew. Please spread the word — it's going to be a terrific series.
Rob and Josh are already putting together 2017's next three volumes. (More news on that front soon.) As the year goes on, they'll announce readings, collectibles, and other amusing epiphenomena spinning off from PROJECT:OBJECT.
SIGNIFICANT OBJECTS at HILOBROW: PROJECT:OBJECT homepage | PROJECT:OBJECT newsletter | PROJECT:OBJECT objects (Threadless shop — all profits donated to the ACLU) | POLITICAL OBJECTS series (1Q2017) | TALISMANIC OBJECTS series (2Q2017) | ILLICIT OBJECTS series (3Q2017) | LOST OBJECTS series (4Q2017) | 12 DAYS OF SIGNIFICANCE by Significant Objects | 12 MORE DAYS OF SIGNIFICANCE by Significant Objects. ALSO SEE: SIGNIFICANT OBJECTS website | SIGNIFICANT OBJECTS collection, ed. Rob Walker and Josh Glenn (Fantagraphics, 2012) | TAKING THINGS SERIOUSLY, ed. Josh Glenn (Princeton Architectural Press, 2007).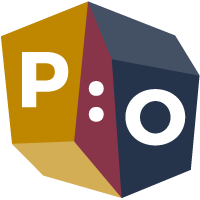 *
#SQUADGOALS
How can HILOBROW hope to follow 2016's amazing GROK MY ENTHUSIASM series, you ask? Each week, during 2017, one of HILOBROW's friends and/or regular contributors will contribute an enthusiastic post on the subject of their favorite squad — whether real-world or fictional.
1Q2017 installments in the #SQUADGOALS series will include the following.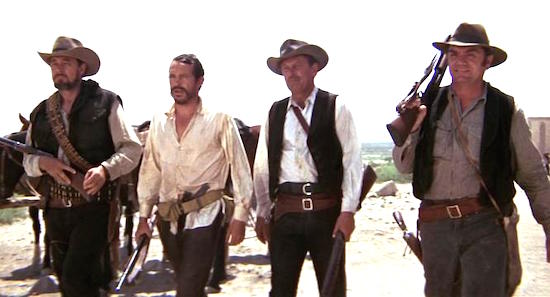 JANUARY: Annie Nocenti on THE WILD BUNCH | Alice Boone on PRETTY LITTLE LIARS | Gordon Dahlquist on BOWIE'S BAND | Rob Wringham on THE HOME GUARD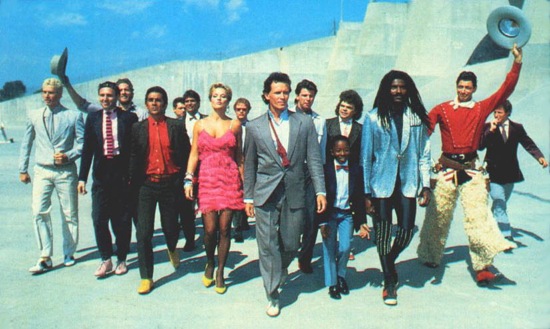 FEBRUARY: Jennifer Krasinski on WATERSHIP DOWN RABBITS | Annalee Newitz on ROBIN HOOD'S MERRY PALS | Adrienne Crew on THE BLOOMSBURY GROUP | Mark Kingwell on THE HONG KONG CAVALIERS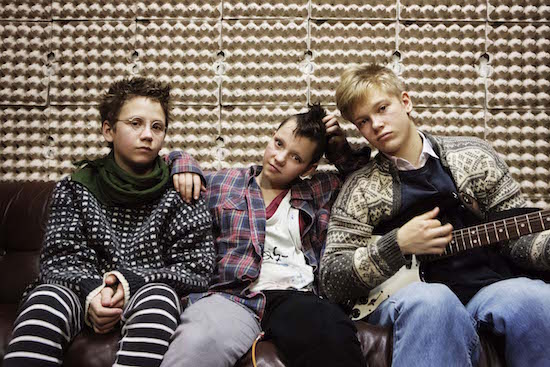 MARCH: Adam McGovern on KAMANDI'S FAMILY | John Overholt on THE CLUB | Greg Rowland on THE VULTURE SQUADRON | Sara Ryan on BETSY, TACY & TIB | Chelsey Johnson on VI ÄR BÄST!
Josh Glenn is the editor of the #SQUADGOALS series. His enthusiasm for squads — real-life and fictional — is well-established.
MORE ENTHUSIASM at HILOBROW
KLUTE YOUR ENTHUSIASM (2017): THE KILLERS | BANDE À PART (BAND OF OUTSIDERS) | ALPHAVILLE | HARPER | BLOW-UP | & 20 other neo-noir movies. #SQUADGOALS (2017 weekly): THE WILD BUNCH | BOWIE'S BAND | THE BLOOMSBURY GROUP | THE HONG KONG CAVALIERS | VI ÄR BÄST! & dozens of other squads | GROK MY ENTHUSIASM (2016 weekly): THE THEORY AND PRACTICE OF LUNCH | WEEKEND | MILLION YEAR PICNIC | LA BARONNE EMILE D'ERLANGER | THE SURVIVAL SAMPLER | & dozens more one-off enthusiasms. QUIRK YOUR ENTHUSIASM (2016): "Tainted Love" | "Metal" | "Frankie Teardrop" | "Savoir Faire" | "Broken English" | & 20 other new wave songs. CROM YOUR ENTHUSIASM (2015): DARKER THAN YOU THINK | THE SWORD IN THE STONE | OUT OF THE SILENT PLANET | THIEVES' HOUSE | QUEEN OF THE BLACK COAST | & 20 other fantasy novels from 1934–43. KERN YOUR ENTHUSIASM (2014): ALDINE ITALIC | DATA 70 | TORONTO SUBWAY | JOHNSTON'S "HAMLET" | TODD KLONE | & 20 other typefaces. HERC YOUR ENTHUSIASM (2013): "Spoonin' Rap" | "Rapper's Delight" | "Rappin' Blow" | "The Incredible Fulk" | "The Adventures of Super Rhyme" | & 20 other old-school hip-hop songs. KIRK YOUR ENTHUSIASM (2012): Justice or vengeance? | Kirk teaches his drill thrall to kiss | "KHAAAAAN!" | "No kill I" | Kirk browbeats NOMAD | & 20 other Captain Kirk scenes. KIRB YOUR ENTHUSIASM (2011): THE ETERNALS | BLACK MAGIC | DEMON | OMAC | CAPTAIN AMERICA | & 20 other Jack Kirby panels.
*
THIS: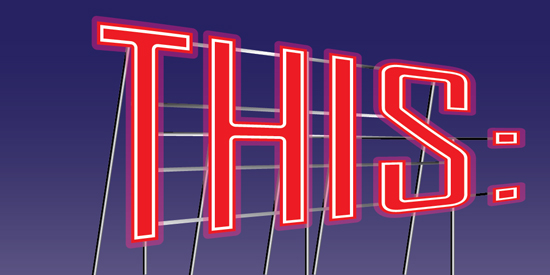 During 1Q2017, Adam McGovern's column, THIS:, will continue to appear every Monday — as it did throughout 2016. As ever, THIS: will cover theater, music, cabaret, comics, culture, TV, film, and more — from a staunchly McGovernesque perspective.
MORE POSTS by ADAM McGOVERN: Adam's weekly THIS: column | PEOPLE YOU MEET IN HELL, a 5-part series about characters in McGovern's and Paolo Leandri's comic Nightworld | Two IDORU JONES comics by McGovern and Paolo Leandri | BOWIEOLOGY: Celebrating 50 years of Bowie | ODD ABSURDUM: How Felix invented the 21st century self | CROM YOUR ENTHUSIASM: C.L. Moore's JIREL OF JOIRY stories | KERN YOUR ENTHUSIASM: Data 70 | HERC YOUR ENTHUSIASM: "Freedom" | KIRK YOUR ENTHUSIASM: Captain Camelot | KIRB YOUR ENTHUSIASM: Full Fathom Five | A 5-part series on Jack Kirby's Fourth World mythos | Reviews of Annie Nocenti's comics Katana, Catwoman, Klarion, and Green Arrow | The curated series FANCHILD | To see all of Adam's posts, including HiLo Hero items on Lilli Carré, Judy Garland, Wally Wood, and others: CLICK HERE
*
PLANET OF PERIL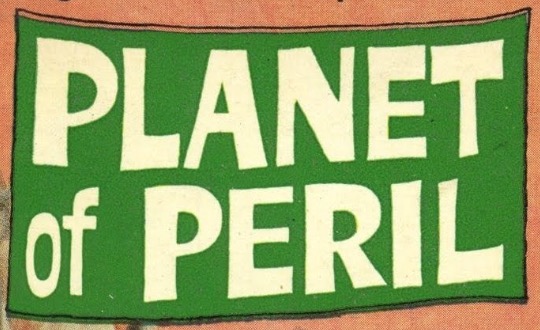 Each month, during 1Q2017, HiLobrow friend and contributor Lynn Peril will publish a new installment in the ongoing series PLANET OF PERIL, which is devoted to Lynn's favorite obscure historical fads and figures.
PLANET OF PERIL: THE SHIFTERS | THE CONTROL OF CANDY JONES | VINCE TAYLOR | THE SECRET VICE | LADY HOOCH HUNTER | LINCOLN ASSASSINATION BUFFS | I'M YOUR VENUS | THE DARK MARE | SPALINGRAD | UNESCORTED WOMEN | OFFICE PARTY | I CAN TEACH YOU TO DANCE | WEARING THE PANTS | LIBERATION CAN BE TOUGH ON A WOMAN | MALT TONICS | OPERATION HIDEAWAY | TELEPHONE BARS | BEAUTY A DUTY.
MORE LYNN PERIL at HILOBROW: PLANET OF PERIL series | MUSEUM OF FEMORIBILIA series | HERMENAUTIC TAROT: The Waiting Man | KIRB YOUR ENTHUSIASM: Young Romance | CROM YOUR ENTHUSIASM: Fritz Leiber's Conjure Wife | HILO HERO ITEMS on: Tura Satana, Paul Simonon, Vivienne Westwood, Lucy Stone, Lydia Lunch, Gloria Steinem, Gene Vincent, among many others.
*
STUFFED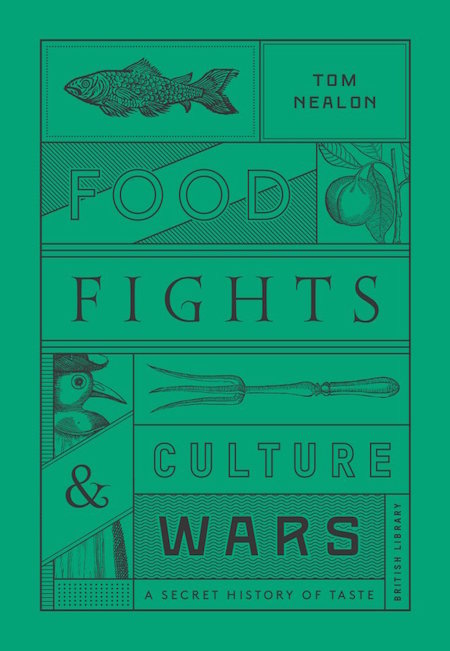 In March, Tom Nealon's extraordinary book, Food Fights and Culture Wars: A Secret History of Taste, will be published here in the US. (In October, it was published in the UK; The Guardian declared it one of the best books on food of 2016!) We're very proud of the fact that Food Fights and Culture Wars grew out of Tom's HILOBROW food-history series, STUFFED — and his previous food writing for HILOBROW.
Each month, during 1Q2017, we'll publish a new installment in the STUFFED series.
STUFFED SERIES: THE MAGAZINE OF TASTE | AUGURIES AND PIGNOSTICATIONS | THE CATSUP WAR | CAVEAT CONDIMENTOR | CURRIE CONDIMENTO | POTATO CHIPS AND DEMOCRACY | PIE SHAPES | WHEY AND WHEY NOT | PINK LEMONADE | EUREKA! MICROWAVES | CULINARY ILLUSIONS | AD SALSA PER ASPERA | THE WAR ON MOLE | ALMONDS: NO JOY | GARNISHED | REVUE DES MENUS | REVUE DES MENUS (DEUX) | WORCESTERSHIRE SAUCE | THE THICKENING | TRUMPED | CHILES EN MOVIMIENTO | THE GREAT EATER OF KENT | GETTING MEDIEVAL WITH CHEF WATSON | KETCHUP & DIJON | TRY THE SCROD | …and more to come.
*
BEST ADVENTURES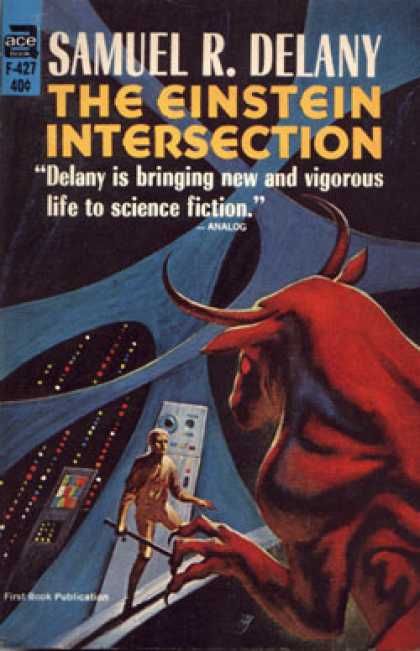 In 2017, we will publish many new installments in the series BEST ADVENTURES — which chronicles Josh Glenn's attempt to read and identify the 10 best adventure novels of each year, from the 20th century. During 1Q2017, we will publish: 10 Best Adventures of 1907 | 10 Best Adventures of 1912 | 10 Best Adventures of 1922 | 10 Best Adventures of 1927 | 10 Best Adventures of 1942 | Best YYA Lit of 1967.
BEST ADVENTURES: The 200 Greatest Adventure Novels of All Time. THE OUGHTS (1904–13): 1905 | 1906 | 1907 | 1910 | 1911 | 1912. THE TEENS (1914–23): 1915 | 1916 | 1917 | 1920 | 1921 | 1922. THE TWENTIES (1924–33): 1925 | 1926 | 1927 | 1930 | 1931 | 1932. THE THIRTIES (1934–43): 1935 | 1936 | 1937 | 1940 | 1941 | 1942. THE FORTIES (1944–53): 1945 | 1946 | 1947 | 1950 | 1951 | 1952. THE FIFTIES (1954–63): 1955 | 1956 | 1957 | 1960 | 1961 | 1962. THE SIXTIES (1964–73): 1964 | 1965 | 1966 | 1967 | 1970 | 1971 | 1972. THE SEVENTIES (1974–83): 1975 | 1976 | 1977 | 1980 | 1981 | 1982. The goal, eventually, is to publish a Top 10 Adventures list for every year of the 20th century.

*
CURATED SERIES
We plan to curate a number of series, by HILOBROW friends and contributors, which originally appeared elsewhere. So far, in 1Q2017, we've lined up the following two!
MISSOURI SHOTGLASS

12 MORE DAYS OF SIGNIFICANCE: A holiday-season series of posts reprinting stories written — by 12 HiLobrow contributors — for the 2009–2010 SIGNIFICANT OBJECTS project. Contributors: Annalee Newitz, Cintra Wilson, Jen Collins, Joanne McNeil, Jonathan Lethem, Sarah Weinman, Shelley Jackson, Barbara Bogaev, Dan Reines, Jenny Offill, Katie Hennessey, James Hannaham. (See the first iteration of this series, from 2012–2013.)

NOT OF THIS EARTH: HILOBROW friend Michael Lewy is an artist whose work — these days — centers around midcentury sci-fi and horror movie practical effects. In conjunction with Not of This Earth: Contemporary Art and Science Fiction, an exhibition curated by Lewy at Boston Cyberarts Gallery this January and February, HILOBROW will publish a series of posts dedicated to Lewy's recent sci-fi works.
CURATED SERIES at HILOBROW: LAWS OF THE UNIVERSE by Chris Spurgeon | IMAGINARY FRIENDS by Alexandra Molotkow | UNFLOWN by Jacob Covey | ADEQUATED by Franklin Bruno | QUALITY JOE by Joe Alterio | CHICKEN LIT by Lisa Jane Persky | PINAKOTHEK by Luc Sante | ALL MY STARS by Joanne McNeil | BIGFOOT ISLAND by Michael Lewy | NOT OF THIS EARTH by Michael Lewy | ANIMAL MAGNETISM by Colin Dickey | KEEPERS by Steph Burt | AMERICA OBSCURA by Andrew Hultkrans | HEATHCLIFF, FOR WHY? by Brandi Brown | DAILY DRUMPF by Rick Pinchera | BEDROOM AIRPORT by "Parson Edwards" | INTO THE VOID by Charlie Jane Anders | WE REABSORB & ENLIVEN by Matthew Battles | BRAINIAC by Joshua Glenn | COMICALLY VINTAGE by Comically Vintage | BLDGBLOG by Geoff Manaugh | WINDS OF MAGIC by James Parker | MUSEUM OF FEMORIBILIA by Lynn Peril | ROBOTS + MONSTERS by Joe Alterio | MONSTOBER by Rick Pinchera | POP WITH A SHOTGUN by Devin McKinney | FEEDBACK by Joshua Glenn | 4CP FTW by John Hilgart | ANNOTATED GIF by Kerry Callen | FANCHILD by Adam McGovern | BOOKFUTURISM by James Bridle | NOMADBROW by Erik Davis | SCREEN TIME by Jacob Mikanowski | FALSE MACHINE by Patrick Stuart | 12 DAYS OF SIGNIFICANCE by Significant Objects | 12 MORE DAYS OF SIGNIFICANCE by Significant Objects | UNBORED MANIFESTO by Joshua Glenn and Elizabeth Foy Larsen | H IS FOR HOBO by Joshua Glenn | 4CP FRIDAY by guest curators
*
MICAWBER DAY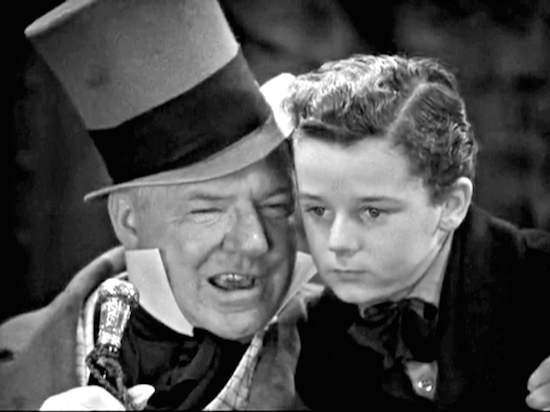 Each year, on January 18th, HILOBROW celebrates Micawber Day — the only holiday for idlers. Remember: SOMETHING WILL TURN UP.
*
Plus: more!
***
ALSO READ: BEST OF HILOBROW: 2010 | BEST OF HILOBROW: 2011 | BEST OF HILOBROW: 2012 | BEST OF HILOBROW: 2013 | BEST OF HILOBROW: 2014 | BEST OF HILOBROW: 2015 | BEST OF HILOBROW: 2016 | BEST OF HILOBROW: 1Q2017 | BEST OF HILOBROW: 2Q2017 | HILOBROW 3Q2017 SNEAK PEEK