Grok My Enthusiasm (43)
By: Brian Berger
November 2, 2016
One in a weekly series of enthusiastic posts contributed by HILOBROW friends and regulars.
*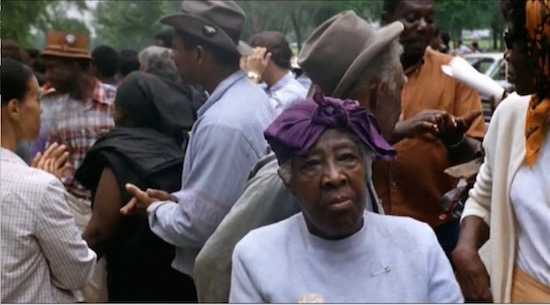 It's one of the greatest and most effective of all movie themes, so let's start there: an instrumental titled "Emotions" from the first Love album (March 1966), Johnny Echols guitar. That this moody masterpiece has, for reasons of corporate intransigence, never been credited in Medium Cool (August 1969) affectingly encapsulates the brilliance of a picture so dense with action, allusion and invention, that the more closely one watches, the more astonishing it becomes. If director Haskell Wexler exceeds all praise but gratitude for this work, so too does the film's editor, Verna Fields.
Take this sequence, starting at about 23 minutes, when, with no foreshadowing, the film leaves the Chicago apartment of a young Appalachian mother (the ineffable Verna Bloom) and her adolescent son (Harold Blankenship) via jump cut to:
* The film's protagonist, TV reporter and cameraman John Casellis (Robert Forster) stepping from a gracious hotel into a waiting station wagon. CUT: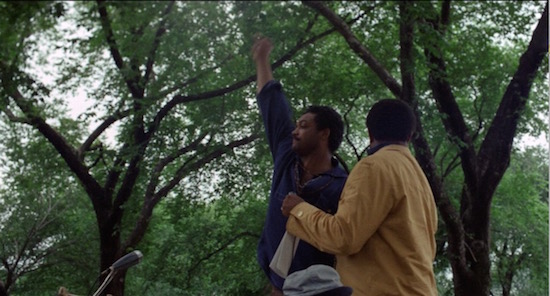 * To the middle of protest rally, mixed black and white, the crowd chanting, "This may be the last time…" CUT: to Jesse Jackson atop a small podium, fist raised. CUT: Casellis and his sound man, Gus (Peter Bonerz) briefly pass through the crowd. CUT: The chanting continues with a close-up of only Casellis' and Gus' boots before a CUT to their tromping through the mud, the Washington Monument in both the hazy distance and steps away in puddled reflection.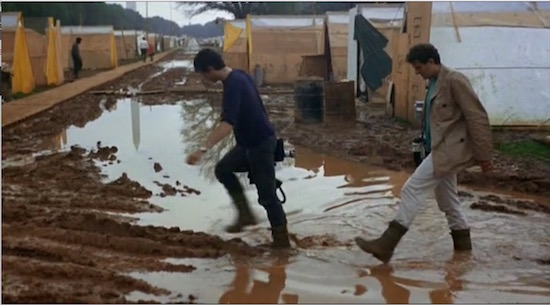 Again, the film has identified nothing — but this is Resurrection City, the Washington D.C. protest encampment, begun in May 1968 by the Poor People's Campaign following the assassination of Martin Luther King. "This may be the last time but I don't know!" Fast dissolve to: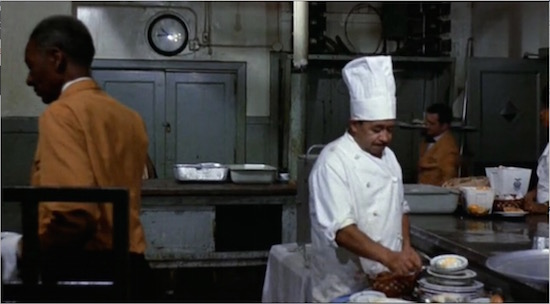 * An industrial kitchen with mostly black and Latino workers. It could be anywhere but moments later, an unseen but instantly recognizable voice. "And I would hope, now that the California primary is over…" It's Senator Robert F. Kennedy at the Ambassador Hotel in Los Angeles, shortly after midnight following the Democratic primary of Tuesday June 4, 1968. A slow terror unfolds in this recognition, matched by Wexler's slow panning around the kitchen, men and women stoic in their tasks. "And now it's on to Chicago and let's win there!" Unseen, the crowd is chanting "We want Bobby! We want Bobby!" An entry door bursts open, a press of bodies rushing towards — JUMP CUT: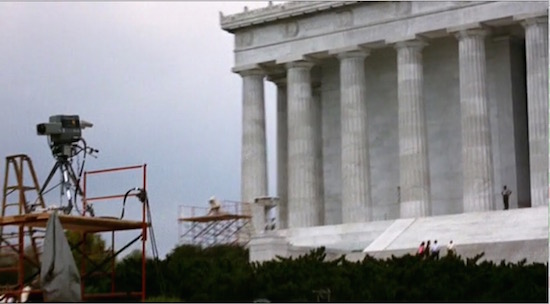 * Back to Washington, where camera scaffolds stand outside the Lincoln Memorial and Wexler's camera pulls away to the Mothers of Invention song "Oh No":
Oh no
I don't believe it
You say that you think you know
The meaning of love
You say love is all we need
You say
With your love you can change
All of the fools
All of the hate
I think you're probably
Out to lunch
Recorded in the winter of 1967/68, which is to say before the two murders made Frank Zappa's cynicism that much more terribly accurate.
***
MORE MOVIES at HILOBROW: KLUTE YOUR ENTHUSIASM: 25 neo-noirs of the Sixties (1964–1973) | James Parker's BOURNE VARIATIONS series | Alix Lambert's SÉRIE NOIRE series | Jacob Mikanowski's SCREEN TIME series | Josh Glenn's SHOCKING BLOCKING series | Joanne McNeil's ALL MY STARS series | MORE: including dozens of HILO HERO items on movie directors and actors.
GROK MY ENTHUSIASM: Rob Wringham on THE THEORY AND PRACTICE OF LUNCH | Gordon Dahlquist on WEEKEND | Joe Alterio on MILLION YEAR PICNIC | Adrienne Crew on LA BARONNE EMILE D'ERLANGER | Josh Glenn on THE SURVIVAL SAMPLER | Alix Lambert on THE SKIES BELONG TO US | Adam McGovern on PENELOPE and CHAVEZ RAVINE | Rob Wringham on THE LYKE WAKE WALK | Mark Kingwell on NORTH STAR SNEAKERS & GWG JEANS | Gordon Dahlquist on FELLINI SATYRICON | Erik Davis on AH! | Devin McKinney on WHISPERING AFRAID | Mimi Lipson on 1973 SEARS ROEBUCK CATALOG | Jessamyn West on MOSS | Josh Glenn on THE SCOUT HOW BOOK | Brian Berger on SLACKER | Alix Lambert on ABSOLUTE BEGINNERS | Chelsey Johnson on MONOTREMES | Devin McKinney on THE BUTCHER COVER | Flourish Klink on ONE DIRECTION | Gordon Dahlquist on FULL METAL JACKET | Allegra Huston on CLOTHESLINE | Jenny Davidson on POWERLIFTING | Evan Narcisse on REZ | Deborah Wassertzug on VEGETARIAN MEATBALLS | Chris Spurgeon on WALLACE AND GROMIT | Mandy Keifetz on BENEFICIAL MICROBES | Annie Nocenti on MARKS ON WALLS | Molly Sauter on THE GREAT BRITISH BAKE OFF | William Nericcio on LAND OF THE LOST | Dan Fox on "VOICE OF GOD" RADIO DJS | Brandi Brown on WIKIPEDIA TALK | Claire Lehmann on THE APPARATUS REVEAL | Alice Boone on COSTUME JEWELRY | Colin Dickey on WIDESPREAD PANIC | Anshuman Iddamsetty on THE FULL BODY PROJECT | John Hilgart on MAKING GRATEFUL DEAD ALBUMS | Rob Wringham on STEVEN UNIVERSE | John Overholt on DECKLE EDGES | James Hannaham on HABIT PATTERNS | Jessamyn West on THE PUBLIC LIBRARY SYSTEM | Adam McGovern on THE SPACE GIANTS | Brian Berger on MEDIUM COOL | Chris Spurgeon on THE DUNNING-KRUGER EFFECT | Joe Alterio on TABLETOP WARGAMING | Mimi Lipson on TRASH PICKING | Jason Grote on CZECH CINEMA | Roxane Gay on AUTOMATED CAR WASH | Dan Fox on JULIA DAVIS | Amy Thielen on BINGO | Steph Burt on FEIJOA.
MORE ENTHUSIASM at HILOBROW
WOWEE ZOWEE (2018 weekly): UNISEX | UNDER THE PINK | DUMMY | AMOR PROHIBIDO | HIPS AND MAKERS | & dozens of other Nineties (1994–2003) albums. KLUTE YOUR ENTHUSIASM (2017): THE KILLERS | BANDE À PART (BAND OF OUTSIDERS) | ALPHAVILLE | HARPER | BLOW-UP | & 20 other Sixties (1964–1973) neo-noir movies. #SQUADGOALS (2017 weekly): THE WILD BUNCH | BOWIE'S BAND | THE BLOOMSBURY GROUP | THE HONG KONG CAVALIERS | VI ÄR BÄST! & dozens of other squads. GROK MY ENTHUSIASM (2016 weekly): THE THEORY AND PRACTICE OF LUNCH | WEEKEND | MILLION YEAR PICNIC | LA BARONNE EMILE D'ERLANGER | THE SURVIVAL SAMPLER | & dozens more one-off enthusiasms. QUIRK YOUR ENTHUSIASM (2016): "Tainted Love" | "Metal" | "Frankie Teardrop" | "Savoir Faire" | "Broken English" | & 20 other new wave songs. CROM YOUR ENTHUSIASM (2015): DARKER THAN YOU THINK | THE SWORD IN THE STONE | OUT OF THE SILENT PLANET | THIEVES' HOUSE | QUEEN OF THE BLACK COAST | & 20 other fantasy novels from 1934–43. KERN YOUR ENTHUSIASM (2014): ALDINE ITALIC | DATA 70 | TORONTO SUBWAY | JOHNSTON'S "HAMLET" | TODD KLONE | & 20 other typefaces. HERC YOUR ENTHUSIASM (2013): "Spoonin' Rap" | "Rapper's Delight" | "Rappin' Blow" | "The Incredible Fulk" | "The Adventures of Super Rhyme" | & 20 other old-school hip-hop songs. KIRK YOUR ENTHUSIASM (2012): Justice or vengeance? | Kirk teaches his drill thrall to kiss | "KHAAAAAN!" | "No kill I" | Kirk browbeats NOMAD | & 20 other Captain Kirk scenes. KIRB YOUR ENTHUSIASM (2011): THE ETERNALS | BLACK MAGIC | DEMON | OMAC | CAPTAIN AMERICA | & 20 other Jack Kirby panels.