Grok My Enthusiasm (42)
By: Adam McGovern
October 26, 2016
One in a weekly series of enthusiastic posts contributed by HILOBROW friends and regulars.
*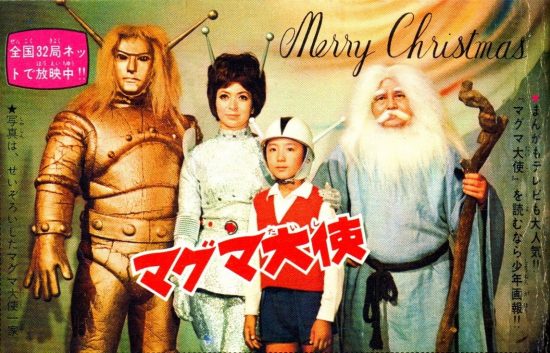 Pop sociologists of my childhood would call TV "the electronic babysitter," but in our house it was more like a mechanical playmate. Literally, since for several years me and kid-sister's favorite show was a tokusatsu serial called (in this country) The Space Giants, which was about a boy and his benign, adoptive robots, over which we would obsess, and I would be perpetually at work on a several-hundred-page graphic fanfic tome rendered in first-grade cave-painting style, and which sis, mom and I would enact daily using nothing but our tenuous sense of reality, I mean, our imaginations. This was good on-the-spot storytelling training, and the fake monster-vs.-robot fights I guess kept us toned and tired out when sports, for each of us, was inconceivable. We were mirroring the unconventional but imperative family structure on the show: an ancient wizard in a volcano creates a husband-and-wife pair of robots, Goldar and Silvar, who, when they meet local real-boy Miko, want a son of their own, whom the wizard ("Methusan") throws together and calls Gam. They set out to stop all the malcontents and giant saurians sent to Earth by world-be conqueror Rodak. The extended and additive form of family would school me well for the gender-fluid, cross-cultural cohorts of the century I'd be a grownup in, and the dynamic between wise, white-haired Methusan and clenched, nasty Rodak set up a Manichaean divide that I'd apply to my wagon-circling family vs. various vilified landlords and school principals; to Nixon vs. George McGovern (I know); to Highfather vs. Darkseid in Jack Kirby's Fourth World (I wonder if comics' "King" read the work of the medium's "God," Osamu Tezuka, creator of both the manga and subsequently the show that Americans know as Space Giants). But the image that sticks most in my mind was of a towering biped thunder-lizard who, when someone picks up a shofar and plays a certain sinuous tune, stops menacing humans and starts dancing happily. Space Giants was simplified, and silly, but if we want to cooperate and push out the galactic Trumps, we should play on.
(the disco dinosaur can be seen at around minute 9 in the episode here.)
***
GROK MY ENTHUSIASM: Rob Wringham on THE THEORY AND PRACTICE OF LUNCH | Gordon Dahlquist on WEEKEND | Joe Alterio on MILLION YEAR PICNIC | Adrienne Crew on LA BARONNE EMILE D'ERLANGER | Josh Glenn on THE SURVIVAL SAMPLER | Alix Lambert on THE SKIES BELONG TO US | Adam McGovern on PENELOPE and CHAVEZ RAVINE | Rob Wringham on THE LYKE WAKE WALK | Mark Kingwell on NORTH STAR SNEAKERS & GWG JEANS | Gordon Dahlquist on FELLINI SATYRICON | Erik Davis on AH! | Devin McKinney on WHISPERING AFRAID | Mimi Lipson on 1973 SEARS ROEBUCK CATALOG | Jessamyn West on MOSS | Josh Glenn on THE SCOUT HOW BOOK | Brian Berger on SLACKER | Alix Lambert on ABSOLUTE BEGINNERS | Chelsey Johnson on MONOTREMES | Devin McKinney on THE BUTCHER COVER | Flourish Klink on ONE DIRECTION | Gordon Dahlquist on FULL METAL JACKET | Allegra Huston on CLOTHESLINE | Jenny Davidson on POWERLIFTING | Evan Narcisse on REZ | Deborah Wassertzug on VEGETARIAN MEATBALLS | Chris Spurgeon on WALLACE AND GROMIT | Mandy Keifetz on BENEFICIAL MICROBES | Annie Nocenti on MARKS ON WALLS | Molly Sauter on THE GREAT BRITISH BAKE OFF | William Nericcio on LAND OF THE LOST | Dan Fox on "VOICE OF GOD" RADIO DJS | Brandi Brown on WIKIPEDIA TALK | Claire Lehmann on THE APPARATUS REVEAL | Alice Boone on COSTUME JEWELRY | Colin Dickey on WIDESPREAD PANIC | Anshuman Iddamsetty on THE FULL BODY PROJECT | John Hilgart on MAKING GRATEFUL DEAD ALBUMS | Rob Wringham on STEVEN UNIVERSE | John Overholt on DECKLE EDGES | James Hannaham on HABIT PATTERNS | Jessamyn West on THE PUBLIC LIBRARY SYSTEM | Adam McGovern on THE SPACE GIANTS | Brian Berger on MEDIUM COOL | Chris Spurgeon on THE DUNNING-KRUGER EFFECT | Joe Alterio on TABLETOP WARGAMING | Mimi Lipson on TRASH PICKING | Jason Grote on CZECH CINEMA | Roxane Gay on AUTOMATED CAR WASH | Dan Fox on JULIA DAVIS | Amy Thielen on BINGO | Steph Burt on FEIJOA.
MORE ENTHUSIASM at HILOBROW
WOWEE ZOWEE (2018 weekly): UNISEX | UNDER THE PINK | DUMMY | AMOR PROHIBIDO | HIPS AND MAKERS | & dozens of other Nineties (1994–2003) albums. KLUTE YOUR ENTHUSIASM (2017): THE KILLERS | BANDE À PART (BAND OF OUTSIDERS) | ALPHAVILLE | HARPER | BLOW-UP | & 20 other Sixties (1964–1973) neo-noir movies. #SQUADGOALS (2017 weekly): THE WILD BUNCH | BOWIE'S BAND | THE BLOOMSBURY GROUP | THE HONG KONG CAVALIERS | VI ÄR BÄST! & dozens of other squads. GROK MY ENTHUSIASM (2016 weekly): THE THEORY AND PRACTICE OF LUNCH | WEEKEND | MILLION YEAR PICNIC | LA BARONNE EMILE D'ERLANGER | THE SURVIVAL SAMPLER | & dozens more one-off enthusiasms. QUIRK YOUR ENTHUSIASM (2016): "Tainted Love" | "Metal" | "Frankie Teardrop" | "Savoir Faire" | "Broken English" | & 20 other new wave songs. CROM YOUR ENTHUSIASM (2015): DARKER THAN YOU THINK | THE SWORD IN THE STONE | OUT OF THE SILENT PLANET | THIEVES' HOUSE | QUEEN OF THE BLACK COAST | & 20 other fantasy novels from 1934–43. KERN YOUR ENTHUSIASM (2014): ALDINE ITALIC | DATA 70 | TORONTO SUBWAY | JOHNSTON'S "HAMLET" | TODD KLONE | & 20 other typefaces. HERC YOUR ENTHUSIASM (2013): "Spoonin' Rap" | "Rapper's Delight" | "Rappin' Blow" | "The Incredible Fulk" | "The Adventures of Super Rhyme" | & 20 other old-school hip-hop songs. KIRK YOUR ENTHUSIASM (2012): Justice or vengeance? | Kirk teaches his drill thrall to kiss | "KHAAAAAN!" | "No kill I" | Kirk browbeats NOMAD | & 20 other Captain Kirk scenes. KIRB YOUR ENTHUSIASM (2011): THE ETERNALS | BLACK MAGIC | DEMON | OMAC | CAPTAIN AMERICA | & 20 other Jack Kirby panels.