Stuffed (15)
By: Tom Nealon
August 23, 2016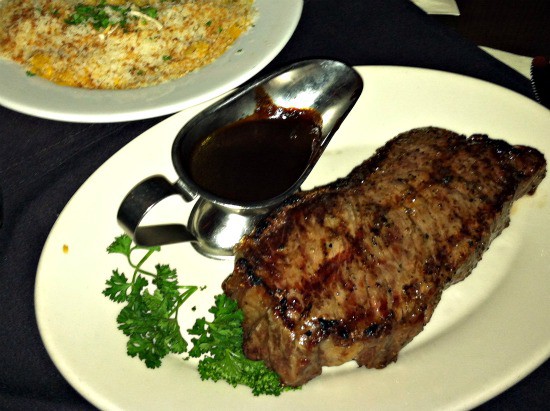 One in a popular series of posts by Tom Nealon, author of the forthcoming Food Fights and Culture Wars: A Secret History of Taste (British Library Publishing, September 2016). STUFFED is inspired by Nealon's collection of rare cookbooks, which he sells — among other things — via Pazzo Books.
STUFFED SERIES: THE MAGAZINE OF TASTE | AUGURIES AND PIGNOSTICATIONS | THE CATSUP WAR | CAVEAT CONDIMENTOR | CURRIE CONDIMENTO | POTATO CHIPS AND DEMOCRACY | PIE SHAPES | WHEY AND WHEY NOT | PINK LEMONADE | EUREKA! MICROWAVES | CULINARY ILLUSIONS | AD SALSA PER ASPERA | THE WAR ON MOLE | ALMONDS: NO JOY | GARNISHED | REVUE DES MENUS | REVUE DES MENUS (DEUX) | WORCESTERSHIRE SAUCE | THE THICKENING | TRUMPED | CHILES EN MOVIMIENTO | THE GREAT EATER OF KENT | Etc.
*
GARNISHED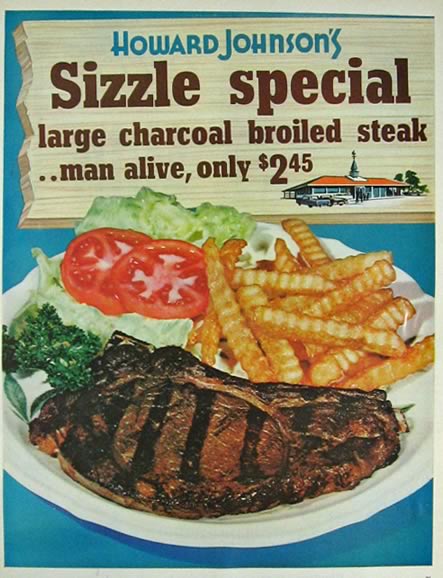 When I was a kid, if you were eating out at a sit-down joint that served middlebrow food (be it English, American, or even Italian), one thing you could count on finding on your plate was a sprig or three of curly parsley. Staring at that parsley time after time for years, did I even know that there are multiple types of parsley (though most you will see are either curly or flat-leafed)? Maybe. I did know that we had a large shaker of dried parsley at home which my mother used for cooking even though it possessed, no matter in what quantity it was used, no discernible flavor.
I also knew, at least in high school, that a friend of mine would eat handfuls of parsley from his mom's garden after a night of drinking and smoking because he was sure (he had watched too many Clorets commercials) that it would sanitize his breath and keep him ungrounded; when parsley was out of season, he would just eat grass. In fact, the use of parsley for quasi-medicinal complaints goes at least as far back as 1743, when Jane Randolph (later Jane Randolph Jefferson, mother of Thomas) recommended parsley seed for "wind Colick" (or "vegetable toots" as they were sometimes called — Pliny himself had noted parsley's usefulness against farting in the first century A.D. — in a manuscript cookbook.
Mostly, you just see curly parsley between your meat and potatoes, potatoes and vegetable, on plate after plate after plate. Sometimes, no doubt, that garnish is used as a breath cleanser or palate cleanser, like pickled ginger with sushi. But mostly, the general public sees parsley as nothing more than a bright, springy herb trying hopelessly to keep your prime rib from intruding on your mashed potatoes.
*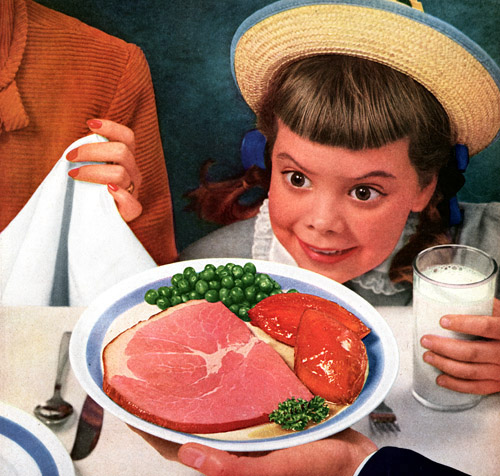 How did parsley get to this place in the U.S. — and why has the curley-leafed parsley garnish all but disappeared now? Elsewhere, parsley has been a frequently used herb for cookery since antiquity. The Greeks and Romans both used it extensively in sauces, and most of the world uses some variation on a green sauce as a common sauce/condiment/finishing flourish (usually parsley, garlic, and a little olive oil with additions and variations — the first printed cookbook has a recipe in 1475, so did Apicius's ca. 4th century Roman cookery).
Perhaps parsley is a vestige of something more purposeful in the past. That weird green plastic grass in take-out sushi, for example, used to be an actual leaf that was chosen for its anti-microbial properties. Was parsley a stand-in for something? Was it thought to have magical properties of food-separation? A promising hypothesis, but my research hasn't turned up any evidence of this. Though both Galen (2nd c. A.D.) and Pliny mention parsley specifically, it's only parsley's popularity in sauces and as a condiment that caught their attention.
In fact, parsley's role as a garnish developed because of biology and English tradition. Parsley is a biennial plant, which means that it sticks around for two years — growing the green stuff one year, and then concentrating on flowers and seed the next. As a result, it can be used twice for every planting. Also, parsley is bright, with a distinct but mellow flavor that lends itself to pairings with almost everything. It's no accident that 18th-century English cookbooks were already mixing up its use as an ingredient with its use as a garnish. But wait, what is a garnish?
*
"Garnish" comes from the French garni and has meant "dressed" and "embellished," has referred to clothing, and in middle English referred to a group of pewter vessels used at the table (ca. 1418). It has referred to money extorted from a new prisoner (first in 1592), and money extorted from workmen ("maiden-garnish", first in 1759) and it's still easy enough to get your pay garnished under the Federal Wage Garnishment Law. Samuel Johnson thought it meant a prisoner's fetters (1755), but no one else did, so he was probably mistaken. In the 17th century it began to be used to describe things added to a dish to enhance its aesthetics, but at the same time it was used to refer to side dishes. In fact, in the 18th century, when parsley was beginning to be used ubiquitously as a garnish (Hannah Glasse's hugely popular The Art of Cookery made Plain and Easy, first published in 1747, calls for parsley as a garnish over and over again), a nearly as popular garnish, and more popular for fowl, was oysters. Pour a bucket of oysters over your chicken and it's a party.
Garnishing with oysters is not quite as foolish as it sounds. Oysters were so common and inexpensive (they could be had for a penny a piece in turn of the century NY) that the snootier classes probably did think of them as disposable decoration as much as food. But the glut of oysters that led to their being used for decorative purposes was temporary. Joseph Mitchell (in "The Bottom of the Harbor") famously describes the days of a New York Harbor peppered with thriving oysters beds, so I will skip the poetry, but in NYC 200 years ago, the harbor held trillions of oysters and even at the end of the 19th century, residents ate an estimated 600 of them apiece, annually. Over a billion oysters were harvested every year, yet every year there were more — until there weren't. Pollution, over-fishing, and development did away with the oyster beds, so oyster garnishes slowly disappeared. Today, with a cleaner harbor and the knowledge that storm and wave damage are dramatically mitigated by oyster beds, replanting has begun, but oyster garnishes might be a bit of a wait. Even in Miami where I used to get $1.99-a-dozen oysters on Tuesdays as recently as 18 years ago, a cheap oyster is now $1.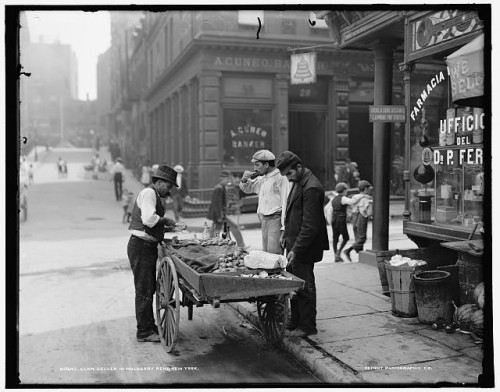 *
So oysters were also a popular garnish — though I have to imagine, if only for my sanity, that despite their decorative value, they really were eaten by all but the most bloated of plutocrats — but from the very beginning, it was parsley that held pride of place as that most downtrodden of foodstuffs in the newly founded United States of America.
The first American cookbook, Amelia Simmons's American Cookery (1796: there were English imports before it, but no other properly American book of recipes), says, on either side of detailed cultivation instructions: "Parsley, of the three kinds, the thickest and branchiest is the best… much used in garnishing viands." It never had a chance, though she does allow that it is "pleasurably tasted" and it's hard not to like "branchiest." Other greens have often been used to break up plates of meat, but almost all of them wilt and brown, turning a small burst of color into something depressing. Of course all that parsley slowly got depressing too — a few decades of playing crossing guard at prime rib elementary school will age you, no matter how curly you are. Fried parsley (you deep fry it for a few seconds) has tried to keep it real, but it goes from frisky to floppy too quickly for widespread use as a garnish.
Parsley is laborious to harvest — like most herbs, it has to be done by hand — and is notoriously tricky to germinate initially, so as agriculture marched on, its biennial advantage faded. Further, minimalisms in cuisine, first nouvelle and more recently modernist with all that white space on plates that used to be filled with red meat and potatoes and parsley, worked against it. In an increasingly competitive world for restaurants, food costs don't need the additional bump from something that was getting thrown out after being ignored. In cookery, the more pungent and interesting cilantro (a close relative, often called Chinese parsley) and, finally, the flat-leaf parsley that has been popular in France and Italy and the Middle East for centuries, have taken over.
Curly leaf parsley's fall from ubiquity was slow and muddled — after all this, maybe oysters had a better, sharper story. But once in a while, if you're lucky, you can still walk into a slightly edgeworn restaurant that never got the memo, and you'll get that bright green sprig on your plates. Your kids will ask, "What's that?" — and you'll explain.
***
STUFFED SERIES: THE MAGAZINE OF TASTE | AUGURIES AND PIGNOSTICATIONS | THE CATSUP WAR | CAVEAT CONDIMENTOR | CURRIE CONDIMENTO | POTATO CHIPS AND DEMOCRACY | PIE SHAPES | WHEY AND WHEY NOT | PINK LEMONADE | EUREKA! MICROWAVES | CULINARY ILLUSIONS | AD SALSA PER ASPERA | THE WAR ON MOLE | ALMONDS: NO JOY | GARNISHED | REVUE DES MENUS | REVUE DES MENUS (DEUX) | WORCESTERSHIRE SAUCE | THE THICKENING | TRUMPED | CHILES EN MOVIMIENTO | THE GREAT EATER OF KENT | Etc.
MORE POSTS BY TOM NEALON: Salsa Mahonesa and the Seven Years War, Golden Apples, Crimson Stew, Diagram of Condiments vs. Sauces, etc., and his De Condimentis series (Fish Sauce | Hot Sauce | Vinegar | Drunken Vinegar | Balsamic Vinegar | Food History | Barbecue Sauce | Butter | Mustard | Sour Cream | Maple Syrup | Salad Dressing | Gravy) — are among the most popular we've ever published here at HiLobrow.