THE KALEVALA (6)
By: James Parker
June 17, 2016
The Kalevala is a sequence of folkloric songs, runes and charms from the Karelia region of Finland, collected in the field and concatenated into epic form by Dr. Elias Lonnrot (1803-1884). The versions presented here are not translations or transliterations — they are respectful bastardizations, working from the 1963 English version of the Kalevala produced by the versatile and witty Francis Peabody Magoun Jr.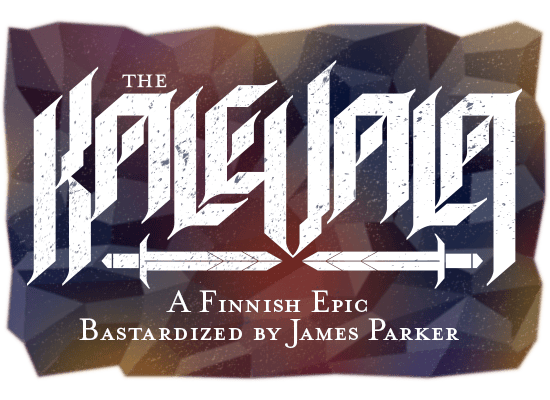 *
SONG OF THE BLADE: KULLERVO
[being a bastardization of The Kalevala, Rune 33, line 73]
My lively little silver blade
is sharper than a wish,
beaten to silver stillness
but lively as a fish.
I turn my blade beneath the sun.
It glares when I incline it.
Faceful of molten dazzle
and you're blinded.
My little blade is humorous.
You will admire its wit.
It utters its one-liner
and you're slit.
The bigger man, the stronger man,
with mighty muscles weft,
will find himself unsutured.
My blade is deft.
Where squeamishness equivocates,
there goes my little blade
into the squinching organic darkness,
unafraid.
Existence hangs in gluey webs.
One thing sticks to another.
I chop the thread, make loose the mesh,
with my little blade, my brother.
***
Series banner contributed by Rick Pinchera.
ALL INSTALLMENTS: RUNE 3 (1–278): "Wizard Battle" | RUNE 4 (1–56): "A Failed Seduction" | RUNE 4 (300–416): "Aino Ends It All" | RUNE 5 (45–139): "An Afternoon Upon the Water" | RUNE 5 (150–241): "The Blue Elk" | RUNE 6 (1–114): "Therapy Session" | RUNE 6 (115–130): "Joukahainen's Mother Counsels Him Against Shooting the Wizard Vainamoinen" | RUNE 11 (1–138): "Introducing Kyllikki" | RUNE 23 (485–580): "The Bride's Lament" | RUNE 30 (1–276): "Icebound" | RUNE 30 (120–188): "The Voyage of the Sea-Hare" (Part One) | RUNE 30 (185–188): "Losing It" | RUNE 30 (departure): "Across the Ice" | RUNE 31 (215–225): "The Babysitter" | RUNE 31 (223–300): "The Screaming Axe" | RUNE 33 (1–136): "The Cowherd" | RUNE 33 (73): "Song of the Blade: Kullervo" | RUNE 33 (118–284): "The Cows Come Home" | RUNE 34 (1–82): "The Pipes of Kullervo".
MORE PARKER at HILOBROW: COCKY THE FOX: a brilliant swearing-animal epic, serialized here at HiLobrow from 2010–2011, inc. a newsletter by Patrick Cates | THE KALEVALA — a Finnish epic, bastardized | THE BOURNE VARIATIONS: A series of poems about the Jason Bourne movies | ANGUSONICS: James and Tommy Valicenti parse Angus Young's solos | MOULDIANA: James and Tommy Valicenti parse Bob Mould's solos | BOLANOMICS: James traces Marc Bolan's musical and philosophical development | WINDS OF MAGIC: A curated series reprinting James's early- and mid-2000s writing for the Boston Globe and Boston Phoenix | CROM YOUR ENTHUSIASM: J.R.R. Tolkien's THE HOBBIT | EVEN MORE PARKER, including doggerel; HiLo Hero items on Sid Vicious, Dez Cadena, Mervyn Peake, others; and more.