Golden Age Sci-Fi 75 (4)
By: Joshua Glenn
June 3, 2016
One in a series of 75 posts about the best science fiction novels published during the genre's so-called Golden Age (from 1934–63, according to HiLobrow's Josh Glenn's periodization schema). For the complete Golden Age Sci-Fi 75 list, click here.
*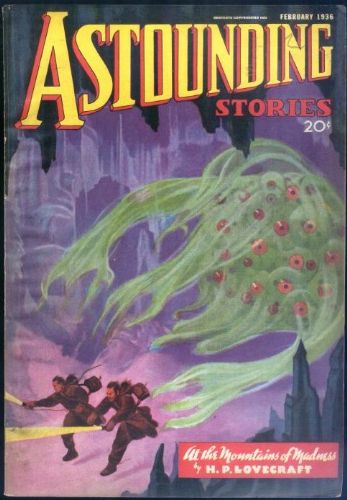 H.P. Lovecraft's science fiction adventure At the Mountains of Madness.
A 1930 scientific expedition to Antarctica — from Arkham, Massachusetts's Miskatonic University — discovers the ruins of a vast, ancient city… and the frozen bodies of some strange creatures, part-plant and part-animal. Part of the expedition is massacred — and it appears as though some of the frozen creatures have come back to life! Exploring the ruins, the surviving explorers determine that it was built by Elder Things, who first came to Earth shortly after the Moon took form, and built their cities with the help of shape-shifting, all-purpose "Shoggoths" (like Al Capp's Shmoos, but uncannier). The Elder Things battled both the Star-spawn of Cthulhu and the Mi-go; and as the Shoggoths gained independence, their civilization began to decline. (Hello, Planet of the Apes.) Only one explorer escapes with his sanity intact… and he must warn another expedition to stay away from an even worse, unnamed thing which lurks in Antarctica!
Fun fact: Originally serialized in the February, March, and April 1936 issues of Astounding Stories. Andrew Hultkrans analyzed At the Mountains of Madness for HiLobrow's CROM YOUR ENTHUSIASM series.
***
GOLDEN AGE SCIENCE FICTION at HILOBROW: Golden Age Sci-Fi: 75 Best Novels of 1934–1963 | Robert Heinlein | Karel Capek | William Burroughs | E.E. "Doc" Smith | Clifford D. Simak | H.P. Lovecraft | Olaf Stapledon | Philip K. Dick | Jack Williamson | George Orwell | Boris Vian | Bernard Wolfe | J.G. Ballard | Jorge Luis Borges |Poul Anderson | Walter M. Miller, Jr. | Murray Leinster | Kurt Vonnegut | Stanislaw Lem | Alfred Bester | Isaac Asimov | Ray Bradbury | Madeleine L'Engle | Arthur C. Clarke | PLUS: Jack Kirby's Golden Age and New Wave science fiction comics.
ALSO SEE: 50 Best Scientific Romances (1864–1903) | Radium Age Sci-Fi: 100 Best Novels of 1904–33 | Golden Age Sci-Fi: 75 Best Novels of 1934–1963 | 75 Best New Wave Sci-Fi (1964–83) Novels | The 200 Greatest Adventure Novels of All Time | 101 Science Fiction Adventures