Stuffed (10)
By: Tom Nealon
March 20, 2016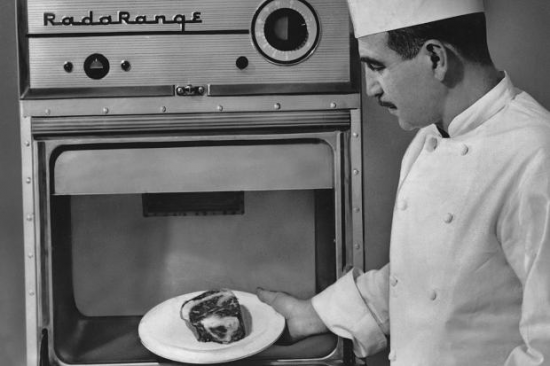 One in a popular series of posts by Tom Nealon, author of the forthcoming Food Fights and Culture Wars: A Secret History of Taste (British Library Publishing, September 2016). STUFFED is inspired by Nealon's collection of rare cookbooks, which he sells — among other things — via Pazzo Books.
STUFFED SERIES: THE MAGAZINE OF TASTE | AUGURIES AND PIGNOSTICATIONS | THE CATSUP WAR | CAVEAT CONDIMENTOR | CURRIE CONDIMENTO | POTATO CHIPS AND DEMOCRACY | PIE SHAPES | WHEY AND WHEY NOT | PINK LEMONADE | EUREKA! MICROWAVES | CULINARY ILLUSIONS | AD SALSA PER ASPERA | THE WAR ON MOLE | ALMONDS: NO JOY | GARNISHED | REVUE DES MENUS | REVUE DES MENUS (DEUX) | WORCESTERSHIRE SAUCE | THE THICKENING | TRUMPED | CHILES EN MOVIMIENTO | THE GREAT EATER OF KENT | GETTING MEDIEVAL WITH CHEF WATSON | KETCHUP & DIJON | TRY THE SCROD | MOCK VENISON | THE ROMANCE OF BUTCHERY | …and more to come.
*
EUREKA, MICROWAVES!
If you've been following along, you know that I am a little obsessed with nonsense culinary genesis stories — the short anecdotes that try to explain, usually by way of a "Eureka!"-type accident, how we discovered certain foods (be it mayonnaise, molé, or marzipan).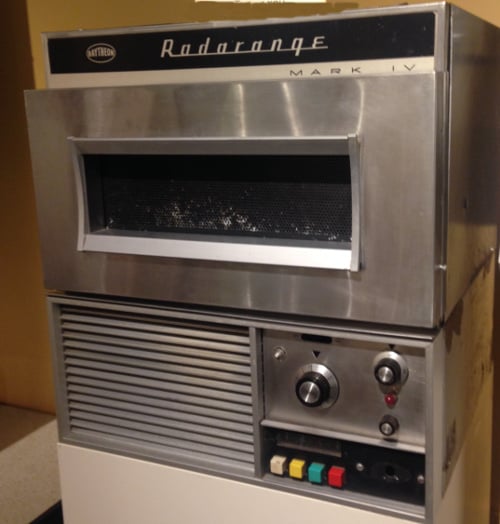 The expression "Eureka!" (Greek for "I have found") comes from the legend of Archimedes realizing, while in the bath, that you can determine the volume of irregular objects (e.g. Greek scientists) by measuring the water they displace. He was so excited that he jumped out of the bath and ran naked through the streets shouting "Eureka!" This story didn't appear until almost 200 years later, as an anecdote in Vitruvius's De Architectura (written c. 15 BC), so I'm skeptical of its veracity.
Newton with the apple falling on his head; Nobel's discovery of dynamite; the discoveries of quinine, vulcanized rubber, penicillin… these are all supposedly the result not of research, but chance inspiration. A few of these stories are probably mostly true, some partly true, and many complete fabrications. Our eagerness to believe them — and similar food stories that are reductive and often obfuscatory, like the molé and quinine stories that seek to give colonial powers credit for older, pre-colonial discoveries — is robust.
I've been spending quite a bit of time at the Johnson & Wales Culinary Arts Museum in Providence (which, by the way, is terrific and well worth a visit), and I was inspired by an early commercial microwave there. I looked into the history of the microwave oven, and learned that its properties were (supposedly) discovered accidentally. Aha! Science history has its "Eureka!" stories, and so does food history. In the history of the microwave's invention, we find two such stories combined.
*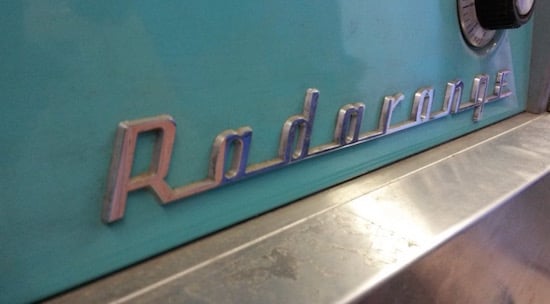 Building on World War II radar technology, Percy Spencer, an employee at Raytheon who had developed a more efficient method of manufacturing the microwave-emitting magnetrons at the heart of radar technology, noticed that when he walked past the magnetrons, a chocolate bar in his pocket melted. Eureka, the microwave oven! Or so the story goes.
Spencer patented his discovery in 1945. Raytheon manufactured the first oven in 1947, dubbing it The Radarange.
The chocolate bar is a nice touch: simple, understandable, quintessentially American. The bar was, one hears from Spencer's grandson, actually a nutbar that Spencer carried around for feeding "his friends" the squirrels and chipmunks on his lunch breaks. A chocolate bar makes a better story, and not only because it's harder to picture a nut bar melting. But was any kind of bar really involved, here?
Since microwave diathermy had been invented in 1907 (for deep tissue muscle treatments; the principle is the same, the microwaves allow the interior to be heated without the exterior becoming hot), it is unlikely that the heating properties of microwaves came as a great surprise to Spencer. It's even money that the nut/chocolate bar story just simplifies a long drawn-out story of Spencer gaining inspiration from his work helping Raytheon figure out how to cook people from low orbit.
When the first microwave oven was introduced in 1947, it was a marvel — even if it was a six foot tall, 750 pound marvel that cost the equivalent of $50,000. A 1947 item in the Boston Globe detailing "The first radar cooked dinner in the history of American hotel cooking" gushed at the lobster, Béarnaise sauce, Delmonico potatoes, grilled ham steaks, corn on the cob, and apple pie that was cooked in a total of 3 minutes 45 seconds. (In addition to being larger, early microwaves were substantially more powerful).
Of course, no mid-century cooking invention would be complete without some casually extreme sexism, and this article was happy to oblige: "Now the ladies can wait til the last minute before jumping out of the bridge game and setting a meal that will make the boss of the house purr like a housecat." Just two years later (New York Times December, 1949), Otto Bismarck, chief chef of the United States Line's flagship North Atlantic cruise ship, America, was swearing that he was going to cook every single thing in his giant microwave oven. So what happened? The great and powerful microwave oven is today left to the humiliating tasks of reheating left-overs and making popcorn.
*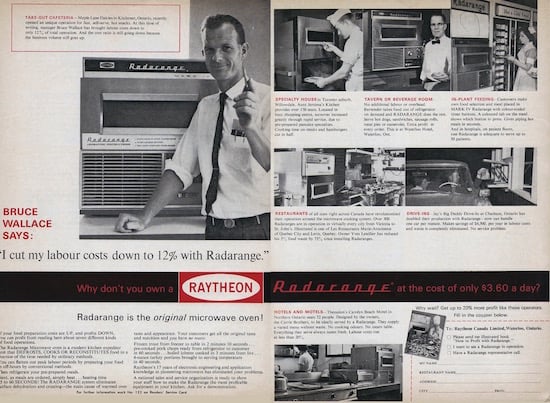 Where did the excitement go?
The explanation is two-fold. First it took an unusually long time to turn commercial microwaves into a consumer product. The first attempt was in 1955, but cost the equivalent of $11,000. Even after Amana bought the Radarange name from Raytheon in 1965, their 1967 offering cost the equivalent of $3,500. It took another decade of innovation before microwave ovens were cheap enough to be affordable to the middle class, and by then, the Soviets were busy dragging microwaves through the mud.
In the U.S., radar went straight from being a wartime priority to being in commercial development, but in the Soviet Union, all radar technology was kept locked up inside the military industrial complex. Not that it would have been of too much use because they were dealing with a very different sort of scarcity than 1950s America. While the US middle class struggled to find enough time to cook their food in post-World War II America, the Soviet consumer was struggling to find enough food to cook. So while the Russians researched better radar and the Americans researched how to fly under that radar, a civilian cooking dichotomy was heating up.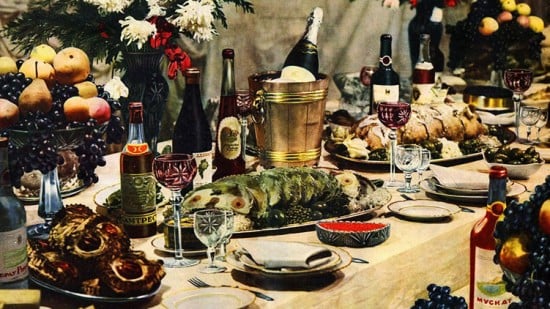 First published in 1939, The Book of Tasty and Healthy Food, written by scientists from the Soviet Institute of Nutrition was a mixture of ideology (communal food preparation) aspiration (recipes that included a host of ingredients that were unobtainable) and reality (instructions for cooking on a kerosene stove because the gas and electric grids were constantly failing). As the years passed and the shortages from the war were either solved or calcified, officials decided that the cookbook needed a little more punch. The 1952 edition pictured lavish banquets of caviar and champagne and removed the section on the kerosene stove. It became, ironically, fancier in many ways than the disreputably middle class cookbook that it replaced (Elena Ivanovna Molokhovets' A Gift to Young Housewives; first published in 1861, last published in 1917).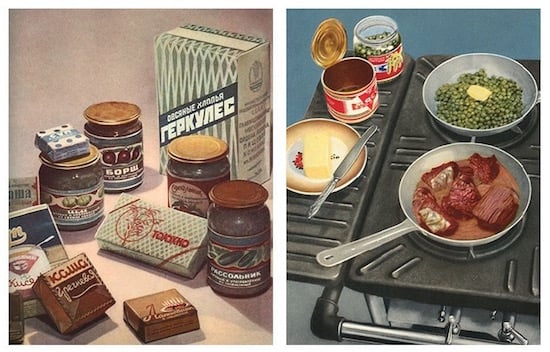 The Soviet Union could match the U.S. for lavishness, pitting caviar against shrimp cocktail, beef stroganoff against t-bone and Bird's Milk Cake against Baked Alaska. But they couldn't match the constant march of American consumer technology — and the kerosene stove pitted against the microwave was a bad visual. As the blazing success of the early Soviet space program lumbered into the post-Korolev relative stagnation of Soviet innovation, the variety of American gadgetry was beginning to undermine confidence in the Kremlin. By the 1970s, the Soviets had realized that they were so outgunned on the money front that propaganda, a tool they had been honing to a razor's edge for decades, was their best bet to derail the widening technological superiority of the American middle class.
They had already experimented with spreading false scientific data when, in 1971, they circulated a pack of lies about the carcinogenic properties of red dye no. 2 causing it to be removed from foods the world over despite no hard evidence as to its dangers. So stepping up their game to ruin microwave ovens was the next logical step. Plus, there was the matter of the Americans stealing the secret of ranch dressing from them — which was made abundantly public when the Hidden Valley Ranch folks sold the recipe to Clorox in 1972.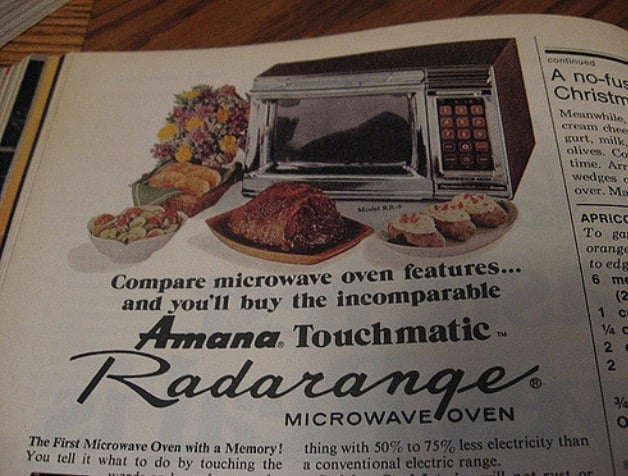 In 1976, just as microwave ovens began to be widespread, rumors of scientific studies showing that microwaves cause cancer and ruin the nutritional value of food were disseminated from Moscow. They were followed by steady stories that microwave ovens had been banned in the U.S.S.R. (rumors that have never been shown to have a basis in fact). To top it off, Soviet propagandists threw in the suggestion that microwaves could disrupt pacemakers (a suggestion that has proven especially difficult to dispel). As a result, the early excitement over microwave ovens faded, recipes ceased to take advantage of the oven's properties (how it cooks from the center — reducing loss of nutrients and water, speed, control) and instead people began to focus on its shortcomings (the outside doesn't brown, bread comes out weird, possible radiation poisoning).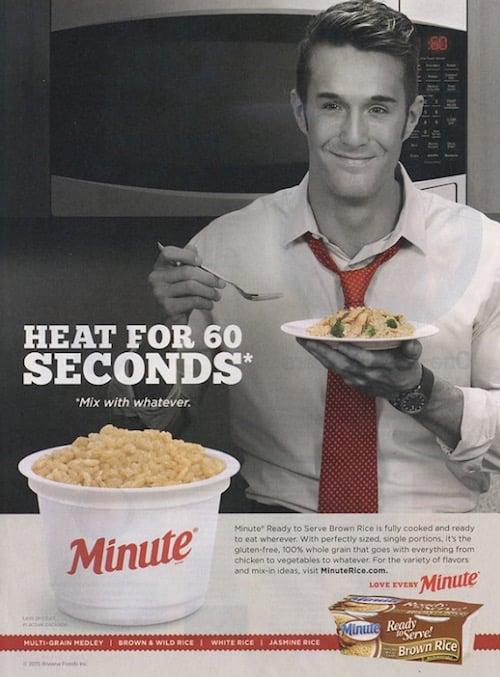 Microwave ovens became cheap but underpowered, as inexpensive and inefficient magnetrons (the apparatus that generates microwaves) kept the power of a home microwave at a fraction of what the original 1947 device was capable of. Advances in browning technologies were not pursued. As microwave ovens got lousier, people used them to cook proper food less and less and the general sentiment that they were inappropriate for "real" cooking became common knowledge.
Do I blame the Soviet Union for ruining microwave ovens? Not really — they were probably going to be crap, anyway. But it would have been cool to see what happened if the excitement surrounding them hadn't been so expertly snuffed out.
***
STUFFED SERIES: THE MAGAZINE OF TASTE | AUGURIES AND PIGNOSTICATIONS | THE CATSUP WAR | CAVEAT CONDIMENTOR | CURRIE CONDIMENTO | POTATO CHIPS AND DEMOCRACY | PIE SHAPES | WHEY AND WHEY NOT | PINK LEMONADE | EUREKA! MICROWAVES | CULINARY ILLUSIONS | AD SALSA PER ASPERA | THE WAR ON MOLE | ALMONDS: NO JOY | GARNISHED | REVUE DES MENUS | REVUE DES MENUS (DEUX) | WORCESTERSHIRE SAUCE | THE THICKENING | TRUMPED | CHILES EN MOVIMIENTO | THE GREAT EATER OF KENT | GETTING MEDIEVAL WITH CHEF WATSON | KETCHUP & DIJON | TRY THE SCROD | MOCK VENISON | THE ROMANCE OF BUTCHERY | …and more to come.
MORE POSTS BY TOM NEALON: Salsa Mahonesa and the Seven Years War, Golden Apples, Crimson Stew, Diagram of Condiments vs. Sauces, etc., and his De Condimentis series (Fish Sauce | Hot Sauce | Vinegar | Drunken Vinegar | Balsamic Vinegar | Food History | Barbecue Sauce | Butter | Mustard | Sour Cream | Maple Syrup | Salad Dressing | Gravy) — are among the most popular we've ever published here at HiLobrow.