Stuffed (9)
By: Tom Nealon
February 21, 2016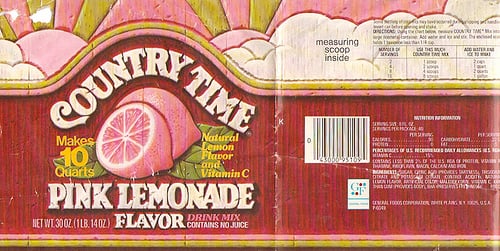 One in a popular series of posts by Tom Nealon, author of an as-yet-untitled food history from British Library Publishing, coming September 2016. The STUFFED series is inspired by Nealon's extraordinary collection of rare cookbooks, which he sells via Pazzo Books.
STUFFED SERIES: THE MAGAZINE OF TASTE | AUGURIES AND PIGNOSTICATIONS | THE CATSUP WAR | CAVEAT CONDIMENTOR | CURRIE CONDIMENTO | POTATO CHIPS AND DEMOCRACY | PIE SHAPES | WHEY AND WHEY NOT | PINK LEMONADE | EUREKA! MICROWAVES | CULINARY ILLUSIONS | AD SALSA PER ASPERA | THE WAR ON MOLE | ALMONDS: NO JOY | GARNISHED | REVUE DES MENUS | REVUE DES MENUS (DEUX) | WORCESTERSHIRE SAUCE | THE THICKENING | TRUMPED | CHILES EN MOVIMIENTO | THE GREAT EATER OF KENT | GETTING MEDIEVAL WITH CHEF WATSON | KETCHUP & DIJON | TRY THE SCROD | …and more to come.
*
PINK LEMONADE
Pink lemonade! It speaks to us of summertime, fairs and parades, adorable children extorting money from their neighbors by selling pink Country Time from their sidewalks. But where did it come from?
Though history is not devoid of instances of strawberry, raspberry, pomegranate (e.g., grenadine), and cranberry flavored lemonade, the pink coloring is traditionally just that: coloring. The genesis tales recently rehashed on the Huffington Post ask us to believe two absurd and obviously false stories: (1) in 1857, a circus lemonade vendor used a bucket of water in which a performer had washed her red leotard (!), or (2) in 1912, a pile of cinnamon candies fell into a circus vendor's lemonade and voilà! Weirdly, at the end of the 19th century we do hear stories of cinnamon lemonade… but neither of these stories passes the ridiculous-on-the-face-of-it test. (The cinnamon candies story takes place decades after pink lemonade was already well-known). However, in the US, pink lemonade is deeply identified with the circus, that much is true.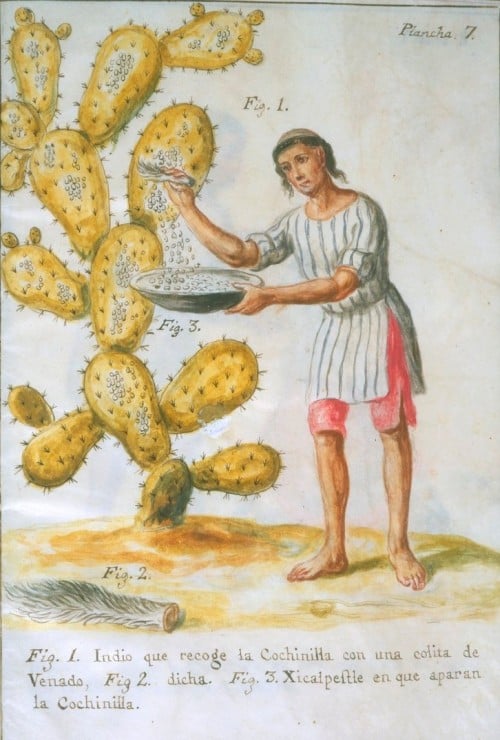 Before Europeans stumbled upon the New World, their options for tinting things red was extremely limited. And if you had a hankering for a fake pink drink? Fuhgettaboutit. But in Central and South America, Europeans encountered a marvelous red dye present in the body and eggs of a sessile (that is, they pick a spot on a prickly pear cactus and don't ever move — like a desert barnacle) insect, the cochineal. Though the Polish cochineal had been used for some time to dye fabric, it was scarce and very difficult to harvest, whereas the Mexican cochineal was present in abundance. The Aztecs were well aware of its properties — it was for sale in the markets in Tenochtitlan and was one of the elements of the tribute that conquered tribes paid to the Aztecs, but it only became big business after the arrival of the Spanish. The red harvested from the cochineal, called carmine when used as a textile dye, was the third most valuable New World import after silver and gold. It was imported beginning in the 16th century, in yearly quantities topping 250,000 pounds in the 17th century, and routinely topped 1 million pounds per annum in the 18th. That is a lot of bugs.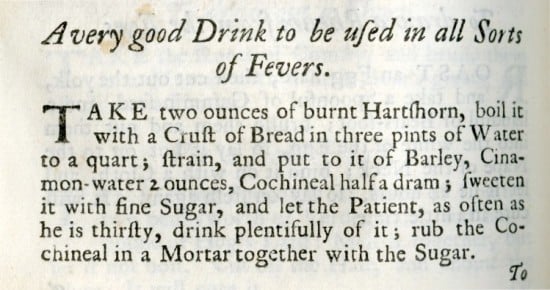 Cochineal was so valuable that the Spanish hid its origin lest industrial espionage result in losing their stranglehold on the market. English, Dutch, and French scientists puzzled over it, unsure whether it was a seed, a worm, or something else. Even two of the greatest chemists of the 17th century, Robert Boyle and Antonie van Leeuwenhoek, were stumped. It wasn't until the middle of the 18th century that the source of the dye became widely known. In the meantime, the use of cochineal had moved from textiles to medicine where it was used for its supposed powers against poison, as a fever reducer, a schvitz inducer, and as a cordial (in the original sense of a comforting and pleasant medicine). From there it began to make its way into drinks — to impart its pleasant color and add a note of extravagance (it remained fairly expensive).
Even as far back as the early 18th century, in Chomel's Dictionnaire Oeconomique (translated into English as A Family Dictionary in 1727) it is acknowledged that cochincheal has no actual effect other than as a colorant in the recipe for "white drink," which was "known now in most families" — also an early combination of cochineal and lemon — it states "the red-drink is the same with the white, only tinged with cochineal."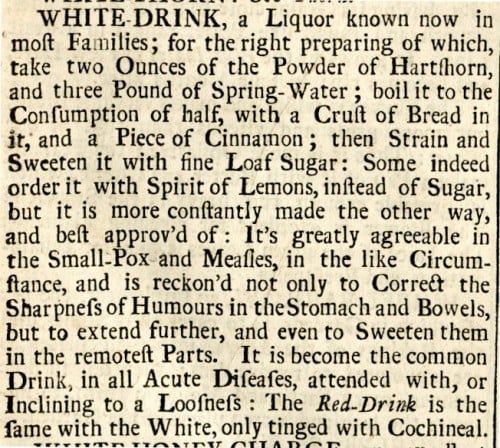 In 1714, it first appeared in a non-medicinal drink recipe, "To Improve Syder," along with brandy, and as the century progressed it made its way from cordial to beverage proper. In 1754, an edition of the popular "A new and complete dictionary of arts and sciences" suggests combinations of lemonade, wine, spring water, and cochineal for a pleasant cooler; and in 1767, a later and much augmented edition of Chomel's Dictionnaire gives a recipe for a lemon peel and cochineal liqueur flavored with almonds and cinnamon called a parfait amour. Later versions of this were just lemon peel and cochineal and it lives on as a Dutch Curaçao-type liqueur used to make the parfait amour cocktail (which itself looks like pink lemonade).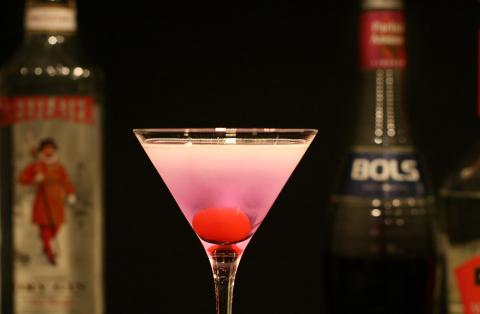 The parfait amour was also called a "cédrat rouge" as it was simply a cédrat liqueur tinged red. It passed into English language cookbooks and distillers guides by the early 19th century, where it inspired lemonade/cochineal ices. The reason that you didn't see much in the way of straight lemonade cochineal recipes, though I'm sure they were reasonably common in the real world, is that cochineal was still expensive. To put cochineal in your drink, just to add some color, would have been only the purview of the upper classes. As a result, it was commonly recommended for liqueurs, medicines, and desserts, but hard to find in recipe books aimed at regular folk. Even lemonade only commonly showed up in recipe books after the 17th century when it was being presented as a frothy punch — boiled with peel, cinnamon, cloves, and egg whites.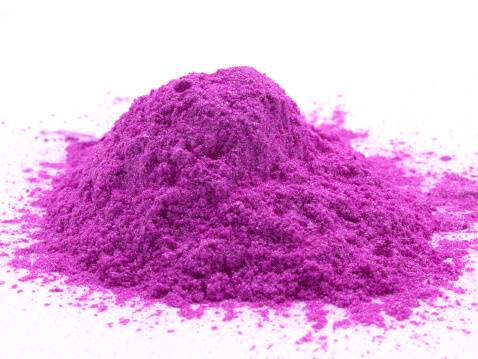 One thing the 1857 red leotard story got more or less right is the date. In 1856, the first synthetic food coloring, mauveine, was discovered (accidentally while William Henry Perkin was attempting to synthesize quinine). Other colors followed quickly, making 1857 a decent guess as to the first appearance of synthetically colored pink lemonade. Intriguingly, since the first rush of colors were purples and pinks, the first pink lemonade was likely very pink. Quickly, companies started to abuse the new colors, using them to disguise poorly manufactured or dangerous goods by giving them undeserved color, but pink lemonade stood off to the side, colored pink just for the fun of it. It became associated with circus and fair culture, and as early as 1870 there are picturesque descriptions of the pink lemonade man compounding his mixture before the circus begins (pink lemonade was made from water, lemons, tartaric acid, sugar and the pink color — the tartaric acid serving to increase the bitterness and counteract the insipid sweetness of the sugar). Pink and red lemonades also became very popular with African-Americans around the turn of the century, often as an element in barbecue, picnic, and party food. Around the same time, and apparently independently, red lemonade became popular in Ireland, a popularity that continues to this day (though it's now carbonated and a popular mixer with whiskey). In all three cases, and from an early date, its popularity was ridiculed and viewed as frivolous and low-class.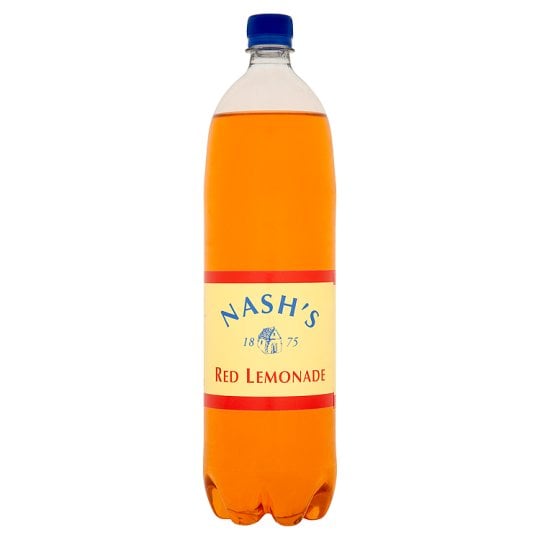 These new synthetic colors tanked the market for cochineal, impacting countries throughout Central America where the business had spread like a plague of, um, insects. The dye that eventually replaced cochineal, called amaranth (and later red dye no. 2), turned a galaxy of drinks, candies, confections and snacks red for a century. But in 1976 vague fears as to its health effects led to the FDA banning red dye no. 2. Was the ban related to its popularity in the first place — a vague notion of its unnameable power? (That is, if we are certain that it doesn't do anything good, and we somehow intuit its power, then, ipso facto, it must be bad.) The fact that the red dye scare was started by Soviet scientists during the height of the Cold War only made matters worse: Reds x red = better safe than sorry. Today, cochineal can again be found bringing its flavorless, insect gleam to food and drink in the United States (which has led, predictably, to complaints of bugs being used in our food and places like Starbucks removing it from their frappuccinos). The bugs are back, for now.
The wealthy were widely admired for their ingenuity in extravagantly putting red in their lemon drinks — how lovely, how fine — and, for that matter, for putting saffron in their lemonade to make it yellow (actual lemonade, of course, is cloudy, not really even yellowish) which they routinely did in the 18th and 19th centuries. Which is really more authentic? Yellow like a lemon, red like a Central American insect, or red like a circus, like a picnic? And why red? That, I think, is the beauty of it — the pure, in the best sense of the word, pointlessness of the whole extended enterprise.
A writer we know has suggested a relationship between scarlet dye and sex, death, even an alien God. But when it comes to lemonade, I'm not so sure. Why not pink lemonade and its crimson offspring, fruit punch — isn't red reason enough? The rich had to wait for crushed insects to be carried across a treacherous ocean, everyone else had to wait for hundreds of years for a cheap replacement to be invented. In both cases, the pointlessness had an admirable sharpness. These days, when everything is possible, pointlessness comes all too easily.
***
STUFFED SERIES: THE MAGAZINE OF TASTE | AUGURIES AND PIGNOSTICATIONS | THE CATSUP WAR | CAVEAT CONDIMENTOR | CURRIE CONDIMENTO | POTATO CHIPS AND DEMOCRACY | PIE SHAPES | WHEY AND WHEY NOT | PINK LEMONADE | EUREKA! MICROWAVES | CULINARY ILLUSIONS | AD SALSA PER ASPERA | THE WAR ON MOLE | ALMONDS: NO JOY | GARNISHED | REVUE DES MENUS | REVUE DES MENUS (DEUX) | WORCESTERSHIRE SAUCE | THE THICKENING | TRUMPED | CHILES EN MOVIMIENTO | THE GREAT EATER OF KENT | GETTING MEDIEVAL WITH CHEF WATSON | KETCHUP & DIJON | TRY THE SCROD | …and more to come.
MORE POSTS BY TOM NEALON: Salsa Mahonesa and the Seven Years War, Golden Apples, Crimson Stew, Diagram of Condiments vs. Sauces, etc., and his De Condimentis series (Fish Sauce | Hot Sauce | Vinegar | Drunken Vinegar | Balsamic Vinegar | Food History | Barbecue Sauce | Butter | Mustard | Sour Cream | Maple Syrup | Salad Dressing | Gravy) — are among the most popular we've ever published here at HiLobrow.