Radium Age 100 (23)
By: Joshua Glenn
July 27, 2015
One in a series of 100 posts about the best science fiction novels published from 1904–33. HiLobrow's Josh Glenn has named that era science fiction's Radium Age; more info here. The complete Radium Age 100 list can be found here.
*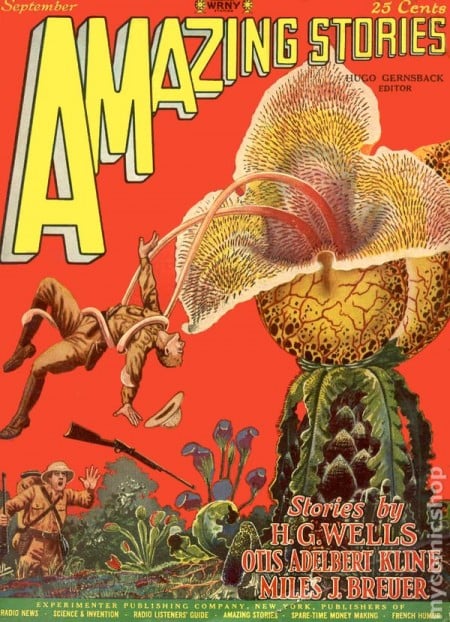 H.P. Lovecraft's The Color Out of Space (1927).
The narrator of this (long) short story, considered one of Lovecraft's best, interviews Pierce, a madman who lives in the wild hills west of Arkham, Massachusetts, regarding the origins of the area's so-called "blasted heath." It turns out that a meteorite had crashed in fertile farmland, years earlier, shedding globules of an impossible color. Crops began to grow large (and slightly luminous) but inedible; farm animals began to exhibit deformities; people went insane or died. Discovering that a neighbor's wife was infected by the color out of space, Pierce put her out of her misery; but discovered that the alien creature — whose motives are unknowable — is now living in the well!
Fun fact: Lovecraft made a study of colors outside of the visible spectrum because he was determined to conjure up an alien life-form whose nature would be entirely foreign to human experience.
***
MORE RADIUM AGE SCI FI ON HILOBROW: HiLoBooks homepage! | What is Radium Age science fiction? |Radium Age 100: 100 Best Science Fiction Novels from 1904–33 | Radium Age Supermen | Radium Age Robots | Radium Age Apocalypses | Radium Age Telepaths | Radium Age Eco-Catastrophes | Radium Age Cover Art (1) | SF's Best Year Ever: 1912 | Radium Age Science Fiction Poetry | Enter Highbrowism | Bathybius! Primordial ooze in Radium Age sf | War and Peace Games (H.G. Wells's training manuals for supermen) | Radium Age: Context series | J.D. Beresford | Algernon Blackwood | Edgar Rice Burroughs | Karel Čapek | Buster Crabbe | August Derleth | Arthur Conan Doyle | Hugo Gernsback | Charlotte Perkins Gilman | Cicely Hamilton | Hermann Hesse | William Hope Hodgson | Aldous Huxley | Inez Haynes Irwin | Alfred Jarry | Jack Kirby (Radium Age sf's influence on) | Murray Leinster | Gustave Le Rouge | Gaston Leroux | David Lindsay | Jack London | H.P. Lovecraft | A. Merritt | Maureen O'Sullivan | Sax Rohmer | Paul Scheerbart | Upton Sinclair | Clark Ashton Smith | E.E. "Doc" Smith | Olaf Stapledon | John Taine | H.G. Wells | Jack Williamson | Stanisław Ignacy Witkiewicz | S. Fowler Wright | Philip Gordon Wylie | Yevgeny Zamyatin