Stuffed (6)
By: Tom Nealon
April 16, 2015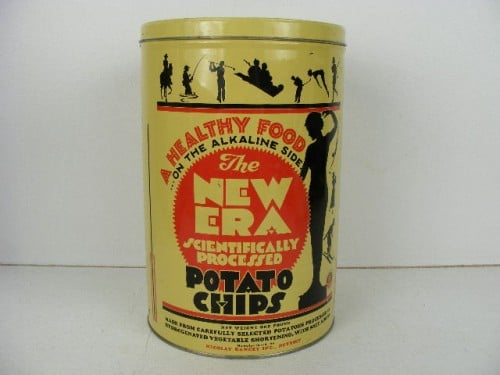 One in a new series of posts by Tom Nealon, author of the highly popular 2010–2012 HiLobrow series DE CONDIMENTIS. The posts in the STUFFED series are inspired by Nealon's collection of rare cookbooks, which he sells — among other things — via Pazzo Books. His rare cookbook catalog is available here as a PDF or a full color book.
STUFFED SERIES: THE MAGAZINE OF TASTE | AUGURIES AND PIGNOSTICATIONS | THE CATSUP WAR | CAVEAT CONDIMENTOR | CURRIE CONDIMENTO | POTATO CHIPS AND DEMOCRACY | PIE SHAPES | WHEY AND WHEY NOT | PINK LEMONADE | EUREKA! MICROWAVES | CULINARY ILLUSIONS | AD SALSA PER ASPERA | THE WAR ON MOLE | ALMONDS: NO JOY | GARNISHED | REVUE DES MENUS | REVUE DES MENUS (DEUX) | WORCESTERSHIRE SAUCE | THE THICKENING | TRUMPED | CHILES EN MOVIMIENTO | THE GREAT EATER OF KENT | GETTING MEDIEVAL WITH CHEF WATSON | KETCHUP & DIJON | TRY THE SCROD | MOCK VENISON | …and more to come.
*
POTATO CHIPS AND DEMOCRACY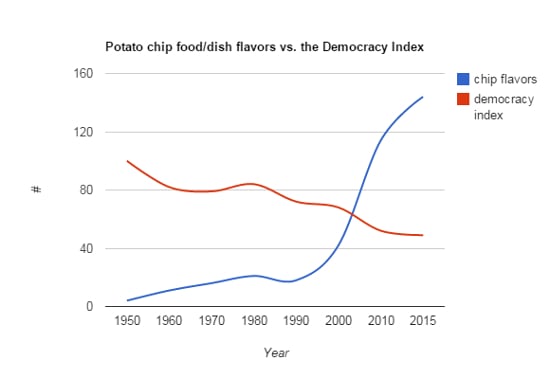 Historically, potato chips were enjoyed plain or with dip. As the 20th century progressed, flavors that mimicked dips and condiments were added. However, of late we here at STUFFED World Headquarters have noticed a troubling increase in full blown food and dish flavors. Potato chips that are engineered to mimic not just flavors but meals. We've graphed our feelings (er, findings) above. Notice the spike in food flavors after 9/11. Experts are calling this the potato chip in the coal mine. It's not causal, obviously (well, hopefully), but a spike in potato chip food flavors is an early warning device of surprising sensitivity. For while the world's governments and Lays are probably not conspiring to slowly boil us frog-like in their delicious kettle of pre-flavored chips, and almost certainly not trying to pacify us with an infinite variety of scrumptious, pre-selected food flavors, I do wonder, why the sudden deluge…
*
The story of our very favorite chip is that they were accidentally invented in Saratogo Springs, NY, in 1853, when an obnoxious customer (who later became Andrew Carnegie) kept sending back his potatoes claiming they were cut too thick and underdone.
The cook, later identified as George Crum, finally sliced them incredibly thin and fried them to a crisp in oil. Voilà. Everyone loved them so much that Crum started a new restaurant and put a bowl of chips on every table.
I've discussed before the tendency for food narratives to be credulity-stretching accidents, but this one withstands even less scrutiny than usual.

In fact, by 1853 potato chips were old news. A potato chip recipe appeared in William Kitchiner's (inventor of The Magazine of Taste) famous English cookbook, Apicus Redivivus, or, The Cook's Oracle (1818); and in the United States, we also find one in Mary Randolph's Virginia Housewife (1824). Note that Randolph's potato chip recipe was likely derived from Kitchiner — though with a spelling that would not have confused poor Dan Quayle.
This is sort of beside the point, though. There is absolutely no need to invent outlandish situations to account for the alchemy of discovering the frying of thin slices of potato.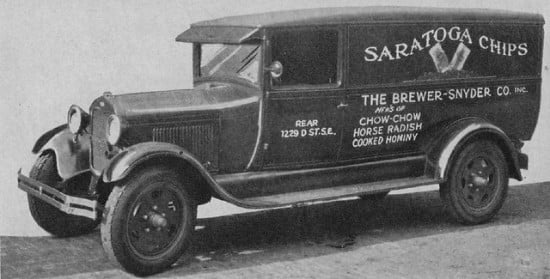 During the 19th century, the only thing holding back potato(e) chip production was packaging technology. Once they figured that out, potato chips took off — and by the last decade of the 19th century, chip factories were springing up in cities all over the States. For example, the 1893 Ohio Bureau of Labor Statistics report notes a Springfield potato chip company (run by a woman who supposedly discovered the recipe in her kitchen) that employed 25 people; and 1890s-era Boston Almanacs feature multiple advertisements by potato chip companies.
Their immediate popularity has never waned, and they continue to be enormously popular, to the tune of over $5 billion dollars annually, in the U.S. alone, in 2013.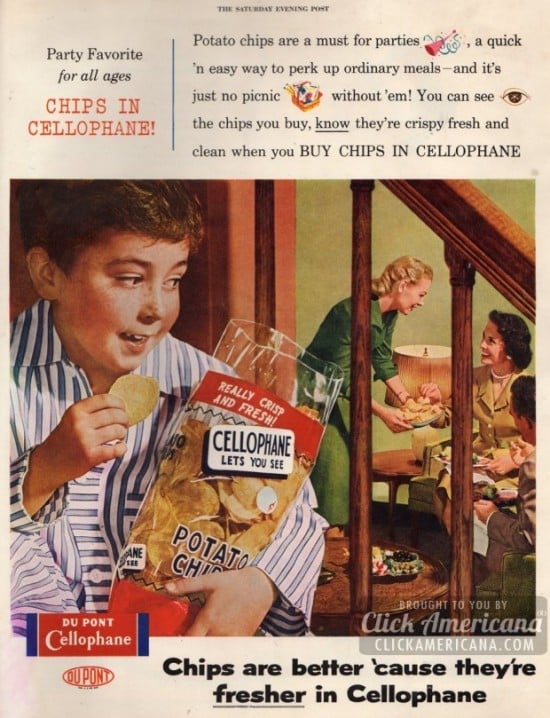 For decades the potato chip was sprinkled with salt and declared finished. If you wanted to add flavor, you dipped it in something or spritzed them with vinegar — in fact, a whole cottage industry sprang up modifying condiments to be used as chip dips. Now, of course, we only routinely dip corn chips; and the potato chip aisle at the supermarket looks like the condiment aisle — an embarrassment of choices and minute variations on a theme.
*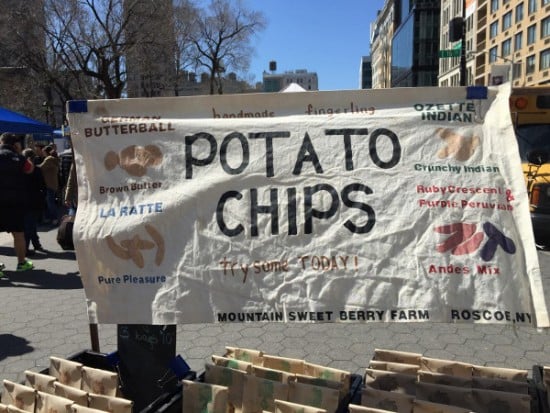 Why is the potato chip so beloved… and so remorselessly fiddled with?
A home-cooked meal might be what we imagine when we are on the road for too long; a five course restaurant meal what we wax poetic about at the water cooler; we might have a desert island meal picked out in detail all the way to the lattice on the rhubarb pie at the end. But it is through snacks that our food unconscious finds expression — and, with more flavors all the time, that expression becomes increasingly easy to read.
I present to you a list of American chip flavors: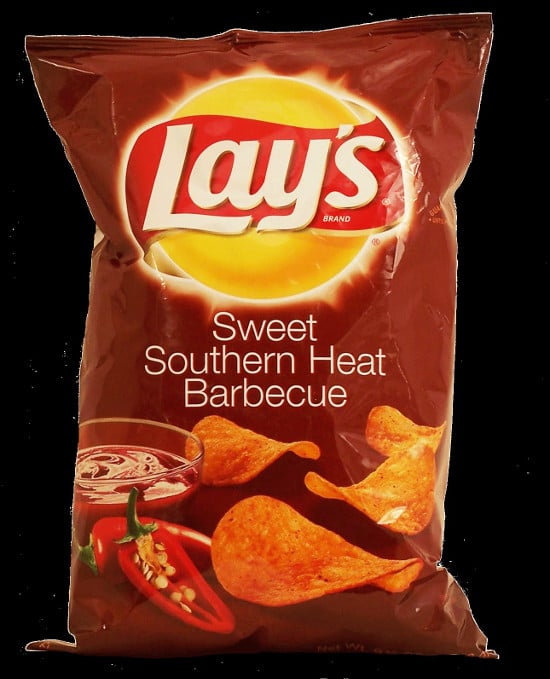 CONDIMENT FLAVORS
Sour Cream and Onion
Barbecue
Hidden Valley Ranch
Salt and Vinegar
Salt and Pepper
Dill Pickle
Limón
Chipotle Ranch
Sriracha
Tangy Carolina BBQ
Wasabi ginger
Honey Mustard
Creamy Garden Ranch
Tangy Carolina BBQ
Harvest Ranch
Hickory Barbecue
Honey Barbecue
Honey Mustard
Hot and Spicy Barbecue
Southwestern Ranch
Chipotle Ranch
Creamy Garden Ranch
Mesquite Barbecue
Natural Sea Salt
Sea Salt and Cracked Pepper
Sea Salt and Vinegar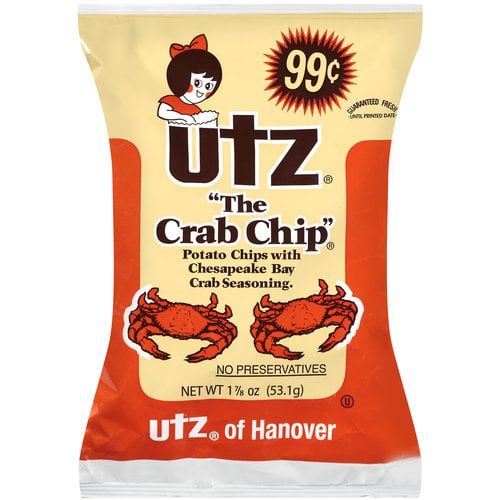 FOOD FLAVORS
Spicy Cayenne and Cheese
Crab chip
Chile Limon
Balsamic Sweet Onion
Cheddar and Sour Cream
Garden Tomato and Basil
Cajun Herb and Spice
Balsamic Sweet Onion
Crinkle Cut Spice Rubbed BBQ
Parmesan and Tuscan Herb
Maui Onion
Cheesy garlic bread
Sharp Cheddar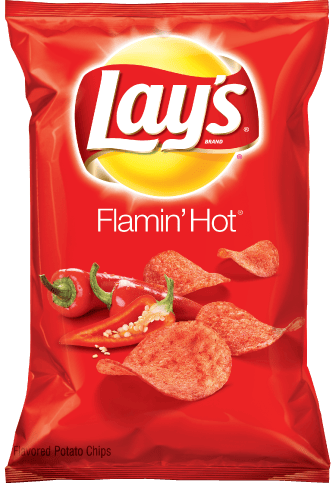 CONCEPTUAL FLAVORS
Deli style
Creamy Mediterranean Herb
Garden Tomato and Basil
Flamin' Hot
Sweet Southern Heat Barbecue
DISH FLAVORS
Chicken and waffles
Cheddar bacon mac & cheese
PLACE FLAVORS
Parmesan and Tuscan Herb
Maui Onion
Creamy Mediterranean Herb
*
Also, here's a list of British chip flavors: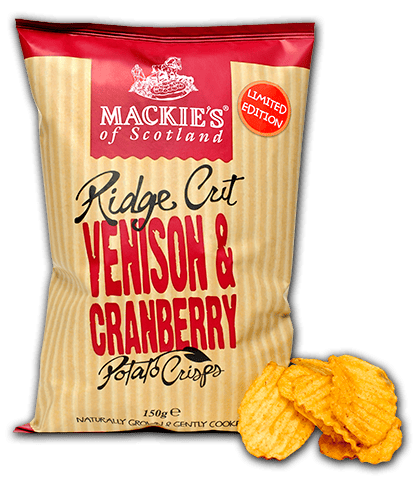 FOOD FLAVORS
Cheese and Onion
Prawn Cocktail
Pickled Onion
Beef and Onion
Cheddar Cheese & Bacon
Pickled Onion
Smoky Bacon
Roasted Tomato & Aromatic Spices
Vintage Cheddar & Onion Chutney
Caramelised Onion & Balsamic Vinegar
Buffalo Mozzarella & Herbs
smoked Monterrey Chilli with Goats Cheese
Builders Breakfast
Pigs in blankets
Whisky & haggis
Venison and cranberry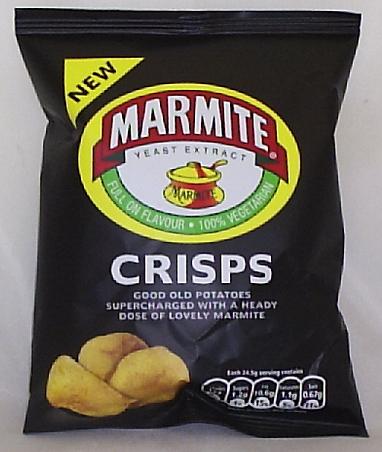 CONDIMENT FLAVORS
Salt & vinegar
Sour Cream & Chive
Tomato Ketchup
Worcester sauce
Thai Sweet Chilli
Marmite
Lime & Coriander Chutney
DISH FLAVORS
Roast Chicken
Roasted Chicken & Thyme
Oriental Red Curry
Peking Spare Rib
CONCEPTUAL FLAVORS
Southern Style Barbecue
PLACE FLAVORS
Smoked Monterrey Chilli with Goats Cheese
Mexican Fiery Sweet Chipotle
Peking Spare Rib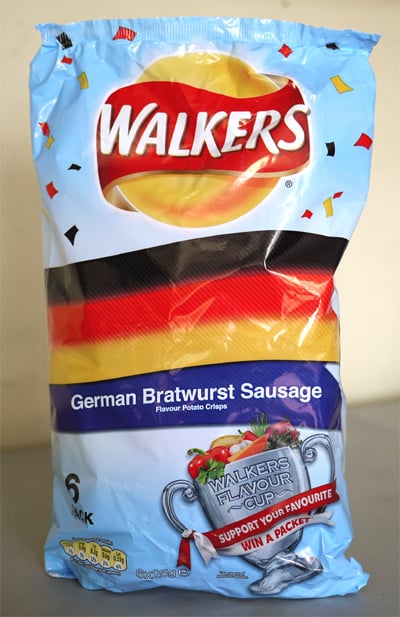 PS: Though not regular flavors, a 2010 promotion included the following place flavors (probably not a manifestation of Britains new imperial ambitions, but probably worth keeping an eye on):
Spanish Chicken Paella
Japanese Teriyaki Chicken
German Bratwurst Sausage
Italian Spaghetti Bolognese
French Garlic Baguette
American Cheeseburger
Brazilian Salsa
Scottish Haggis
Irish Stew
English Roast Beef
Yorkshire Pudding
Dutch Edam Cheese
Australian BBQ Kangaroo
South African Sweet Chutney
Argentinian Flame Grilled Steak
Welsh Rarebit
*
And here's a list of Canadian chip flavors:
FOOD FLAVORS
curry and ginger
curry
smokey Bacon
CONDIMENT FLAVORS
Sea Salt and Pepper
ketchup
salsa
wasabi
creamy garlic caesar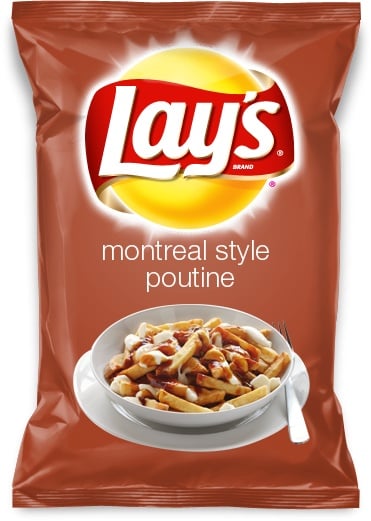 DISH FLAVORS
Roast Chicken
poutine
pizza
masala
grilled cheese & ketchup
CONCEPTUAL FLAVORS
old fashioned bar.b.q.
Many thanks to this list of 204 chip flavors that formed the backbone of my categorization.
*
What is striking, beyond the number of barbecue and ranch flavors in the U.S., is how food and condiment flavors are rather neatly reversed in the UK.
Americans want control and simplicity that appeals to their sloth and busy schedule — condiments pre-applied in a dazzling variety that allow us to visualize (and eat) the democracy that we yearn for. Of concern to me is the sudden proliferation of food flavors popping up like NSA drones in my airspace. It is bad enough that we aren't still buying dip and applying precisely the flavors we want in precisely the amount, but Parmesan and Tuscan herb? Jesus. At least the trains run on time.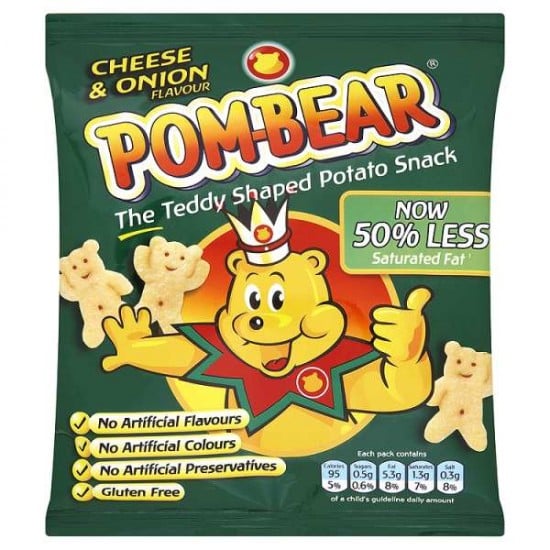 British people want a wide variety of flavors that evoke Imperial foods and dishes — even if they really may just want a pack of cheese crisps and a pint, resulting in a charming half-yearn towards a mythical Imperial past and a meal in a chip Wonka future. No one knows what the bear-shaped ones mean.
Canadians tend, interestingly, towards the extremes — either condiments or dishes. Sensible, decisive, but of two minds: Democracy and Monarchy, freedom and history.
Both the UK and Canada (not to mention Germany and Poland) have popular ketchup varieties but the U.S. does not. This has been much remarked upon over the years, but I think the very simple explanation is that we take our ketchup too damn seriously to let someone pre-smear it on our potato chips.
The Dutch have a similar mix as the English — a mix of mostly food flavors (though, encouragingly, they added the Dutch condiment flavor Patatje Joppie in 2011) punctuated with post-colonial Indonesian flavors like Babi Pangang.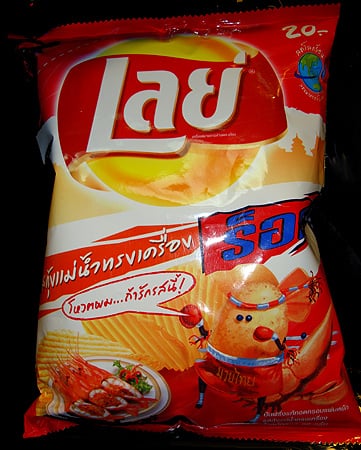 *
Looking at countries with less central potato chip cultures is less instructive, as the flavors tend to be too descriptive (i.e. Indian flavors like HipHop Honey and Chili & Latino Style Hot Peppers and Salsa — though Tangy Tango and Mint Mischief are suggestive) to hold much advanced meaning. But the tendency towards food and dish flavors in fast-developing markets with little experience with democracy — like China (Finger Licking Braised Pork) and Thailand (River Shrimp with Condiments) — merits watching.
***
STUFFED SERIES: THE MAGAZINE OF TASTE | AUGURIES AND PIGNOSTICATIONS | THE CATSUP WAR | CAVEAT CONDIMENTOR | CURRIE CONDIMENTO | POTATO CHIPS AND DEMOCRACY | PIE SHAPES | WHEY AND WHEY NOT | PINK LEMONADE | EUREKA! MICROWAVES | CULINARY ILLUSIONS | AD SALSA PER ASPERA | THE WAR ON MOLE | ALMONDS: NO JOY | GARNISHED | REVUE DES MENUS | REVUE DES MENUS (DEUX) | WORCESTERSHIRE SAUCE | THE THICKENING | TRUMPED | CHILES EN MOVIMIENTO | THE GREAT EATER OF KENT | GETTING MEDIEVAL WITH CHEF WATSON | KETCHUP & DIJON | TRY THE SCROD | MOCK VENISON | …and more to come.
MORE POSTS BY TOM NEALON: Salsa Mahonesa and the Seven Years War, Golden Apples, Crimson Stew, Diagram of Condiments vs. Sauces, etc., and his De Condimentis series (Fish Sauce | Hot Sauce | Vinegar | Drunken Vinegar | Balsamic Vinegar | Food History | Barbecue Sauce | Butter | Mustard | Sour Cream | Maple Syrup | Salad Dressing | Gravy) — are among the most popular we've ever published here at HiLobrow.