Stuffed (2)
By: Tom Nealon
November 3, 2014
One in a new series of posts by Tom Nealon, author of the highly popular 2010–2012 HiLobrow series DE CONDIMENTIS. The posts in the STUFFED series are inspired by Nealon's collection of rare cookbooks, which he sells — among other things — via Pazzo Books. His rare cookbook catalog, STUFFED, has just been published.
STUFFED SERIES: THE MAGAZINE OF TASTE | AUGURIES AND PIGNOSTICATIONS | THE CATSUP WAR | CAVEAT CONDIMENTOR | CURRIE CONDIMENTO | POTATO CHIPS AND DEMOCRACY | PIE SHAPES | WHEY AND WHEY NOT | PINK LEMONADE | EUREKA! MICROWAVES | CULINARY ILLUSIONS | AD SALSA PER ASPERA | THE WAR ON MOLE | ALMONDS: NO JOY | GARNISHED | REVUE DES MENUS | REVUE DES MENUS (DEUX) | WORCESTERSHIRE SAUCE | THE THICKENING | TRUMPED | CHILES EN MOVIMIENTO | THE GREAT EATER OF KENT | Etc.
*
Auguries and Pignostications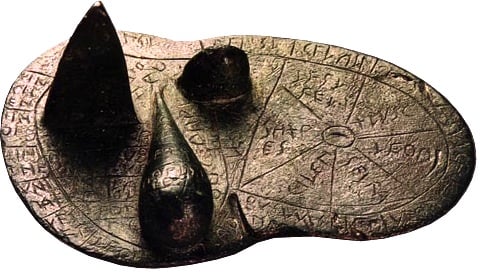 Long before their appearance at fancy restaurants and bespoke charcuterie bistros, before Rabelais's war of the sausages enveloped the forest puddings and the chitterlings, even before the Etruscans discovered the Libri Tagetici written by the god-child Tages detailing the art of divination through the examination of the liver and entrails of sacrificial sheep, blood sausages and their more primordial cousin, blood stew, were eaten and enjoyed wherever animals and humans frolicked together. Blood and offal (intestine, liver, kidneys, heart, etc.) have spent the intervening millennia being sniffed at, disguised, renamed, euphemized and apologized for, even if the apologies were often issued through a mouth full of blutwurst. The only unanswered question, and one that no one has ever successfully read a lamb's viscera for, is whether divination followed delicacy or vice versa.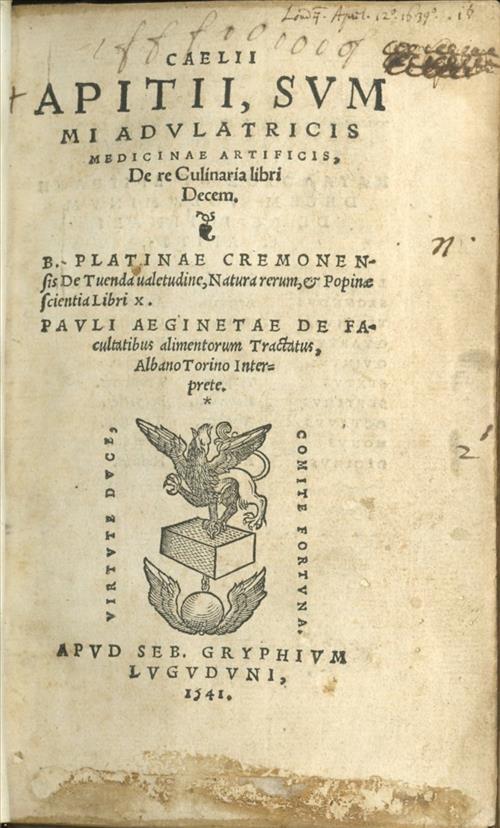 Pliny, Cicero, and Seneca wrote of the use of viscera in divination; Homer described a haggis progenitor in the Odyssey made from blood and stuffed in a stomach; the 4th century Roman cookbook Apicius describes a blood sausage made with eggs and spices; and the great Italian Renaissance cook Bartolomeo Scappi gives direction for a pig's blood sausage and suggestions for what to do with all of that excess calf's blood. This latter recipe, in its vagueness, is suggestive of blood stew.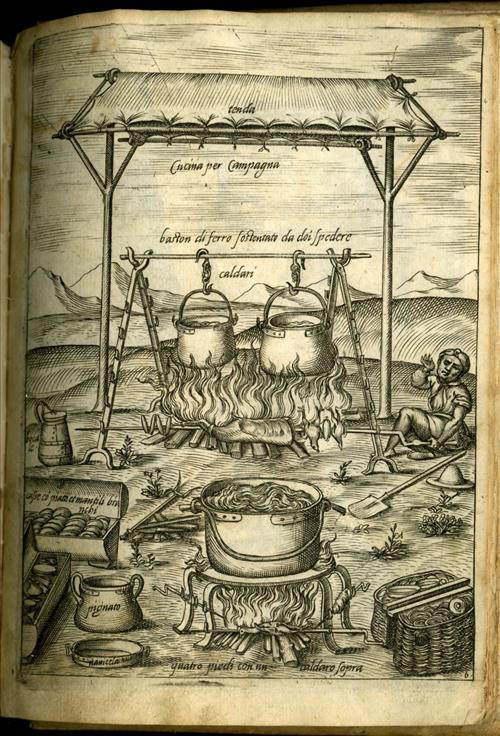 The reading of entrails or haruspicy (i.e., read by a haruspex, a pretty good job in antiquity) dates back past the Babylonians to at least 2000 B.C. Liver and kidney models were made to practice divination and are still unearthed now and again. Cobbled labyrinths were constructed to represent the intestines of sheep that you can still walk through today.
Ezekiel 21:21 "For the king of Babylon stood at the parting of the way, at the head of the two ways, to use divination: he shook the arrows to and fro, he consulted the teraphim, he looked in the liver."
The connection between blood and entrails, food and the future, may seem arbitrary when you are standing in Whole Foods trying to choose between an artisanal Vermont Andouille and a Boudin Noir imported from Bretagne, but it stretches back far enough and was enough of a problem that God, obviously eager to retain his stranglehold on omniscience, tried to put the kibosh on the whole thing in Leviticus 19:26:
"Ye shall not eat anything with the blood: neither shall ye use enchantments, nor practise augury."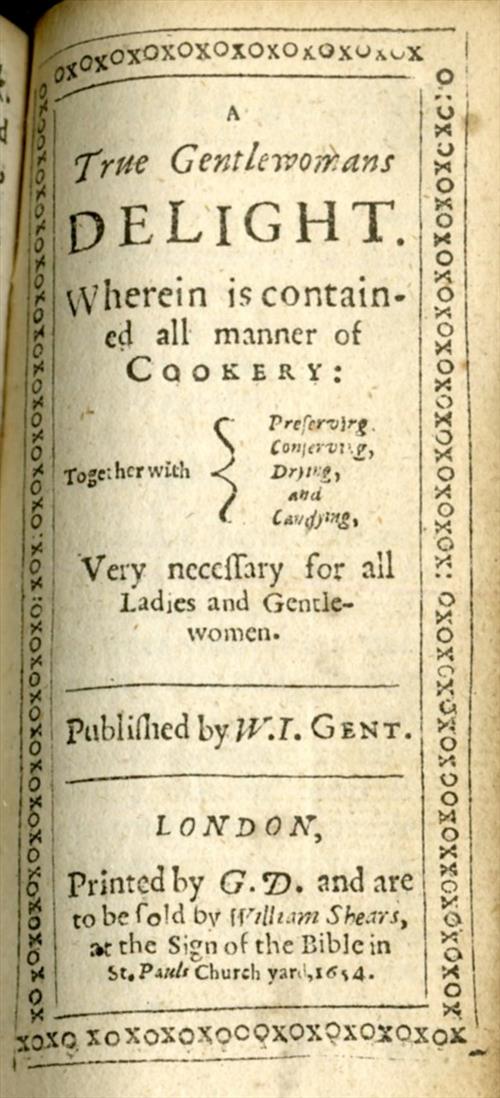 Blood sausages show up in cookbooks sporadically after Apicius and Scappi. Most English cookbooks (like A True Gentlewoman's Delight, 1654) have recipes for black and white puddings. Black pudding is always some variation on blood, oatmeal (or groats), salt, and spices, and white is offal and/or pork fat with oatmeal/groats and spices. Hannah Glasse (in her classic The Art of Cookery Made Plain and Easy) adds a Scottish recipe — she takes care to label it as Scottish — for a pudding made with the blood of a goose. It is made much the same way as regular black pudding with the addition of beef suet.
An English translation of a French work, Dictionaire Oeconomique: or, The Family Dictionary (1727) adds a Bolognia sausage which "very many value… above all others" which is made with pork and blood. My bologna has a first name it's B-L-O-O-D. Catchy, but it's really just a standard blutwurst.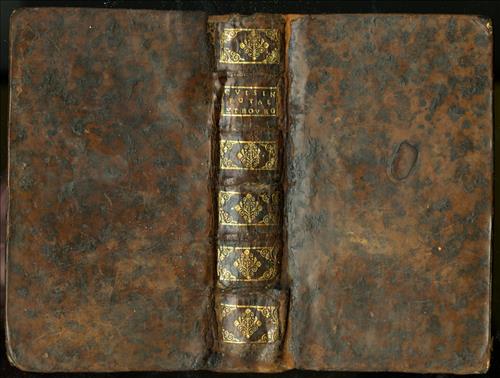 Starting in the late 17th century, blood sausages show up reliably in most French cookbooks that deal with bourgeois (or country) cuisine — royal cookery always eschewed talk of blood sausage. Massialot's 1698 Cuisinier Roïal et Bourgeois is typical in describing a boudin blanc and a boudin noir (more or less equivalent to English white and black puddings) and listing a few other bloodless boudin (foie gras, veal liver) that were sometimes made with blood. The popularity of the boudin was such that after the revolution and the death of royal cuisine, restaurateurs like Antoine Beauvilliers incorporated blood sausage in his proto-haute cuisine recipe books.
He gives instruction for making both black and white boudin, but also a Boudin de Nanterre, and a Boudin de Foie Gras made with veal blood. Beauvilliers brought blood sausage out of the dark and put in front of members of the emerging upper-middle class. A bold move, and one that presaged the current love of low-brow pork products, but one that did not last. The great epicure and author Alexandre Dumas didn't even include a single boudin in his mammoth Dictionnaire de Cusine just a few years later.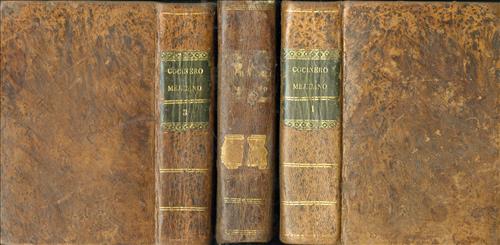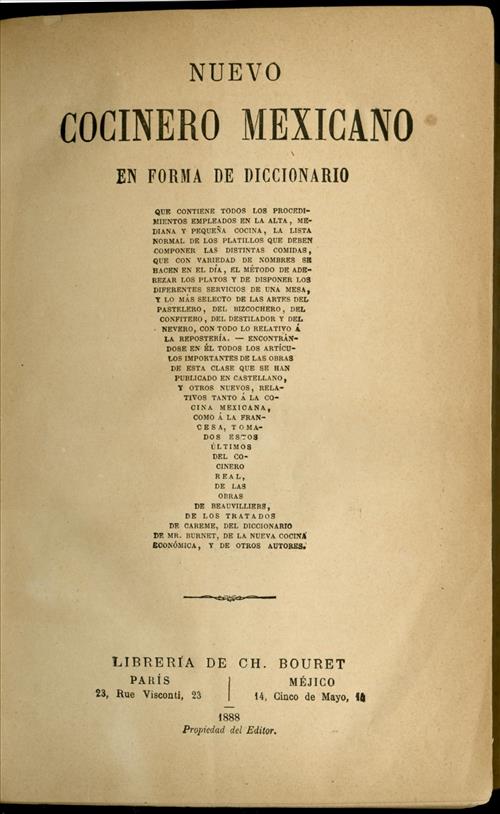 The more effortlessly democratic cuisine of Mexico featured a wide range of morcilla (Spanish blood sausage) from the very beginning. The first Mexican cookbook, El Cocinero Mejicano, features six morcillas that include either blood, tripe, or both. Another early Mexican cookery, the Franco-centric Nuevo Cocinero Mejicano en Forma de Diccionario, has ten recipes for morcillas, including a number that add chile peppers to the mix. It also includes separate recipes for French style boudin.
What even these two more inclusive cookeries don't have. however, is any mention of blood soup or stew. While blood sausage is a delicious, heady, occasionally troubling meal, it is not the most obvious way to make use of a substance that is, after all, a liquid. For over a hundred years the Chinese have been recapturing the protein in blood (first duck and later pig) by turning it into blood curd, a largely tasteless suspension of blood and rice. It serves a similar purpose as aspic does in European cuisine, in making an otherwise lost source of protein edible and usable in cuisine. Blood, often duck or goose blood, is also traditionally added to a range of soups both in Northern Europe (e.g. Czernina in Poland, Juka in Lithuania, and the more robust Svartsoppa in Sweden) as well as versions from Vietnam, China, and Korea. Most of these attempt to cut the blood flavor by using it as a secondary ingredient, adding sugar and vinegar, or both. However, there is a long tradition of putting the blood front and center and floating entrails in there — this practice is described in Robert Beverly's 1707 travel book Histoire de la Virginie where he gives a description for a deer blood and entrails stew that was favored by Native Americans in the area ("un potage merveilleux").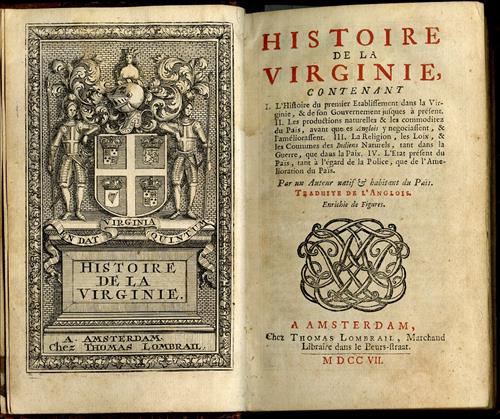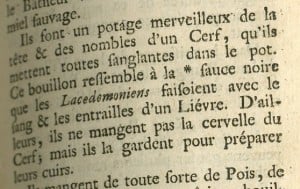 The recipe Beverly gives is similar to the original Ecuadorian fritada and a local dish in Guam that often features deer. It also strongly resembles the Filipino stew dinuguan which appears in the first American recipe book that includes cookery from the Philippines, Oriental Culinary Art by George Kwon, published in Los Angeles in 1933; it includes detailed (over a page) instructions on slaughtering the pig properly.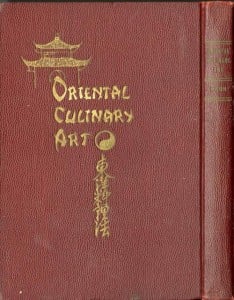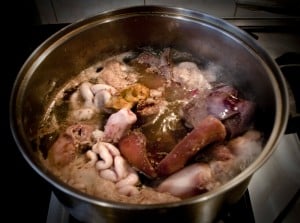 Like the original, messy fritada and the Native American deer stew, dinuguan is the very antithesis of the admonition in Leviticus. It is blood with the viscera, the chitterlings, floating in it, it is precisely what God was trying to keep from us — what all these cookbook writers were beating around the bush about: thick, rich, resistant to appropriation.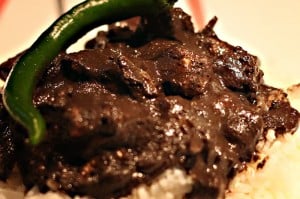 It's the boiled-down essence of it all, as opaque as the future ever was.
***
STUFFED SERIES: THE MAGAZINE OF TASTE | AUGURIES AND PIGNOSTICATIONS | THE CATSUP WAR | CAVEAT CONDIMENTOR | CURRIE CONDIMENTO | POTATO CHIPS AND DEMOCRACY | PIE SHAPES | WHEY AND WHEY NOT | PINK LEMONADE | EUREKA! MICROWAVES | CULINARY ILLUSIONS | AD SALSA PER ASPERA | THE WAR ON MOLE | ALMONDS: NO JOY | GARNISHED | REVUE DES MENUS | REVUE DES MENUS (DEUX) | WORCESTERSHIRE SAUCE | THE THICKENING | TRUMPED | CHILES EN MOVIMIENTO | THE GREAT EATER OF KENT | Etc.
MORE POSTS BY TOM NEALON: Salsa Mahonesa and the Seven Years War, Golden Apples, Crimson Stew, Diagram of Condiments vs. Sauces, etc., and his De Condimentis series (Fish Sauce | Hot Sauce | Vinegar | Drunken Vinegar | Balsamic Vinegar | Food History | Barbecue Sauce | Butter | Mustard | Sour Cream | Maple Syrup | Salad Dressing | Gravy) — are among the most popular we've ever published here at HiLobrow.