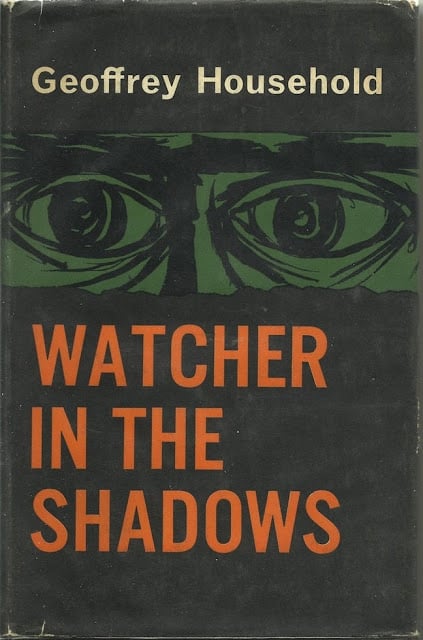 Geoffrey Household's 1960 novel Watcher in the Shadows was a return to form — two decades after his Buchanesque hunted-man novel Rogue Male (1939), and a decade after his brace of 1951 thrillers A Rough Shoot and A Time to Kill — for one of the greatest adventure writers ever. Zoologist Charles Dennim is sent a mail bomb. Why? During the war, he was a double agent working for the Allies as a Gestapo officer… and now the husband of one of the Gestapo's victims wants revenge. HiLoBooks is delighted to introduce this terrific yarn to today's adventure readers.
ALL INSTALLMENTS SO FAR
***
BURNING BRIGHT (cont.)
Then there was a curious incident. Not another attempt on me. Nothing but a message, and a very clear one. I received a pamphlet published by some politico-religious society with revolting — and true — photographs of German concentration camps. There was a small cross in one corner of a picture of Buchenwald. It covered the officer's mess.
Language is a clumsy way of communication. It takes me thirty-five words to convey the meaning of that cross. Something of this sort:
"You do not appear to be worried. That is a pity. I wish you to be worried. I wish it so much that I do not care if this message sends you to the police."
The sender could not of course know what I had or had not told the police, but there was no sign that I was being guarded. I must have appeared to him very unimaginative.
All the same it was safe to assume that he would keep clear of my house and street for the next few weeks. The danger, if there really was any, would be outside. I took the precaution of moving about by unusual routes at unexpected times and avoiding the edge of underground platforms.
Meanwhile I wrote to an old friend in the Ministry of Justice at Vienna. We had lost sight of each other since 1943, but the bond was close. We were both Austrians with a tradition behind us which made us loathe Hitler and every one of his crazed fanatics. I came directly under his orders in the private war which we carried on under instructions from London. The English are too inclined to think of Germans and Austrians as one people. They forget — if they ever knew — that thousands of us were executed for sabotage.
His reply was immensely cordial. He looked back on that period with enjoyment. Well, perhaps we did enjoy it — for the first year. Death at the hands of the Gestapo had never been, in a sense, more than a day away and we gambled with it. We avoided the thought that if we were caught death would certainly be several months away and that when it came we should be without nails, teeth, sleep or sanity.
He seemed surprised at my question. He thought the murders would have been reported in British papers. I don't think they ever were. The only foreign murders which interest the British are French.
"There have been no known cases of revenge," he wrote, "except upon the former staff of Buchenwald. A certain Gustav Sporn, Major, was shot dead outside his home two days after his release from prison. The assassin left no clue to his identity, and nobody greatly cared. Sporn seems to have been an unspeakable brute, and German opinion (though of course, being what they are, they would never admit it) was that the Allies should have hanged him instead of letting him off with a ten-year sentence.
"A month later Captain Walter Dickfuss came out. He was decoyed to a ruined factory where, according to the medical evidence, he was kept alive with great ingenuity for three days. The medicolegal authorities were so shocked by the appearance of the corpse that investigation was and is most thorough.
"Obviously the criminal is some poor devil who survived the horrors of Buchenwald. But all possible suspects have been checked. Nothing fits.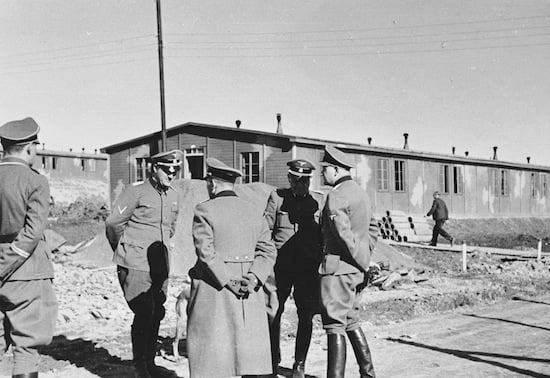 "The third to go was a fellow called Hans Weber against whom there seems to be nothing at all except that he served in the Gestapo and was a guard at Buchenwald — if one can call that nothing. German police believe that Dickfuss implicated him by some confession, possibly false, during torture.
"His was an interesting case, for he was killed in spite of — one might almost say because of — police protection. He was stabbed in a crowd, recovered from a very nasty wound and was then well watched day and night.
"The watch began to slack off after a couple of months, as it always does, but the executioner was more patient. All the police know of him — and they are certain of it — is that he must have plenty of money and unlimited time at his disposal.
"He pretended to be a cop, frightened Weber out of his life, rushed him round a corner for safety, gave him a drink from his hip-flask. And that was that. The hipflask is conjecture. The rest is the evidence of Weber's wife. She says that the man was above average height. Otherwise her description of him is worthless. She heard the quick conversation at the front door of the flat, but only caught a glimpse of the man's back as he and Weber rushed out. He must have watched the flat until he was sure of the hour when she put the children to bed.
"We learned in a hard school not to ask unnecessary questions, old friend, but I am bursting with curiosity. If you are on the trail of the murderer — or shall we call him an executioner? — take it up with Scotland Yard. They will presumably have details of all three cases from Interpol."
There was only one man in whom I felt able to confide. Even him I had avoided for years. I called him up at his farm near Buckingham and asked him to meet me urgently in London at some spot where we could not possibly be seen together. My plan was vaguely forming — clear enough to foresee that there should be no observable connection between us. He told me that he had the use of a friend's flat and made an appointment for the following day.
Singleton Court was a huge, red-brick block of small flats, built in the middle nineteen-thirties — a regular warren of holes for respectable rabbits without young. As I wandered along the heavily carpeted passages looking for Number 66, I wished we had had something of the sort in central Vienna. Not even a continental concierge could have reported accurately the movements, political tastes and professions behind such an architect's fever dream of white-painted, closed front doors. If I had been followed by my enemy — and I reckoned he had experience of how and how not to follow — he could never discover on whom I had called.
The door of 66 opened at once when I rang the bell. At the sight of Ian Parrow I felt a curious mixture of affection and resentment. He carried me back eleven years into a life which had become mercifully unreal to the zoologist. And yet that strained, thin face which smiled in the doorway — a face which used to give the impression of lank, black hair and office-white skin as marked as a waiter's uniform — had meant to me such personal safety as I could have, and safety, still more important, for my honor and reputation. The thin mouth which had been too tense for a soldier had relaxed.
And now I must confess my secret. Even today I hate to put it on paper. Yet I suppose every one of us, whatever the nationality, who fought without a uniform or, worse still, in the enemy's, must have memories which defile him and from which he shudders away. Perhaps the aristocratic tradition of my family made it harder for me than most. But the two thousand years of Christianity behind a proud and self-respecting boiler-maker are just as powerful.
My father used to say that the claim of the von Dennims to any Empire of Germans was rather better than that of the Hapsburgs. So it is, if you conveniently ignore — as he did — that our direct descent from the House of Hohenstaufen began with a daughter. However, by 1922, when I was ten, orphaned, and collecting cheese rinds from other people's garbage cans, the point was of minor importance.
As soon as the inflation which followed the First World War was over and the Austrian Republic securely established, enough was recovered from the utter wreck of the family estate to give me comfort and a good education. I specialized in forestry and ecology. Even as a child I was a keen naturalist — too passionately fond of the gun, of course, but that was the fashion of the time.
In 1935 the government sent me to the United States to study some new forestry techniques and report. I was over there when Hitler marched into Vienna. I did not make any secret of my opinion. Normally that would have been recorded against me; but there were no Nazi spies in the forests of the State of Washington.
Our Canadian colleagues across the border were very friendly, and I used occasionally to meet distinguished visitors from London. It must have been one of those who recommended me as a useful man, but I really do not know through what grapevine I was tested and recruited.
In 1939 I was cut off by the blockade without a chance of returning to Europe till the end of the war. But I did return. I was flown to London secretly and trained for a year. My chief was Colonel Ian Parrow.
NEXT INSTALLMENT | ALL INSTALLMENTS SO FAR
***
READ GORGEOUS PAPERBACKS: HiLoBooks has reissued the following 10 obscure but amazing Radium Age science fiction novels in beautiful print editions: Jack London's The Scarlet Plague, Rudyard Kipling's With the Night Mail (and "As Easy as A.B.C."), Arthur Conan Doyle's The Poison Belt, H. Rider Haggard's When the World Shook, Edward Shanks' The People of the Ruins, William Hope Hodgson's The Night Land, J.D. Beresford's Goslings, E.V. Odle's The Clockwork Man, Cicely Hamilton's Theodore Savage, and Muriel Jaeger's The Man with Six Senses. For more information, visit the HiLoBooks homepage.
REDISCOVERED BY HILOBOOKS: Jack London's The Scarlet Plague | Rudyard Kipling's With the Night Mail (and "As Easy as A.B.C.") | Arthur Conan Doyle's The Poison Belt | H. Rider Haggard's When the World Shook | Edward Shanks' The People of the Ruins | William Hope Hodgson's The Night Land | J.D. Beresford's Goslings | E.V. Odle's The Clockwork Man | Cicely Hamilton's Theodore Savage | Muriel Jaeger's The Man With Six Senses | Jack London's "The Red One" | Philip Francis Nowlan's Armageddon 2419 A.D. | Homer Eon Flint's The Devolutionist | W.E.B. DuBois's "The Comet" | Edgar Rice Burroughs's The Moon Men | Charlotte Perkins Gilman's Herland | Sax Rohmer's "The Zayat Kiss" | Eimar O'Duffy's King Goshawk and the Birds | Frances Hodgson Burnett's The Lost Prince | Morley Roberts's The Fugitives | Helen MacInnes's The Unconquerable | Geoffrey Household's Watcher in the Shadows | John Buchan's Huntingtower
ORIGINAL FICTION: HiLobrow has serialized three novels: James Parker's The Ballad of Cocky The Fox ("a proof-of-concept that serialization can work on the Internet" — The Atlantic); Karinne Keithley Syers's Linda Linda Linda (which includes original music); and Robert Waldron's roman à clef The School on the Fens. We also publish original stories and comics.