File X (35)
Posted by: Joshua Glenn In:
Here's another vintage paperback whose title includes a free-standing "X."
Click here to view my entire collection; and click here to peruse the Collector's Guide.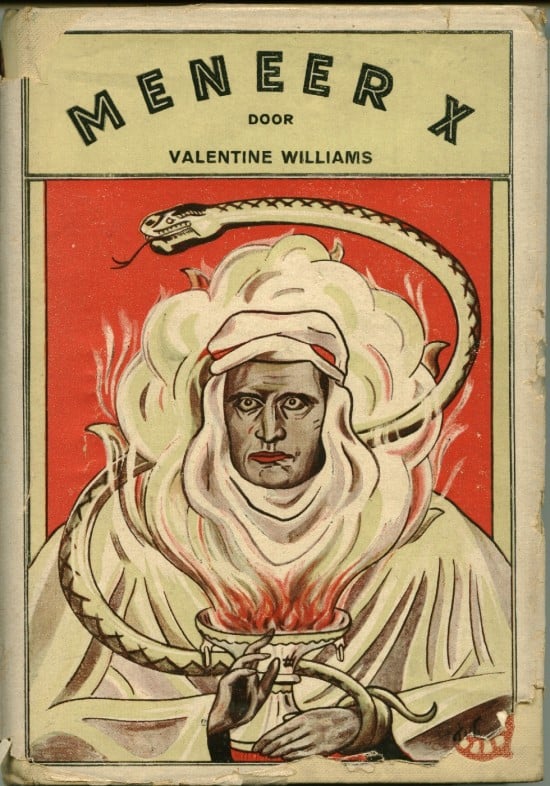 Meneer [Mister] X (c. 1928), by Valentine Williams.
What is this book? I don't own it, but I must have it.
*
MORE LIT LISTS FROM THIS AUTHOR: Index to All Adventure Lists | The 200 Greatest Adventure Novels of All Time | 100 Best Radium Age Science Fiction Novels | Best 55 Scientific Romances (1864–1903) | Best 75 Golden Age (1934–63) Science Fiction Novels | Best 75 New Wave (1964–83) Science Fiction Novels | Best 19th Century Adventure (1805–1903) | Best Nineteen-Oughts Adventure (1904–13) | Best Nineteen-Teens Adventure (1914–23) | Best Twenties Adventure (1924–33) | Best Thirties Adventure (1934–43) | Best Forties Adventure (1944–53) | Best Fifties Adventure (1954–63) | Best Sixties Adventure (1964–73) | Best Seventies Adventure (1974–83) | 101 Science Fiction Adventures | 70 Crime Adventures | 65 Fantasy Adventures | 61 Espionage Adventures | 40 Atavistic & Historical Adventures | 25 Frontier & Western Adventures | 20 Avenger & Artful Dodger Adventures | 20 Apophenic & Treasure Hunt Adventures | 20 War & Ruritanian Adventures | 18 Picaresque Adventures | 10 Robinsonade & Survival Adventures. ALSO: Best Older Kids' Lit 1963 | Best Older Kids' Lit 1964 | Best Older Kids' Lit 1965 | Best Older Kids' Lit 1966 | Best 1905 Adventures | Best 1910 Adventures | Best 1915 Adventures | Best 1916 Adventures | Best 1920 Adventures | Best 1921 Adventures | Best 1925 Adventures | Best 1926 Adventures | Best 1930 Adventures | Best 1931 Adventures | Best 1935 Adventures | Best 1936 Adventures | Best 1940 Adventures | Best 1941 Adventures | Best 1945 Adventures | Best 1946 Adventures | Best 1950 Adventures | Best 1951 Adventures | Best 1955 Adventures | Best 1956 Adventures | Best 1960 Adventures | Best 1961 Adventures | Best 1964 Adventures | Best 1965 Adventures | Best 1966 Adventures | Best 1970 Adventures | Best 1971 Adventures | Best 1975 Adventures | Best 1976 Adventures | Best 1980 Adventures | Best 1981 Adventures | Best Scottish Fabulists | Radium-Age Telepath Lit | Radium Age Superman Lit | Radium Age Robot Lit | Radium Age Apocalypse Lit | Radium Age Eco-Catastrophe Lit | Radium Age Cover Art (1) | SF's Best Year Ever: 1912 | Cold War "X" Fic | Best YA Sci-Fi | Hooker Lit | No-Fault Eco-Catastrophe Lit | Scrabble Lit |