File X (32)
By: Joshua Glenn
June 21, 2014
Here's another vintage paperback whose title includes a free-standing "X."
Click here to view my entire collection; and click here to peruse the Collector's Guide.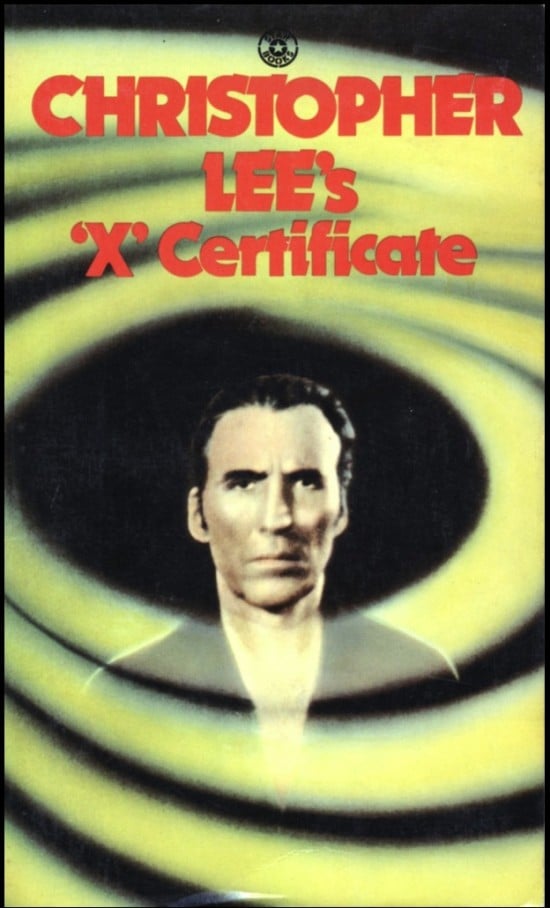 Christopher Lee's 'X' Certificate (1975), ed. Christopher Lee and Michael Parry.
A horror anthology exploiting actor Christopher Lee's star turn in — at that point — over 100 horror films. Note, however, that the cover photo of Lee is from 1974's The Man With The Golden Gun. Why not from 1973's The Wicker Man? Lee also co-edited other horror anthologies, e.g., Archives of Evil and Treasury of Terror.
Contents: Robert E. Howard's "The Black Stone"; "The Spider" by Fritz Leiber; "I, the Vampire" by Henry Kuttner; "Talent" by Robert Bloch; "Amber Print" by Basil Copper; "The Gorgon" by Clark Ashton Smith; "The Kill" by Peter Fleming; "Blood Son" by Richard Matheson; "The Monster Maker" by W. C. Morrow; "The Judge's House" by Bram Stoker.
*
MORE LIT LISTS FROM THIS AUTHOR: 200 Greatest Adventure Novels of All Time | 100 Best Radium Age Sci-Fi Novels (1904–1933) | 75 Best Golden Age Sci-Fi Novels (1934–1963) | 75 Best New Wave Sci-Fi Novels (1964–1983) | 55 Best Scientific Romances (1864–1903) | Best 19th Century Adventure (1805–1903) | Best Nineteen-Oughts Adventure (1904–13) | Best Nineteen-Teens Adventure (1914–23) | Best Twenties Adventure (1924–33) | Best Thirties Adventure (1934–43) | Best Forties Adventure (1944–53) | Best Fifties Adventure (1954–63) | Best Sixties Adventure (1964–73) | Best Seventies Adventure (1974–83) | 101 Science Fiction Adventures | 70 Crime Adventures | 65 Fantasy Adventures | 61 Espionage Adventures | 40 Atavistic & Historical Adventures | 25 Frontier & Western Adventures | 20 Avenger & Artful Dodger Adventures | 20 Apophenic & Treasure Hunt Adventures | 20 War & Ruritanian Adventures | 18 Picaresque Adventures | 10 Robinsonade & Survival Adventures. ALSO: Best YYA Lit 1963 | Best YYA Lit 1964 | Best YYA Lit 1965 | Best YYA Lit 1966 | Best YYA Lit 1967 | THE OUGHTS (1904–13): 1905 | 1906 | 1907 | 1908 | 1910 | 1911 | 1912 | 1913. THE TEENS (1914–23): 1915 | 1916 | 1917 | 1918 | 1920 | 1921 | 1922 | 1923. THE TWENTIES (1924–33): 1925 | 1926 | 1927 | 1928 | 1930 | 1931 | 1932 | 1933. THE THIRTIES (1934–43): 1935 | 1936 | 1937 | 1938 | 1940 | 1941 | 1942 | 1943. THE FORTIES (1944–53): 1945 | 1946 | 1947 | 1948 | 1950 | 1951 | 1952 | 1953. THE FIFTIES (1954–63): 1955 | 1956 | 1957 | 1958 | 1960 | 1961 | 1962 | 1963. THE SIXTIES (1964–73): 1964 | 1965 | 1966 | 1967 | 1968 | 1970 | 1971 | 1972 | 1973. THE SEVENTIES (1974–83): 1975 | 1976 | 1977 | 1978 | 1980 | 1981 | 1982 | 1983. | Best Scottish Fabulists | Radium-Age Telepath Lit | Radium Age Superman Lit | Radium Age Robot Lit | Radium Age Apocalypse Lit | Radium Age Eco-Catastrophe Lit | Radium Age Cover Art (1) | SF's Best Year Ever: 1912 | Cold War "X" Fic | Best YA Sci-Fi | Hooker Lit | No-Fault Eco-Catastrophe Lit | Scrabble Lit |