Johnny Ace
By: Devin McKinney
June 9, 2014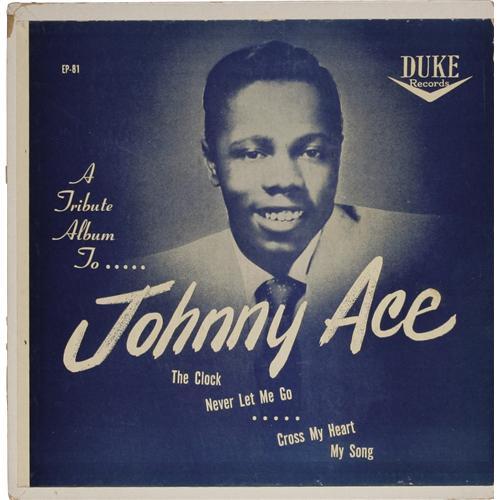 Christmas Day, 1954. Backstage, Houston City Auditorium. Russian roulette. Forever, my darling. It matters to history that witnesses say JOHNNY ACE (1929–54), the ur-ghost of rock'n'roll, did not truly die by Russian roulette, but was merely waving a pistol around when he accidentally put a bullet in his temple. But it matters to legend that he died by stylish risk rather than foolish mishap. Years before the mythmaking disaster that downed Buddy Holly, Ritchie Valens, and J.P. Richardson, Johnny Ace gave an embryonic hybrid of popular-music genres its supernatural credibility — its first truly legendary dimension, one that encompassed life, death, stardom, style, chance, and the charts. The pure tremble and ether that made "Pledging My Love" a living mystery from the moment it was recorded — and later revealed it as the tender, terrified heart of scabrous macho movies (Mean Streets, Bad Lieutenant) — encourages us to elide as unimportant the rest of his small but dynamic output: the jump blues, the midnight blues, the straight devotions that could have come from the Mills Brothers. But all of that is contained on his Memorial Album (first issued 1956, now filled out with bonus tracks), and that collection, like the true story, will always be there, waiting to be asked.
So give the gods of pop myth their bloody lamb. Let a million roses of regret and flowers of evil grow from the grave of Johnny Ace. Forever, my darling.
***
On his or her birthday, HiLobrow irregularly pays tribute to one of our high-, low-, no-, or hilobrow heroes. Also born this date: Cole Porter, Charles Wuorinen.
READ MORE about members of the Postmodernist Generation (1924-33).