King Goshawk (18)
By: Eimar O'Duffy
April 29, 2014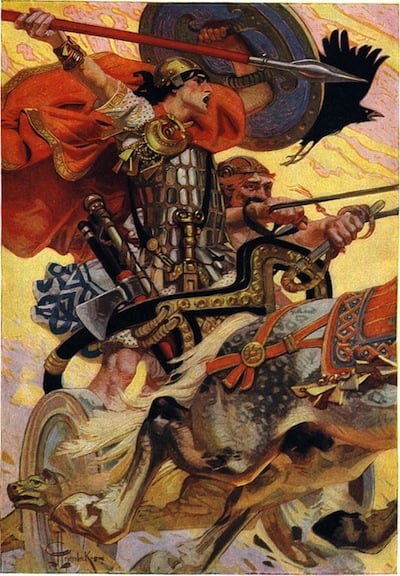 The 1926 satirical sf novel King Goshawk and the Birds, by Irish playwright and novelist Eimar O'Duffy, is set in a future world devastated by progress. When King Goshawk, the supreme ruler among a caste of "king capitalists," buys up all the wildflowers and songbirds, an aghast Dublin philosopher travels via the astral plane to Tír na nÓg. First the mythical Irish hero Cúchulainn, then his son Cuanduine, travel to Earth in order to combat the king capitalists. Thirty-five years before the hero of Robert Heinlein's Stranger in a Strange Land, these well-meaning aliens discover that cultural forms and norms are the most effective barrier to social or economic revolution.
HiLobrow is pleased to serialize King Goshawk and the Birds, which has long been out of print, in its entirety. A new installment will appear each week.
ALL INSTALLMENTS SO FAR
***
BOOK II: THE COMING OF CUANDUINE
Chapter 4: Cuanduine reads a Newspaper
The Philosopher's attic had not changed much in the years that had passed, save that it was grown older and the rent higher. The old man had a new suit of clothes waiting for Cuanduine, of a nice pattern of tweed, and fashionably cut, with snow-white shirt and tie of poplin. When he was dressed in these the Philosopher served them a breakfast of milk and bread and cheese, as he had done before when Cúchulainn came to Earth; after which he offered the young man a newspaper, and himself opened another.
"What is this?" asked Cuanduine.
"That," said the Philosopher, "is one of the marvels of human civilisation." Cuanduine turned the newspaper over in his hands; looked at it right way up, wrong way up, and sideways; opened it and counted the pages; and finally looked at the Philosopher with an expression of bewilderment on his godlike countenance.
"It is called a newspaper," the Philosopher explained. "In it is written down the news of all the things that happened yesterday in the world: and to-morrow I shall get another which will relate all that happened to-day."
"But how," asked Cuanduine, "can the truth be ascertained in so short a time?"
"I did not say that it told the truth," replied the Philosopher. "I only said it told the news."
Then Cuanduine began to read aloud from the newspaper: "'Social and Personal. King Goshawk gave a garden party at Tuscaloosa yesterday…. The Duke of Dudborough is fifty-one to-day.' Who is the Duke of Dudborough?"
"I don't know," said the Philosopher.
Cuanduine held his peace after that. These are some of the things he read:
Mr. Cyrus Q. Moneybags has had to cancel his European trip owing to an attack of leprosy.
*
Miss Dinkie Filmy has recovered from her fit of the blues, and has consented to resume her part in the great film "Kisses of Fire," the production of which will now proceed.
*
If your breath is bad in the morning, try Punk's Pills. (Advt.)
*
LIMELIGHT CINEMA
All This Week
RODERICK REDLIP and BETTY BRIGHTEYE
in
TAVY'S BROKEN HEART
Adapted from Shaw's touching romance
Man and Superman
.
*
DASHBLANK & Co.'s New List of Masterpieces
Henry Heavynib's Great Novel, Daisy … 10s.
Amy Slosh's Great Novel, Girlish Hearts … 10s.
Lady Dishwater's Great Novel, Riviera Romps 10s.
Daisy Deepend's Great Novel, Fiametta's Frillies 10s.
Millions of other Great Novels. See our Catalogue.
"All Dashblank's novels are Masterpieces" (vide Press).
DASHBLANK & Co. "Masterpieces Only."
*
A STRAIGHT ISSUE
Once again it becomes our duty to tell the Government in plain and unmistakable language what the best elements in the country — and we speak in no undemocratic sense — think of the way it is handling the present situation. This is a time for plain speaking; a time to search men's souls, and to apply to every word and action the acid test of Truth and Justice. We do not count ourselves among those — if there are any such — who would deny that there is never an occasion when the cause of true Justice might not be less disadvantageously served by a not over-inflexible adhesion to the strict litera verecundiae than by a too inopportune application of those solemn precepts which are the concrete foundation on which morality and true civilisation subsist. But nevertheless there are occasions such as the present, when the whole fabric of Society…
*
THE WOLFO-LAMBIAN CRISIS
It is a matter of exceeding difficulty to estimate, at the present stage of the proceedings, the true light in which to regard the unfortunate misunderstanding that now threatens to involve the Not-Very-Far-East in chaos and possibly bloodshed. To hold the balance evenly between causes in which so many questions, not only of national principle and international morality, but of widespread interests and deep aspects of policy and diplomacy, are inextricably intertwined, might possibly at this moment, when even the parties primarily concerned have not yet put their case fully before the public, militate unfavourably against those very principles of reconciling the effectuating of rightful action with the non-impairment of national privileges and financial interests, which it is the first duty of the organs of public opinion to safeguard, secure, and protect.
*
UP AND DOWN
Royal Resource.
When King Henry was driving down the Strand yesterday, a sudden breeze almost blew the royal hat from the royal head. Nothing daunted, his Majesty caught the royal brim with the royal fingers, and by this display of royal resourcefulness saved an awkward situation.
*
A Prince's Joke.
Prince Reggie, son and heir of the Jute King, is renowned for his sense of humour. The other day his Highness paid a surprise visit to one of his father's slums in Liverpool. As soon as his presence was known, dense crowds came swarming round to feast their eyes on his princely countenance. "They look like sardines in a box," remarked the Prince to an aide-de-camp. Screams of laughter greeted this ready sally.
*
A GREAT SPORTSMAN
Lord Puddlehead, who died last Monday, was almost as distinguished in the field of sport as in that of politics. His greatest kill was on his own estate at Puddlington about five years ago, when he shot 850 brace of pheasants in a day. But his performance in Scotland last year runs it close. On that occasion he shot 3600 head of grouse in five days, an average of 690 per day. Altogether over one million birds and beasts have fallen to his gun during his amazingly active life.
*
ATROCIOUS MURDER
AIRMAN DONE TO DEATH IN JUNGULAY
A murder of a peculiarly dastardly character was perpetrated to-day by tribesmen in the neighbourhood of Jhamjhar, Jungulay. The victim was Lieut. Derek Blacktan, an officer in King Goshawk's Air Force stationed at Brahmbuhl Jhelli. Entirely unarmed save for a loaded revolver, he happened to be strolling in the vicinity of Jhamjhar, when he was set upon by three natives and beaten to death. The village had been bombed from the air a few days before, and it is believed that the assassination was an act of vengeance. Reprisals are already in preparation.
*
THE FAIRLY-NEAR-EASTERN CRISIS
LAMBIAN REPLY TO THE WOLFIAN NOTE
WOLFOPOLIS, Thursday.
The reply of the Lambian Government to the Wolfian Note demanding reparation for the alleged negligence of a Lambian lighterman in damaging the paint of a Wolfian steamer in Micropolis harbour last week, was delivered here this morning. The Wolfian Note, it will be remembered, embodied the following demands:
The Lambian Government to send a grovelling apology to the Wolfian Government.
The guilty lighterman, or, if he cannot be discovered, any other Lambian lighterman, to be executed at once without trial, and the trade of lighter-manship to be suppressed in Lambia.
The Lambian flag to be lowered seven times on all public buildings in Micropolis whenever a Wolfian citizen passes by.
All citizens of Lambia to prostrate themselves for five minutes at sight of a Wolfian citizen.
Lambia to pay an indemnity of £900,000,000,000 in three yearly instalments.
The members of the Lambian Cabinet, and the Committee of the Lambian Lightermen's Union, to proceed at once to Wolfopolis and publicly prostrate themselves before Nervolini, the Wolfian Dictator, afterwards accepting his boot in the part prescribed in the Annex.
The Lambian reply is understood to accede to all these demands, with the exception of No. 6. It also asks that the period for the payment of the indemnity be extended to five years.
The Wolfian fleet has already put to sea in readiness for any eventuality.
LAMBOPOLOS, Thursday.
It is reported that the Wolfian fleet has been sighted off Micronetta.
*

HOW I DID IT
ACQUITTED MURDERER TELLS HOW HE
KILLED HIS WIFE, DAUGHTER, AND SOLICITOR

THE BLANKSTOWN MYSTERY
SOLVED AT LAST

WILLIAM BADSTUFF'S OWN ST0RY
EXCLUSIVE TO THE "ILLUSTRATED SUNDAY SURVEY"
GORY DETAILS SENSATIONAL REVELATIONS

GENUINE NARRATIVE AS ISSUED
FROM THE MURDERER'S REFUGE
IN THE WILDS OF CENTRAL ASIA,
SECURED BY "SUNDAY SURVEY"
AT A COST OF
TWO MILLION POUNDS

FIRST INSTALLMENT NEXT SUNDAY TELLS
HOW BADSTUFF WON THE AFFECTIONS
OF HIS SOLICITOR'S CHIROPODIST

ORDER YOUR COPY AT ONCE

OTHER CONTENTS OF THIS ISSUE
RURITANIA MUST PAY … By FRANTIC BLAIR
IS THERE A HELL? … By REV. SIMON BROADHEAD
DARNING THE PRINCE'S SOCKS … BY SILVIA SLOP
ALL THE LATEST PHOTOS OF SPORT AND SOCIETY
CONCLUSION OF SPLENDID SERIAL, "LAWLESS LOVE"
LONG OR SHORT KNICKERS? MORE VIEWS FROM OUR
READERS ON THIS ABSORBING TOPIC
READ THE
"ILLUSTRATED SUNDAY SURVEY"
*
READ THE
"ILLUSTRATED SUNDAY SURVEY"
*
SPORTING NEWS
It is understood that the soccer match between Wondrous Wanderers and Sturdy Stickers has been cancelled owing to the refusal of the latter team to play for less than £5000 per man. The Wanderers had contracted for £3500.
*
A record entry is expected for the Amateur Golf Championship, £1000 having been guaranteed to each competitor. There is a rumour, however, that Mr. Niblick, the present holder, will refuse to play unless guaranteed £20,000, win, lose, or draw.
*
Yesterday's great fight between Bruiser Burke and Slogger Samson for the Middleweight Championship of the World was a magnificent display of fistic talent. Every precaution had been taken to ensure a genuine contest. A sum of one million pounds was to be divided equally between the combatants on condition that the fight should last at least ten rounds, that a full pint of blood should be spilt, and that not less than two eyes should be completely bunged. In addition, the winner was to receive a further quarter of a million, and the loser a further four hundred thousand. The result was highly satisfactory. After six rounds each man had a darkened peeper, and in the eighth the referee announced that the blood-measure was full. The next two rounds were uneventful, but as the gong sounded for the eleventh, every nerve in the vast audience was tense with excitement. The two bruisers faced each other for a moment. Then simultaneously each tipped the chin of the other with his left, and, quick as lightning, flung himself backwards on the floor. Burke, being the heavier man, reached it first, and was accordingly declared the loser. Frantic cheering greeted the result. The blood was subsequently auctioned, and was knocked down at £120, which will be divided equally between the pugilists.
*
Bashing Burton has declared himself ready to accept £2,000,000 as a preliminary fee for discussing the conditions under which he might be prepared to fight Kid Coffey for the Heavyweight Championship, without prejudice to his right to refuse to fight him on any conditions.
*
BRITISH LABOUR TROUBLE
A general strike is threatened in British coal mines as a result of the proposed cut of two shillings per week in wages. The Coal Trust have issued a statement that it will be impossible to work the mines at a profit unless the cut is accepted.
*
CENSORS' GOOD WORK

IMMODEST WOMEN PENALISED
In Wolfe Tone Street yesterday two young women wearing immodest dresses, which revealed their throats and ankles, were arrested by Censors, stripped, and taken before the District Court. They were sentenced to a year's hard labour. We hope this will be a lesson to those young persons that the world-wide reputation of Irish womanhood for modesty and chastity is not a thing to be lightly imperilled.
*
BUY THE
"SUNDAY MUCKHEAP"
THE BEST TUPPENCEWORTH
ON THE MARKET

LARGER IRISH CIRCULATION
THAN ANY NATIVE PAPER

SUPPORT HOME TALENT
"DUBLIN SPICE"
IS JUST AS GOOD AS ANY IMPORTED FILTH

OUR LITERARY CORNER
A Novel with a Purpose.
"Blood and Fire," by B.S.T. Sellar. Charlatan & Co. 10s.
This gifted and popular author breaks new ground in his latest and greatest book. Is war right? Is there not something inequitable in the present unequal distribution of wealth? Is marriage what it might be? These are the startling questions which the trials and sufferings of the last few years have moved Mr. Sellar to ask. The author faces them courageously and without flinching. There is a new note of thought in this remarkable book, and if Mr. Sellar does not answer any of the great questions he raises, his message is perhaps all the more effective in consequence.
*
DUBLIN DISTRICT COURT
Percy MacGoldbags, 22, was summoned before Mr. Donkey yesterday on the charge of killing three children when motoring through Cuffe Street on the 15th inst. Constable Ryan testified that accused went down the street at a speed of one hundred miles an hour — twenty beyond the limit. Accused pleaded contributory negligence, and said that he had never driven a car before. Mr. Donkey, fining the young man five pounds, advised him to take lessons before again driving through crowded thoroughfares.
CENTRAL CRIMINAL COURT
The concluding stage of the trial of Bill Bungle, 40, bricklayer, for the murder of his wife, was heard yesterday. Prisoner read a statement in which he declared that his wife drank, and neglected the home and children. He had tried to get a divorce by setting up a sham domicile in England, but the subterfuge had been discovered. After five minutes' consideration the jury returned a verdict of guilty, and prisoner was sentenced to be hanged.
PROVINCIAL NEWS
The Ballycatandog Urban District Council met yesterday to discuss the resolution forwarded by the Ballymess Council, condemning the proposal of the Government to establish the metric system in Ireland.
Mr. Brady, proposing the motion, said that it was the duty of every Irishman worthy of the name to denounce the most tyrannous piece of legislation ever introduced into a democratic country. The action of the Government made the deeds of Nero, Queen Elizabeth, and Oliver Cromwell look mild and benignant in comparison.
MR. GRADY: Where was your grandfather in 1916?
MR. THADY: Under the bed.
MR. BRADY: I defy any man here to say my grandfather was a funk.
MR. GRADY: The Bradys were always great heroes.
MR. BRADY: They're every bit as good as the Gradys anyhow.
MR. GRADY: You old fool.
THE CHAIRMAN: Order! Order!
MR. GRADY: Don't you start putting in your oar.
THE CHAIRMAN: I will if I like. And who has a better right? My grandfather was out in 1916.
MR. GRADY: Yes. Right out of it.
THE CHAIRMAN: No. That's where yours was.
MR. GRADY: Do you call my grandfather a funk?
The meeting broke up in disorder.
*
HOUSES TO LET
A five-roomed house to let. South suburbs. Moderate rent. No children.
Cosy house. Two bedrooms, sitting-room, kitchen, bath. £150 and taxes. No dogs. No children.
Delightful house. Five miles from city. Six bed, four reception rooms. Billiard room, conservatory, stables, garage, kennels, garden and kitchen garden. No children.
Fine house, beautifully situated in own ground ten miles from city. Children objected.
Gate lodge to let. Five rooms. No dogs, no poultry, no children. Suit married couple.
Perfect house. Situated in own grounds. Beautiful scenery. Healthy climate. Five bedrooms, four reception. Day and night nursery. School-room. Large flower garden. Playing field, with goal-posts, etc. Tennis-court. Suit married couple. No children.
Pigstye to let. 10s. weekly. Suit large family.
Victorian mansion. Beyond repair. Situated in formerly fashionable quarter in heart of city. Reasonable rent. No objection to dogs, cats, poultry, canaries, tortoises, goldfish, axolotls, or even children.
*
LATEST NEWS
MICRONETTA SHELLED
Strong action of Nervolini.
Micronetta has been shelled by the Wolfian fleet. The first shell struck an infant school in the centre of the town, killing the teacher and eleven children. The white flag was at once hoisted. The Wolfian admiral, landing soon afterwards, fainted with relief on learning that no British or American citizens were among the casualties. All lightermen in the town have been flogged and boiled in oil.
NEXT INSTALLMENT | ALL INSTALLMENTS SO FAR
***
RADIUM AGE SCIENCE FICTION: "Radium Age" is HiLobrow's name for the 1904–33 era, which saw the discovery of radioactivity, the revelation that matter itself is constantly in movement — a fitting metaphor for the first decades of the 20th century, during which old scientific, religious, political, and social certainties were shattered. This era also saw the publication of genre-shattering writing by Edgar Rice Burroughs, Sax Rohmer, E.E. "Doc" Smith, Jack London, Arthur Conan Doyle, Aldous Huxley, Olaf Stapledon, Karel Čapek, H.P. Lovecraft, Charlotte Perkins Gilman, Yevgeny Zamyatin, Philip Gordon Wylie, and other pioneers of post-Verne/Wells, pre-Golden Age "science fiction." More info here.
READ GORGEOUS PAPERBACKS: HiLoBooks has reissued the following 10 obscure but amazing Radium Age science fiction novels in beautiful print editions: Jack London's The Scarlet Plague, Rudyard Kipling's With the Night Mail (and "As Easy as A.B.C."), Arthur Conan Doyle's The Poison Belt, H. Rider Haggard's When the World Shook, Edward Shanks' The People of the Ruins, William Hope Hodgson's The Night Land, J.D. Beresford's Goslings, E.V. Odle's The Clockwork Man, Cicely Hamilton's Theodore Savage, and Muriel Jaeger's The Man with Six Senses. For more information, visit the HiLoBooks homepage.
SERIALIZED BY HILOBOOKS: Jack London's The Scarlet Plague | Rudyard Kipling's With the Night Mail (and "As Easy as A.B.C.") | Arthur Conan Doyle's The Poison Belt | H. Rider Haggard's When the World Shook | Edward Shanks' The People of the Ruins | William Hope Hodgson's The Night Land | J.D. Beresford's Goslings | E.V. Odle's The Clockwork Man | Cicely Hamilton's Theodore Savage | Muriel Jaeger's The Man With Six Senses | Jack London's "The Red One" | Philip Francis Nowlan's Armageddon 2419 A.D. | Homer Eon Flint's The Devolutionist | W.E.B. DuBois's "The Comet" | Edgar Rice Burroughs's The Moon Men | Charlotte Perkins Gilman's Herland | Sax Rohmer's "The Zayat Kiss" | Eimar O'Duffy's King Goshawk and the Birds | Frances Hodgson Burnett's The Lost Prince | Morley Roberts's The Fugitives | Helen MacInnes's The Unconquerable | Geoffrey Household's Watcher in the Shadows | William Haggard's The High Wire | Hammond Innes's Air Bridge | James Branch Cabell's Jurgen | John Buchan's "No Man's Land" | John Russell's "The Fourth Man" | E.M. Forster's "The Machine Stops" | John Buchan's Huntingtower | Arthur Conan Doyle's When the World Screamed | Victor Bridges' A Rogue By Compulsion | Jack London's The Iron Heel | H. De Vere Stacpool's The Man Who Lost Himself.
ORIGINAL FICTION: HiLobrow has serialized three novels: James Parker's The Ballad of Cocky The Fox ("a proof-of-concept that serialization can work on the Internet" — The Atlantic); Karinne Keithley Syers's Linda Linda Linda (which includes original music); and Robert Waldron's roman à clef The School on the Fens. We also publish original stories and comics. These include: Matthew Battles's stories "Gita Nova", "Makes the Man," "Imago," "Camera Lucida," "A Simple Message", "Children of the Volcano", "The Gnomon", "Billable Memories", "For Provisional Description of Superficial Features", "The Dogs in the Trees", "The Sovereignties of Invention", and "Survivor: The Island of Dr. Moreau"; several of these later appeared in the collection The Sovereignties of Invention | Peggy Nelson's "Mood Indigo", "Top Kill Fail", and "Mercerism" | Annalee Newitz's "The Great Oxygen Race" | Charlie Mitchell's "A Fantasy Land" | Joshua Glenn's "The Lawless One", and the mashup story "Zarathustra vs. Swamp Thing" | Adam McGovern and Paolo Leandri's Idoru Jones comics | John Holbo's "Sugarplum Squeampunk" | "Another Corporate Death" (1) and "Another Corporate Death" (2) by Mike Fleisch | Kathryn Kuitenbrouwer and Frank Fiorentino's graphic novel "The Song of Otto" (excerpt) | John Holbo's graphic novel On Beyond Zarathustra (excerpt) | "Manoj" and "Josh" by Vijay Balakrishnan | "Verge" by Chris Rossi, and his audio novel Low Priority Hero | EPIC WINS: THE ILIAD (1.408-415) by Flourish Klink | EPIC WINS: THE KALEVALA (3.1-278) by James Parker | EPIC WINS: THE ARGONAUTICA (2.815-834) by Joshua Glenn | EPIC WINS: THE MYTH OF THE ELK by Matthew Battles | TROUBLED SUPERHUMAN CONTEST: Charles Pappas, "The Law" | CATASTROPHE CONTEST: Timothy Raymond, "Hem and the Flood" | TELEPATHY CONTEST: Rachel Ellis Adams, "Fatima, Can You Hear Me?" | OIL SPILL CONTEST: A.E. Smith, "Sound Thinking | LITTLE NEMO CAPTION CONTEST: Joe Lyons, "Necronomicon" | SPOOKY-KOOKY CONTEST: Tucker Cummings, "Well Marbled" | INVENT-A-HERO CONTEST: TG Gibbon, "The Firefly" | FANFICTION CONTEST: Lyette Mercier's "Sex and the Single Superhero"