Louise Lasser
By: Mark Kingwell
April 11, 2014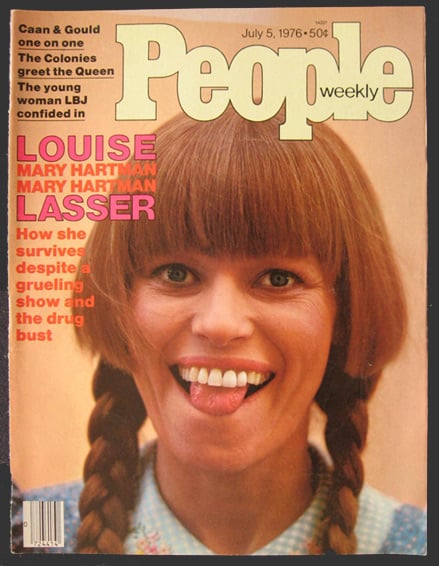 Consider the case that Mary Hartman Mary Hartman, the short-lived soap-opera parody starring LOUISE LASSER (born 1939) was the show that decisively turned American television inside out. The series ran five nights a week for just two seasons (1976–77), and riveted audiences with its pitch-perfect inversions of the soap canon of small-town perfidy and internecine romance, even as it opened the floodgates of televisual self-parody: see Soap, of course (1977–81), but also Seinfeld, The Simpsons, Family Guy, and Modern Family. Lasser, forever fetching in her kitchen pinafore and Longstocking pigtails, left after 325 episodes; the show limped on as Forever Fernwood and would eventually spawn the excellent talk-show parody Fernwood 2 Night, hosted by Barth Gimble (Martin Mull), twin brother of Mary Hartman villain Garth Gimble (Martin Mull). Gimble's McMahon-style sidekick, Jerry Hubbard, was played by Fred Willard in the happily clueless manner that marks every superb performance Willard has since delivered, from delusional small-town actor in Christopher Guest's flawless Waiting For Guffman (1996) to wise-cracking father of Phil Dunphy (Ty Burrell, to whom he bears an eerie resemblance). Lasser, meanwhile, survived a four-year marriage to Woody Allen and a quiet post-Mary Hartman career, but she has executed various smart TV and movie cameos. These days you can see her playing a Manhattan artist of a certain age on Lena Dunham's next-gen TV series, Girls. The girls know who she is.
***
On his or her birthday, HiLobrow irregularly pays tribute to one of our high-, low-, no-, or hilobrow heroes. Also born this date: Adriano Olivetti, Thomas Harris, Vincent Gallo, June and Jennifer Gibbons.
READ MORE about members of the Anti-Anti-Utopian Generation (1934-43).