Ray Price
Posted by: Brian Berger In: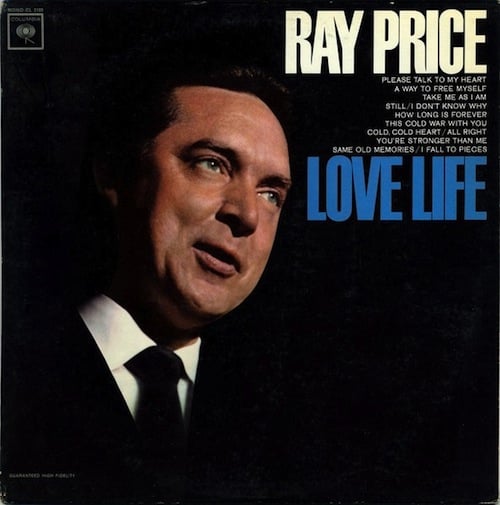 "He was, how you say, country when country wasn't cool," wrote John Morthland of RAY PRICE (1926–2013), "and then he was pop when pop wasn't cool. Such bullheadedness is the mark of a true Texas boy." Country came first, in January 1950, when Price entered Jim Beck's Dallas recording studio to cut some demos for a songwriter friend. Though the tunes didn't impress, Price's voice did, and Beck sent Price to Columbia Records producer Don Law, who signed him. Price was a first-rate, heavily Hank Williams-influenced honky-tonker then; with western swing elements added, he'd unmistakably find himself by April 1955 and "Sweet Little Miss Blue Eyes." Ten months later Price cut "Crazy Arms," a smash. It was a perfect, infinitely repeatable sound — fiddle lead, shuffle beat, steel guitar break — and so, while Price made occasional nods to Nashville's softer side, his dancehall allegiance remained. Then, on November 8, 1966 — string section, chorus and hack arranger in tow — Price cut two crepuscular Willie Nelson tunes and one ersatz Irish ballad. Though not Price's biggest record, "Danny Boy"'s blandly extravagant torpor established a direction that would reach its ungodly apotheosis four years later with Kris Kristofferson's "For The Good Times," another smash. Tuxedos and orchestras followed. "It's a drag in Las Vegas," Price admitted in January 1972. "I don't gamble, drink, just watch TV all the time. After two weeks there last time, it was Al Jolson in The Jazz Singer. I told my wife 'OK, this is where we came in.'"
YOU DONE ME WRONG, live c. 1956
INVITATION TO THE BLUES, live c. 1958
I WISH I COULD FALL IN LOVE TODAY, live 1962
FOR THE GOOD TIMES, live 1971
***
On his or her birthday, HiLobrow irregularly pays tribute to one of our high-, low-, no-, or hilobrow heroes. Also born this date: Jack London, Emmanuel Levinas, Shannon Jackson.
READ MORE about members of the Postmodernist Generation (1924-33).