Just in time for the holidays — HiLoBooks's gorgeous paperback edition of Muriel Jaeger's long-unobtainable Radium Age science fiction thriller The Man with Six Senses is now available.
Buy your copy now, while supplies last!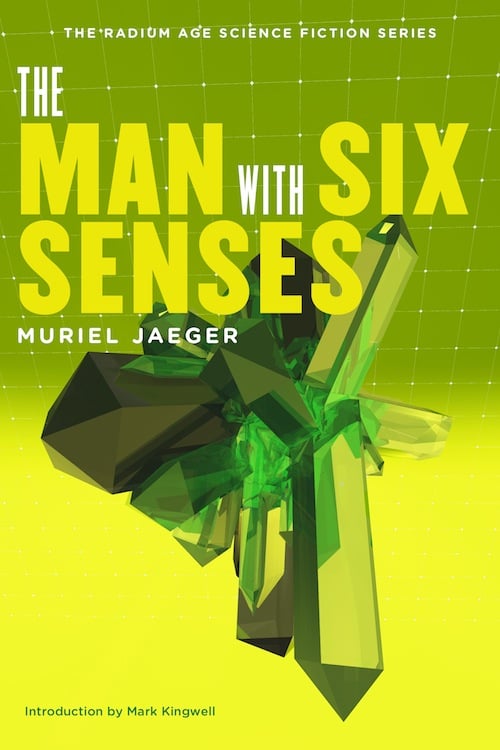 Serialized here at HiLoBrow.com from July through November of this year, The Man with Six Senses concerns Michael, a hapless mutant capable of perceiving the molecular composition of objects and the ever-shifting patterns of electromagnetic fields. Hilda, a beautiful young member of England's cynical postwar generation, becomes his champion… and then, reluctantly, his wife. Michael himself is slowly destroyed — mentally and physically — by his uncanny gift.
This early and brilliant effort to export the topic of extra-sensory perception out of folklore and occult romances and import it into science fiction was first published in 1927 — by Leonard and Virginia Woolf's Hogarth Press.
The HiLoBooks edition of The Man with Six Senses features an Introduction by Mark Kingwell, a professor of Philosophy at the University of Toronto. He is author or co-author of seventeen books of political, cultural and aesthetic theory, including Better Living (1998), The World We Want (2000), Concrete Reveries (2008), and Glenn Gould (2009). Kingwell's most recent book, Unruly Voices (2012), is a collection of essays on politics.

*
"A careful and sensitive novel about a youth who is attempting to develop and utilize a new mode of sensory perception." — Anatomy of Wonder, Neil Barron, ed. (1995)
"The first attempt to extrapolate the hypothesis [of ESP] carefully and painstakingly — and to conclude that it might better be reckoned a curse than a blessing." — The Encyclopedia of Science Fiction (3rd edition)
"What a treat to see how far the themes of textuality and telepathy reach back into the history of the science fiction genre, and in a novel by a gifted female writer published by Leonard and Virginia Woolf no less. A reason to celebrate." — Jeffrey J. Kripal, author of Authors of the Impossible: The Paranormal and the Sacred (2013 blurb for HiLoBooks)
Muriel Jaeger (1892–1969) was a British historian and social critic (Before Victoria). Her science fiction books include The Question Mark (1926), an ambiguous utopia that likely influenced Aldous Huxley; Hermes Speaks (1933); and Retreat From Armageddon (1936).
***
For more information about HiLoBooks, visit our homepage.
RADIUM AGE SCIENCE FICTION: "Radium Age" is HiLobrow's name for the 1904–33 era, which saw the discovery of radioactivity, the revelation that matter itself is constantly in movement — a fitting metaphor for the first decades of the 20th century, during which old scientific, religious, political, and social certainties were shattered. This era saw the publication of genre-shattering writing by, e.g.: Algernon Blackwood | Edgar Rice Burroughs | Karel Čapek | Buster Crabbe | August Derleth | Arthur Conan Doyle | Charlotte Perkins Gilman | Cicely Hamilton | Hermann Hesse | William Hope Hodgson | Aldous Huxley | Inez Haynes Irwin | Alfred Jarry | Jack Kirby (Radium Age sf's influence on) | Murray Leinster | Gustave Le Rouge | Gaston Leroux | David Lindsay | Jack London | H.P. Lovecraft | A. Merritt | Maureen O'Sullivan | Sax Rohmer | Paul Scheerbart | Upton Sinclair | Clark Ashton Smith | E.E. "Doc" Smith | Olaf Stapledon | John Taine | H.G. Wells | Jack Williamson | Stanisław Ignacy Witkiewicz | S. Fowler Wright | Philip Gordon Wylie | Yevgeny Zamyatin
MORE RADIUM AGE SF: What is Radium Age science fiction? | Radium Age Supermen | Radium Age Robots | Radium Age Apocalypses | Radium Age Telepaths | Radium Age Eco-Catastrophes | Radium Age Cover Art (1) | SF's Best Year Ever: 1912 | Radium Age Science Fiction Poetry | Enter Highbrowism | Bathybius! Primordial ooze in Radium Age sf | War and Peace Games (H.G. Wells's training manuals for supermen)
HILOBOOKS: The mission of HiLoBooks is to serialize novels (both original and reissued) on HiLobrow, and to reissue Radium Age science fiction in beautiful new print editions. The following titles can be read in serial form via HiLobrow.com and/or purchased in gorgeous paperback form: Jack London's The Scarlet Plague, Rudyard Kipling's With the Night Mail (and "As Easy as A.B.C."), Arthur Conan Doyle's The Poison Belt, H. Rider Haggard's When the World Shook, Edward Shanks' The People of the Ruins, William Hope Hodgson's The Night Land, J.D. Beresford's Goslings, E.V. Odle's The Clockwork Man, Cicely Hamilton's Theodore Savage, and Muriel Jaeger's The Man with Six Senses.