Save the Adventure (13)
By: Joshua Glenn
October 23, 2013
In the previous two posts, I looked at the theme of Secret Identity and Self-Liberation in avenger-type adventure dramas. In this post, I'll look at another theme often found in avenger-type adventures: Reluctant Bad-Ass. The invisible prison here is, again, PERSONA — a person's seemingly natural, permanent, and inevitable social role, the appearance that he or she presents to the world. The reluctant bad-ass has been trained as a killer, but he or she would now prefer to practice self-restraint and pacifism. Sometimes, though, the avenger's culture, society, and era will not let that happen.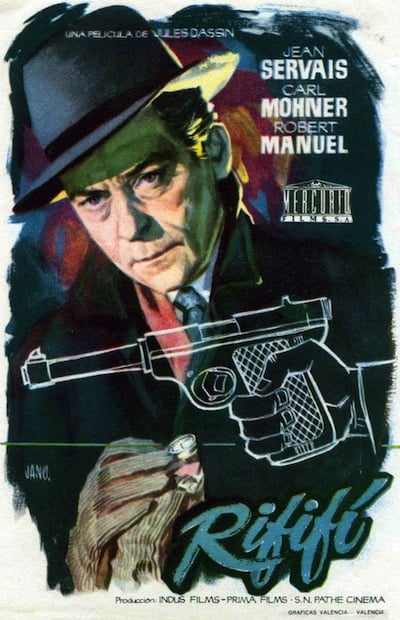 Thanks! To the nearly 400 adventure fans who kickstarted the SAVE THE ADVENTURE e-book club.
MORE LIT LISTS FROM THIS AUTHOR: 200 Greatest Adventure Novels of All Time | 100 Best Radium Age Sci-Fi Novels (1904–1933) | 75 Best Golden Age Sci-Fi Novels (1934–1963) | 75 Best New Wave Sci-Fi Novels (1964–1983) | 55 Best Scientific Romances (1864–1903) | Best 19th Century Adventure (1805–1903) | Best Nineteen-Oughts Adventure (1904–13) | Best Nineteen-Teens Adventure (1914–23) | Best Twenties Adventure (1924–33) | Best Thirties Adventure (1934–43) | Best Forties Adventure (1944–53) | Best Fifties Adventure (1954–63) | Best Sixties Adventure (1964–73) | Best Seventies Adventure (1974–83) | 101 Science Fiction Adventures | 70 Crime Adventures | 65 Fantasy Adventures | 61 Espionage Adventures | 40 Atavistic & Historical Adventures | 25 Frontier & Western Adventures | 20 Avenger & Artful Dodger Adventures | 20 Apophenic & Treasure Hunt Adventures | 20 War & Ruritanian Adventures | 18 Picaresque Adventures | 10 Robinsonade & Survival Adventures. ALSO: Best YYA Lit 1963 | Best YYA Lit 1964 | Best YYA Lit 1965 | Best YYA Lit 1966 | Best YYA Lit 1967 | THE OUGHTS (1904–13): 1905 | 1906 | 1907 | 1908 | 1910 | 1911 | 1912 | 1913. THE TEENS (1914–23): 1915 | 1916 | 1917 | 1918 | 1920 | 1921 | 1922 | 1923. THE TWENTIES (1924–33): 1925 | 1926 | 1927 | 1928 | 1930 | 1931 | 1932 | 1933. THE THIRTIES (1934–43): 1935 | 1936 | 1937 | 1938 | 1940 | 1941 | 1942 | 1943. THE FORTIES (1944–53): 1945 | 1946 | 1947 | 1948 | 1950 | 1951 | 1952 | 1953. THE FIFTIES (1954–63): 1955 | 1956 | 1957 | 1958 | 1960 | 1961 | 1962 | 1963. THE SIXTIES (1964–73): 1964 | 1965 | 1966 | 1967 | 1968 | 1970 | 1971 | 1972 | 1973. THE SEVENTIES (1974–83): 1975 | 1976 | 1977 | 1978 | 1980 | 1981 | 1982 | 1983. | Best Scottish Fabulists | Radium-Age Telepath Lit | Radium Age Superman Lit | Radium Age Robot Lit | Radium Age Apocalypse Lit | Radium Age Eco-Catastrophe Lit | Radium Age Cover Art (1) | SF's Best Year Ever: 1912 | Cold War "X" Fic | Best YA Sci-Fi | Hooker Lit | No-Fault Eco-Catastrophe Lit | Scrabble Lit |
20 ADVENTURE THEMES AND MEMES: Index to All Adventure Lists | Introduction to Adventure Themes & Memes Series | Index to Entire Series | The Robinsonade (theme: DIY) | The Robinsonade (theme: Un-Alienated Work) | The Robinsonade (theme: Cozy Catastrophe) | The Argonautica (theme: All for One, One for All) | The Argonautica (theme: Crackerjacks) | The Argonautica (theme: Argonaut Folly) | The Argonautica (theme: Beautiful Losers) | The Treasure Hunt | The Frontier Epic | The Picaresque | The Avenger Drama (theme: Secret Identity) | The Avenger Drama (theme: Self-Liberation) | The Avenger Drama (theme: Reluctant Bad-Ass) | The Atavistic Epic | The Hide-And-Go-Seek Game (theme: Artful Dodger) | The Hide-And-Go-Seek Game (theme: Conspiracy Theory) | The Hide-And-Go-Seek Game (theme: Apophenia) | The Survival Epic | The Ruritanian Fantasy | The Escapade
*
NOTES
* Note that conservative avenger stories — like the 1974 vigilante movie Death Wish — are actually atavistic adventure stories. They're about a Nietzschean revaluation of values. 
* "One last job" stories belong to this sub-genre.
PS: See the TV Trope "Mandatory Unretirement" and "Retired Badass."
*
BEFORE THE NINETEENTH CENTURY
* Achilles in his tent, maybe?
THE NINETEENTH CENTURY
* "A Retrieved Reformation" is a short story by American author O. Henry first published in The Cosmopolitan Magazine, April 1903. It describes the events which lead up to the reformation of an ex-convict. The story was adapted into the 1928 film Alias Jimmy Valentine, MGM's first all-talking film.
THE TWENTIES (1924–33)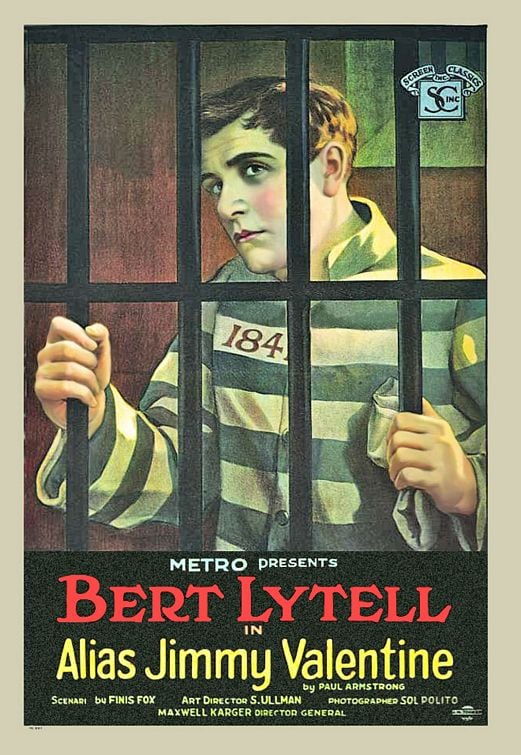 * The 1928 film Alias Jimmy Valentine, MGM's first all-talking film.
THE THIRTIES (1934–43)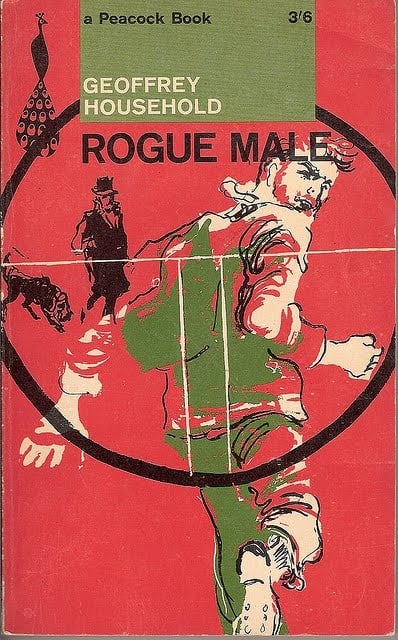 * Rogue Male (1939) by Geoffrey Household begins as a reluctant bad-ass story, then turns into a hide-and-go-seek story.
THE FIFTIES (1954–63)
This meme takes off in the Fifties.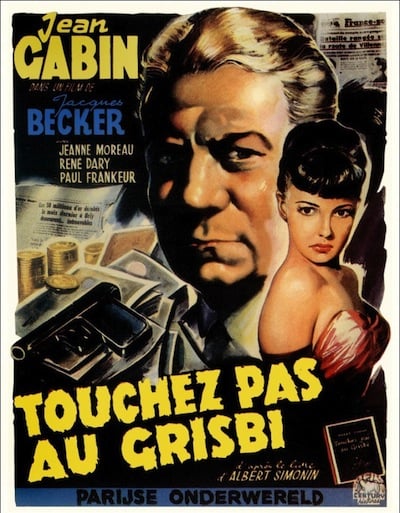 * Touchez pas au grisbi (Don't touch the loot) is a 1954 French crime film directed by Jacques Becker and starring Jean Gabin. It is based on the 1953 noir novel by Albert Simonin.
* Gandalf in the 1954/55 fantasy novel The Lord of the Rings. Right?
* Rififi is a 1955 French crime film adaptation of Auguste Le Breton's 1953 noir novel Du rififi chez les hommes. Directed by American filmmaker Jules Dassin, the film stars Jean Servais as the aging gangster Tony le Stéphanois, Carl Möhner as Jo le Suédois, Robert Manuel as Mario Farrati, and Jules Dassin as César le Milanais. The foursome band together to commit an almost impossible theft, the burglary of an exclusive jewelry shop.
* The 1955 crime thriller Clean Break by Lionel White.
* Bob le Flambeur ("Bob the Gambler" or "Bob the High Roller") is a 1956 French gangster film directed by Jean-Pierre Melville.
* Sterling Hayden's character in the 1956 film noir The Killing, directed by Stanley Kubrick. It was written by Kubrick and Jim Thompson and based on the novel Clean Break by Lionel White.
* The River's Edge is a 1957 adventure, crime, and drama directed by Allan Dwan and starring Ray Milland, Anthony Quinn and Debra Paget.
* The Executioners is a dark psychological thriller novel written by John D. MacDonald, published in 1957. It was filmed twice under the title Cape Fear, in 1962 and 1991. Attorney Sam Bowden must kill the brutal rapist/murderer who threatens his family.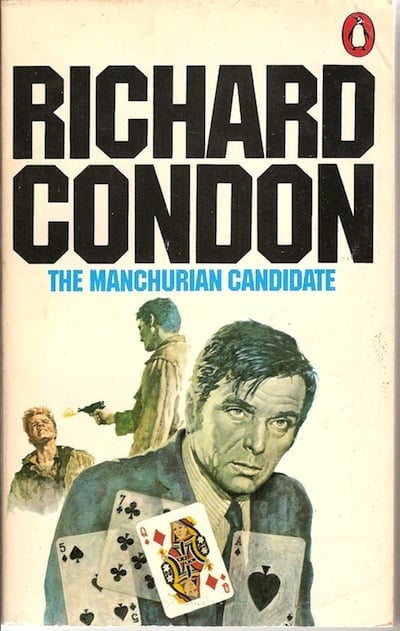 * The Manchurian Candidate (1959), by Richard Condon, is a political thriller novel about the son of a prominent US political family who is brainwashed into being an unwitting assassin for a Communist conspiracy. A kind of sardonic inversion of — or clever twist on — the reluctant bad-ass theme in avenger-type adventure?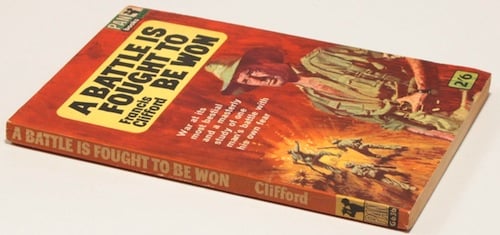 * Francis Clifford's 1960 WWII adventure A Battle is Fought to be Won concerns a reluctant soldier who must fight the Japanese in the jungle almost single-handedly.
* The Hulk is a comic book superhero created by Stan Lee and Jack Kirby. The character first appeared in The Incredible Hulk #1 (May 1962).
* Francis Clifford's 1962 thriller Time Is an Ambush, in which an English novelist is drawn into some crazy shit going down in Franco's Spain. PS: Via his Top Notch Thrillers imprint, crime writer Mike Ripley brought back into print this title.
* The Assassination Bureau, Ltd is a thriller novel, begun by Jack London and finished after his death by Robert L. Fish. It was published in 1963. The plot follows Ivan Dragomiloff, who, in a twist of fate, finds himself pitted against the secret assassination agency he founded.
* The "Here We Go Again" episode of Car 54, Where Are You?; original air date February 3, 1963.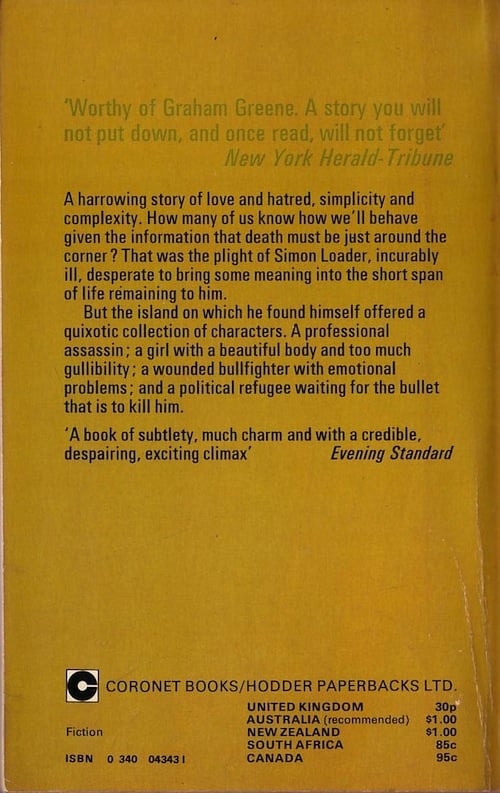 * Francis Clifford's 1963 thriller The Green Fields of Eden.
THE SIXTIES (1964–73)
* Francis Clifford's 1964 thriller The Hunting-Ground. An Irish photographer is caught up in a mess when he witnesses a plane crash in the Caribbean.
* The character Coll in Lloyd Alexander's 1964–68 YA fantasy series, The Chronicles of Prydain. Also Prince Gwydion, to a lesser extent. Also the wizard Dallben. Basically all of Taran's role models.
* Behold a Pale Horse is a 1964 film directed by Fred Zinnemann and starring Gregory Peck, Omar Sharif and Anthony Quinn. The film is based on the novel Killing a Mouse on Sunday by Emeric Pressburger, which loosely details the life of the Spanish anarchist guerrilla, Francisco Sabaté Llopart.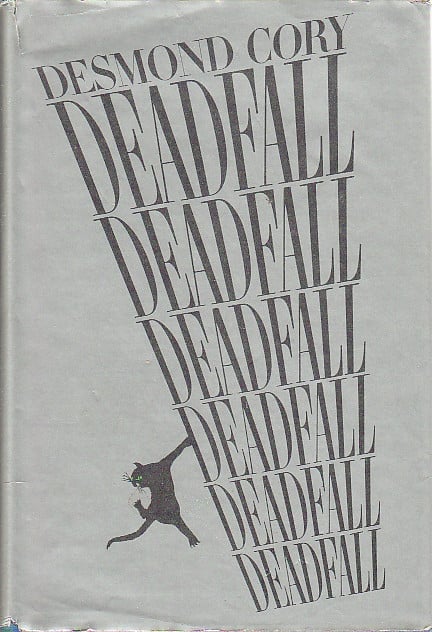 * The 1965 British crime thriller Deadfall by Desmond Cory.
* The Ipcress File is a 1965 British espionage film directed by Sidney J. Furie and starring Michael Caine. The screenplay is based on Len Deighton's 1962 novel. A top scientist is kidnapped. Harry Palmer, a sergeant with a criminal past — which is why I'm calling this a reluctant badass story — now working for a Ministry of Defence organisation, is put on the case.
* Francis Clifford's 1965 thriller Third Side of the Coin. I think.
* Ronald Johnston's 1965 thriller Danger at Bravo Key: a world-weary newspaperman on vacation runs afoul of a boatload of Cuban (anti-Castro) revolutionaries. He must call on his military training in order to survive.
* Francis Clifford's 1966 thriller The Naked Runner. Sam Laker, a recently widowed Englishman, has come to Leipzig on a business-with-pleasure trip, accompanied by his teen-age son Patrick. In a matter of days the fatherly businessman has become a cold and vicious killer stalking his quarry.
* In the 1966 espionage spoof movie Our Man Flint, spy extraordinaire Derek Flint (James Coburn) is an ex-agent of Z.O.W.I.E. (Zonal Organization for World Intelligence and Espionage) who is brought out of retirement to deal with the threat of Galaxy, a world-wide terrorist organization. A sardonic inversion.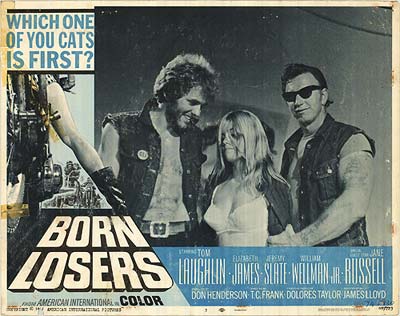 * Born Losers is a 1967 action film and the first of the Billy Jack movies. The film introduced Tom Laughlin as the half-Indian Green Beret Vietnam veteran Billy Jack. Since 1954 Laughlin had been trying to produce his Billy Jack script about discrimination toward American Indians. In 1967 he decided to introduce the Billy Jack character in a quickly written script designed to capitalize on the then-popular trend in motorcycle gang movies.
* Deadfall is a 1968 film directed by Bryan Forbes and starring Michael Caine. It is based on the 1965 thriller from author Desmond Cory.
* The 1968 crime novel The Looters by John H. Reese.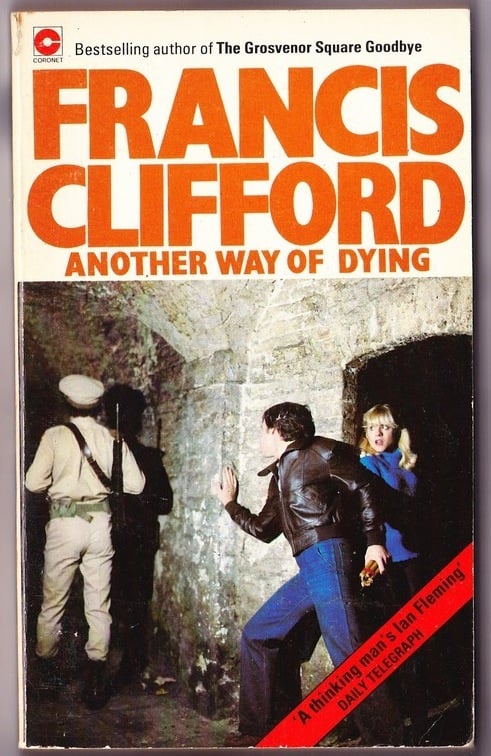 * Francis Clifford's 1968 thriller Another Way of Dying. A former soldier and demolition expert is coerced into helping Sicilian thugs spring a killer from prison!
* The Godfather is a crime novel by Mario Puzo, originally published in 1969. The character Michael Corleone wants nothing to do with the Corleone "family business", wanting instead to lead a more Americanized life. We all know what happens in the end.
* Billy Jack is a 1971 vigilante film. It is the second in a series of motion pictures centering on a character of the same name, played by Tom Laughlin, who also directed and co-wrote the script.
* The 1971 Sam Peckinpah movie Straw Dogs — maybe?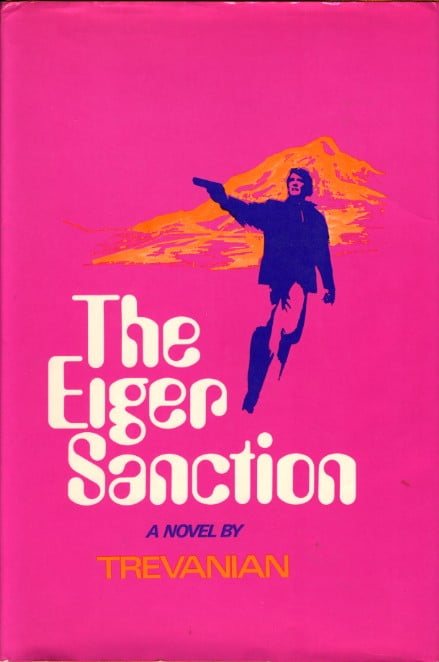 * The Eiger Sanction is a 1972 thriller novel by Trevanian (Rodney William Whitaker). An art professor and collector who doubles as a professional assassin is coerced out of retirement. The novel was made into a film directed by and starring Clint Eastwood in 1975.
* The protagonist of Eric Ambler's 1972 terrorism thriller The Levanter is a businessman. Much of the story details the operations of his business concerns. He is entrepreneurial, and it is that quality which allows him to triumph against all odds. Not only his business acumen but his background as a chemical engineer are key.
* David Morrell's 1972 novel First Blood, which would later become the successful Rambo film franchise starring Sylvester Stallone.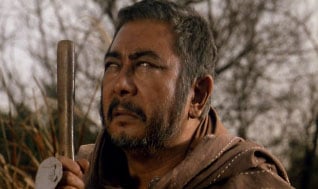 * The 1972–74 Japanese TV series Zatoichi, about a blind masseur and swordmaster (Shintaro Katsu) who seeks peace but is forced to fight. Adapted from a series of movies (1962–89). The character was created by novelist Kan Shimozawa.
* Kung Fu is an American action-adventure western drama series starring David Carradine. The series aired on ABC from 1972 to 1975. The series follows the adventures of a Shaolin monk, Kwai Chang Caine, who travels through the American Old West armed only with his spiritual training and his skill in martial arts. PS: Bruce Lee's widow has asserted that Lee created the concept for the series, which was then stolen by Warner Bros.
* The Loo Sanction is a little-known 1973 sequel to Rodney William Whitaker's The Eiger Sanction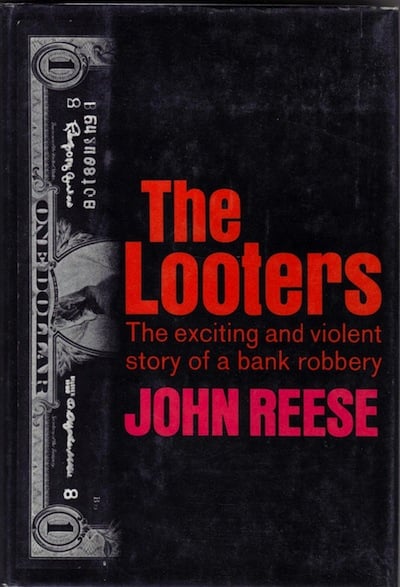 * Charley Varrick is a 1973 crime film directed by Don Siegel and starring Walter Matthau. The film was based on the 1968 crime novel The Looters by John H. Reese.
THE SEVENTIES (1974–83)
* Tinker Tailor Soldier Spy is a 1974 spy novel by John le Carré, featuring George Smiley — a middle-aged intelligence officer who has been forced into retirement. He is recalled to hunt down a Soviet mole in the "Circus," the highest echelon of the British Secret Intelligence Service.
* James Grady's 1974 thriller Six Days of the Condor — upon which the 1975 Robert Redford movie Three Days of the Condor is based — sees a nerdy CIA analyst (he specializes in reading thrillers and mysteries) use his knowledge to survive the attacks of trained assassins and rogue CIA agents.
* Gene Wilder's character in the 1974 Mel Brooks movie Blazing Saddles — a sardonic inversion of the theme.
* Obi-Wan Kenobi's character in the 1977 movie Star Wars.
* The 1978–82 TV series The Incredible Hulk.
* Robert Ludlum's 1980 spy novel The Bourne Identity is an avenger novel of sorts.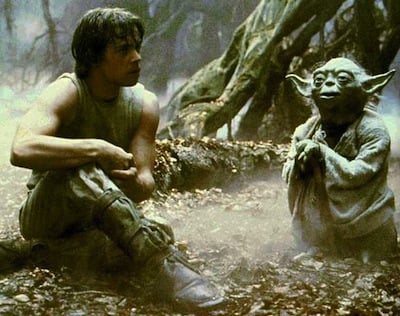 * Yoda, as we meet him in the 1980 Star Wars film The Empire Strikes Back.
* Jean-Patrick Manchette's 1981 novel La Position du Tireur Couché (The Prone Gunman).
* Harrison Ford's character in the 1982 American dystopian science fiction thriller film Blade Runner, directed by Ridley Scott. Note that in the Philip K. Dick novel on which the movie is based, the blade runner is a freelancer — not retired.
* The 1982 action movie First Blood starring Sylvester Stallone as John Rambo, a troubled and misunderstood veteran. But not the subsequent movies, so much — right?
THE EIGHTIES (1984–93)
* The 1984 movie Karate Kid is a middlebrow version of this theme.
* In Chuck Barris's "unauthorized autobiography" Confessions of a Dangerous Mind, originally published in 1984, Barris claimed to have worked for the Central Intelligence Agency (CIA) as an assassin in the 1960s and the 1970s. A 2002 feature film version, directed by George Clooney and starring Sam Rockwell, depicts Barris as killing 33 people. Barris wrote a sequel, Bad Grass Never Dies, in 2004.
* Robert Ludlum's 1986 spy novel The Bourne Supremacy.
* One of the many brilliant aspects of Paul Verhoeven's 1987 sci-fi movie RoboCop is how the protagonist is a badass with amnesia (of sorts), and as he begins to remember who he really is, becomes conflicted about his badass identity.
* John Woo's 1989 Hong Kong action and crime film The Killer, starring Chow Yun-Fat, Danny Lee, and Sally Yeh. Chow plays the assassin Ah Jong, who accidentally damages the eyes of the singer Jennie (Sally Yeh) during a shootout. To get the money for Jennie's eye operation, Ah Jong decides to perform one last hit.
* Robert Ludlum's 1990 spy novel The Bourne Ultimatum.
* Unforgiven is a 1992 American Western film produced and directed by Clint Eastwood with a screenplay written by David Webb Peoples.
THE NINETIES (1994–2003)
* Nick Tosches's 1994 crime novel Trinities.
* Gabriel Byrne's character in the 1995 neo-noir movie The Usual Suspects, directed by Bryan Singer and written by Christopher McQuarrie.
* The beginning of the 1995 Jim Carrey vehicle Ace Ventura: When Nature Calls spoofs the reluctant badass theme.
* Bruce Willis's character in the 1997 sci fi movie The Fifth Element — directed, co-written, and based on a story by Luc Besson.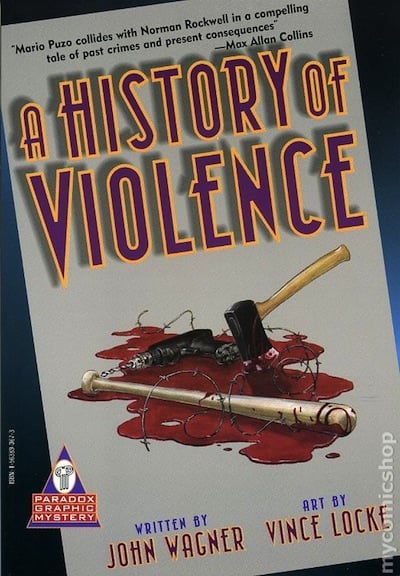 * The 1997 graphic novel A History of Violence by John Wagner and Vince Locke. Adapted into the 2005 movie directed by David Cronenberg.
* Allan Quatermain's character in the 1999 graphic novel The League of Extraordinary Gentlemen by Alan Moore.
* Sexy Beast is a 2000 Anglo-Spanish crime drama film written by Louis Mellis and David Scinto, directed by Jonathan Glazer and starring Ray Winstone, Ben Kingsley and Ian McShane.
* Nick Tosches's 2002 crime novel In The Hand Of Dante.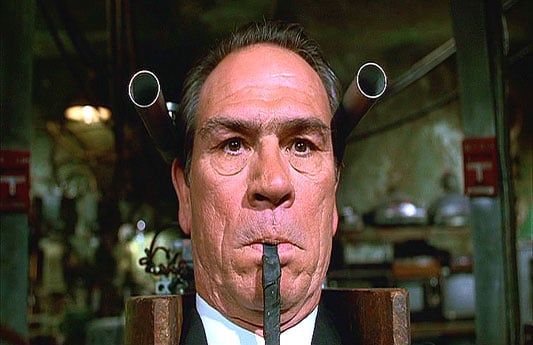 * Agent K in the 2002 movie Men in Black II.
THE TWENTY-OUGHTS (2004–13)
* The beginning of the 2006 action movie Mission Impossible III.
* The 2007 action/black comedy film Shoot 'Em Up, starring Clive Owen — written and directed by Michael Davis — is an ironic homage to the reluctant bad-ass theme.
* Walt Kowalski, Clint Eastwood's character in the 2008 movie Gran Torino.
* Inception is a 2010 science fiction film written, co-produced, and directed by Christopher Nolan. Leonardo DiCaprio is a thief who commits corporate espionage by infiltrating the subconscious of his targets. He is offered a chance to regain his old life as payment for a task considered to be impossible: "inception."
***
20 ADVENTURE THEMES AND MEMES: Index to All Adventure Lists | Introduction to Adventure Themes & Memes Series | Index to Entire Series | The Robinsonade (theme: DIY) | The Robinsonade (theme: Un-Alienated Work) | The Robinsonade (theme: Cozy Catastrophe) | The Argonautica (theme: All for One, One for All) | The Argonautica (theme: Crackerjacks) | The Argonautica (theme: Argonaut Folly) | The Argonautica (theme: Beautiful Losers) | The Treasure Hunt | The Frontier Epic | The Picaresque | The Avenger Drama (theme: Secret Identity) | The Avenger Drama (theme: Self-Liberation) | The Avenger Drama (theme: Reluctant Bad-Ass) | The Atavistic Epic | The Hide-And-Go-Seek Game (theme: Artful Dodger) | The Hide-And-Go-Seek Game (theme: Conspiracy Theory) | The Hide-And-Go-Seek Game (theme: Apophenia) | The Survival Epic | The Ruritanian Fantasy | The Escapade
***
MORE FURSHLUGGINER THEORIES BY JOSH GLENN: We Are Iron Man! | And We Lived Beneath the Waves | Is It A Chamber Pot? | I'd Like to Force the World to Sing | The Argonaut Folly | The Perfect Flâneur | The Twentieth Day of January | The Dark Side of Scrabble | The YHWH Virus | Boston (Stalker) Rock | The Sweetest Hangover | The Vibe of Dr. Strange | Tyger! Tyger! | Star Wars Semiotics | The Original Stooge | Fake Authenticity | Camp, Kitsch & Cheese | Stallone vs. Eros | The UNCLE Hypothesis | Icon Game | Meet the Semionauts | The Abductive Method | Semionauts at Work | Origin of the Pogo | The Black Iron Prison | Blue Krishma! | Big Mal Lives! | Schmoozitsu | You Down with VCP? | Calvin Peeing Meme | Daniel Clowes: Against Groovy | The Zine Revolution (series) | Best Adventure Novels (series) | Debating in a Vacuum (notes on the Kirk-Spock-McCoy triad) | Pluperfect PDA (series) | Double Exposure (series) | Fitting Shoes (series) | Cthulhuwatch (series) | Shocking Blocking (series) | Quatschwatch (series) | Save the Adventure (series)
READ MORE essays by Joshua Glenn, originally published in: THE BAFFLER | BOSTON GLOBE IDEAS | BRAINIAC | CABINET | FEED | HERMENAUT | HILOBROW | HILOBROW: GENERATIONS | HILOBROW: RADIUM AGE SCIENCE FICTION | HILOBROW: SHOCKING BLOCKING | THE IDLER | IO9 | N+1 | NEW YORK TIMES BOOK REVIEW | SEMIONAUT | SLATE