Save the Adventure (11)
By: Joshua Glenn
October 21, 2013
The Avenger-type adventure story unites highbrow and lowbrow themes into a tense, thrilling admixture. Imagination, intuition, instincts, and above all passion is what drives the avenger figure; yet in order to succeed the avenger must also be rational, calculating, intellectual. The Avenger drama — it's full of drama — is a counter-Enlightenment phenomenon, one which first appeared in the form of 18th century gothic melodramas full of curses, disguises, treasure, mysterious codes. Modern society's constitutional law is corrupt and slow; as a result, evil (usually in the form of injustice and oppression; a system that refuses to take account of human needs) too often goes unpunished — hence the hope that a fiercer and purer authority will arise to punish evil on behalf of evil's victims.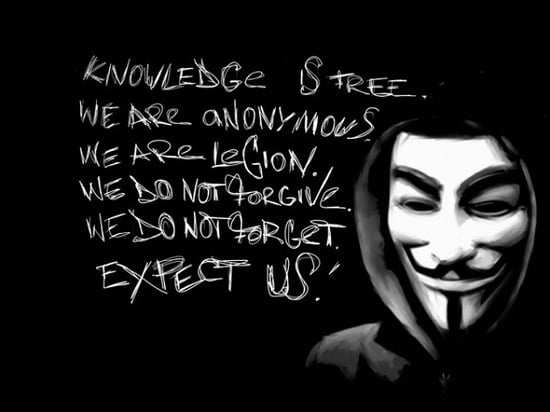 Thanks! To the nearly 400 adventure fans who kickstarted the SAVE THE ADVENTURE e-book club.
MORE LIT LISTS FROM THIS AUTHOR: 200 Greatest Adventure Novels of All Time | 100 Best Radium Age Sci-Fi Novels (1904–1933) | 75 Best Golden Age Sci-Fi Novels (1934–1963) | 75 Best New Wave Sci-Fi Novels (1964–1983) | 55 Best Scientific Romances (1864–1903) | Best 19th Century Adventure (1805–1903) | Best Nineteen-Oughts Adventure (1904–13) | Best Nineteen-Teens Adventure (1914–23) | Best Twenties Adventure (1924–33) | Best Thirties Adventure (1934–43) | Best Forties Adventure (1944–53) | Best Fifties Adventure (1954–63) | Best Sixties Adventure (1964–73) | Best Seventies Adventure (1974–83) | 101 Science Fiction Adventures | 70 Crime Adventures | 65 Fantasy Adventures | 61 Espionage Adventures | 40 Atavistic & Historical Adventures | 25 Frontier & Western Adventures | 20 Avenger & Artful Dodger Adventures | 20 Apophenic & Treasure Hunt Adventures | 20 War & Ruritanian Adventures | 18 Picaresque Adventures | 10 Robinsonade & Survival Adventures. ALSO: Best YYA Lit 1963 | Best YYA Lit 1964 | Best YYA Lit 1965 | Best YYA Lit 1966 | Best YYA Lit 1967 | THE OUGHTS (1904–13): 1905 | 1906 | 1907 | 1908 | 1910 | 1911 | 1912 | 1913. THE TEENS (1914–23): 1915 | 1916 | 1917 | 1918 | 1920 | 1921 | 1922 | 1923. THE TWENTIES (1924–33): 1925 | 1926 | 1927 | 1928 | 1930 | 1931 | 1932 | 1933. THE THIRTIES (1934–43): 1935 | 1936 | 1937 | 1938 | 1940 | 1941 | 1942 | 1943. THE FORTIES (1944–53): 1945 | 1946 | 1947 | 1948 | 1950 | 1951 | 1952 | 1953. THE FIFTIES (1954–63): 1955 | 1956 | 1957 | 1958 | 1960 | 1961 | 1962 | 1963. THE SIXTIES (1964–73): 1964 | 1965 | 1966 | 1967 | 1968 | 1970 | 1971 | 1972 | 1973. THE SEVENTIES (1974–83): 1975 | 1976 | 1977 | 1978 | 1980 | 1981 | 1982 | 1983. | Best Scottish Fabulists | Radium-Age Telepath Lit | Radium Age Superman Lit | Radium Age Robot Lit | Radium Age Apocalypse Lit | Radium Age Eco-Catastrophe Lit | Radium Age Cover Art (1) | SF's Best Year Ever: 1912 | Cold War "X" Fic | Best YA Sci-Fi | Hooker Lit | No-Fault Eco-Catastrophe Lit | Scrabble Lit |
20 ADVENTURE THEMES AND MEMES: Index to All Adventure Lists | Introduction to Adventure Themes & Memes Series | Index to Entire Series | The Robinsonade (theme: DIY) | The Robinsonade (theme: Un-Alienated Work) | The Robinsonade (theme: Cozy Catastrophe) | The Argonautica (theme: All for One, One for All) | The Argonautica (theme: Crackerjacks) | The Argonautica (theme: Argonaut Folly) | The Argonautica (theme: Beautiful Losers) | The Treasure Hunt | The Frontier Epic | The Picaresque | The Avenger Drama (theme: Secret Identity) | The Avenger Drama (theme: Self-Liberation) | The Avenger Drama (theme: Reluctant Bad-Ass) | The Atavistic Epic | The Hide-And-Go-Seek Game (theme: Artful Dodger) | The Hide-And-Go-Seek Game (theme: Conspiracy Theory) | The Hide-And-Go-Seek Game (theme: Apophenia) | The Survival Epic | The Ruritanian Fantasy | The Escapade
*
In the next two posts in this series, I'll look at the themes of Self-Liberation and Reluctant Bad-Ass in Avenger dramas. This post concerns another Avenger drama theme: Secret Identities. The invisible prison here is PERSONA — a person's seemingly natural, permanent, and inevitable social role, the appearance that he or she presents to the world. The avenger's secret identity makes him (or her) fluid, liquid — she moves easily and anonymously. PS: See the TV Trope "Secret Identity" and its many variations.
NOTES
* Avenger stories are often set in the shadowy underworld — aristocratic types alienated from middle-class moralism, domesticity, and respectability. Note how many avenger figures are dandies, peacocks.
* Martin Green claims that the Avenger story is often about high-principled and rebellious youth vs. middle-aged, middle-class compromise.
* Disguise and assumed identity is an effective and literal way to slip the bonds of identity — the state of being nothing but a node in a network.
*
BEFORE THE EIGHTEENTH CENTURY
* Roswall and Lillian is a medieval Scottish chivalric romance featuring a knight in disguise.
THE EIGHTEENTH CENTURY
* Gothic fiction is a genre or mode of literature that combines elements of both horror and romance. Gothicism's origin is attributed to English author Horace Walpole, with his 1764 novel The Castle of Otranto, subtitled "A Gothic Story." Several secret identities in this particular novel.
THE NINETEENTH CENTURY
* Percy Bysshe Shelley's first published work was the Gothic novel Zastrozzi (1810), about an outlaw obsessed with revenge against men who — it is eventually revealed — are his father and half-brother.
* Jane Austen's 1817 novel Northanger Abbey is a sardonic inversion of (or ironic homage to?) the Gothic adventure drama.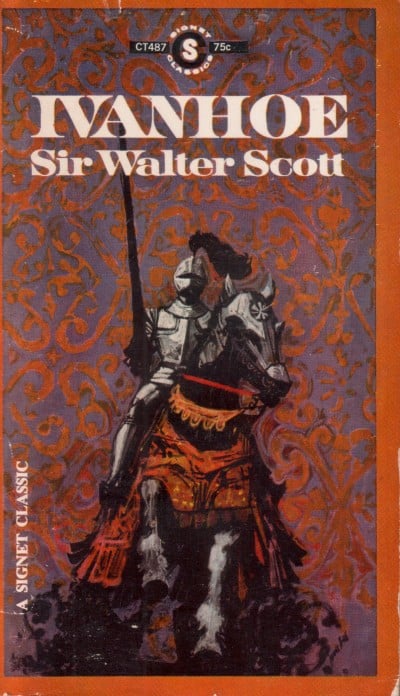 * In Sir Walter Scott's 1820 novel Ivanhoe, the titular Wilfred Ivanhoe makes his first appearance at a tourney as "The Disinherited Knight", and his identity is not revealed until later when some knights loyal to Prince John attack him. Also at that tourney is a mysterious archer named Locksley, who is actually Robin Hood.
* Honoré de Balzac's 1834–35 serialized novel Le Père Goriot follows the intertwined lives of three characters: the elderly doting Goriot; a mysterious criminal-in-hiding named Vautrin; and a naive law student named Eugène de Rastignac.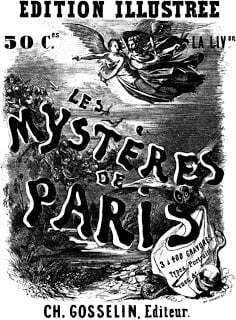 * Eugène Sue's pioneering French serialized novel The Mysteries of Paris (1842–43) features a man of mysterious origins and identity. He interferes on behalf of the virtuous and the defenseless and against the powerful and wicked.
* Charles Dickens's 1843–44 serialized novel The Life and Adventures of Martin Chuzzlewit, in which Old Martin Chuzzlewit uses a disguise in order gain a more accurate picture of the world around him.
* Alexandre Dumas (père)'s 1844–45 serialized novel The Count of Monte Cristo is — along with The Three Musketeers — one of the author's most popular works. What is the Count of Monte Cristo's true identity?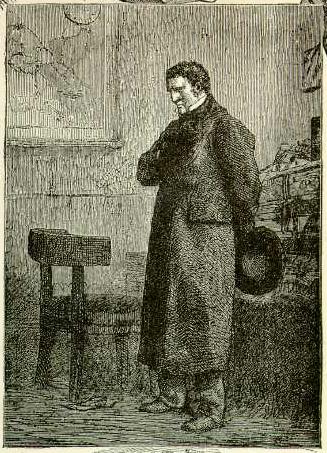 * Victor Hugo's 1862 novel Les Misérables — considered one of the greatest novels of the 19th century — features Jean Valjean and his long struggle to lead a normal life after serving a prison sentence for stealing bread. Valjean is also known in the novel as Monsieur Madeleine, Ultime Fauchelevent, Monsieur Leblanc, and Urbain Fabre. Note this is also a prison-break story.
* Jules Verne's character Captain Nemo (Latin for Nobody) first appeared in Twenty Thousand Leagues Under the Sea (1870); he also appears in The Mysterious Island (1874).
* The Prince and the Pauper is an 1881 novel by Mark Twain, his first attempt at historical fiction. Set in 1547, it tells the story of two young boys who are identical in appearance: Tom Canty, a pauper who lives with his abusive father in Offal Court off Pudding Lane in London, and Prince Edward, son of King Henry VIII.
* Jules Verne's 1885 serialized adventure novel Mathias Sandorf features islands, cryptograms, surprise revelations of identity, technically advanced hardware, and a solitary figure bent on revenge.
* Robert Louis Stevenson's 1886 novel Strange Case of Dr Jekyll and Mr Hyde concerns a man with a secret identity — or, rather, an alter ego.
* Secret identity is sometimes a factor in Arthur Conan Doyle's Sherlock Holmes stories — which first appeared in 1887.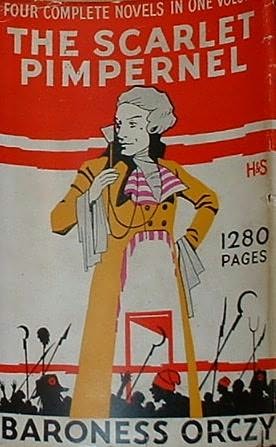 * Baroness Emma Orczy's 1903 play The Scarlet Pimpernel — and then a 1905 novel — is set during the Reign of Terror following the start of the French Revolution. The title character, Sir Percy Blakeney, represents the original "hero with a secret identity" that inspired subsequent literary creations such as Don Diego de la Vega (El Zorro) and Bruce Wayne (Batman).
THE NINETEEN-OUGHTS (1904–13)
* Baroness Emma Orczy's 1908 Pimpernel story The Elusive Pimpernel.
* G.K. Chesterton's 1908 novel The Man Who Was Thursday is a sardonic inversion of the secret-identity avenger melodrama.
THE TEENS (1914–23)
* John Buchan's Richard Hannay novel The Thirty-Nine Steps (1915). Not exactly an avenger novel, but similar.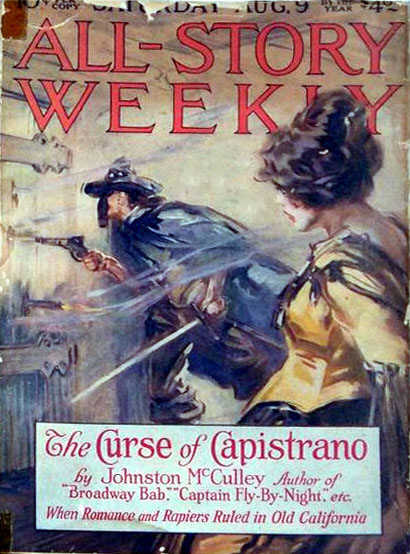 * Zorro is a fictional character created in 1919 by New York–based pulp writer Johnston McCulley. Zorro (Spanish for "fox") is the secret identity of Don Diego de la Vega, a Californio nobleman living in the Spanish colonial era.
* E. Phillipps Oppenheim's 1920 espionage novel The Great Impersonation — maybe?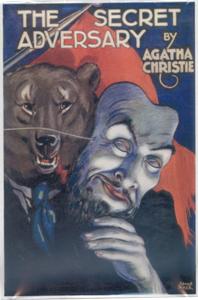 * The Secret Adversary (1922) is a work of detective fiction by Agatha Christie.
THE TWENTIES (1924–33)
* Leslie Charteris introduced Simon Templar, aka The Saint, in 1928.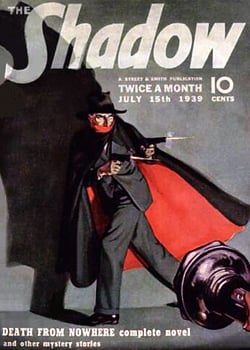 * The Shadow, a crime-fighting vigilante with psychic powers posing as a wealthy young man-about-town, first appeared in a 1930 radio show. At the end of each episode The Shadow (often voiced by Orson Welles) reminded listeners that, "The weed of crime bears bitter fruit. Crime does not pay… The Shadow knows!" (In print, The Shadow's real name is Kent Allard, and he was a famed aviator who fought for the French during World War I. He became known by the alias of The Black Eagle, according to The Shadow's Shadow, 1933. After the war, Allard seeks a new challenge and decides to wage war on criminals.)
PS: Comic book characters such as Batman, Green Arrow, and the Green Hornet resemble The Shadow. The Green Hornet in particular operates outside the law, insinuating himself into criminal plots in order to put an end to the activities of master criminals.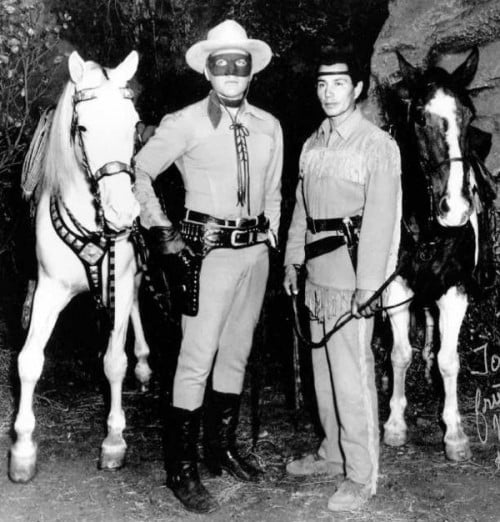 * The Lone Ranger is a fictional character: a masked ex-Texas Ranger who, with his Indian friend Tonto, fights injustice in the American Old West. The character first appeared in a 1933 serialized radio program.
* John Buchan's A Prince of the Captivity (1933) is a secret-identity avenger novel of sorts.
THE THIRTIES (1934–43)
Starting in the 1930s, the concept of a crime-fighters, superheroes, and vigilantes (and their adversaries) adopting secret identities became more widespread in dime novels, pulp magazines, comic books, old-time radio dramas, movie serials, and other popular fiction.
* Murder on the Orient Express is a work of detective fiction by Agatha Christie featuring the Belgian detective Hercule Poirot. All the suspects are revealed to have been connected with the family of a little girl who was kidnapped and murdered, and whose death they are avenging. All conceal their true identities using phony names or pretending not to be associated with the family.
* The 1934 movie adaptation of The Scarlet Pimpernel, starring Leslie Howard.
* Superman assumes the identity of the "mild-mannered" newspaper reporter Clark Kent in order to live among the citizens of Metropolis without arousing suspicion. His true identity, of course, is Kal-El. (The character was created in 1933.)
* The Green Hornet is an American radio and television masked vigilante created by George W. Trendle and Fran Striker, with input from radio director James Jewell, in 1936.
* The creators of the comic book character Batman — an aristocratic hero with a double identity, who first appeared in 1939 — were inspired by the Scarlet Pimpernel and Zorro, not to mention such pulp heroes as Doc Savage, The Shadow, and Sherlock Holmes.
* Captain Marvel, also known as Shazam, is a comic book superhero created in 1939 by artist C. C. Beck and writer Bill Parker. The character first appeared in Whiz Comics #2 (February 1940).
* Sad Cypress is a 1940 work of detective fiction by Agatha Christie. The killer, away from England for many years before returning, is a relation and potential inheritor of the victim's estate, unbeknownst to anyone, including the victim and the person being framed for the murder.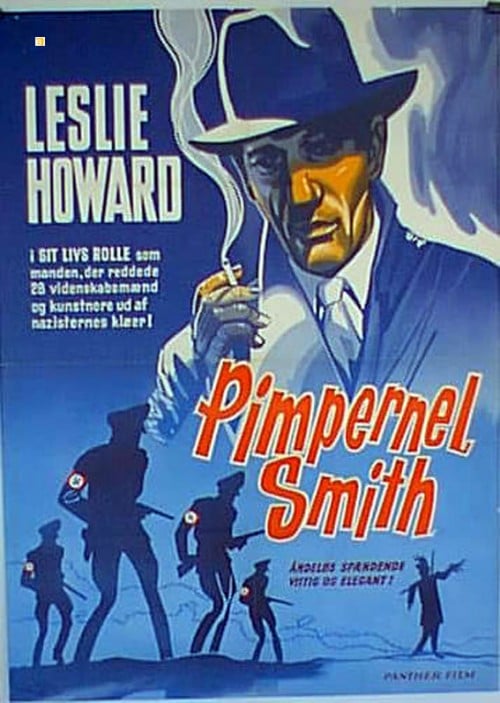 * The 1941 British 1941 anti-Nazi thriller "Pimpernel" Smith, produced and directed by its star Leslie Howard. It helped to inspire Swedish diplomat Raoul Wallenberg to mount his real-life rescue operation in Budapest that saved tens of thousands of Hungarian Jews from Nazi concentration camps during the last months of World War II.
* Helen MacInnes's 1942 WWII espionage novel Assignment in Brittany — maybe?
THE FORTIES (1944–53)
* The 1950 Daffy Duck short "The Scarlet Pumpernickel" is a secret-identity avenger story spoof.
THE FIFTIES (1954–63)
* The Talented Mr. Ripley is a 1955 psychological thriller novel by Patricia Highsmith. This novel first introduced the character of Tom Ripley who returns in the novels Ripley Under Ground, Ripley's Game, The Boy Who Followed Ripley and Ripley Under Water. The five novels are known collectively as the Ripliad.
* 1956. Alfred Bester's science fiction adventure The Stars My Destination, also known as Tiger! Tiger! An interstellar Count of Monte Cristo, and an important influence on Samuel R. Delany's Nova.
* The Scapegoat is a 1957 novel by Daphne du Maurier. In 1959, it was made into a film of the same name, starring Alec Guinness. The plot concerns an Englishman who meets his double, a French aristocrat, while visiting France, and is forced into changing places with him.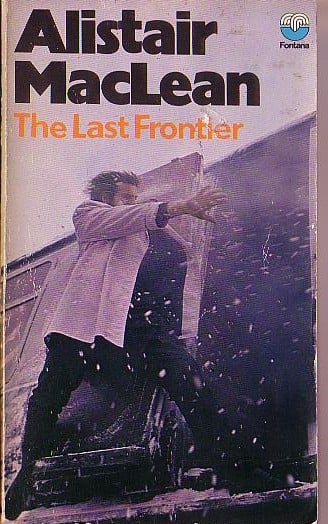 * Alistair MacLean's 1959 novel The Last Frontier (pub. in the US as The Secret Ways) is MacLean's first foray into the espionage thriller genre, and was inspired by the events surrounding the Hungarian Revolution of 1956. It is in some ways a secret-identity avenger novel.
* Richard Condon's The Manchurian Candidate (1959) is in a sense a secret-identity adventure. The protagonist doesn't realize that he is an assassin.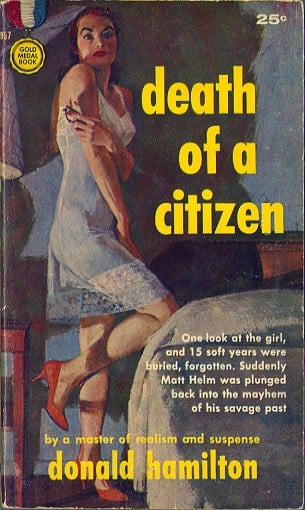 * Death of a Citizen is a 1960 spy novel by Donald Hamilton, and was the first in a long-running series of books featuring Matt Helm. The title refers to the metaphorical death of peaceful citizen and family man Matt Helm and the rebirth of the deadly and relentless assassin of World War II. Hamilton would write a total of 27 Matt Helm novels between 1960 and 1993. NB: In the late 1960s, several comedy motion pictures starring Dean Martin as Helm were produced.
* The Dark Crusader is a 1961 espionage thriller by Alistair MacLean. It was released in the United States under the title The Black Shrike. Bentall, a physicist specializing in rocket fuels, must allow himself to be kidnapped.
* The Man with the Getaway Face (1963) is a crime thriller novel, written by Donald E. Westlake under the pseudonym Richard Stark. It was also published under the title The Steel Hit.
* Walter Tevis's 1963 science fiction novel The Man Who Fell to Earth, about an extraterrestrial who lands on Earth seeking a way to ferry his people to Earth from his home planet. The novel served as the basis for the 1976 cult film by Nicolas Roeg.
THE SIXTIES (1964–73)
* Ian Fleming's 1964 James Bond book You Only Live Twice is a secret-identity avenger story. Bond is avenging his wife's murder, and he takes on a highly unlikely new identity.
* Francis Clifford's The Naked Runner (1966) — maybe?
* Michael Innes's A Change of Heir (1966).
* Not an adventure story, but: Sgt. Pepper's Lonely Hearts Club Band introduces alter egos for the Beatles.
* Not an adventure story (or is it?), but: David Bowie launched his Ziggy Stardust stage show with the Spiders from Mars in 1972.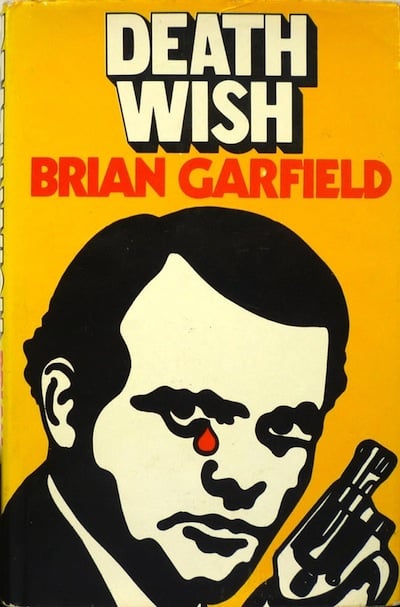 * Brian Garfield's 1972 vigilante novel Death Wish, which was adapted for the 1974 film of the same title; it was followed by four sequels.
* Desmond Bagley's The Tightrope Men (1973)
THE SEVENTIES (1974–83)
* Robert Ludlum's 1980 spy novel The Bourne Identity is an avenger novel of sorts. With a twist.
* In Michael Innes's 1980 thriller Going It Alone, Gilbert Averell's look-alike friend suggests that they swap passports for a short spell. A number of incidents, involving Gilbert's sister and nephew, begin to suggest that Georges's offer was not made out of simple friendship.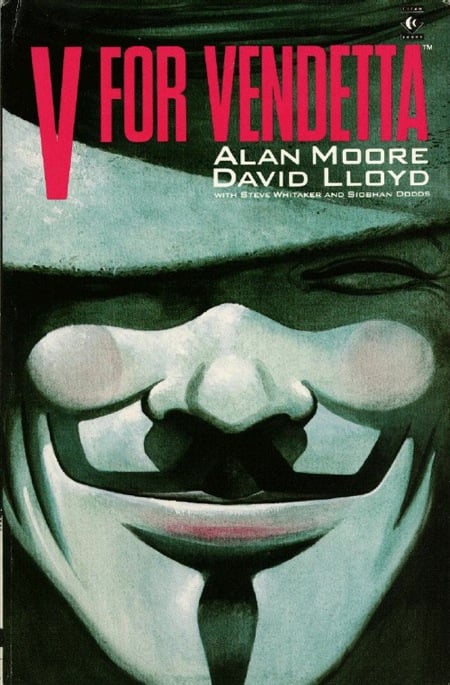 * In the 1982-89 comic book series V for Vendetta by Alan Moore and David Lloyd, the main character is an anarchic revolutionary known only as V, who wears a stylized Guy Fawkes mask.
THE EIGHTIES (1984–93)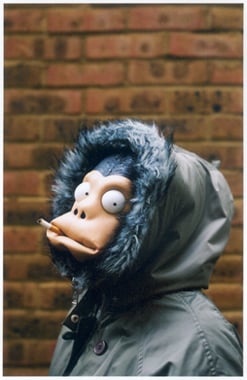 * English graffiti artist and activist Banksy got his start in 1990.
THE NINETIES (1994–2003)
* Borat Sagdiyev is a satirical fictional character invented and performed by English comedian Sacha Baron Cohen. He is presented as a Kazakh journalist and is the main protagonist of the film Borat: Cultural Learnings of America for Make Benefit Glorious Nation of Kazakhstan. The character was first introduced in 1996.
* Brüno Gehard is a satirical fictional character portrayed by Sacha Baron Cohen. The character, a flamboyantly gay Austrian fashion reporter, first appeared during short sketches on The Paramount Comedy Channel in 1998.
* Ali G is a satirical fictional character created and performed by Sacha Baron Cohen. Originally appearing on Channel 4's The 11 O'Clock Show, and subsequently as the title character of Channel 4's Da Ali G Show in 2000 and on HBO in 2003–2004, he is also the title character of the film Ali G Indahouse.
THE TWENTY-OUGHTS (2004–13)
* In 2006, the Guy Fawkes mask began its migration into modern popular-political culture on the /b/ board of 4chan, the online image board that gave rise to the group Anonymous.
***
20 ADVENTURE THEMES AND MEMES: Index to All Adventure Lists | Introduction to Adventure Themes & Memes Series | Index to Entire Series | The Robinsonade (theme: DIY) | The Robinsonade (theme: Un-Alienated Work) | The Robinsonade (theme: Cozy Catastrophe) | The Argonautica (theme: All for One, One for All) | The Argonautica (theme: Crackerjacks) | The Argonautica (theme: Argonaut Folly) | The Argonautica (theme: Beautiful Losers) | The Treasure Hunt | The Frontier Epic | The Picaresque | The Avenger Drama (theme: Secret Identity) | The Avenger Drama (theme: Self-Liberation) | The Avenger Drama (theme: Reluctant Bad-Ass) | The Atavistic Epic | The Hide-And-Go-Seek Game (theme: Artful Dodger) | The Hide-And-Go-Seek Game (theme: Conspiracy Theory) | The Hide-And-Go-Seek Game (theme: Apophenia) | The Survival Epic | The Ruritanian Fantasy | The Escapade
***
MORE FURSHLUGGINER THEORIES BY JOSH GLENN: We Are Iron Man! | And We Lived Beneath the Waves | Is It A Chamber Pot? | I'd Like to Force the World to Sing | The Argonaut Folly | The Perfect Flâneur | The Twentieth Day of January | The Dark Side of Scrabble | The YHWH Virus | Boston (Stalker) Rock | The Sweetest Hangover | The Vibe of Dr. Strange | Tyger! Tyger! | Star Wars Semiotics | The Original Stooge | Fake Authenticity | Camp, Kitsch & Cheese | Stallone vs. Eros | The UNCLE Hypothesis | Icon Game | Meet the Semionauts | The Abductive Method | Semionauts at Work | Origin of the Pogo | The Black Iron Prison | Blue Krishma! | Big Mal Lives! | Schmoozitsu | You Down with VCP? | Calvin Peeing Meme | Daniel Clowes: Against Groovy | The Zine Revolution (series) | Best Adventure Novels (series) | Debating in a Vacuum (notes on the Kirk-Spock-McCoy triad) | Pluperfect PDA (series) | Double Exposure (series) | Fitting Shoes (series) | Cthulhuwatch (series) | Shocking Blocking (series) | Quatschwatch (series) | Save the Adventure (series)
READ MORE essays by Joshua Glenn, originally published in: THE BAFFLER | BOSTON GLOBE IDEAS | BRAINIAC | CABINET | FEED | HERMENAUT | HILOBROW | HILOBROW: GENERATIONS | HILOBROW: RADIUM AGE SCIENCE FICTION | HILOBROW: SHOCKING BLOCKING | THE IDLER | IO9 | N+1 | NEW YORK TIMES BOOK REVIEW | SEMIONAUT | SLATE