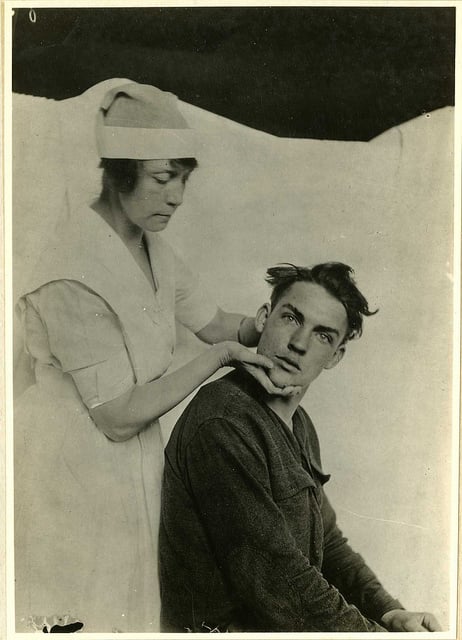 HiLobrow is pleased to present the fifteenth installment of our serialization of Muriel Jaeger's The Man with Six Senses. New installments will appear each Friday for 20 weeks.
When Hilda, a beautiful young member of England's cynical postwar generation, meets Michael, a hapless mutant capable of perceiving the molecular composition of objects and the ever-shifting patterns of electromagnetic fields, she becomes his apostle. However, her efforts to convince others of the prodigy's unique importance end disastrously; and Michael himself is slowly destroyed — mentally and physically — by his uncanny gift. In the end, Hilda must decide whether she is willing and able to make a supreme sacrifice for the sake of humankind's future.
This early and brilliant effort to export the topic of extra-sensory perception out of folklore and occult romances and import it into science fiction was first published in 1927 — by Leonard and Virginia Woolf's Hogarth Press. In December 2013, HiLoBooks will publish a beautiful paperback edition of this long-unattainable book — with an Introduction by Mark Kingwell.
SUBSCRIBE to HiLobrow's serialized fiction via RSS.
ALL EXCERPTS: 1 | 2 | 3 | 4 | 5 | 6 | 7 | 8 | 9 | 10 | 11 | 12 | 13 | 14 | 15 | 16 | 17 | 18 | 19 | 20
***
"He puzzles the doctor," she continued, with an attempt at a smile, "though he won't accept our explanation for a moment. He thinks Michael hears the coins in one's pocket. He says it's a remarkable case of hyperacousia in convalescence, and that we must try to reduce it."
I wondered whether one ought not indeed to wish that medical science could reduce it, could abolish it altogether, and throw back into the faces of the gods their fatal gift to Michael Bristowe. For, to this point of view I had now passed. I had been scornful at first in my thoughts of Horace Plumer, but, after all, he represented the world, the thing that is, not only America, but the rest of us also. In America it is merely more clear-cut and open. I saw that I had been partially hypnotised into sharing Hilda's view of Michael's gift. Now I was swinging back to I more practical position. After all, as the world is constituted, the value of everything depends ultimately on its use to society. Seer, saint, superman, whatever we may be, if we can do nothing in this relation, we are of no avail. And what one can do depends, not only on intrinsic possibilities, but on what one can get the opportunity to do. People were crudely right; their attitude to Michael Bristowe was right. He might have the most magnificent and unique knowledge and experience, but if he could find no way of translating them into terms of life, into what, whether we like it or not, is now measured by "exchange value," they went for nothing. His gift was useless now, superseded for every imaginable practical purpose by Professor Shannon's invention; and he was no more than an ailing penniless youth, without work or prospects, and cursed with a repellent and intractable disposition.
At the time I said nothing of this to Hilda, for an irritable voice hailed us from the room:
"Can't you come in and stop whispering there?"
*
It was a fortnight later that Hilda took him down to my house in Dorsetshire. It was all very reasonable, and it was like a fatality. Bristowe had to be got away to a milder climate, and he was not fit to journey abroad. The notice was too short for Hilda's old friends, the Naylors, with whom he had stayed before, their rooms being already occupied; and, in any case, I guessed that both Michael and Hilda were short of money by this time. Michael, of course, would have spent the £200 he had had from Plumer — I felt sure enough of that. And the expenses of his illness, of which I had paid only the initial ones, must have taxed Hilda's resources. She knew that I had kept Marling open in charge of a housekeeper since my mother's death, though I went down there very seldom; so that when, with her usual frank confidence that I was as anxious as herself for Michael's welfare, she asked me to let them use the place for a few weeks, it was impossible for me to refuse. Besides, I reflected that the presence of Mrs. Marshall, who was an impoverished gentlewoman, one of my mother's protégées, would at least save the proprieties, which they might very well ignore if they went elsewhere. Moreover, the situation would remain within my purview, if not under my control, and I could go down myself if I wished. It was bitter-sweet to know that Hilda would be under my roof in these conditions, and, even if I went, it would be a miserable substitute for the Riviera holiday. But I knew well enough that I should go, none the less.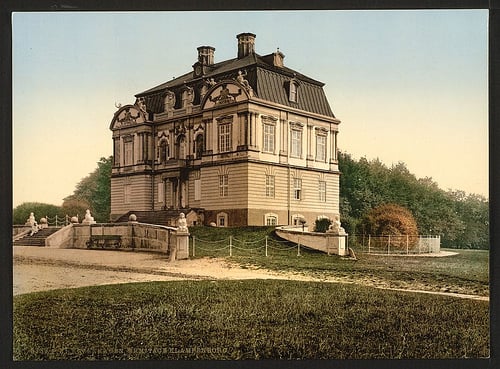 I did not ask Hilda what she had arranged about her own work in the meantime. Evidently that was to go to the wall. It had been a sufficient reason for refusing to consider marriage with me; it apparently had no weight against the necessity for nursing Michael Bristowe. I learnt, however, that Mrs. Hastings was keeping her post open for her. It was evident that Hilda was now drawing for Michael not only upon her actual account at the bank, but upon the fund of credit represented by her past usefulness to her employer.
I kept away until they had been at Marling for a week, and then sent a wire and went down, half shuddering at the pain that I knew I should experience, half hopeful that, after all, some advantage might come to me from the situation. But I found that I had hardly realised the nature or strength of the ordeal to which I had voluntarily subjected myself.
For to see Hilda at Marling was purgatory. I had never understood before how far my early sentiment for her had been bound up with my sentiment for my beautiful old home. My mother had been an artist in the art of living — an artist of an old school — of that gracious, well-ordered, country-house life of England, which, perhaps, like other modes of life, like Paganism and Chivalry, never approached its ideal perfection until its day was already passing. It was a part of my mother's artistry that she had seen Hilda as the future mistress of Marling. And I, too, had seen and loved Hilda in that sense. I began to understand why, though I loved the place, I had cared to visit it so little since it had become exclusively my own, while yet some obscure impulse had made me keep it open and ready for habitation at any moment.
Now, when I saw her at that first moment of my arrival, coming down the noble wide stairway into the old hall, her hair gleaming in the soft lights, it was as if an ideal picture had come to life. There are forms of modern life that kill the beauty of an old country house — a species of murder that I have often had to watch — giggling flappers, guffawing youths, shrill-voiced Americans, rowdy children whose proper milieu is the slum pavement. Blatant, miscellaneous, meaningless, they take advantage of their little vivacious moment of organic existence to annihilate the exquisiteness of the old walls that have absorbed all that was dignified in the humanity of past centuries and rejected all that was trivial and ephemeral. But Hilda's young dignity was the form of youth and life that fulfilled them, gave them their latest expression. As she moved to meet me, she seemed as perfectly in place as the Princess of Thule, whom I had always chosen to imagine her ancestress, bestowing gifts in her father's high hall.
Marling brought back this old conception of Hilda. And it did not clash with it, but rather gave it a new meaning and pathos that I knew her now also, and loved her as an individual. I knew her intimately now; I knew even what seemed to me her defects, but I knew nothing cheap or small. Even for her young hardness, even for her limitations, it seemed to me now that I loved her helplessly the more. I loved her even the more for the pain that she had caused me. It seemed to commit me spiritually, as capital poured into an enterprise commits one to see it through — if it fails, too much will be lost, more than will bear thinking of. Yet I had not been able to win her, and I was beginning seriously to wonder if I ever should.
I was grateful afterwards for that first hour that I had Hilda to myself. It was an hour near to happiness. I had arrived a little late for tea, but she had it brought, none the less, into the sunny little afternoon sitting-room, which looked out on to the garden of spring flowers. I asked after Michael, and she replied; but we did not talk much of him, and I did not ask where he was. We were both exiles returned to our native country-side, and the soft clear air of that exquisite spring evening was intoxicating to us. We talked of old times, of my mother, of other people we had both known and of their present fortunes. We mourned together that Hilda's old home was in pawn to a profiteer. In such a conversation, even woes take on a pleasurable colour.
And then Michael came. As always, Michael intruded. And this time he did not even come himself. A word from him, sent through Mrs. Marshall, a peremptory gesture, and my good hour was over.
"Mr. Bristowe says will you go to him in the library now, Miss Torrington? He says he must get that machine in order, if he is to use it to-night… I kept him lying down as long as I could." The good lady was addressing Hilda, but had not the tact to refrain from a deprecatory glance at me. She knew, of course, all about that old family plot.
Perhaps her attitude affected Hilda, for Hilda also seemed for once vaguely aware of my indignation.
"Tell him I will come," she said; and turned to explain to me that she had had Michael's magnetic apparatus put in the library. "I'm trying to get him to take an interest in it again," she said; "it seems the only thing that has the remotest chance of interesting him." The trouble stood plain to be seen in her eyes. "I asked old Naylor to come in to-night, so that Michael could try him with it."
So the old "dowser" also was now to be drawn into Michael's weird experiments. The idea interested me, in spite of my vexation, and I sat thinking it over for a few moments when she had left me. From one point of view it was an intelligent move on Hilda's part. One of our problems in dealing with Michael had always been that we had too little check upon him. How can blind men check the claims of the only one among them who sees? He got results, we had been compelled to admit that, with all that it implied; but there had been no one so far who could even question him intelligently about his methods. This old man, who presumably shared his faculty to however small a degree, and would therefore have some inkling of what it signified, would be a crucial witness. So much for the abstract scientific side. But, again, it was another push ahead into the unknown regions of the new thing, and I had definitely decided now that we had already gone too far. Professor Shannon's invention had destroyed the significance of the enterprise, had left us in the air. I was convinced by this time that it would be better — and not only for my own private interests, but for Michael himself and, above all, for Hilda — to let the matter rest and trouble about it no more. Michael might in time lose again something of his abnormality: it had certainly been sharpened by exercise, it might become dulled again by judicious neglect. He might yet find some modus vivendi as an ordinary man among ordinary men. Anyhow (for my mind, after all, misgave me, as I thought of his ravaged face), we could do our best to give him the chance, and the result would not be our responsibility.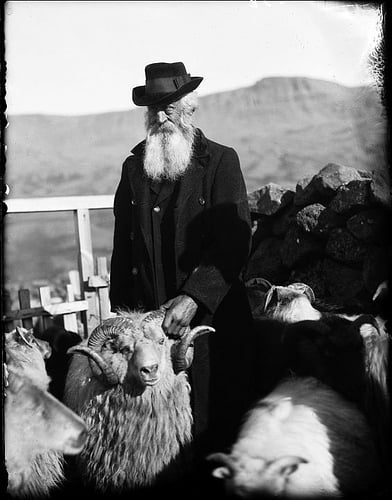 And then Hilda added to my misgiving by slipping out of the library to me as I went to dress. – She spoke in a deprecating, half-worried whisper, unlike herself. "Coins still worry Michael, Ralph.… If you wouldn't mind.…" I nodded and turned away, sick at heart.
When I met him at dinner, the impression was confirmed yet further. It seemed to me that I had been distressing myself about his future unnecessarily. He so plainly had no future. It was the first time that I had seen him out of bed since his illness. It was not so much that he still looked a physical wreck. A more essential vitality had gone out of him. I had seen a similar thing before, more than once — I suppose that everyone over thirty must have seen it — one or two men who had failed in their professions in those devastating post-war years; one who was doing well enough, but had made the wrong marriage; an older family friend, bright-eyed and vigorous before the War, who had lost both his sons at Ypres. Something is gone, the snap, the power of reaction; they are all men without futures. It matters no longer what may happen to them.
The contrast was the greater in Bristowe, in that there had always been that peculiar suggestion of potential energy in him; more personality, I suppose one must call it, than most people possess. I had been consciously dreading his clash with the atmosphere of Marling, and squaring myself for it. I had expected, remembering that savage suppressed vitality of his, that he would kill it as completely as any shrieking flapper or grotesque ex-grocer. It would not, I had admitted, be the same sort of clash as that of the parvenu or the degenerate, but a finer affair — more like a duel, less like a butchery, but none the less effectual for that.
I found now that my fears had been quite unnecessary. This sullen apathetic creature was obviously incapable of putting up a fight of any sort. Even our good Burgundy roused him only to a kind of dull malice, a poor shadow of his old mischievousness, though even more exasperating.
I think the source of the trouble must have been that, innocently enough, I had dressed for dinner. It would have been impossible for me not to do so this first evening that I entertained Hilda in my own house, even if I had thought of the probability that Michael would not possess a dress-suit; but, in fact, no speculation on the point had entered my head. Michael said nothing directly on the subject, but I had caught more than one unpleasant glance at my expanse of shirt-front. He himself was in an old lounge suit, though Hilda had changed into a simple evening dress. He began by remarking with an almost open sneer, half-way through the somewhat silent meal, that he had never lived in a house half the size of Marling before, and continued with a series of the sort of remark by which members of the lower middle class commonly try to demonstrate themselves completely at ease in circumstances that, in fact, overawe them. He tried to be jocular in a mumbling sort of way about the one man-servant whom I had retained, about the number of bathrooms, about people who dined in the evening. I found it difficult to reply with bare civility. Even in his most objectionable moments, that strange hint about him of a hidden demoniac energy had always redeemed him from vulgarity. This evening he seemed merely the gauche, half-educated, bourgeois youth eating with his betters, and trying to bolster up his self-respect with half-spiteful, half-servile chaff. I looked at Hilda to see how she was taking this exhibition, but she was sitting with quiet introspective eyes, evidently musing over something. Only once her glance rested thoughtfully on Michael.
"You're tired, Michael," she said. "Shall I put Naylor off till another evening?"
"I'm always tired," Michael snapped suddenly. "It might as well be this evening as any other." And then, to my relief, he became silent.
***
RADIUM AGE SCIENCE FICTION: "Radium Age" is HiLobrow's name for the 1904–33 era, which saw the discovery of radioactivity, the revelation that matter itself is constantly in movement — a fitting metaphor for the first decades of the 20th century, during which old scientific, religious, political, and social certainties were shattered. This era also saw the publication of genre-shattering writing by Edgar Rice Burroughs, Sax Rohmer, E.E. "Doc" Smith, Jack London, Arthur Conan Doyle, Aldous Huxley, Olaf Stapledon, Karel Čapek, H.P. Lovecraft, Charlotte Perkins Gilman, Yevgeny Zamyatin, Philip Gordon Wylie, and other pioneers of post-Verne/Wells, pre-Golden Age "science fiction." More info here.
READ GORGEOUS PAPERBACKS: HiLoBooks has reissued the following 10 obscure but amazing Radium Age science fiction novels in beautiful print editions: Jack London's The Scarlet Plague, Rudyard Kipling's With the Night Mail (and "As Easy as A.B.C."), Arthur Conan Doyle's The Poison Belt, H. Rider Haggard's When the World Shook, Edward Shanks' The People of the Ruins, William Hope Hodgson's The Night Land, J.D. Beresford's Goslings, E.V. Odle's The Clockwork Man, Cicely Hamilton's Theodore Savage, and Muriel Jaeger's The Man with Six Senses. For more information, visit the HiLoBooks homepage.
READ HERE AT HILOBROW: Jack London's The Scarlet Plague | Rudyard Kipling's With the Night Mail (and "As Easy as A.B.C.") | Arthur Conan Doyle's The Poison Belt | H. Rider Haggard's When the World Shook | Edward Shanks' The People of the Ruins | William Hope Hodgson's The Night Land | J.D. Beresford's Goslings | E.V. Odle's The Clockwork Man | Cicely Hamilton's Theodore Savage | Muriel Jaeger's The Man With Six Senses | Jack London's "The Red One" | Philip Francis Nowlan's Armageddon 2419 A.D. | Homer Eon Flint's The Devolutionist | W.E.B. DuBois's "The Comet" | Edgar Rice Burroughs's "The Moon Men" | Charlotte Perkins Gilman's Herland | Sax Rohmer's "The Zayat Kiss"
READ: HiLobrow's previous serialized novels, both original works: James Parker's The Ballad of Cocky The Fox ("a proof-of-concept that serialization can work on the Internet" — The Atlantic) and Karinne Keithley Syers's Linda Linda Linda. We also publish original stories and comics.