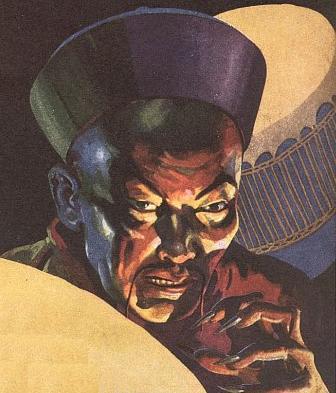 HiLobrow is pleased to present the third installment of our serialization of Sax Rohmer's story "The Zayat Kiss." New installments will appear each Wednesday for six weeks.
After the bloody Boxer Rebellion of 1900, which was sparked by secret societies in China whose aim was to eradicate Western and Christian influence in that country, a "Yellow Peril" panic briefly spread in the West. Sax Rohmer (Arthur Henry Ward) was a British journalist who haunted London's Chinatown during that period; "The Zayat Kiss," published in 1912, is set in that milieu. This story would be repurposed as the first three chapters of Rohmer's popular novel The Mystery of Dr. Fu Manchu (1913; in the US: The Insidious Dr. Fu Manchu), the first of a long series. Rohmer's master criminal character, Fu Manchu, has since inspired depictions of sinister Asiatic science-fiction villains from Ming the Merciless to Dr. No, to Iron Man's enemy The Mandarin.
SUBSCRIBE to HiLobrow's serialized fiction via RSS.
ALL EXCERPTS: 1 | 2 | 3 | 4 | 5 | 6
***
Sir Crichton Davey's study was a small one, and a glance sufficed to show that, as the secretary had said, it offered no hiding place. It was heavily carpeted, and overfull of Burmese and Chinese ornaments and curios, and upon the mantelpiece stood several framed photographs which showed this to be the sanctum of a wealthy bachelor who was no misogynist. A map of the Indian Empire occupied the larger part of one wall. The grate was empty, for the weather was extremely warm, and a green-shaded lamp on the littered writing table afforded the only light. The air was stale, for both windows were closed and fastened.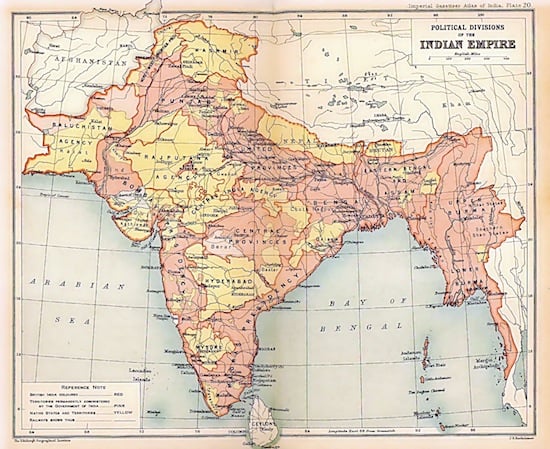 Smith immediately pounced upon a large, square envelope that lay beside the blotting pad. Sir Crichton had not even troubled to open it, but my friend did so. It contained a blank sheet of paper!
"Smell!" he directed, handing the letter to me.
I raised it to my nostrils. It was scented with some pungent perfume.
"What is it?" I asked.
"It is a rather rare essential oil," was the reply, "which I have met with before, though never in Europe. I begin to understand, Petrie."
He tilted the lamp shade and made a close examination of the scraps of paper, matches, and other debris that lay in the grate and on the hearth. I took up a copper vase from the mantelpiece, and was examining it curiously when he turned, a strange expression on his face.
"Put that back, old man," he said quietly.
Much surprised, I did as he directed.
"Don't touch anything in the room. It may be dangerous."
Something in the tone of his voice chilled me, and I hastily replaced the vase and stood by the door of the study, watching him search methodically every inch of the room — behind the books, in all the ornaments, in table drawers, in cupboards, on shelves.
"That will do," he said at last. "There is nothing here and I have no time to search further."
We returned to the library.
"Inspector Weymouth," said my friend, "I have a particular reason for asking that Sir Crichton's body be removed from this room at once and the library locked. Let no one be admitted on any pretense whatever until you hear from me."
It spoke volumes for the mysterious credentials borne by my friend that the man from Scotland Yard accepted his orders without demur, and, after a brief chat with Mr. Burboyne, Smith passed briskly downstairs. In the hall a man who looked like a groom out of livery was waiting.
"Are you Wills?" asked Smith.
"Yes, sir."
"It was you who heard a cry of some kind at the rear of the house about the time of Sir Crichton's death?"
"Yes, sir. I was locking the garage door, and, happening to look up at the window of Sir Crichton's study, I saw him jump out of his chair. Where he used to sit at his writing, sir, you could see his shadow on the blind. Next minute I heard a call out in the lane."
"What kind of call?"
The man whom the uncanny happening clearly had frightened seemed puzzled for a suitable description.
"A sort of wail, sir," he said at last. "I never heard anything like it before and don't want to again."
"Like this?" inquired Smith, and he uttered a low, wailing cry, impossible to describe.
"The same, sir, I think," Wills said, "but much louder."
"That will do," said Smith, and I thought I detected a note of triumph in his voice. "But stay! Take us through to the back of the house."
The man bowed and led the way, so that shortly we found ourselves in a small, paved courtyard. It was a perfect summer's night, and the deep blue vault above was jeweled with myriads of starry points.
"Up yonder are the study windows, sir. Over that wall on your left is the back lane from which the cry came, and beyond is Regent's Park."
"Are the study windows visible from there?"
"Oh, yes, sir."
"Who occupies the adjoining house?"
"Major General Platt-Houston, sir, but the family is out of town."
"Those iron stairs are a means of communication between the domestic offices and the servants' quarters, I take it?"
"Yes, sir."
"Then send some one to make my business known to the Major General's housekeeper; I want to examine those stairs."
Singular though my friend's proceedings appeared to me, I had ceased to wonder at anything. Since Nayland Smith's arrival at my rooms I seemed to have been moving through the fitful phases of a nightmare. My friend's account of how he came by the wound in his arm; the scene on our arrival at the house of Sir Crichton Davey; the secretary's story of the dying man's cry. "The red hand!"; the hidden perils of the study; the wail in the lane — all were fitter incidents of delirium than of sane reality. So, when a white-faced butler made us known to a nervous old lady who proved to be the housekeeper of the next-door residence, I was not surprised at Smith's saying:
"Lounge up and down outside, Petrie. Everyone has cleared off now. It is getting late. Keep your eyes open and be on your guard. I thought I had the start, but he is here before me, and, what is worse, he probably knows by now that I am here, too."
With which he entered the house and left me out in the square, with leisure to think, to try to understand.
The crowd which usually haunts the scene of a sensational crime had been cleared away, and it had been circulated that Sir Crichton had died from natural causes. The intense heat having driven most of the residents out of town, practically I had the square to myself, and I gave myself up to a brief consideration of the mystery in which I so suddenly had found myself involved.
By what agency had Sir Crichton met his death? Did Nayland Smith know? I rather suspected that he did. What was the hidden significance of die perfumed envelope? Who was that mysterious personage whom Smith so evidently dreaded, who had attempted his life, who presumably had murdered Sir Crichton? Sir Crichton Davey, during the time that he had held office in India and during his long term of service at home, had earned the good will of all, British and native alike. Who was his secret enemy?
Something touched me lightly on the shoulder.
***
RADIUM AGE SCIENCE FICTION: "Radium Age" is HiLobrow's name for the 1904–33 era, which saw the discovery of radioactivity, the revelation that matter itself is constantly in movement — a fitting metaphor for the first decades of the 20th century, during which old scientific, religious, political, and social certainties were shattered. This era also saw the publication of genre-shattering writing by Edgar Rice Burroughs, Sax Rohmer, E.E. "Doc" Smith, Jack London, Arthur Conan Doyle, Aldous Huxley, Olaf Stapledon, Karel Čapek, H.P. Lovecraft, Charlotte Perkins Gilman, Yevgeny Zamyatin, Philip Gordon Wylie, and other pioneers of post-Verne/Wells, pre-Golden Age "science fiction." More info here.
READ GORGEOUS PAPERBACKS: HiLoBooks has reissued the following 10 obscure but amazing Radium Age science fiction novels in beautiful print editions: Jack London's The Scarlet Plague, Rudyard Kipling's With the Night Mail (and "As Easy as A.B.C."), Arthur Conan Doyle's The Poison Belt, H. Rider Haggard's When the World Shook, Edward Shanks' The People of the Ruins, William Hope Hodgson's The Night Land, J.D. Beresford's Goslings, E.V. Odle's The Clockwork Man, Cicely Hamilton's Theodore Savage, and Muriel Jaeger's The Man with Six Senses. For more information, visit the HiLoBooks homepage.
READ HERE AT HILOBROW: Jack London's The Scarlet Plague | Rudyard Kipling's With the Night Mail (and "As Easy as A.B.C.") | Arthur Conan Doyle's The Poison Belt | H. Rider Haggard's When the World Shook | Edward Shanks' The People of the Ruins | William Hope Hodgson's The Night Land | J.D. Beresford's Goslings | E.V. Odle's The Clockwork Man | Cicely Hamilton's Theodore Savage | Muriel Jaeger's The Man With Six Senses | Jack London's "The Red One" | Philip Francis Nowlan's Armageddon 2419 A.D. | Homer Eon Flint's The Devolutionist | W.E.B. DuBois's "The Comet" | Edgar Rice Burroughs's "The Moon Men" | Charlotte Perkins Gilman's Herland | Sax Rohmer's "The Zayat Kiss"