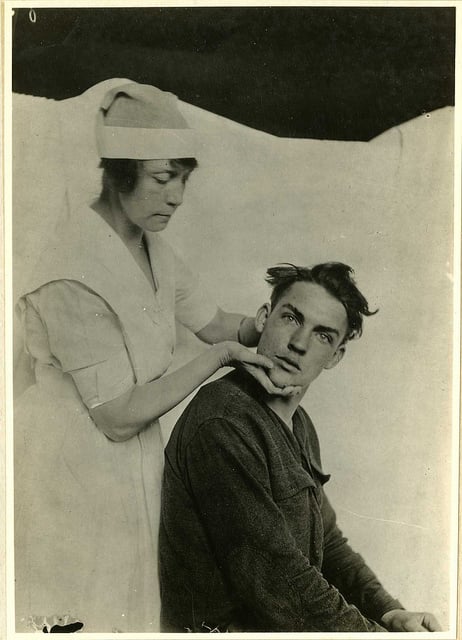 HiLobrow is pleased to present the eleventh installment of our serialization of Muriel Jaeger's The Man with Six Senses. New installments will appear each Friday for 20 weeks.
When Hilda, a beautiful young member of England's cynical postwar generation, meets Michael, a hapless mutant capable of perceiving the molecular composition of objects and the ever-shifting patterns of electromagnetic fields, she becomes his apostle. However, her efforts to convince others of the prodigy's unique importance end disastrously; and Michael himself is slowly destroyed — mentally and physically — by his uncanny gift. In the end, Hilda must decide whether she is willing and able to make a supreme sacrifice for the sake of humankind's future.
This early and brilliant effort to export the topic of extra-sensory perception out of folklore and occult romances and import it into science fiction was first published in 1927 — by Leonard and Virginia Woolf's Hogarth Press. In December 2013, HiLoBooks will publish a beautiful paperback edition of this long-unattainable book — with an Introduction by Mark Kingwell.
SUBSCRIBE to HiLobrow's serialized fiction via RSS.
SUBSCRIBE to HiLobrow's serialized fiction via RSS.
ALL EXCERPTS: 1 | 2 | 3 | 4 | 5 | 6 | 7 | 8 | 9 | 10 | 11 | 12 | 13 | 14 | 15 | 16 | 17 | 18 | 19 | 20
***
Michael's methods also nonplussed the Stunt correspondent. He had expected the usual paraphernalia of spiritualism — a séance, crystal-gazing, planchette — that kind of thing. These would have provided him with material for picturesque description. When they were rejected, he offered to get Michael some of the girl's clothing, having a notion that mediums often "got the scent," as he put it, in that way; and was annoyed when Michael laughed. Michael's genuine search of the neighbourhood for the body of the girl, in case it was anywhere concealed, exasperated a mind to whom abnormal faculties meant dramatically quick results, if they meant anything at all.
"Paraded country-side again from morning to night," the notebook complains pathetically. "B. makes the most extraordinary remarks. Passed over a limestone hill yesterday, and he grinned and said how 'quaint' it was. Beginning to wonder if he isn't just an uncommon sort of lunatic, after all. Found my lost pen-knife to-day. Went straight to it under the edge of the carpet. (Work this up for Stunt.) Seems to have obsession that this case must be exactly like last, and that girl must be buried somewhere in neighbourhood.… Haven't done so much walking in years. (N.B. — Better begin to prepare Stunt for possible failure.)"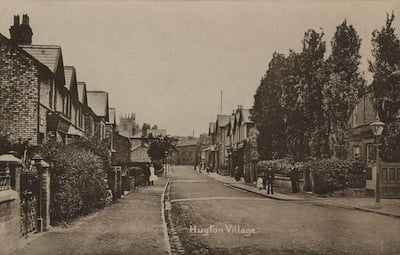 It was certainly hard on the brilliant correspondent. He had got his man there, a first-class situation, occasions for impressiveness, wonder, pathos, humour at every turn, and the wretched youth refused to co-operate. He just went on with his systematic parading of the country-side, without even the panoply of a divining-rod, and nothing happened. Cummings became pathetic. It wasn't as though Bristowe couldn't, if he would. There was the penknife episode. There were odd little things all the time. For instance, apart from finding things, Bristowe knew when anyone was coming long before even the dogs knew. (This gave occasion for a vivid little vignette for the Stunt.) These had been all very well for the first day or two. But they were wearing thin. Cummings had to make bricks without straw in his daily despatches. And he was sick to death of the comforts of "The Red Lion."
And then, one day, apparently came illumination — a chaffing letter (fastened bodily into the notebook) from a colleague, asking how long he meant to stay rusticating with his pet medium, and when the said medium was going to get busy. It also remarked that he (the colleague) had been talking to a friend who was interested in spirits (a little joke here, of course), and he (the friend) said that Bristowe had been examined by a prominent spiritualistic circle just before he left Town, and that they hadn't thought much of him. He had only "a very limited clairvoyance" they said, and hadn't the sense to recognise those who had more psychic power than himself. He had behaved very boorishly, asked all sorts of impertinent questions, and finally rushed out in the middle of a most important "communication." His discovery of the Morland murder must have been mere lucky chance.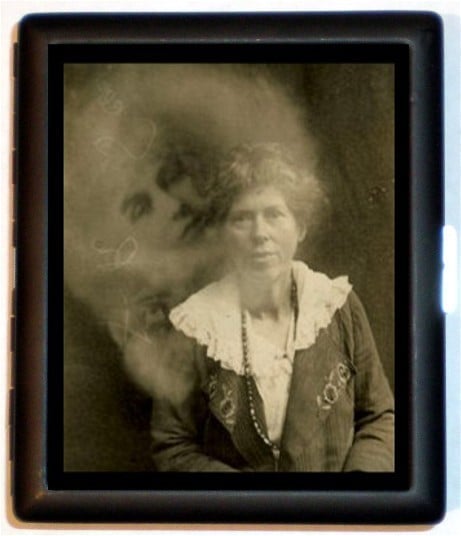 To Cummings, the inference seems to have been obvious. That is the strange part of it. The letter did not destroy his faith in Michael's capacity to discover something if he wished — those odd little things that had cropped up had made too strong an impression for that. Cummings's mind worked on another and, to me, a fantastically tortuous line. As he saw it — Michael was in bad odour in his own profession; his poverty and difficulties were obvious to anyone who had visited him at his London lodgings, as had Cummings; and now he had had a slice of luck that had brought him notoriety and a chance to make hay while the sun shone; apart from this affair, his prospects were evidently poor. Obviously then, it was a great advantage to him to be enjoying the Stunt's hospitality even at a "Red Lion" standard of living; obviously, he would be in no hurry to bring to a close this period of peace and plenty.
I suppose that an eye for character is not a necessity to a publicity machine. Yet, apart from the peculiar circumstances, I find it difficult to understand how any man of average intelligence could have suspected Michael Bristowe of this sort of trickery. There are men whose faces are a warning not to trust them, there are men whose faces are neutral — ordinary decent men who will lie and shuffle under varying degrees of pressure, and there are the very few whom one knows at once are incapable of artifice, whose very faults lie in the opposite direction — in pride and recklessness, and contempt for what their fellows can do. Michael Bristowe had some qualities detestable enough, but chicanery was not one of them.
And, then, too, Cummings had obviously acquired no more idea than when he started as to the real nature of Michael's powers. He still thought of him as what he called a "spiritual genius," capable of revealing the whereabouts of Annie Dukes by supernormal methods, if he would. Evidently, Cummings's experience on the Stunt had not suggested to him that even "spiritual genius" can afford indifference to considerations of £s.d.
But what is the use of trying to follow the mental twists of the Stunt's star correspondent? Especially as I have no direct evidence. I merely infer that he must have thought something after this fashion from the next amazing entry in the notebook, after the record of the fatal letter:
"Gave B. to understand that he would lose nothing by finding A.D. promptly."
There is added a sentence that did not surprise me. "Glared at me like nothing on earth, and left the room without a word. Don't mind, if only it has penetrated." The last sentence made me smile. One had to assure oneself that one did not mind when Bristowe glared at one. I knew that already, and it bolstered up my self-respect to feel that even a pachyderm like the Stunt correspondent, even in his laconic private notes, had been impelled to make a similar concession.
The next entry is worded in full, and shows agitation even in the writing. "Well, he's gone off, and though it's a failure for me, I'm glad. I couldn't have stood another day of it. I don't know if the Stunt will publish my last report."
There is no more to do with Bristowe in the notebook. The Stunt apparently did not publish the last despatch, to which Cummings refers. The next morning it was deeply interested in a war threat in the Far East, and in proposals for ending the latest strike. But Providence had looked after its chief understudy. Before he left the village that evening, I think Cummings must have had an interview with the local constable, and heard the news which was published in all the papers the next morning. Annie Dukes had been found, together with the young man with whom she had eloped, staying in a seaport town some fifty miles away from her home. It seemed that Mrs. Dukes' knowledge of her daughter's activities had not been exhaustive. The police, following up a clue suggested by an old school-friend of Annie's, had worked on it patiently until they ran the young couple to earth. The Stunt was accordingly able to publish a short obscure paragraph saying that, the girl having been found, the services of Mr. Bristowe, the clairvoyant detective, who had been engaged on the case on behalf of the Stunt, had become unnecessary, and Mr. Bristowe had already left the village.
VIII
So, once again, as in the interview with old Rosenheimer and as from his job at Harding's, Michael Bristowe flung royally away, back to poverty and obscurity — and to dependence, material and moral, upon Hilda. For that was what it amounted to. Michael's boom was over. Press excitement over the murder case had died down during the last week. There was a little gibing and laughter over the conclusion of the new one in other papers than the Stunt. My article had appeared obscurely in the Mentor without perceptible result. Michael's post-bag, which Hilda had dealt with during his absence, had shrunk to manageable size. Lamenting mothers no longer besought him to come and cure their ailing children, people who suspected their neighbours of secret atrocities directed their stream of anonymity (no doubt) elsewhere; he ceased to interest supremely the inmates of asylums and homes for the feeble-minded.
I knew little then of what had actually happened in the Cotswold village. Michael had sent only brief postcards to Hilda. The Stunt reports had been amusing, but their high colouring was visible to the naked eye. When I saw that the affair had ended in a somewhat comic fiasco, and that Michael had come home, if not a definite failure, at any rate nothing of a success, I stayed away in sheer cowardice, leaving Hilda alone to deal with him.
The chorus of gibes went on for a day or two. It was too good an opportunity for sly hits at the Stunt to be lost. And Michael had, of course, done himself no good with the other papers when he had accepted the commission in the first place. The thing culminated, two days after his return to London, in a column article in one of the more weighty and expensive Conservative journals, headed "Unconscious Observation," by a "Special Correspondent."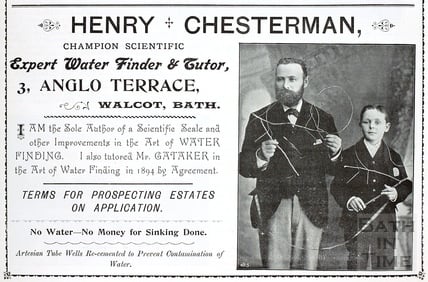 The article began by suggesting that all water-diviners obtain their results by acute observation of geological formations. This has always been the favourite sceptical theory of dowsing, though there are facts that are difficult to square with it — such facts, for instance, as that some dowsers can work blindfold, that there have been child-dowsers, and that springs have been discovered under buildings. However, the writer was able to quote instances and authority in favour of his theory; those that did not favour it, he refrained from mentioning. There are people, he continued, who have abnormally acute sight; they notice tiny indications that escape others, and, consciously or unconsciously, they make inferences from what they see. Might not some such hypothesis account for Michael Bristowe's discovery in the original instance (as also for his failure in the second) more reasonably than wild theories of supernatural powers? Minute signs, undetectable by ordinary observers, would suggest to him that something had taken place at the fatal spot, that the ground had been disturbed, perhaps (as, indeed, one of the detectives subsequently discovered), that the bushes had been pushed aside, that something untoward had occurred. People of this type were rarely of very stable mentality, and such indications, if he noticed them ("no doubt, unconsciously"), might well account for the agitation of the young "medium." The parenthetic phrase, "no doubt, unconsciously," here inevitably suggested the opposite possibility to the reader — that Bristowe might have deliberately exploited public credulity — an effect emphasised farther on in the article by a gentle suggestion (the occasion for which was left to the imagination) that it was undesirable, in the present state of opinion, that claimants of "psychic" powers should accept money for their demonstrations — if they wished their claims to be taken seriously.
I must confess that it was beautifully done. Quietly, delicately, with learning and humour, it explained away Michael's feat until nothing was left of it. Subtly it led up, without committing itself, to the reflection that, in a venal world, venality was, on the whole, a more probable explanation than a hitherto unheard-of faculty. Nine hundred and ninety-nine men out of a thousand would have said that this was an entirely balanced impartial exposition of the case. It is not especially to my credit that I happen to be the thousandth. Though I have never myself experienced the sordid pressure which drives men to do this sort of thing, it is a part of my professional equipment to know how it is done. Almost imperceptible exaggerations and suppressions, touches of irony, given, perhaps, by the mere transposition of two words or the insertion of inverted commas — it is an infinitely more subtle affair than the most skilful speech of the most brilliant barrister — and the thing — the new art, the eccentric preacher, the unpopular movement — has become a sham and a laughing-stock. Exquisitely transfixed, the victims writhe helplessly. Unless they have a thorough training in logical analysis, nowhere can they point and say, "This is unfair," "This is misleading." If they have such a training and do so point, no one will pay any attention to them.
It is highly skilled labour, this, a cut above the Cummings level — a form of prostitution, of course, but a very refined and delicate prostitution, an occasion for the lorettes, not the grisettes, of the profession. Sometimes it is even done not solely for money, but for malice, or for notoriety — or for love of the work.
Half-way down the column a civil sneer suggested that even the intelligentsia were not always so ungullible as one might expect. Of course, they did not believe in ghosts, or anything of that sort, only in vague possibilities, unfathomed depths, potentialities of abnormal capacities in human nature. Well, vaguenesses and potentialities were, no doubt, very useful sometimes, but need we really fall back upon them in the present instance?
The allusion to my own article in the Mentor was unmistakable; in fact, my journalistic experience suggested to me that a more definite reference had been cut editorially just at this point, probably in order to prevent a paper run by opposed interests from receiving a free advertisement.
I had no difficulty in identifying the "Special Correspondent." The article had a certain mannerism in it — a peculiar use of the rhetorical question always beginning, "And so we are to…?" Henry Selver was some ten years my senior, and, for a short period of my callow youth, I had admired and imitated his style.
I did not need confirmation, but I went to Hilda that evening and asked her whether she had seen Selver recently. I found that she had met him at the beginning of the week, and that he had been cool and oft-hand, obviously offended that she had, after all, allowed Michael's "boom" to start without him. I decided to show her the article (which she had not seen), and to tell her my conviction about its authorship.
Looking back now, I date almost from this moment the stiffening, the touch of sternness, that began to pass into Hilda's youthfulness. Her partisanship of Michael Bristowe, eager as it had been, had remained a flexible thing; to one less intimately concerned than I was, I imagine that it might even have seemed rather charming. From now on, it began to develop a flavour of fanaticism. I had not foreseen this effect of Selver's treachery. After all, it was not the fall of an idol from a pedestal — she had never, I knew, imagined him to be a champion sans peur et sans reproche. Nevertheless, as I realised later, to young people like Hilda, there are depths to which it is almost inconceivable that any human being whom they have seen or spoken to can descend. Such a fall is like crime, loathsome disease, divorce. One reads about such things — they do not happen in one's own neighbourhood. This was a disillusionment about human nature in general, rather than about Henry Selver in particular — a moral shock. It was one of those experiences which put forward one's age years at a bound, if one acquiesces in them. The indomitably young will, of course, fight instead, and fight fanatically.
***
* "Almost imperceptible exaggerations and suppressions, touches of irony, given, perhaps, by the mere transposition of two words or the insertion of inverted commas — it is an infinitely more subtle affair than the most skilful speech of the most brilliant barrister — and the thing — the new art, the eccentric preacher, the unpopular movement — has become a sham and a laughing-stock. " — an excellent description of stratagems employed by what critical theorists would later term the "dominant discourse."
* "a very refined and delicate prostitution, an occasion for the lorettes, not the grisettes" — In 19th-century Bohemian Paris, grisettes were working-class women for whom sex was one of several ways to earn a living; but lorettes were, as one historian puts it, "characterized by showy appearance and lack of an occupation… supported entirely by lovers."
* "Sans peur et sans reproche" — said originally of the French knight, the Seigneur de Bayard.
RADIUM AGE SCIENCE FICTION: "Radium Age" is HiLobrow's name for the 1904–33 era, which saw the discovery of radioactivity, the revelation that matter itself is constantly in movement — a fitting metaphor for the first decades of the 20th century, during which old scientific, religious, political, and social certainties were shattered. This era also saw the publication of genre-shattering writing by Edgar Rice Burroughs, Sax Rohmer, E.E. "Doc" Smith, Jack London, Arthur Conan Doyle, Aldous Huxley, Olaf Stapledon, Karel Čapek, H.P. Lovecraft, Charlotte Perkins Gilman, Yevgeny Zamyatin, Philip Gordon Wylie, and other pioneers of post-Verne/Wells, pre-Golden Age "science fiction." More info here.
READ GORGEOUS PAPERBACKS: HiLoBooks has reissued the following 10 obscure but amazing Radium Age science fiction novels in beautiful print editions: Jack London's The Scarlet Plague, Rudyard Kipling's With the Night Mail (and "As Easy as A.B.C."), Arthur Conan Doyle's The Poison Belt, H. Rider Haggard's When the World Shook, Edward Shanks' The People of the Ruins, William Hope Hodgson's The Night Land, J.D. Beresford's Goslings, E.V. Odle's The Clockwork Man, Cicely Hamilton's Theodore Savage, and Muriel Jaeger's The Man with Six Senses. For more information, visit the HiLoBooks homepage.
READ HERE AT HILOBROW: Jack London's The Scarlet Plague | Rudyard Kipling's With the Night Mail (and "As Easy as A.B.C.") | Arthur Conan Doyle's The Poison Belt | H. Rider Haggard's When the World Shook | Edward Shanks' The People of the Ruins | William Hope Hodgson's The Night Land | J.D. Beresford's Goslings | E.V. Odle's The Clockwork Man | Cicely Hamilton's Theodore Savage | Muriel Jaeger's The Man With Six Senses | Jack London's "The Red One" | Philip Francis Nowlan's Armageddon 2419 A.D. | Homer Eon Flint's The Devolutionist | W.E.B. DuBois's "The Comet" | Edgar Rice Burroughs's "The Moon Men" | Charlotte Perkins Gilman's Herland | Sax Rohmer's "The Zayat Kiss"
READ: HiLobrow's previous serialized novels, both original works: James Parker's The Ballad of Cocky The Fox ("a proof-of-concept that serialization can work on the Internet" — The Atlantic) and Karinne Keithley Syers's Linda Linda Linda. We also publish original stories and comics.