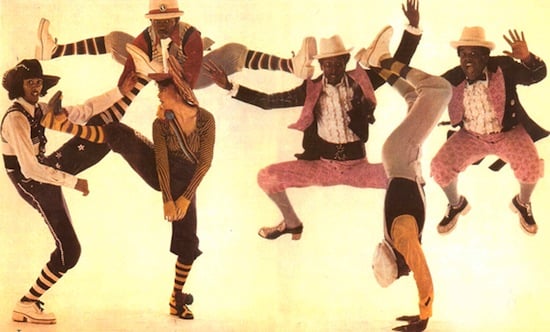 Twenty-fifth in a series of posts analyzing and celebrating old-school hip hop.
***
THE LOCKERS
It would be hard to make a case that the musical side of West Coast hip hop was a major pop-cultural force before the late 1980s, the contributions of Egyptian Lover and The Future MC's (or, even earlier, the Watts Prophets) notwithstanding. But when it comes to street dance, an equally important element of the culture, styles invented or perfected in Los Angeles have been influential from the beginning — or even before the beginning, in the case of The Lockers, whose joyous, funk-based style gained national exposure, mainly from 1973–76, through television appearances on Saturday Night Live, The Tonight Show, and specials with Carol Burnett and Doris Day, all nearly a decade before Bronx b-boying hit Hollywood and the cover of Newsweek in 1982–84.
The move the group was named after was invented by Don Campbell, then a twenty-year-old Los Angeles trade-school student, around 1971: Unable to remember exactly how to do the Funky Chicken, Campbell froze or "locked" in position between motions, inadvertently creating what dance historian Sally Banes calls "a framing device that, in the competitive spirit of street dancing, called attention to his performance." (An offshoot of the style adopted by gay and transvestite clubbers, variously called "punking" or even "Garbo," became vougeing, but that's another story.) Campbell's related instructional record, "The Campbellock," is tough to track down, though you can hear a fragment of it toward the end of this latter-day demonstration by Adolfo "Shabba Doo" Quiñones, a founding Locker who made a smooth landing in the hip-hop era proper as Ozone in both Breakin' films.
Campbell and others danced individually (and probably unpaid) on Soul Train, but they were brought together to work as a professional unit by dancer/choreographer/cultural magpie Toni Basil (who has had a hand, or foot, in everything from the T.A.M.I. Show to Talking Heads' "Once In a Lifetime" and her own "Mickey"). The routines for which they became famous combined the Nicholas Brothers-inspired unison precision of Quiñones and Campbell's disciple Greg "Campbellock Jr." Pope, flurries of between-the-beat freakiness, and breakouts for the individual members' specialties, including the cybernetic jerks of Bill "Slim the Robot" Williams, one progenitor of "popping," and Fred "Mr. Penguin" Berry's patented "Master Butt Drop." (Later, as Rerun on the otherwise stupefying What's Happenin', Berry's dancing supplied some of the only moments of genuine aesthetic pleasure to be found on television during the Carter administration.)
Though the clip included here features Tribe's steamy 1974 track "Coke," the variety-show contexts the Lockers often appeared in were rarely this hip; as Basil once said, "Did you ever hear a TV orchestra try to play 'Jungle Boogie'?" And the cultural politics of their good-natured self-presentation seems quite distant from the volatility associated with other (and later) street-dance styles, from uprocking to krumping, or the "attitude" that's de rigeur in the form's recent reappearance on network talent competitions. But the dancing itself is no less bodily and musically engaged for that, nor less exciting and fascinating to watch, and there's no guessing how many '70s kids took the Lockers as models for their own moves, and their crews, whether or not they ever went pro or not, and whichever coast, if either, they were born on.
LOCKERS ON SOUL TRAIN



***
ALL POSTS IN THIS SERIES: LUC SANTE on Spoonie Gee's "Spoonin' Rap" (1979) | DALLAS PENN on Sugar Hill Gang's "Rapper's Delight" (1979) | WERNER VON WALLENROD on Kurtis Blow's "Rappin' Blow" (1979) | DJ FRANE on Blowfly's "The Incredible Fulk" (1980) | PAUL DEVLIN on Jimmy Spicer's "The Adventures of Super Rhyme" (1980) | PHIL DYESS-NUGENT on Funky 4 + 1′s "That's the Joint" (1980) | ADAM McGOVERN on Grandmaster Flash & The Furious 5′s "Freedom" (1980) | DAVID ABRAMS on Blondie's "Rapture" (1980) | ANDREW HULTKRANS on Treacherous Three & Spoonie Gee's "The New Rap Language" (1980) | TIM CARMODY on Afrika Bambaataa & The Jazzy 5′s "Jazzy Sensation (Bronx Version)" (1981) | DREW HUGE on Grand Wizard Theodore & The Fantastic Five's "Can I Get a Soul Clap" (1981) | OLIVER WANG on Grandmaster Flash's "The Adventures of Grandmaster Flash on the Wheels of Steel" | DOUGLAS WOLK on Busy Bee's "Making Cash Money" (1982) | ADRIENNE CREW on Grandmaster Flash & The Furious 5 (featuring Melle Mel and Duke Bootee)'s "The Message" (1982) | DART ADAMS on The Jonzun Crew's "Pak Jam" (1982) | ALEX BELTH on Malcolm McLaren & The World's Famous Supreme Team's "Buffalo Gals" (1982) | JOSHUA GLENN on Wuf Ticket's "Ya Mama" (1982) | PHIL FREEMAN on Malcolm X with Keith LeBlanc's "No Sell Out" (1983) | NATE PATRIN on Afrika Bambaataa's "Death Mix Live, Pt. 2″ (1980/1983) | BRIAN BERGER on Grandmaster & Melle Mel's "White Lines (Don't Do It)" (1983) | COSMO BAKER on Run DMC's "Here We Go (Live at the Funhouse)" (1983/1985) | COLLEEN WERTHMANN on Herbie Hancock's "Rockit" (1983) | ROY CHRISTOPHER on Ice-T's "The Coldest Rap" (1983) | DAN REINES on L.A. Dream Team's "The Dream Team is in the House" (1985) | FRANKLIN BRUNO on The Lockers.
HIP HOP ON HILOBROW: HERC YOUR ENTHUSIASM series (25 posts about old-school hip hop) | DJ Kool Herc as HiLo Hero | Gil Scott-Heron as HiLo Hero | Slick Rick as HiLo Hero | Darryl "D.M.C." McDaniels as HiLo Hero | Afrika Bambaataa as HiLo Hero | Biz Markie as HiLo Hero | Eric B as HiLo Hero (forthcoming in November) | U-God as HiLo Hero | Slug as HiLo Hero | Adam Yauch as HiLo Hero | Ghostface Killah as HiLo Hero | DJ Run as HiLo Hero | Flavor Flav as HiLo Hero | Scott La Rock as HiLo Hero | GZA as HiLo Hero | Schoolly D as HiLo Hero | Aesop Rock as HiLo Hero | Notorious B.I.G. as HiLo Hero | Melle Mel as HiLo Hero | Rick Rubin as HiLo Hero | Rakim as HiLo Hero | Ol' Dirty Bastard as HiLo Hero | Madlib as HiLo Hero | Talib Kweli as HiLo Hero | Danger Mouse as HiLo Hero | Kool Moe Dee as HiLo Hero | Chuck D as HiLo Hero | Dizzee Rascal as HiLo Hero | RZA as HiLo Hero | Cee-Lo Green as HiLo Hero | Best Ever Clean Hip Hop
***
KIRB YOUR ENTHUSIASM (2011 series on Jack Kirby panels): Douglas Rushkoff on THE ETERNALS | John Hilgart on BLACK MAGIC | Gary Panter on DEMON | Dan Nadel on OMAC | Deb Chachra on CAPTAIN AMERICA | Mark Frauenfelder on KAMANDI | Jason Grote on MACHINE MAN | Ben Greenman on SANDMAN | Annie Nocenti on THE X-MEN | Greg Rowland on THE FANTASTIC FOUR | Joshua Glenn on TALES TO ASTONISH | Lynn Peril on YOUNG LOVE | Jim Shepard on STRANGE TALES | David Smay on MISTER MIRACLE | Joe Alterio on BLACK PANTHER | Sean Howe on THOR | Mark Newgarden on JIMMY OLSEN | Dean Haspiel on DEVIL DINOSAUR | Matthew Specktor on THE AVENGERS | Terese Svoboda on TALES OF SUSPENSE | Matthew Wells on THE NEW GODS | Toni Schlesinger on REAL CLUE | Josh Kramer on THE FOREVER PEOPLE | Glen David Gold on JOURNEY INTO MYSTERY | Douglas Wolk on 2001: A SPACE ODYSSEY | MORE EXEGETICAL COMMENTARIES: Joshua Glenn on Kirby's Radium Age Sci-Fi Influences | Chris Lanier on Kirby vs. Kubrick | Scott Edelman recalls when the FF walked among us | Adam McGovern is haunted by a panel from THE NEW GODS | Matt Seneca studies the sensuality of Kirby's women | Danny Fingeroth figgers out The Thing |
KIRK YOUR ENTHUSIASM (2012 series on Captain Kirk scenes): Justice or vengeance? by DAFNA PLEBAN | Kirk teaches his drill thrall to kiss by MARK KINGWELL | "KHAAAAAN!" by NICK ABADZIS | "No kill I" by STEPHEN BURT | Kirk browbeats NOMAD by GREG ROWLAND | Kirk's eulogy for Spock by ZACK HANDLEN | The joke is on Kirk by PEGGY NELSON | Kirk vs. Decker by KEVIN CHURCH | Good Kirk vs. Evil Kirk by ENRIQUE RAMIREZ | Captain Camelot by ADAM MCGOVERN | Koon-ut-kal-if-fee by FLOURISH KLINK | Federation exceptionalism by DAVID SMAY | Wizard fight by AMANDA LAPERGOLA | A million things you can't have by STEVE SCHNEIDER | Debating in a vacuum by JOSHUA GLENN | Klingon diplomacy by KELLY JEAN FITZSIMMONS | "We… the PEOPLE" by TRAV S.D. | Brinksmanship on the brink by MATTHEW BATTLES | Captain Smirk by ANNIE NOCENTI | Sisko meets Kirk by IAN W. HILL | Noninterference policy by GABBY NICASIO | Kirk's countdown by PETER BEBERGAL | Kirk's ghost by MATT GLASER | Watching Kirk vs. Gorn by JOE ALTERIO | How Spock wins by ANNALEE NEWITZ