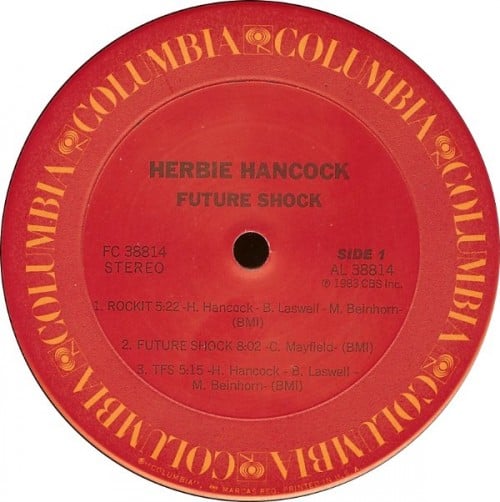 Twenty-second in a series of posts analyzing and celebrating old-school hip hop.
***
HERBIE HANCOCK | "ROCKIT" | 1983
My parents' album collection was comprised of Schubert, plus music they heard on ski trips: The Oak Ridge Boys, Anne Murray, Barbra Streisand, Barry Gibb. My sisters and I listened to the Twin Cities pop station (WLOL 99.5FM) and on Sunday nights I listened to "American Top 40" in bed with an earplug hooked up to my clock radio. Then, in 1983, everything changed.
We didn't have MTV, so we were watching NBC's new show Friday Night Videos. I was in eight grade; I was wearing my school uniform: navy turtleneck and cords, red plaid jumper. Then the video for "Rockit" comes on.
My eyes get bigger and bigger. I love what's happening; I don't ever want it to end. It's like breakdancing music, kind of? Also like Devo's "Whip It" — but more like "Funkytown"? And it is totally unique. Then, in the middle, it gets all whooshy, like:
Whik whik whoonk
Weenk weenk weenk whoonk
Whik whik whoonk
Wika wika wika wika
WHAT IS THAT SOUND? Kinda like a whistle, kinda like a whip, a whisk — what is it?
Then the drum sounds kick in:
Diggydiggy diggydiggy diggydiggy diggydiggy diggydiggy diggydiggy — dig-dig
The video is so cool. Creepy papier-mâché robot mannequins having epilepsy fits in bed! A sexy-lady mannequin bottom, "marching through" a den full of businessman robot legs. Googly flashlight eyes! Bike wheels! A tube of — is it toothpaste or paint? — with a glop falling out, then the video reverses and it goes back in. A robot baby banging its fist. A lady mannequin chopping her "husband" in the neck so he bangs his head into the kitchen table, over and over again! Is that Herbie Hancock, the black guy with the glasses who shows up on a TV screen inside the video, playing a keyboard?
It's scary, cool, funny, gross, and freaky. Someplace in the world people are making music like this and doing cool art things. I want to be like them.
***
ALL POSTS IN THIS SERIES: LUC SANTE on Spoonie Gee's "Spoonin' Rap" (1979) | DALLAS PENN on Sugar Hill Gang's "Rapper's Delight" (1979) | WERNER VON WALLENROD on Kurtis Blow's "Rappin' Blow" (1979) | DJ FRANE on Blowfly's "The Incredible Fulk" (1980) | PAUL DEVLIN on Jimmy Spicer's "The Adventures of Super Rhyme" (1980) | PHIL DYESS-NUGENT on Funky 4 + 1′s "That's the Joint" (1980) | ADAM McGOVERN on Grandmaster Flash & The Furious 5′s "Freedom" (1980) | DAVID ABRAMS on Blondie's "Rapture" (1980) | ANDREW HULTKRANS on Treacherous Three & Spoonie Gee's "The New Rap Language" (1980) | TIM CARMODY on Afrika Bambaataa & The Jazzy 5′s "Jazzy Sensation (Bronx Version)" (1981) | DREW HUGE on Grand Wizard Theodore & The Fantastic Five's "Can I Get a Soul Clap" (1981) | OLIVER WANG on Grandmaster Flash's "The Adventures of Grandmaster Flash on the Wheels of Steel" | DOUGLAS WOLK on Busy Bee's "Making Cash Money" (1982) | ADRIENNE CREW on Grandmaster Flash & The Furious 5 (featuring Melle Mel and Duke Bootee)'s "The Message" (1982) | DART ADAMS on The Jonzun Crew's "Pak Jam" (1982) | ALEX BELTH on Malcolm McLaren & The World's Famous Supreme Team's "Buffalo Gals" (1982) | JOSHUA GLENN on Wuf Ticket's "Ya Mama" (1982) | PHIL FREEMAN on Malcolm X with Keith LeBlanc's "No Sell Out" (1983) | NATE PATRIN on Afrika Bambaataa's "Death Mix Live, Pt. 2″ (1980/1983) | BRIAN BERGER on Grandmaster & Melle Mel's "White Lines (Don't Do It)" (1983) | COSMO BAKER on Run DMC's "Here We Go (Live at the Funhouse)" (1983/1985) | COLLEEN WERTHMANN on Herbie Hancock's "Rockit" (1983) | ROY CHRISTOPHER on Ice-T's "The Coldest Rap" (1983) | DAN REINES on L.A. Dream Team's "The Dream Team is in the House" (1985) | FRANKLIN BRUNO on hip hop's dance crew The Lockers.
HIP HOP ON HILOBROW: HERC YOUR ENTHUSIASM series (25 posts about old-school hip hop) | DJ Kool Herc as HiLo Hero | Gil Scott-Heron as HiLo Hero | Slick Rick as HiLo Hero | Darryl "D.M.C." McDaniels as HiLo Hero | Afrika Bambaataa as HiLo Hero | Biz Markie as HiLo Hero | Eric B as HiLo Hero (forthcoming in November) | U-God as HiLo Hero | Slug as HiLo Hero | Adam Yauch as HiLo Hero | Ghostface Killah as HiLo Hero | DJ Run as HiLo Hero | Flavor Flav as HiLo Hero | Scott La Rock as HiLo Hero | GZA as HiLo Hero | Schoolly D as HiLo Hero | Aesop Rock as HiLo Hero | Notorious B.I.G. as HiLo Hero | Melle Mel as HiLo Hero | Rick Rubin as HiLo Hero | Rakim as HiLo Hero | Ol' Dirty Bastard as HiLo Hero | Madlib as HiLo Hero | Talib Kweli as HiLo Hero | Danger Mouse as HiLo Hero | Kool Moe Dee as HiLo Hero | Chuck D as HiLo Hero | Dizzee Rascal as HiLo Hero | RZA as HiLo Hero | Cee-Lo Green as HiLo Hero | Best Ever Clean Hip Hop
***
KIRB YOUR ENTHUSIASM (2011 series on Jack Kirby panels): Douglas Rushkoff on THE ETERNALS | John Hilgart on BLACK MAGIC | Gary Panter on DEMON | Dan Nadel on OMAC | Deb Chachra on CAPTAIN AMERICA | Mark Frauenfelder on KAMANDI | Jason Grote on MACHINE MAN | Ben Greenman on SANDMAN | Annie Nocenti on THE X-MEN | Greg Rowland on THE FANTASTIC FOUR | Joshua Glenn on TALES TO ASTONISH | Lynn Peril on YOUNG LOVE | Jim Shepard on STRANGE TALES | David Smay on MISTER MIRACLE | Joe Alterio on BLACK PANTHER | Sean Howe on THOR | Mark Newgarden on JIMMY OLSEN | Dean Haspiel on DEVIL DINOSAUR | Matthew Specktor on THE AVENGERS | Terese Svoboda on TALES OF SUSPENSE | Matthew Wells on THE NEW GODS | Toni Schlesinger on REAL CLUE | Josh Kramer on THE FOREVER PEOPLE | Glen David Gold on JOURNEY INTO MYSTERY | Douglas Wolk on 2001: A SPACE ODYSSEY | MORE EXEGETICAL COMMENTARIES: Joshua Glenn on Kirby's Radium Age Sci-Fi Influences | Chris Lanier on Kirby vs. Kubrick | Scott Edelman recalls when the FF walked among us | Adam McGovern is haunted by a panel from THE NEW GODS | Matt Seneca studies the sensuality of Kirby's women | Danny Fingeroth figgers out The Thing |
KIRK YOUR ENTHUSIASM (2012 series on Captain Kirk scenes): Justice or vengeance? by DAFNA PLEBAN | Kirk teaches his drill thrall to kiss by MARK KINGWELL | "KHAAAAAN!" by NICK ABADZIS | "No kill I" by STEPHEN BURT | Kirk browbeats NOMAD by GREG ROWLAND | Kirk's eulogy for Spock by ZACK HANDLEN | The joke is on Kirk by PEGGY NELSON | Kirk vs. Decker by KEVIN CHURCH | Good Kirk vs. Evil Kirk by ENRIQUE RAMIREZ | Captain Camelot by ADAM MCGOVERN | Koon-ut-kal-if-fee by FLOURISH KLINK | Federation exceptionalism by DAVID SMAY | Wizard fight by AMANDA LAPERGOLA | A million things you can't have by STEVE SCHNEIDER | Debating in a vacuum by JOSHUA GLENN | Klingon diplomacy by KELLY JEAN FITZSIMMONS | "We… the PEOPLE" by TRAV S.D. | Brinksmanship on the brink by MATTHEW BATTLES | Captain Smirk by ANNIE NOCENTI | Sisko meets Kirk by IAN W. HILL | Noninterference policy by GABBY NICASIO | Kirk's countdown by PETER BEBERGAL | Kirk's ghost by MATT GLASER | Watching Kirk vs. Gorn by JOE ALTERIO | How Spock wins by ANNALEE NEWITZ