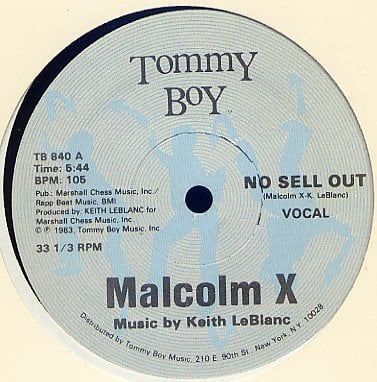 Fifteenth in a series of posts analyzing and celebrating old-school hip hop.
***
MALCOLM X with KEITH LEBLANC | "NO SELL OUT" | 1983
Keith LeBlanc was one of the most important drummers of the 1980s, and half the time he wasn't even playing a kit. In the late '70s, LeBlanc began driving into New Jersey from Connecticut with two bandmates, bassist Doug Wimbish and guitarist Skip McDonald, to re-record disco breaks for rappers on the Sugar Hill label. But as drum machines began to gain in popularity, he shifted direction, and made one of the truly pioneering hip hop records, introducing the concept of sampling.
"No Sell Out" is a simple collage of LeBlanc's complex, aggressive drum programming, rude but still funky keyboard stabs, and bits and pieces of Malcolm X speeches. Interestingly, one of the snippets LeBlanc chooses could be a comment on the record itself: "They take one little word out of what you say/Ignore all the rest/And then begin to magnify it all over the world/To make you look like what you actually aren't." And as the track begins to fade out, Malcolm is heard saying, "Brothers, sisters, friends/And I see a few enemies…" and there's a loud, gunshot-like crash. It's an ominous, somber ending to a track that exhibits an astonishing militancy, given the general tone of hip-hop at the time.
"I wasn't thinking, 'Oh, this has never been done before,' or anything like that — I was just trying to do something I thought was good," LeBlanc told TheQuietus.com in 2010. "Then when I got press calling me from all over the world, all pissed off, I thought 'OK, maybe this was a little bit cutting edge!'"
LeBlanc's drum programming is recognizable in seconds, whether on the legendary mid '80s Tackhead singles, his solo albums Major Malfunction and Stranger Than Fiction, or here, underpinning Malcolm X. His Morse-code bass throbs, handclap triplets, and whispering hi-hats are a self-contained clockwork system, with the snare drum coming in like a ball-peen hammer smacking you in the forehead. Too hard and mean for dance clubs, LeBlanc's programming is inventing industrial — no surprise he was called to work on Trent Reznor's Pretty Hate Machine six years later.
***
ALL POSTS IN THIS SERIES: LUC SANTE on Spoonie Gee's "Spoonin' Rap" (1979) | DALLAS PENN on Sugar Hill Gang's "Rapper's Delight" (1979) | WERNER VON WALLENROD on Kurtis Blow's "Rappin' Blow" (1979) | DJ FRANE on Blowfly's "The Incredible Fulk" (1980) | PAUL DEVLIN on Jimmy Spicer's "The Adventures of Super Rhyme" (1980) | PHIL DYESS-NUGENT on Funky 4 + 1′s "That's the Joint" (1980) | ADAM McGOVERN on Grandmaster Flash & The Furious 5′s "Freedom" (1980) | DAVID ABRAMS on Blondie's "Rapture" (1980) | ANDREW HULTKRANS on Treacherous Three & Spoonie Gee's "The New Rap Language" (1980) | TIM CARMODY on Afrika Bambaataa & The Jazzy 5′s "Jazzy Sensation (Bronx Version)" (1981) | DREW HUGE on Grand Wizard Theodore & The Fantastic Five's "Can I Get a Soul Clap" (1981) | OLIVER WANG on Grandmaster Flash's "The Adventures of Grandmaster Flash on the Wheels of Steel" | DOUGLAS WOLK on Busy Bee's "Making Cash Money" (1982) | ADRIENNE CREW on Grandmaster Flash & The Furious 5 (featuring Melle Mel and Duke Bootee)'s "The Message" (1982) | DART ADAMS on The Jonzun Crew's "Pak Jam" (1982) | ALEX BELTH on Malcolm McLaren & The World's Famous Supreme Team's "Buffalo Gals" (1982) | JOSHUA GLENN on Wuf Ticket's "Ya Mama" (1982) | PHIL FREEMAN on Malcolm X with Keith LeBlanc's "No Sell Out" (1983) | NATE PATRIN on Afrika Bambaataa's "Death Mix Live, Pt. 2″ (1980/1983) | BRIAN BERGER on Grandmaster & Melle Mel's "White Lines (Don't Do It)" (1983) | COSMO BAKER on Run DMC's "Here We Go (Live at the Funhouse)" (1983/1985) | COLLEEN WERTHMANN on Herbie Hancock's "Rockit" (1983) | ROY CHRISTOPHER on Ice-T's "The Coldest Rap" (1983) | DAN REINES on L.A. Dream Team's "The Dream Team is in the House" (1985) | FRANKLIN BRUNO on hip hop's dance crew The Lockers.
HIP HOP ON HILOBROW: HERC YOUR ENTHUSIASM series (25 posts about old-school hip hop) | DJ Kool Herc as HiLo Hero | Gil Scott-Heron as HiLo Hero | Slick Rick as HiLo Hero | Darryl "D.M.C." McDaniels as HiLo Hero | Afrika Bambaataa as HiLo Hero | Biz Markie as HiLo Hero | Eric B as HiLo Hero (forthcoming in November) | U-God as HiLo Hero | Slug as HiLo Hero | Adam Yauch as HiLo Hero | Ghostface Killah as HiLo Hero | DJ Run as HiLo Hero | Flavor Flav as HiLo Hero | Scott La Rock as HiLo Hero | GZA as HiLo Hero | Schoolly D as HiLo Hero | Aesop Rock as HiLo Hero | Notorious B.I.G. as HiLo Hero | Melle Mel as HiLo Hero | Rick Rubin as HiLo Hero | Rakim as HiLo Hero | Ol' Dirty Bastard as HiLo Hero | Madlib as HiLo Hero | Talib Kweli as HiLo Hero | Danger Mouse as HiLo Hero | Kool Moe Dee as HiLo Hero | Chuck D as HiLo Hero | Dizzee Rascal as HiLo Hero | RZA as HiLo Hero | Cee-Lo Green as HiLo Hero | Best Ever Clean Hip Hop
***
KIRB YOUR ENTHUSIASM (2011 series on Jack Kirby panels): Douglas Rushkoff on THE ETERNALS | John Hilgart on BLACK MAGIC | Gary Panter on DEMON | Dan Nadel on OMAC | Deb Chachra on CAPTAIN AMERICA | Mark Frauenfelder on KAMANDI | Jason Grote on MACHINE MAN | Ben Greenman on SANDMAN | Annie Nocenti on THE X-MEN | Greg Rowland on THE FANTASTIC FOUR | Joshua Glenn on TALES TO ASTONISH | Lynn Peril on YOUNG LOVE | Jim Shepard on STRANGE TALES | David Smay on MISTER MIRACLE | Joe Alterio on BLACK PANTHER | Sean Howe on THOR | Mark Newgarden on JIMMY OLSEN | Dean Haspiel on DEVIL DINOSAUR | Matthew Specktor on THE AVENGERS | Terese Svoboda on TALES OF SUSPENSE | Matthew Wells on THE NEW GODS | Toni Schlesinger on REAL CLUE | Josh Kramer on THE FOREVER PEOPLE | Glen David Gold on JOURNEY INTO MYSTERY | Douglas Wolk on 2001: A SPACE ODYSSEY | MORE EXEGETICAL COMMENTARIES: Joshua Glenn on Kirby's Radium Age Sci-Fi Influences | Chris Lanier on Kirby vs. Kubrick | Scott Edelman recalls when the FF walked among us | Adam McGovern is haunted by a panel from THE NEW GODS | Matt Seneca studies the sensuality of Kirby's women | Danny Fingeroth figgers out The Thing |
KIRK YOUR ENTHUSIASM (2012 series on Captain Kirk scenes): Justice or vengeance? by DAFNA PLEBAN | Kirk teaches his drill thrall to kiss by MARK KINGWELL | "KHAAAAAN!" by NICK ABADZIS | "No kill I" by STEPHEN BURT | Kirk browbeats NOMAD by GREG ROWLAND | Kirk's eulogy for Spock by ZACK HANDLEN | The joke is on Kirk by PEGGY NELSON | Kirk vs. Decker by KEVIN CHURCH | Good Kirk vs. Evil Kirk by ENRIQUE RAMIREZ | Captain Camelot by ADAM MCGOVERN | Koon-ut-kal-if-fee by FLOURISH KLINK | Federation exceptionalism by DAVID SMAY | Wizard fight by AMANDA LAPERGOLA | A million things you can't have by STEVE SCHNEIDER | Debating in a vacuum by JOSHUA GLENN | Klingon diplomacy by KELLY JEAN FITZSIMMONS | "We… the PEOPLE" by TRAV S.D. | Brinksmanship on the brink by MATTHEW BATTLES | Captain Smirk by ANNIE NOCENTI | Sisko meets Kirk by IAN W. HILL | Noninterference policy by GABBY NICASIO | Kirk's countdown by PETER BEBERGAL | Kirk's ghost by MATT GLASER | Watching Kirk vs. Gorn by JOE ALTERIO | How Spock wins by ANNALEE NEWITZ