Herc Your Enthusiasm (Intro)
By: HILOBROW
July 28, 2013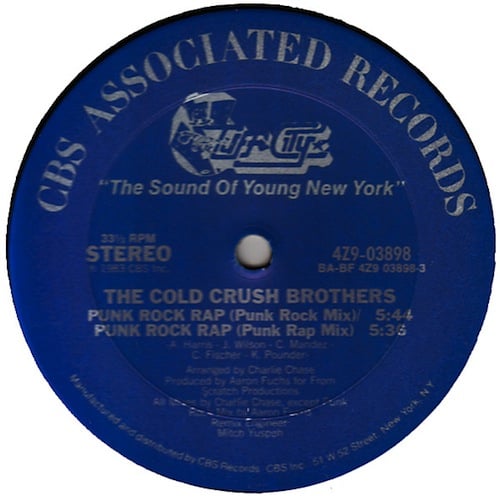 Hip hop was invented circa 1974, in certain boroughs of New York, by DJs who spun and scratched funky dance records on turntables, and by MCs who rapped along to these records on a microphone. In those old-school days, hip hop lyrics were mostly about bragging playfully and celebrating good times with friends. Then, circa 1983–84, "new-school" acts like Run-D.M.C. reinvented and refined hip hop — making it more ferocious-sounding while engaging with social issues; this was the beginning of the genre's so-called Golden Age. Or so the story goes.
Last summer's series of posts about specific Captain Kirk scenes (KIRK YOUR ENTHUSIASM) was a big hit; and our 2011 series about specific Jack Kirby-drawn comics panels (KIRB YOUR ENTHUSIASM) has become legendary. This summer, HiLobrow is bringing you a series of twenty-five posts, by 25 talented culture critics, each dedicated to the close analysis and eccentric appreciation of one specific "old school" hip hop track. The pre-Golden Age era with which we are concerned begins in 1979 with Spoonie Gee (though the genre emerged five years earlier, Spoonie was the first to put it on wax) and ends with the L.A. Dream Team in 1985 (though the Golden Age had begun in '84, the Dream Team was still kicking it old-school in '85). The periodization of an era is always messy.
HERC YOUR ENTHUSIASM begins tomorrow! HiLobrow's Joshua Glenn is editor of the series. He invites your comments on this and all subsequent posts. Stay tuned.
*
PS: This series' name honors the unfairly neglected old-school hip hop pioneer DJ KOOL HERC, who invented the breakbeat — and, in doing so, facilitated MC'ing as we know it.
***
ALL POSTS IN THIS SERIES: LUC SANTE on Spoonie Gee's "Spoonin' Rap" (1979) | DALLAS PENN on Sugar Hill Gang's "Rapper's Delight" (1979) | WERNER VON WALLENROD on Kurtis Blow's "Rappin' Blow" (1979) | DJ FRANE on Blowfly's "The Incredible Fulk" (1980) | PAUL DEVLIN on Jimmy Spicer's "The Adventures of Super Rhyme" (1980) | PHIL DYESS-NUGENT on Funky 4 + 1's "That's the Joint" (1980) | ADAM McGOVERN on The Furious 5's "Freedom" (1980) | DAVID ABRAMS on Blondie's "Rapture" (1980) | ANDREW HULTKRANS on Treacherous Three & Spoonie Gee's "The New Rap Language" (1980) | TIM CARMODY on Afrika Bambaataa & The Jazzy 5's "Jazzy Sensation (Bronx Version)" (1981) | DREW HUGE on Grand Wizard Theodore & The Fantastic Five's "Can I Get a Soul Clap" (1981) | OLIVER WANG on Grandmaster Flash's "The Adventures of Grandmaster Flash on the Wheels of Steel" (1981) | DOUGLAS WOLK on Busy Bee's "Making Cash Money" (1982) | ADRIENNE CREW on Grandmaster Flash & The Furious 5 (featuring Melle Mel and Duke Bootee)'s "The Message" (1982) | DART ADAMS on The Jonzun Crew's "Pak Jam" (1982) | ALEX BELTH on Malcolm McLaren & The World's Famous Supreme Team's "Buffalo Gals" (1982) | JOSHUA GLENN on Wuf Ticket's "Ya Mama" (1982) | PHIL FREEMAN on Malcolm X with Keith LeBlanc's "No Sell Out" (1983) | NATE PATRIN on Afrika Bambaataa's "Death Mix Live, Pt. 2" (1980/1983) | BRIAN BERGER on Grandmaster & Melle Mel's "White Lines (Don't Do It)" (1983) | COSMO BAKER on Run DMC's "Here We Go (Live at the Funhouse)" (1983/1985) | COLLEEN WERTHMANN on Herbie Hancock's "Rockit" (1983) | ROY CHRISTOPHER on Ice-T's "The Coldest Rap" (1983) | DAN REINES on L.A. Dream Team's "The Dream Team is in the House" (1985) | FRANKLIN BRUNO on hip hop's dance crew The Lockers.
HIP HOP ON HILOBROW: HERC YOUR ENTHUSIASM series (25 posts about old-school hip hop) | DJ Kool Herc | Gil Scott-Heron | Slick Rick | Darryl "D.M.C." McDaniels | Afrika Bambaataa | Biz Markie | U-God | Slug | Adam Yauch | Ghostface Killah | DJ Run | Flavor Flav | Scott La Rock | GZA | Schoolly D | Aesop Rock | Terminator X | Notorious B.I.G. | Melle Mel | Doug E. Fresh | Kool Keith | Rick Rubin | Rakim | Ol' Dirty Bastard | Madlib | Talib Kweli | Danger Mouse | Kool Moe Dee | Chuck D | Dizzee Rascal | RZA | Cee-Lo Green | Best Ever Clean Hip Hop