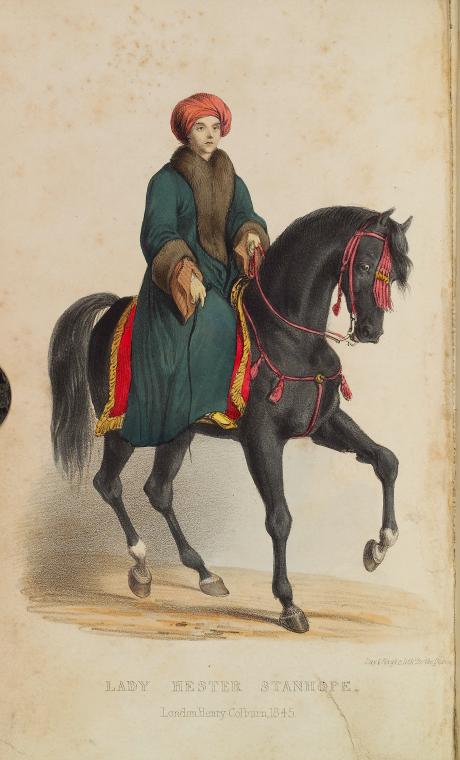 The impudent, indulged daughter of an Earl, HESTER STANHOPE (1776–1839) was born to drink champagne and dine on turtle but she ended her days holed up in a crumbling monastery in remote Lebanon, a ghostly eminence jabbering messianic prophecies like a Bene Gesserit witch. A flamboyant extrovert who loved to shock, she honed her rhetorical zeal at dinner parties hosted by her uncle, future Prime Minister William Pitt. Still unmarried at 33, she set off with a younger paramour for the Middle East. After surviving a shipwreck on Rhodes she began shaving her head. In Cairo she turned herself out like a Turkish man in billowing trousers, brocaded overcoat, and turban — the style she would wear for the rest of her life. Though she dismissed or despised Byron, Burckhardt, Bankes and other renowned European travelers, her shadow looms large over all subsequent female Arabists. Her letters are replete with an unshakeable belief in her singularity: "I am the sun, the star, the earl, the lion, the light from heaven, and the Queen." Making the dangerous trek to the ruins of Palmyra, an ancient desert oasis, she communed with its long-dead ruler Queen Zenobia, who she considered her spiritual ancestor. Enticed by a medieval manuscript claiming a treasure was buried in Ashkelon, she took it upon herself to excavate the site. She would smash and toss into the sea the first great statue she uncovered to prove her virtuous motives. Another manuscript would lead her to the last act of her life when a Syrian doctor read her a prophecy that fed her wildest fantasies: the Mahdi (redeemer) would arrive seeking a woman "from a far country to partake in the mission." It's unclear whether this "Circe of the desert" believed she was to be the Mahdi's handmaiden or the Mahdi herself. She ensconced herself in a hilltop monastery in Djoun where she took in refugees and became obsessed with alchemy and astrology. Alone in her decaying fortress, she was ultimately the archaeologist of her own delusion.
***
ADVENTURERS as HILO HEROES: Katia Krafft | Hester Lucy Stanhope | Richard Francis Burton | Calamity Jane | Ernest Shackleton | Osa Helen Johnson | George Mallory | Neta Snook | Jane Digby | Joe Carstairs | Florence "Pancho" Barnes | Jacques-Yves Cousteau | Thor Heyerdahl | Jean-Paul Clébert | Tristan Jones | Neil Armstrong
On his or her birthday, HiLobrow irregularly pays tribute to one of our high-, low-, no-, or hilobrow heroes. Also born this date: Jack Kerouac and Steve Harris.
Read more about members of the Ironic Idealist (1775–84) generation.