Linda Fiorentino
By: Adrienne Crew
March 9, 2013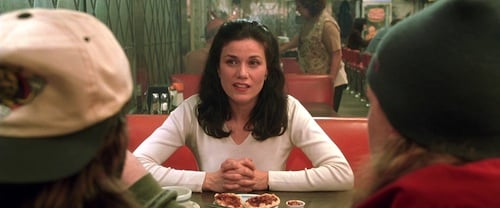 Long before Kristen Stewart came along, the sullen actress who let everyone know how ambivalent she was about having a future in Hollywood was LINDA FIORENTINO (born 1960, or possibly 1958). Like a comet, she appears only once in a very great while in order to dazzle us and then disappear. In Vision Quest (1985), she was a drifter with a perm. Ten years later, in Last Seduction (1995), she perfected her sexy, wary, smart persona with a standout performance as a temptress looking for a fall guy: "I go to bed with men, not boys." That line, spoken with a smoky growl, animated audiences' fantasies; "I've gone on a few dates since [Last Seduction]," she once told a journalist, "and I could see the disappointment in the eyes of men who thought I was going to be a hot date and teach them all this weird stuff." In 1997, after winning the part in a poker game with director Barry Sonnenfeld, Fiorentino turned up in Men in Black, and managed to make Will Smith look sexy. Though at the end of the movie she ended up an agent of the M.I.B., Fiorentino sat out the sequels; instead, she took the lead in Kevin Smith's Dogma (1999), only to disappear once more after that. Here's hoping she returns soon.
***
On his or her birthday, HiLobrow irregularly pays tribute to one of our high-, low-, no-, or hilobrow heroes. Also born this date: Vita Sackville West, Bobby Fischer.
READ MORE about members of the Original Generation X (1954–63).