HiLoBooks to publish Cicely Hamilton!
By: HILOBROW
January 26, 2013
HiLobrow is pleased to announce our online serialization and print publication of Cicely Hamilton's Theodore Savage. The book — by a women's rights activist often remembered today for her polemical plays, tracts and treatises — was first published in 1922.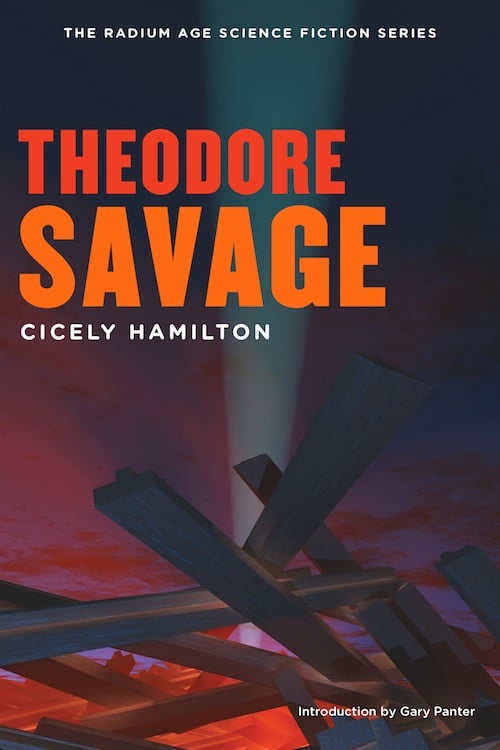 When war breaks out in Europe — modern, aerial war whose tactics include displacing entire populations — British civilization collapses overnight. The ironically named Theodore Savage, an educated and idle civil servant, must learn to survive by his wits in a new Britain… one where science and technology swiftly come to be regarded with superstitious awe and terror.
New installments of Theodore Savage will appear weekly, from March 11 through August 26. In October, HiLobooks will publish a beautiful paperback edition of this title. (Information about this and other HiLoBooks titles here. Cover illustration, above, by Michael Lewy; design by Tony Leone.)
*
"Like Colson Whitehead's Zone One without the zombie camp and idiom, Theodore Savage is a dark, strange, and cruelly contemporary tale of The Ruin and the post-apocalyptic condition that follows," says Alexis Madrigal in a 2013 blurb for HiLoBooks. "The book makes a spirited argument against science and machines, disputing itself viciously to the last word."
"Miss Hamilton always writes forcibly, and her present novel deals with the heart shaking effects of the next war. It might, indeed, be used as a tract to convey an awful warning." — The Spectator (1922)
"A particularly effective and chilling version of a theme that dominates British speculative fiction between the wars." — Anatomy of Wonder, Neil Barron, ed.
"Hamilton is one of the first — and among the darkest — of those UK novelists whose vision of things was shaped by WWI, which they saw as foretelling the end of civilization." The Encyclopedia of Science Fiction, Clute and Nicholls, eds.
*
Cicely Hamilton (1872–1952) was an Anglo-Irish novelist, dramatist, and campaigner for women's rights who served during WWI with an ambulance unit and at a military hospital in France. Her plays include Diana of Dobson's (1908) and How the Vote was Won (1909); her 1909 treatise Marriage as a Trade is a witty criticism of that institution. The dystopian Theodore Savage is her only science fiction novel.
The HiLoBooks paperback edition of Theodore Savage will feature a new Introduction, by comics and design legend Gary Panter. Panter won three Emmy awards for his set designs for Pee-Wee's Playhouse. His artistic activity includes the science fiction comics Jimbo and Dal Tokyo, painting, prose, music, and light shows. He teaches at School of Visual Arts in Manhattan.
SUBSCRIBE to HiLobrow's serialized fiction via RSS.
***
RADIUM AGE SCIENCE FICTION: "Radium Age" is HiLobrow's name for the 1904–33 era, which saw the discovery of radioactivity, the revelation that matter itself is constantly in movement — a fitting metaphor for the first decades of the 20th century, during which old scientific, religious, political, and social certainties were shattered. This era also saw the publication of genre-shattering writing by Edgar Rice Burroughs, Sax Rohmer, E.E. "Doc" Smith, Jack London, Arthur Conan Doyle, Aldous Huxley, Olaf Stapledon, Karel Čapek, H.P. Lovecraft, Charlotte Perkins Gilman, Yevgeny Zamyatin, Philip Gordon Wylie, and other pioneers of post-Verne/Wells, pre-Golden Age "science fiction." More info here.
SERIALIZED BY HILOBOOKS: Jack London's The Scarlet Plague | Rudyard Kipling's With the Night Mail (and "As Easy as A.B.C.") | Arthur Conan Doyle's The Poison Belt | H. Rider Haggard's When the World Shook | Edward Shanks' The People of the Ruins | William Hope Hodgson's The Night Land | J.D. Beresford's Goslings | E.V. Odle's The Clockwork Man | Cicely Hamilton's Theodore Savage | Muriel Jaeger's The Man With Six Senses | Jack London's "The Red One" | Philip Francis Nowlan's Armageddon 2419 A.D. | Homer Eon Flint's The Devolutionist | W.E.B. DuBois's "The Comet" | Edgar Rice Burroughs's The Moon Men | Charlotte Perkins Gilman's Herland | Sax Rohmer's "The Zayat Kiss" | Eimar O'Duffy's King Goshawk and the Birds | Frances Hodgson Burnett's The Lost Prince | Morley Roberts's The Fugitives | Helen MacInnes's The Unconquerable | Geoffrey Household's Watcher in the Shadows | William Haggard's The High Wire | Hammond Innes's Air Bridge | James Branch Cabell's Jurgen | John Buchan's "No Man's Land" | John Russell's "The Fourth Man" | E.M. Forster's "The Machine Stops" | John Buchan's Huntingtower | Arthur Conan Doyle's When the World Screamed | Victor Bridges' A Rogue By Compulsion | Jack London's The Iron Heel | H. De Vere Stacpool's The Man Who Lost Himself.