HiLoBooks to publish E.V. Odle!
By: Joshua Glenn
January 21, 2013
HiLobrow is pleased to announce our online serialization and print publication of Edwin Vincent Odle's The Clockwork Man. Considered the original cyborg novel, The Clockwork Man was first published in 1923 — the same year as Karel Čapek's pioneering android play, R.U.R.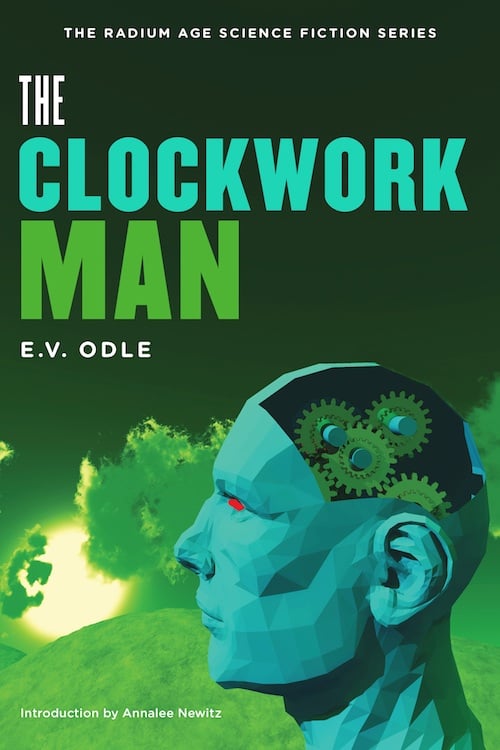 Several thousand years from now, advanced humanoids known as the Makers will implant clockwork devices into our heads. At the cost of a certain amount of agency, these devices will permit us to move unhindered through time and space, and to live complacent, well-regulated lives. However, when one of these devices goes awry, a "clockwork man" appears accidentally in the 1920s, at a cricket match in a small English village. Comical yet mind-blowing hijinks ensue.
New installments of The Clockwork Man will appear weekly at HiLobrow, from March 20 through July 31. In September, HiLobooks will publish a gorgeous 90th-anniversary paperback edition of this title. (Information about this and other HiLoBooks titles here. Cover illustration, above, by Michael Lewy; design by Tony Leone.)
*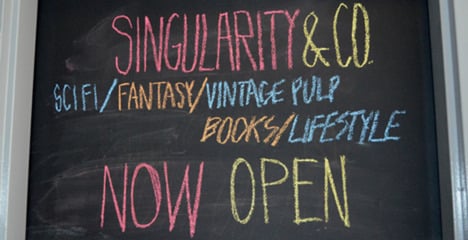 Our publication of Odle's long-unattainable classic also marks the launch of a partnership with Singularity & Co., the premier digital and vintage pulp publisher, bookshop and lifestyle brand. Selected HiLoBooks titles, including The Clockwork Man and Muriel Jaeger's The Man with Six Senses, will be made available in advance as a Singularity & Co. e-book for easy viewing on all of your electronic devices.
Singularity & Co. is on a multimedia mission to save the greatest minds of futures past for the world they helped create. From classics to kitsch, they are establishing an archive of awesome to serve the instantaneous imagination of the global village. We're thrilled to be collaborating with them! PS: Here's a nice post about both Singularity & Co. and HiLoBooks from the sci-fi blog io9.
*
"Edwin Vincent Odle's ominous, droll, and unforgettable The Clockwork Man is a missing link between Lewis Carroll and John Sladek or Philip K. Dick," says Jonathan Lethem in a blurb for HiLoBooks. "Considered with them, it suggests an alternate lineage for SF, springing as much from G.K. Chesterton's sensibility as from H.G. Wells's."
"This is still one of the most eloquent pleas for the rejection of the 'rational' future and the conservation of the humanity of man," writes Brian Stableford in Scientific Romance in Britain, 1890-1950. "Of the many works of scientific romance that have fallen into utter obscurity, this is perhaps the one which most deserves rescue."
"Perhaps the outstanding scientific romance of the 1920s," agrees the sci-fi reference book Anatomy of Wonder.
*
Rumors that "E.V. Odle" was a pen name for Virginia Woolf are amusing, but unfounded. Edwin Vincent Odle (1890–1942) was a playwright, critic, and short-story author who lived in Bloomsbury, London during the 1910s; his brother, Alan, was a well-known illustrator and eccentric. From 1925–35, he was editor of the British short-story magazine The Argosy.
The HiLoBooks paperback edition of The Clockwork Man will feature a new Introduction, by Annalee Newitz, editor-in-chief of the science fiction and science blog io9. She's the author of Scatter, Adapt, and Remember: How Humans Will Survive a Mass Extinction (2013) and Pretend We're Dead: Capitalist Monsters in American Pop Culture (2006). PS: HiLobrow has published two items by Newitz: an original sf story, "The Great Oxygen Race"; and "How Spock Wins," an installment in our Summer 2012 series Kirk Your Enthusiasm.
SUBSCRIBE to HiLobrow's serialized fiction via RSS.
***
RADIUM AGE SCIENCE FICTION: "Radium Age" is HiLobrow's name for the 1904–33 era, which saw the discovery of radioactivity, the revelation that matter itself is constantly in movement — a fitting metaphor for the first decades of the 20th century, during which old scientific, religious, political, and social certainties were shattered. This era also saw the publication of genre-shattering writing by Edgar Rice Burroughs, Sax Rohmer, E.E. "Doc" Smith, Jack London, Arthur Conan Doyle, Aldous Huxley, Olaf Stapledon, Karel Čapek, H.P. Lovecraft, Charlotte Perkins Gilman, Yevgeny Zamyatin, Philip Gordon Wylie, and other pioneers of post-Verne/Wells, pre-Golden Age "science fiction." More info here.
SERIALIZED BY HILOBOOKS: Jack London's The Scarlet Plague | Rudyard Kipling's With the Night Mail (and "As Easy as A.B.C.") | Arthur Conan Doyle's The Poison Belt | H. Rider Haggard's When the World Shook | Edward Shanks' The People of the Ruins | William Hope Hodgson's The Night Land | J.D. Beresford's Goslings | E.V. Odle's The Clockwork Man | Cicely Hamilton's Theodore Savage | Muriel Jaeger's The Man With Six Senses | Jack London's "The Red One" | Philip Francis Nowlan's Armageddon 2419 A.D. | Homer Eon Flint's The Devolutionist | W.E.B. DuBois's "The Comet" | Edgar Rice Burroughs's The Moon Men | Charlotte Perkins Gilman's Herland | Sax Rohmer's "The Zayat Kiss" | Eimar O'Duffy's King Goshawk and the Birds | Frances Hodgson Burnett's The Lost Prince | Morley Roberts's The Fugitives | Helen MacInnes's The Unconquerable | Geoffrey Household's Watcher in the Shadows | William Haggard's The High Wire | Hammond Innes's Air Bridge | James Branch Cabell's Jurgen | John Buchan's "No Man's Land" | John Russell's "The Fourth Man" | E.M. Forster's "The Machine Stops" | John Buchan's Huntingtower | Arthur Conan Doyle's When the World Screamed | Victor Bridges' A Rogue By Compulsion