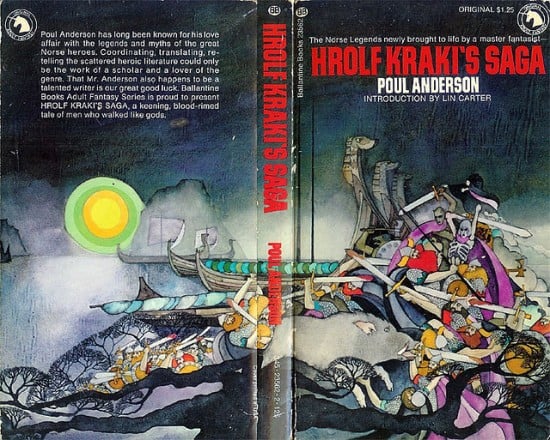 Though one of science fiction's Golden Age's most highly decorated luminaries, POUL ANDERSON (1926–2001) ought instead to be remembered as one of the best fantasy authors of his era. The overarching theme of his sf oeuvre — civilization, and the universe, inexorably tend towards chaos; it is the individual's duty to struggle (often, against a paternalistic government) on the side of the forces of order — was hailed, at the time, as an expression of muscular liberalism. Today, however, his romanticization of trail-blazing merchants and enlightened warriors smacks of libertarianism, or worse, neoconservatism. True, Anderson's cosmic vision can be breathtaking, particularly: his first major sf novel, Brain Wave (1954), in which everyone on Earth gets smarter; the 1958 multinational-astronauts story "We Have Fed Our Sea"; the visionary adventure Tau Zero (1970); and the wised-up Flandry of Terra space opera stories. But I far prefer Anderson's fantasy fiction, such as Three Hearts and Three Lions (1953) and The Broken Sword (1954), in which his order/chaos schema — which influenced Michael Moorcock and Dungeons & Dragons — is more complex. As transposed onto Anderson's West (the Empire) and East (Faerie), Cold War ideology, with its inflexible binary oppositions, can't help but deconstruct itself.
Other must-reads: Hrolf Kraki's Saga, Anderson's awesome 1973 re-telling of Scandinavian myths; and The High Crusade (1960), in which conquering aliens who land in medieval England discover that their forcefield — which renders advanced laser and photon weapons ineffective — doesn't stop arrows!
***
On his or her birthday, HiLobrow irregularly pays tribute to one of our high-, low-, no-, or hilobrow heroes. Also born this date: Mark Lanegan, Ann Stanford, and Etta Jones.
READ MORE about members of the Postmodernist Generation (1924-33).